Happy Friday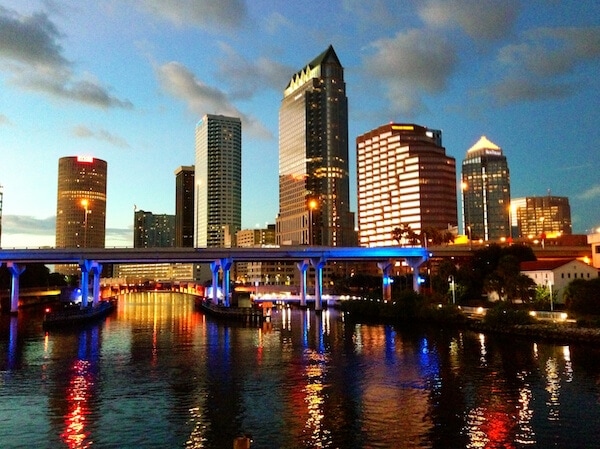 1. Sometimes it's nice to explore the city that you live in and rediscover it. It's so easy to travel to new places and only see the best parts of that city…so this past Labor Day Weekend, Jorge and I showed some love to our city of Tampa. It's unique and beautiful and full of wonder. I love our city.
2. Check out this list of  "10 Dating Tips for Single Women (from the 1930's)". My favorite? #5: Don't be conspicuous talking to other men. The last straw is to pass out from too much liqour. Chances are your date will never call you again. Obviously the 1930's were a lot more fun than I realized.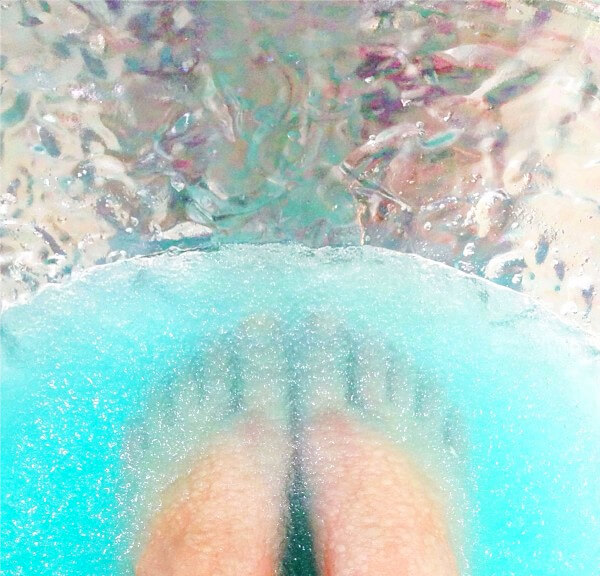 3. I know some people absolutely hate pictures of feet. I get that — however, that is a photo of me getting a JELLO PEDICURE! Seriously, it's a real thing! It's strange and weird and feels exactly like you would think…like you just put your feet in Jello. And I am absolutely obsessed.
4. Jorge and I went for dinner at Boston Market last week and I forgot how much I love that place. I'm the weirdo who goes to Boston Market and doesn't even get chicken. I'm only there for the sides! Sweet Potato Casserole, Stuffing with Brown Gravy and Mac & Cheese. It's like all the best parts of Thanksgiving in September!
5. After a super stressful day, I was fighting bad weather and traffic home from an appointment in downtown. I was sitting on the freeway, not moving at all, when I saw this double rainbow. Then right before I turned into our neighborhood, I saw that gigantic rainbow in the photo below. Three rainbows in one day? I don't think that's a coincidence! Good luck must be coming my way soon.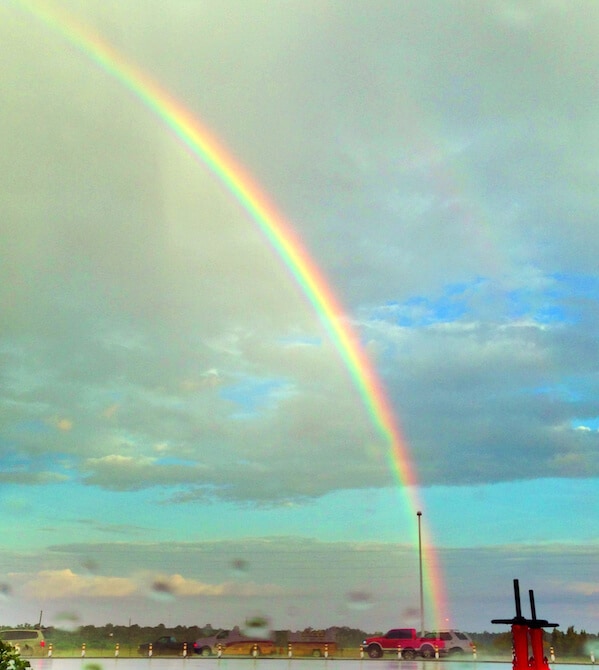 6. I haven't been sleeping well lately. Actually it's more like insomnia. I think it's a mixture of  too much stress and Brody being sick. Poor Brody has a bad upset stomach and has been sleeping under my desk while I work. It's hard to work when he is busy being adorable all day. Plus I have a to do list taller than I am…and well, I just can't get my brain to shut off at night.
7. Speaking of my insomnia, it has lead to some very early morning informercial watching. I don't start out watching an informercial…I start out watching something like Friends. And then while I'm busy playing Candy Crush, the channel changes to an infomercial. And it never fails, but this is what happens when I watch an infomercial:
At first: That is such crap. I can't believe people watch infomercials and buy this stuff. It obviously doesn't work and I could do that with my blow dryer and the round brush I have now.
About 2 minutes in: Hmm. Her hair does look better, but you know it really wasn't all that bad before.
5 minutes in to the demonstration: Oh wow! Her hair – whoa! Look at the difference. She had like frizz head before. It looks like Jennifer Aniston hair now!
Once they start that little countdown in the corner: But I bet they are going to charge a ton. What? I can buy one get one free?? And they will throw in a sparkle headband and free shipping? And if I'm one of the first 500 callers I'll get that spiffy tote bag for all my new stuff? Sold!
2 weeks later: For $100, I got a plastic blow dryer round brush thing. It gave me fried hair that looks like cotton candy. Crap, they got me again.