Happy Friday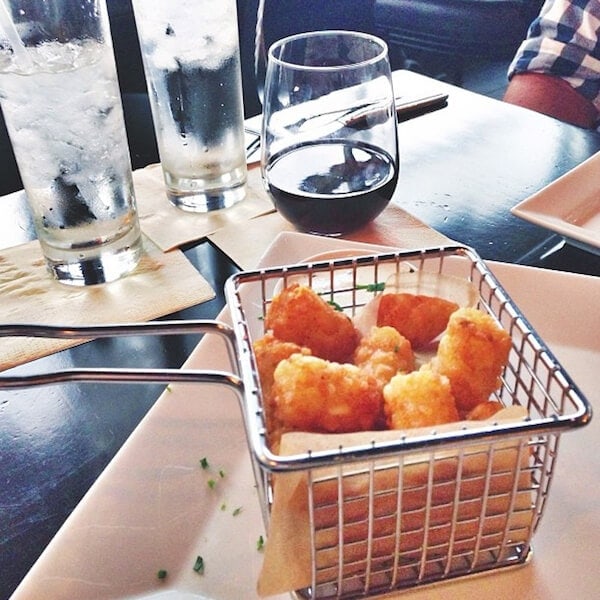 1. I wanted a new desk for my office – so that meant a trip downtown to Ikea. I bought this unfinished kitchen table (it would be way too small for a kitchen table – but a perfect desk) and threw on a few coats of mint green paint. It turned out adorable and I love that I have a "custom" mint green desk for under $100 including paint!
2. The whole reason I just told you about the desk, was to explain why we were downtown. What I REALLY want to talk about are those Truffled Tater Tots with Lemon Parsley Créme Fraiche from Anise Global Gastrobar. Jorge and I were downtown at Ikea late and decided we would just grab dinner there instead of trying to fight traffic home. We had heard of Anise and were excited to get a chance to try it. Those Truffled Tater Tots were so perfect that I almost growled at Jorge when he took the last one. The Chinese BBQ Pork w/ Pickled Radish Sticky Bunz (picture here) were also divine. If you are ever in the Tampa area — you have to stop in. They are new on the scene (only open 6 months so far), but I know they are one of our new favorites.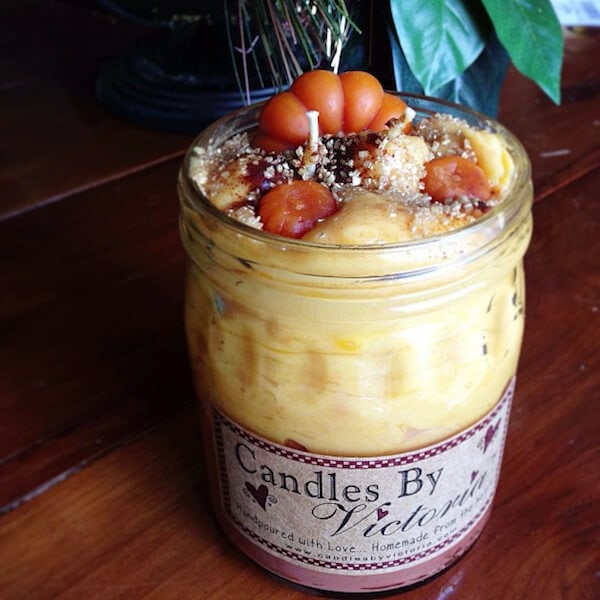 3. It's still hot and sticky down here in Florida, so I have been pretending like it's Fall through the use of candles and decorations (like my new pumpkin wearing a top hat). I bought some of the Candles By Victoria after hearing SO many of you rave about them when I asked what your favorite Fall candle was on FB. I ended up going to the website and seeing that they are based out of Texas and knew I really had to try a candle or two…Texas people really like to stick together…even Texas people that haven't lived there in years. 😉
But anyways — I got my candles by the end of the week and I am seriously blown away! I have never had a candle smell so strongly (and I mean that in a good way). In 10 minutes, it had the entire downstairs smelling like Fall! The candle above is Maple Butter Pumpkin Frap (found on page 4 of the candles section). I also ordered 'Under The Harvest Moon' and 'Zucchini Bread'. I don't like one more than the other – they are all amazing and way better than any Yankee Candle I have had.  (PS According to their FB page, they are currently working on a new website – so it will be easier to navigate the 867 fragrances soon.)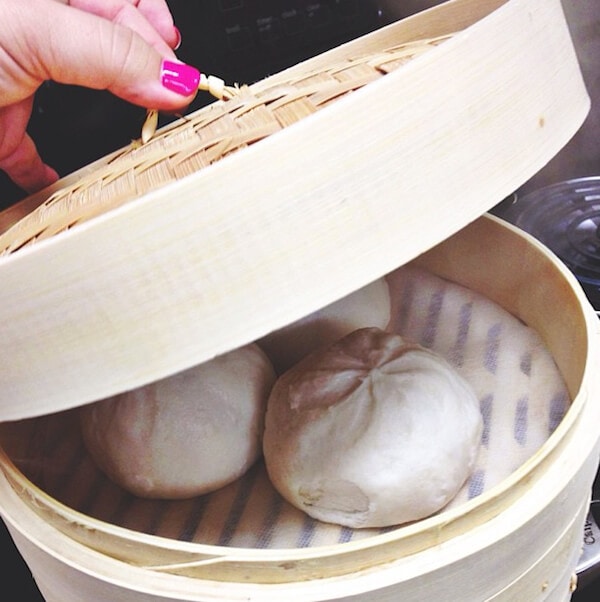 4. I went last week to a huge Asian market in Orlando and I seriously spent $80. I'm not even sure how I spent that much since everything is so cheap there. I bought some amazing homemade kimchi for kimchi pancakes and enough wasabi peas for a century. But the thing I spent the most money on? Frozen Chinese Style Pork Buns. They are the ones in the photo above. I bought 10 bags of them! They are my absolute favorite thing to get at Dim Sum and I just couldn't stop myself from loading up my cart. I am ashamed to say that since Jorge has been gone, I have eaten them for dinner 3 days in a row. My obsession is a little embarrassing.
By the way, in case you don't have an awesome bamboo steamer, I bought mine off Amazon It was the same price as in the store! However, I did buy my parchment steamer sheets in the store and they are not cheaper online. But if you can't find a good Asian market near you – they also sell parchment steamer sheets on amazon. Now you can become as pork bun obsessed as me!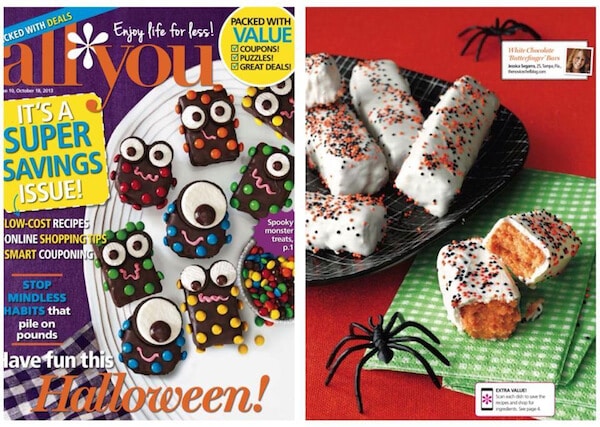 5. It's SO fun to see something of yours in actual print. I obviously have an online approach to things, but just like seeing my cookbooks in print…it's awesome to see something printed in a magazine! So if you get AllYou magazine, turn to page 70 to see my smiling face looking back at you! If you don't get it — you can find the recipe for Homemade White Chocolate Butterfingers here on the blog from last year. 😉
6. I got my hair colored yesterday and am now a member of Team Ombré! I did a mixture of Balayage Technique and Ombré — that way there is no abrupt line of color. My hair now goes gradually from a warm brown to caramel on the ends. It's so fun and fresh…and I know most people like to go darker in the Fall, but I was ready for a change. The best part about Ombré? The roots are meant to happen. Yay for not having to touch up my roots every 6 weeks!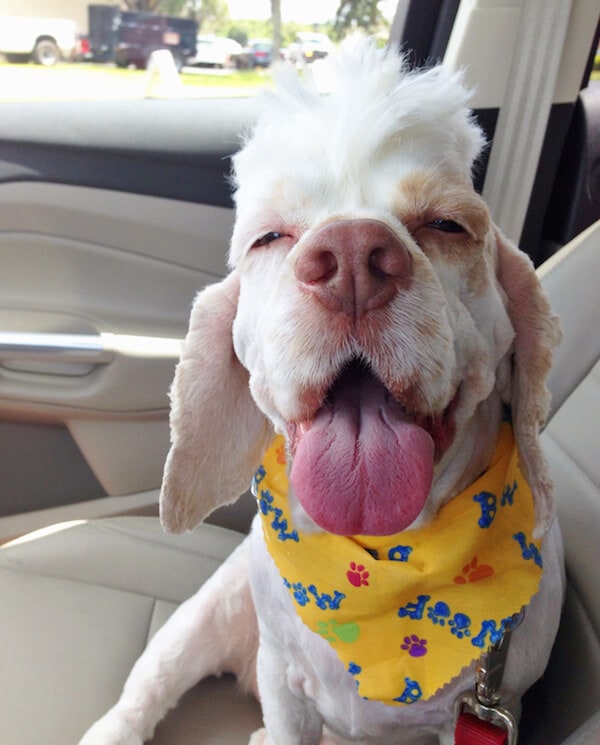 7. Brody got a new haircut today. It's the same one he always gets, shave all over and a mohawk on top. He was so exhausted he could barely even keep his eyes open. He was only there a couple of hours — you would think they had him running laps! I just had to show you guys because he looked so insanely cute.
8. I am off to NYC today for an impromptu long weekend. I am going to meet Jorge who is there for 3 weeks for work. I talked about my insane jealously already, so we don't have to cover that again today. Anyways, I am having a real tough time deciding on what I should pack. It says 70's in the day and 60's at night. To me that means cute boots weather, but I'm worried to New Yorkers that means shorts. So I am warning you all now, if everyone is in shorts and you see a chick in brown riding boots and ombré hair — it's just me. Please don't point and laugh at the Tampa girl.
9. Lastly, What is your favorite restaurant in NYC and what is your favorite thing to do? Jorge and I are looking for things that are a little less touristy, because we will be back in December with our friends and will be doing those things then.
While I may be out of town, there is still a new post tomorrow. I am sharing a recipe for Nutella Pumpkin Swirl Muffins! Make sure and check back in — You don't want to miss it! Oh and thanks in advance for all your NYC recommendations!