Tomato, Arugula & Goat Cheese Pizza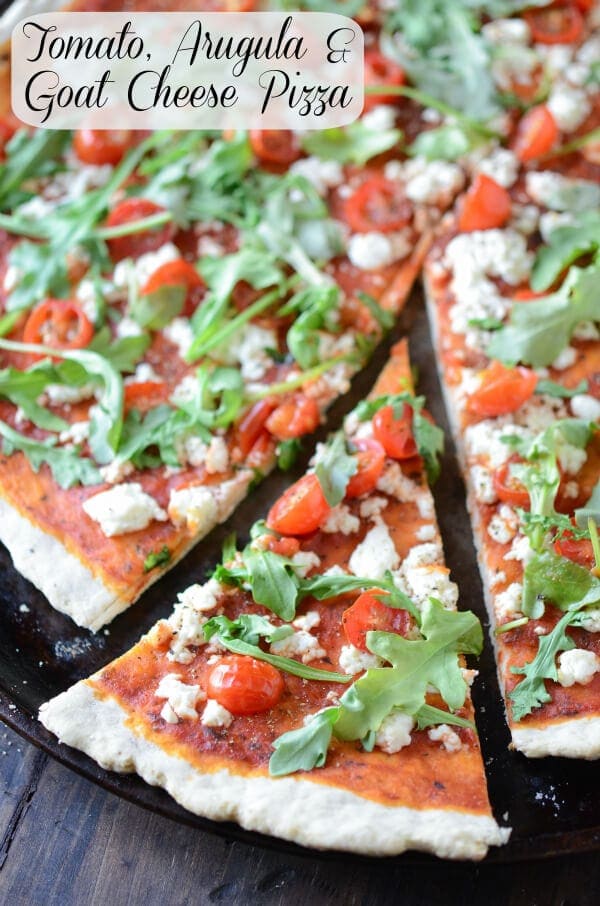 Even though food is my job, there are days that I don't even step foot in the kitchen. Ok, wait, that's kind of a lie. I go in for drinks or to heat up leftovers, but I don't actually bake or cook anything. Instead I spend my whole day at my computer answering emails, comments and having conference calls. I work on my other side jobs and do backend maintenance for the website. And lately I have been working on edits for my second book Cereal Sweets & Treats (out in September).
By the time the day is over, I really don't feel like making a big dinner. Sometimes I just need something fast that takes minimal effort from me. Usually I will reach for the frozen version of this pizza — that I buy in mass quantities — but apparently I had already eaten the last one. Good thing I already had goat cheese, cherry tomatoes and pizza dough lying around! A quick swap of arugula for spinach and this pizza was ready to go.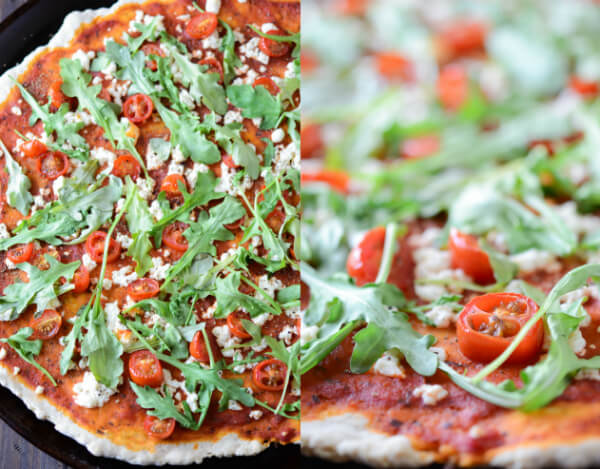 As you can see, this pizza doesn't have any mozzarella cheese on it. It is also light on the sauce. But with the addition of juicy cherry tomatoes and a whole 4 oz of creamy goat cheese, I don't miss it. If you have to have some more cheese on it, just add on a thin layer of shredded mozzarella.
And if you are out of marinara sauce, just brush olive oil onto the dough and then layer on the toppings. It is just as delicious without the marinara! Almost all the ingredients on this pizza are interchangeable. It's easily changed to your personal tastes or what you have on hand. 🙂
Tomato, Arugula & Goat Cheese Pizza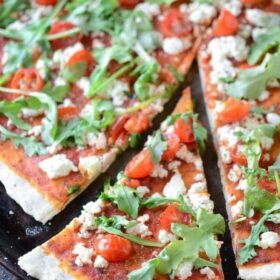 Ingredients:
1 pizza dough
1 cup marinara sauce
4 oz goat cheese, crumbled
1 cup cherry tomatoes, halved
kosher salt and freshly ground black pepper, to taste
1 giant handful of arugula
Directions:
Preheat oven to 425 degrees.
Roll out pizza dough and place on pizza stone or baking sheet. Spread an even layer of marinara sauce, leaving an inch around the edges.
Spread goat cheese and cherry tomatoes on top. Top pizza with a little salt and some fresh ground pepper.
Bake for 15-17 minutes or until the dough edges are golden brown. Top with arugula and serve immediately.