Tomato Crostini with Whipped Goat Cheese
One of my favorite things about living in Florida is our year round produce. We can grow most everything year round — and considering all the snow I see on the news that a lot of you are still being hit with, I consider us very lucky. To drive the point home, let me tell you about our cold snap we are having this week…the lowest it will drop is in the 40's. 😉
It's amazing to get to pull up to all of the little roadside stands and be able to get beautiful local fruits and veggies in March. Last week, I got a bushel of basil, 4 cartons of the juiciest cherry tomatoes ever, and 3 pints of giant Plant City strawberries for $6. You just can't beat it.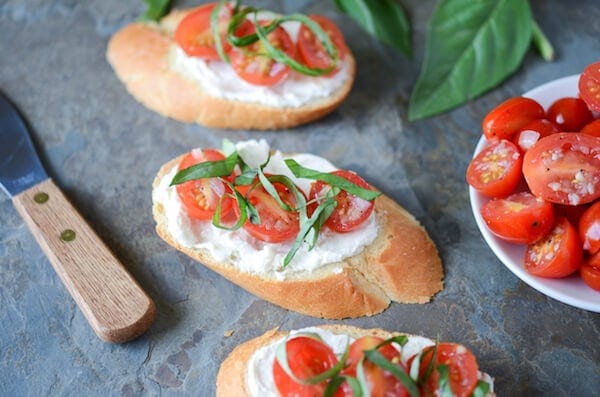 When I got invited to a Girl's Night last week, I knew exactly what I wanted to bring. I have been hearing whispers about this magical thing called whipped feta and thought hey, why not make it with goat cheese instead!
While feta is ok sometimes, I am much more of a goat cheese kind of lady. I was a little nervous about adding cream cheese to goat cheese…but the rumors are true, you can not taste it at all! It just makes the goat cheese so smooth and perfectly spreadable. I'm in love.
I got this crostini idea from Ina Garten and the flavors are perfect. She used feta, but I think the goat cheese works much better with the tomatoes and basil. I plan on making a pizza this week using some of these marinated tomatoes — they are seriously divine!!
Tomato Crostini with Whipped Goat Cheese
Recipe Note: If you don't have the time, the tomatoes do not have to marinate. They are delicious right away, but the flavors develop more when given the time.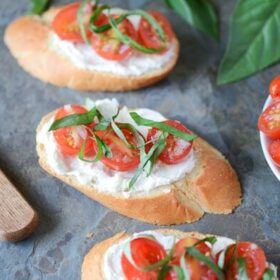 Ingredients:
2 pints cherry tomatoes, halved
1 large shallot, minced
2 garlic cloves, minced
Juice of 1 lemon, divided
2 tablespoons red wine vinegar
Kosher salt & Freshly ground black pepper, to taste
1 French baguette, sliced into 1/2-inch thick slices
8 oz goat cheese
4 oz cream cheese, softened
Fresh basil leaves, chopped
Directions:
In a large bowl, toss cherry tomatoes, shallot, garlic, juice of half of the lemon and red wine vinegar. Season with salt and pepper, to taste. Store in an airtight container in the fridge and let marinate at least 4 hours.
Turn on oven broiler. Lay baguette slices in an even layer on a cookie sheet and toast for about 30 seconds to 1 minute on each side, until golden. If making ahead, store in an airtight container at room temperature until ready to use.
Using a stand mixer (or hand mixer) beat goat cheese and cream cheese until smooth and fluffy, about 3 minutes. Add in the remaining juice from the other half of the lemon. Beat to combine. If making ahead, store in an airtight container in the fridge until ready to use.
To assemble: Spread a generous dollop of whipped goat cheese over each toasted baguette slices. Top each slice with tomatoes and basil. Devour.