Top 10 Must Eats at Epcot Food & Wine Festival: my favorite dishes I ate at the 2018 Epcot Food and Wine Festival including drinks, main dishes and desserts!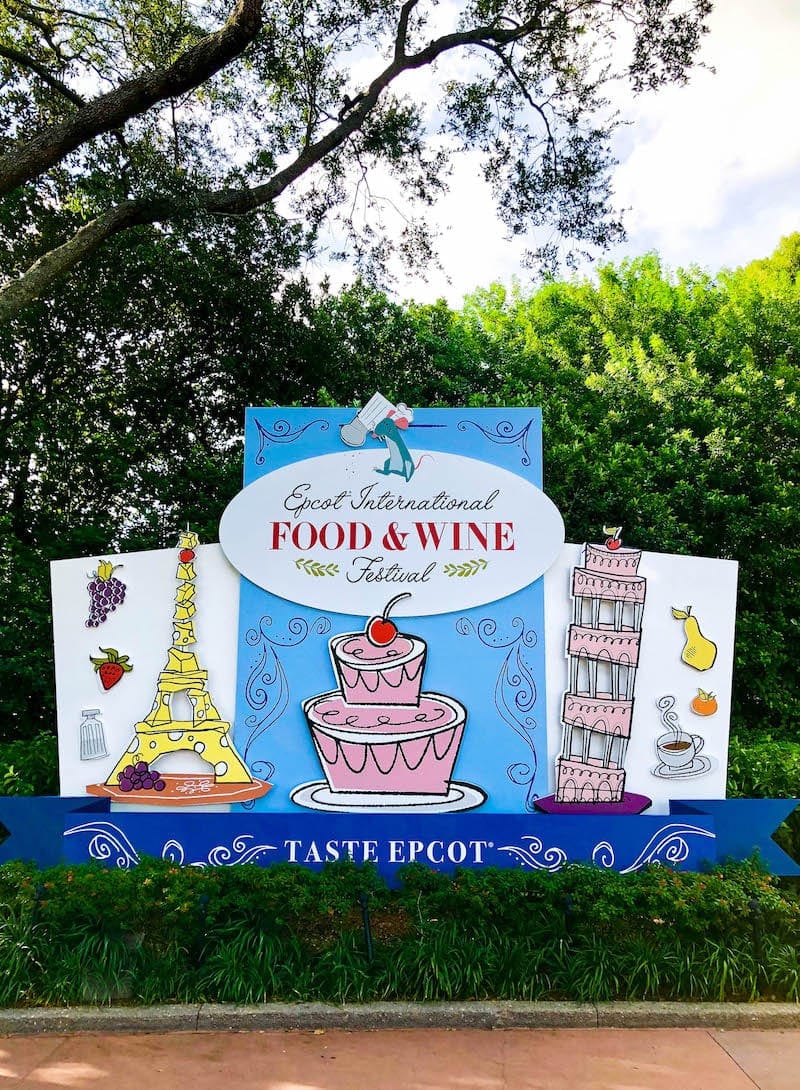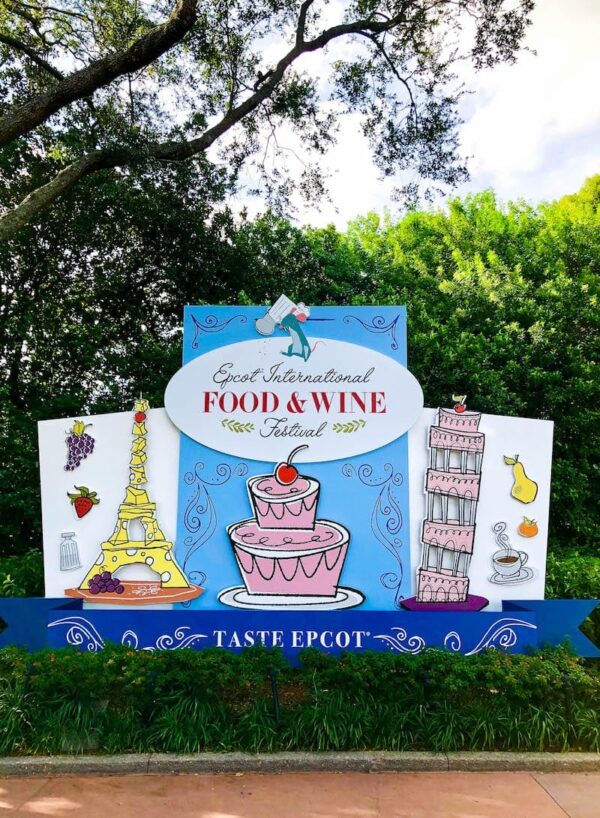 Every single year we make the drive over to Disney for their epic Food & Wine Festival at Epcot.
We usually go for my birthday, mid October, and enjoy the slightly cooler Florida temps and eat our way through all the countries.
This year, I ended up getting to go early with a bunch of wonderful food blogging friends and try everything together! We ate SO much!
Since I feel we almost tried it all, I wanted to round up my Top 10 Must Eats at Epcot Food and Wine Festival!
Try not to drool too much on your screen, It's going to be hard. 😉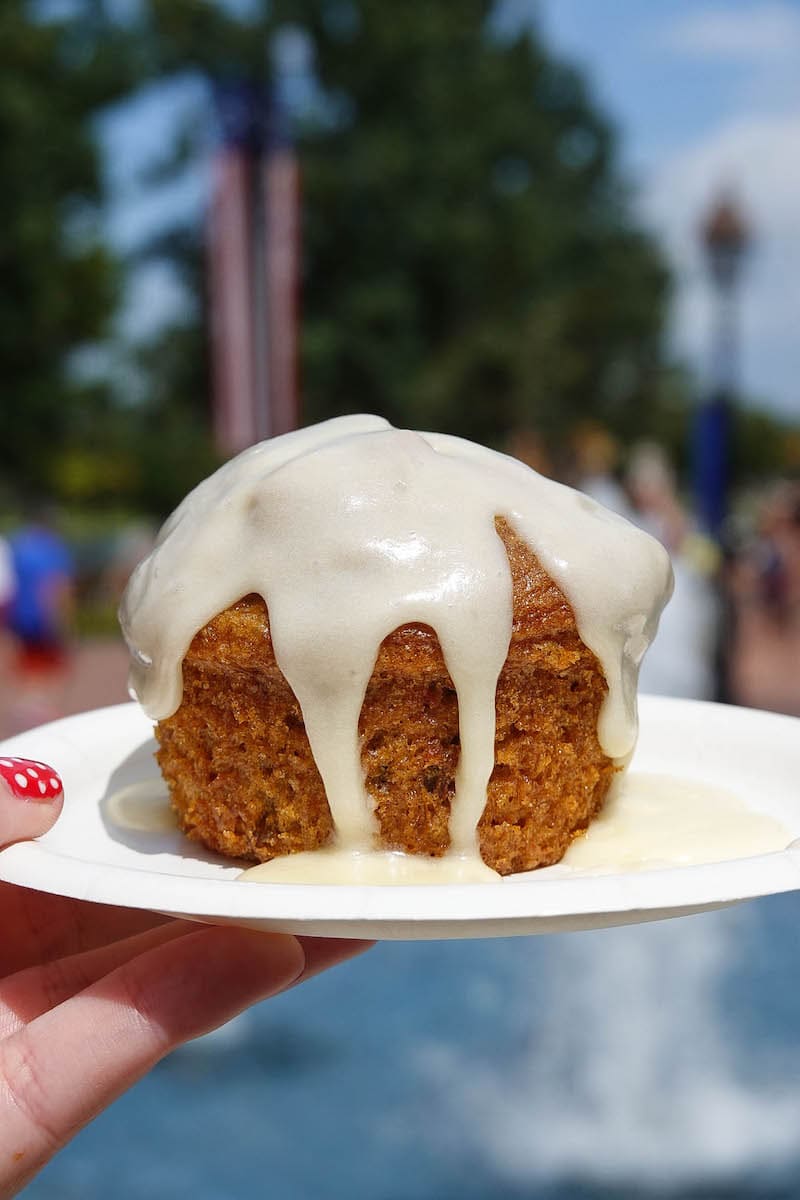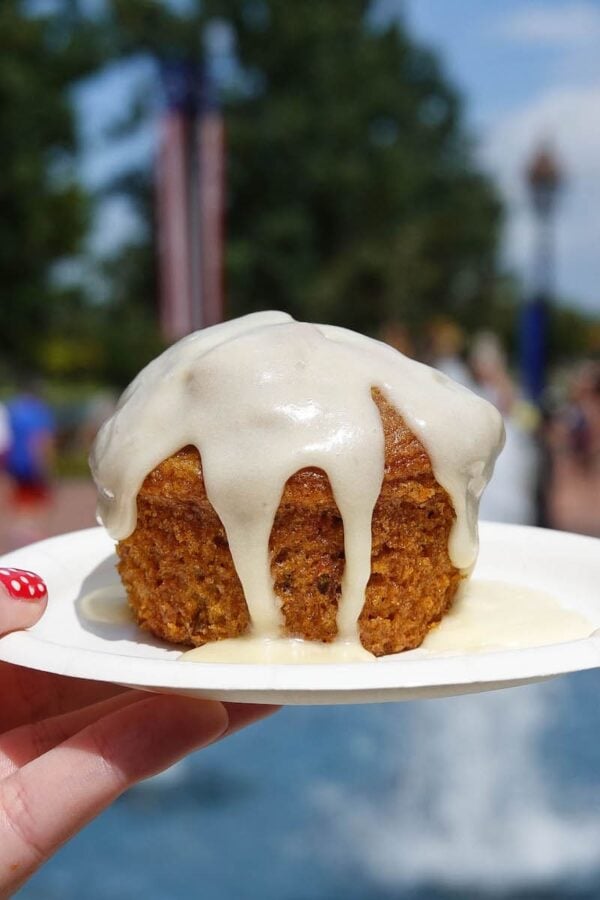 Freshly Baked Carrot Cake and Cream Cheese Icing
$4.00 — at the Hops & Barley marketplace
This was quite possibly one of my favorite things I ate all day. I know, crazy right?
The cake was super moist and was served fresh and still warm! Then they drizzled it with cream cheese icing!
I was already so full from everything else we had tried, that I promised I only wanted to take a small bite just to try it.
The next thing I know, I had seriously inhaled the whole thing. It's a MUST try in my book!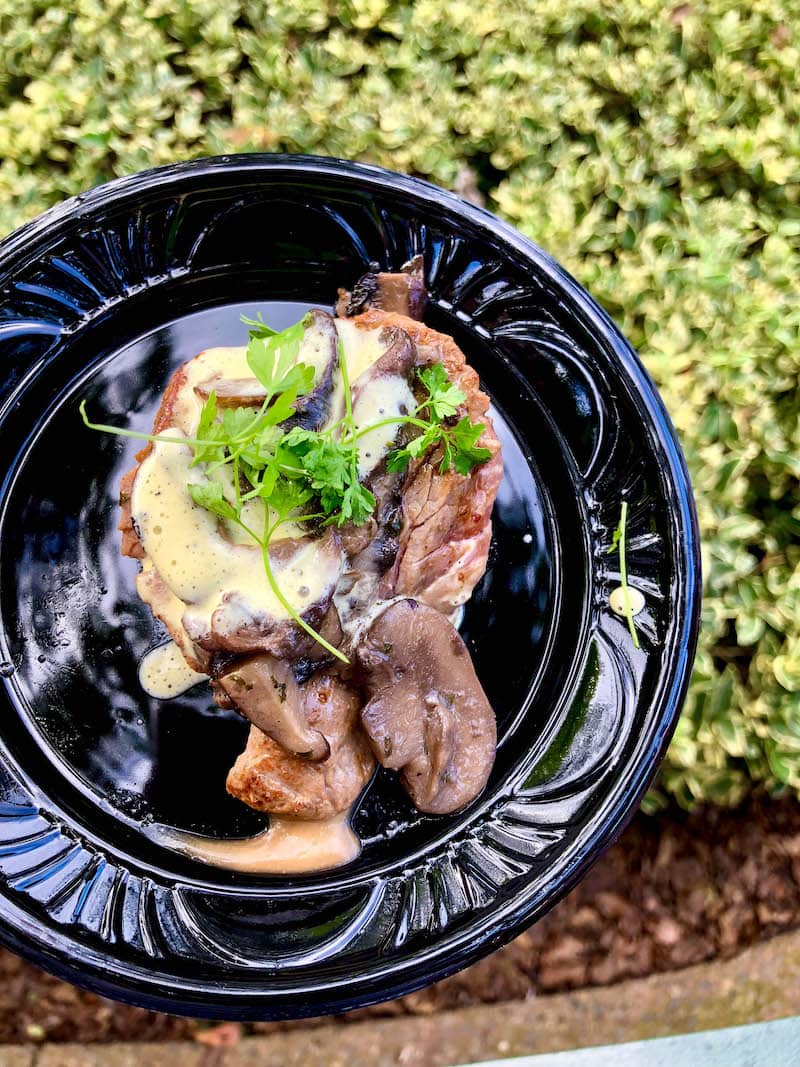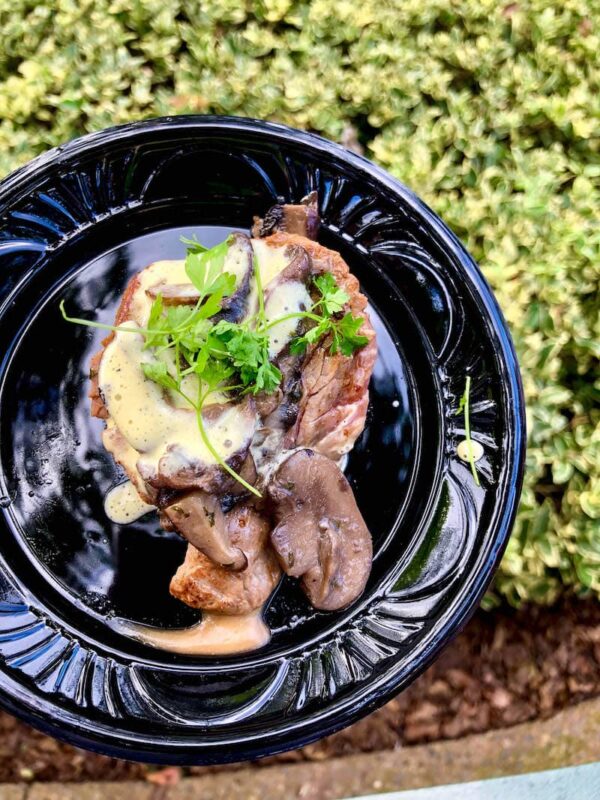 Le Cellier Wild Mushroom Beef Filet Mignon with Truffle-Butter Sauce
$8.00 — at the Canada marketplace
This is a staple every single year that we never pass up and sometimes get double of!
The steak is always incredibly tender and cooked perfectly. And the wild mushroom truffle butter sauce is to die for.
This is one of the first places you will come to around the world showcase, don't miss it!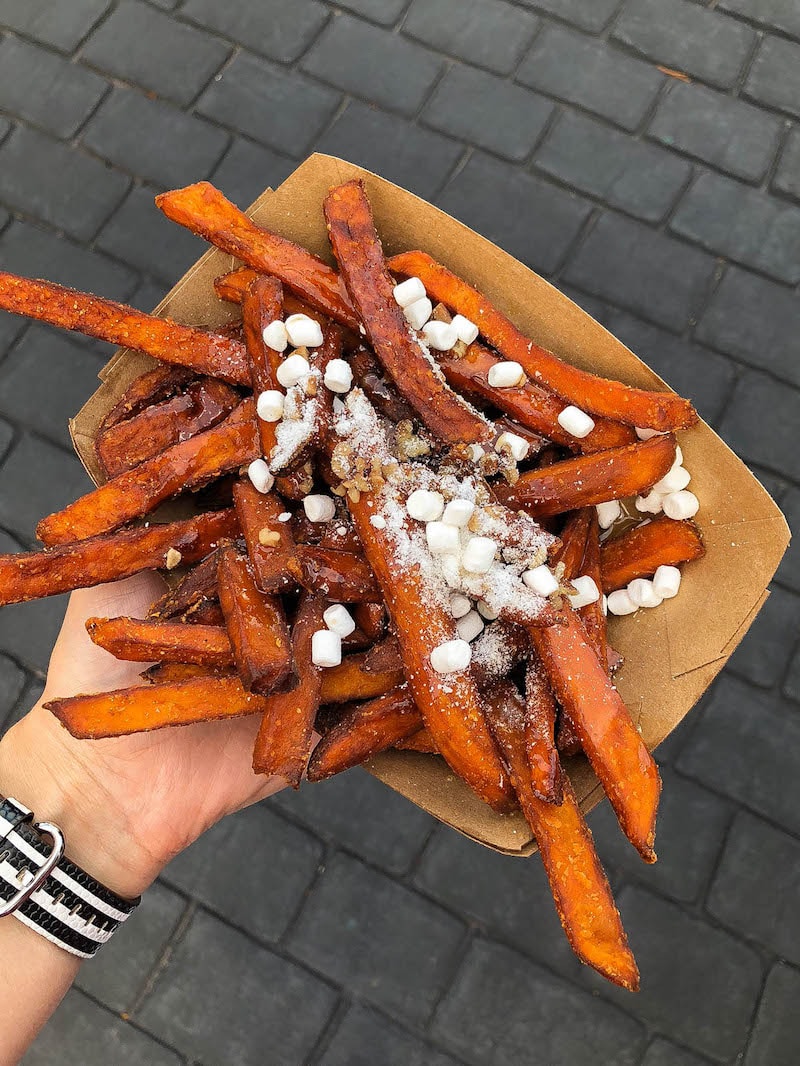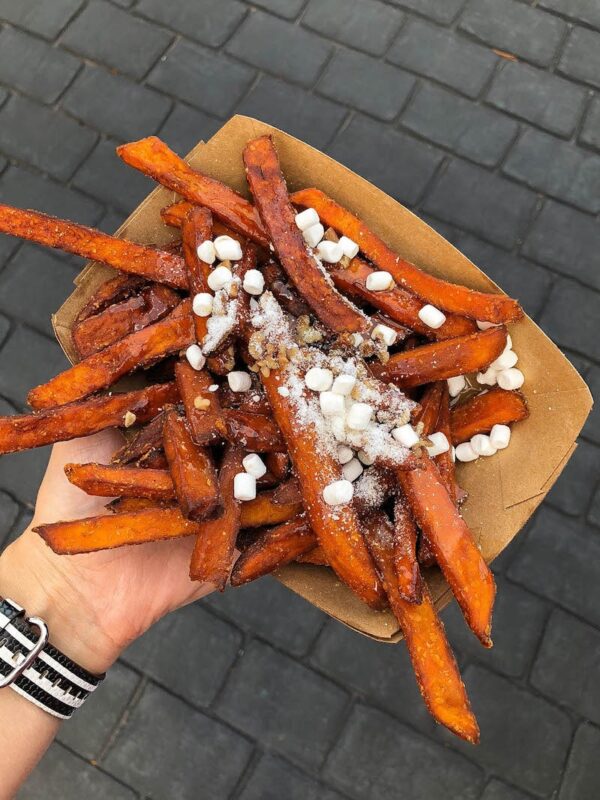 Sweet Potato Poutine: Sweet Potato Fries with Caramel Sauce, Mini Marshmallows and Pecans
$6.49 — at the Refreshment Port marketplace
This is another new dish this year that I was excited to try.
I am a big fan of sweet potato fries, so a Sweet Potato Fries Poutine was a must!
The fries were perfectly crisp and I really enjoyed the caramel sauce drizzled over them.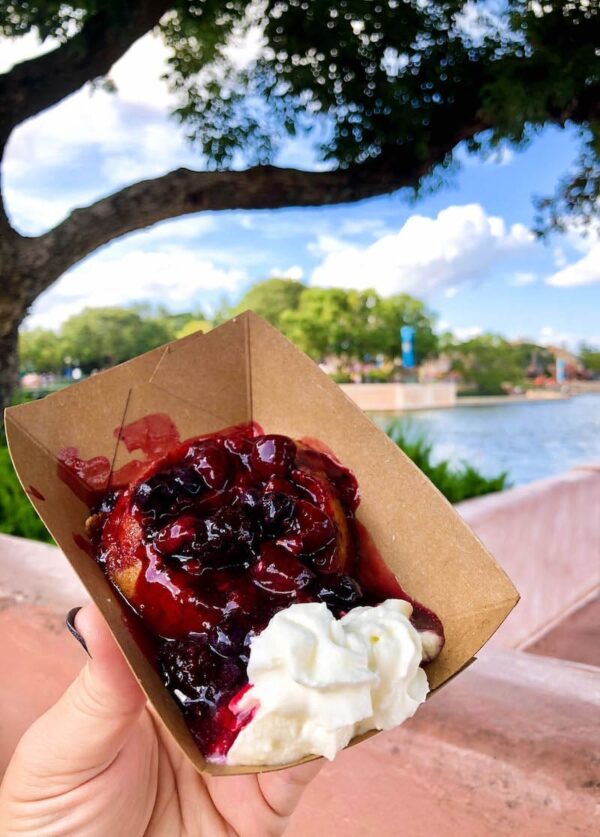 Belgian Waffle with Berry Compote and Whipped Cream
$4.00 — at the Belgium marketplace
This is another of those classics that I just can't pass up every year. It doesn't matter how stuffed I am, I have to get one!
The waffle is perfectly light and fluffy and their mixed berry compote puts it over the top.
They do have a chocolate version, and we all know I love chocolate, but this berry waffle wins top marks from me.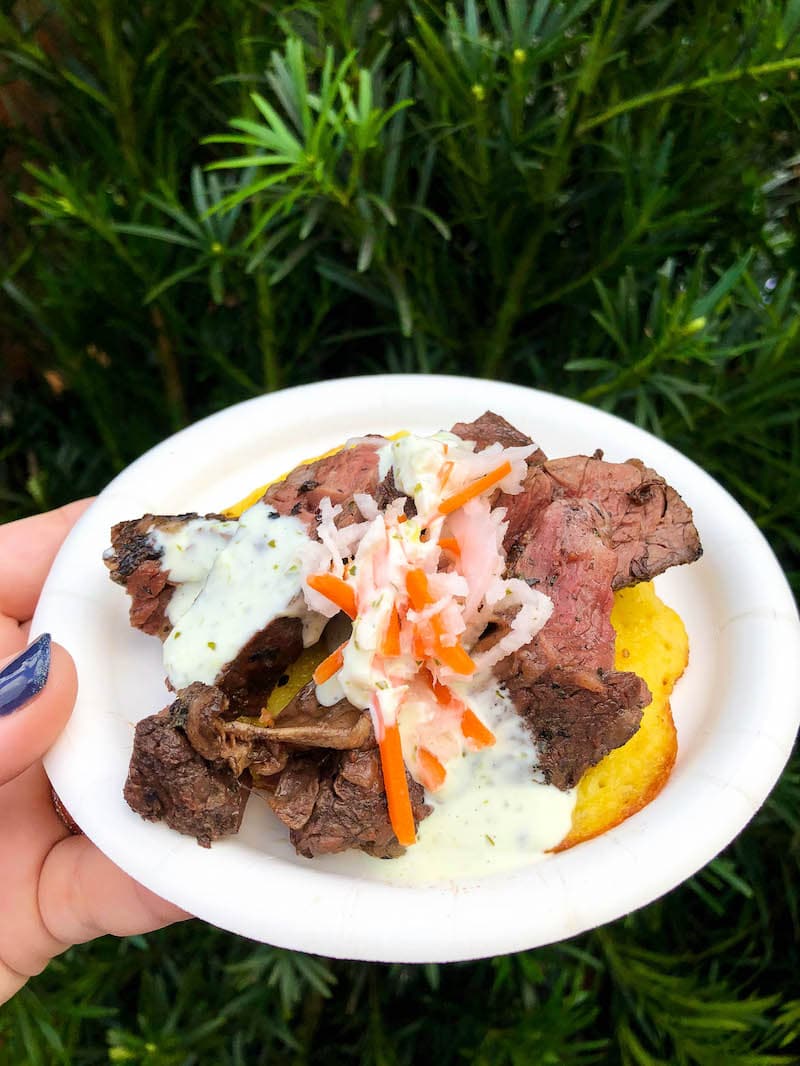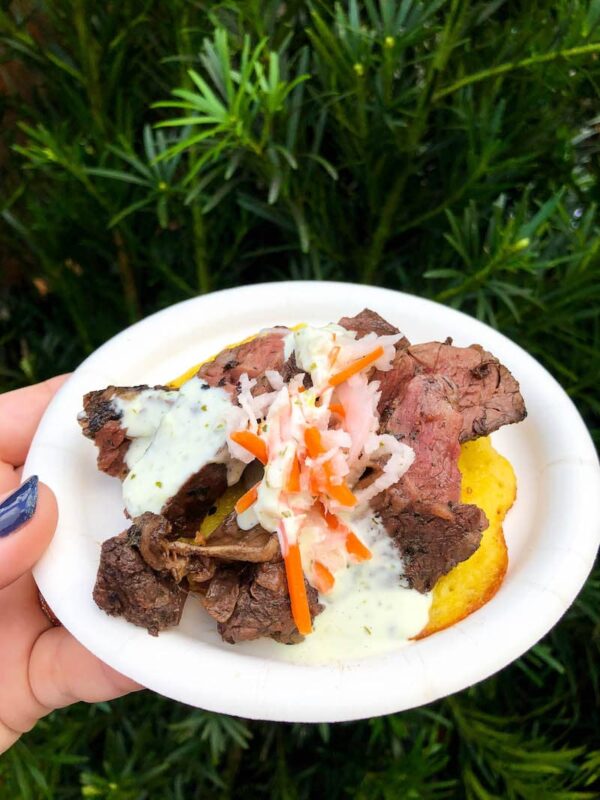 Charred Chimichurri Skirt Steak on a Smoked Corn Cake with Pickled Vegetable Slaw and Cilantro Aïoli
$6.75 — at the Flavors From The Fire marketplace
This was a new dish at a new booth this year and I was excited to give it a try when I saw the description.
The steak was wonderful and tender and I really enjoyed the smoked corn cake they served it over with the picked vegetables.
The Cilantro Aioli…I was honestly nervous when I saw it.
From the description, I was expecting more of a bright green cilantro chimichurri that I am used to.
However, I was pleasantly surprised and all of the flavors worked wonderfully together.
The creamy cilantro aioli sauce was delicious — I would really love the recipe if Disney wants to share. 😉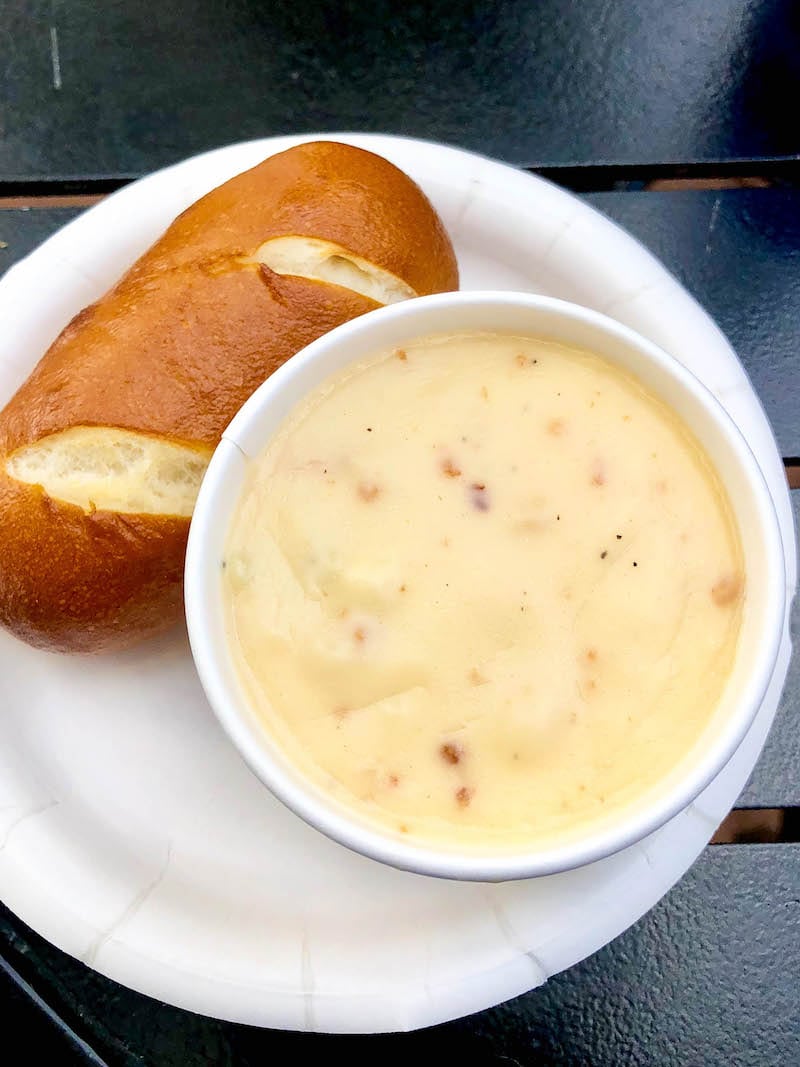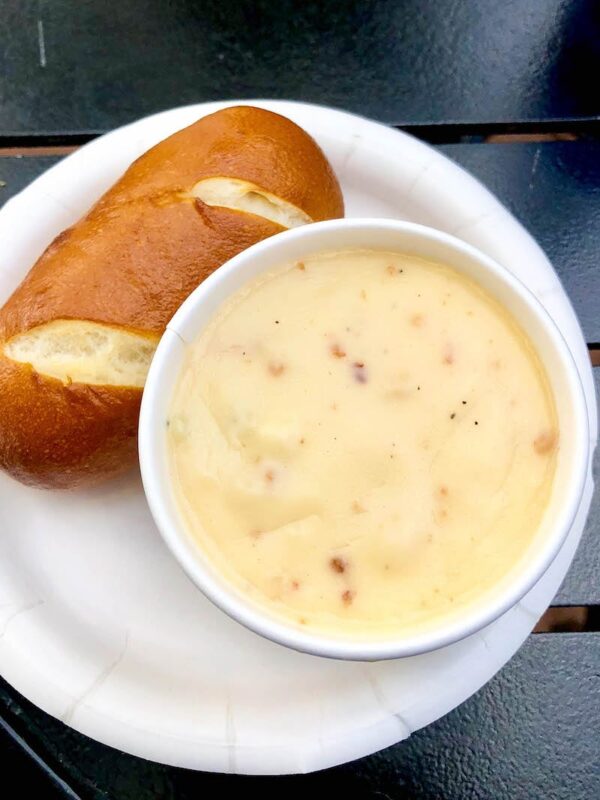 Canadian Cheddar Cheese and Bacon Soup served with a Pretzel Roll
$5.00 — at the Canada marketplace
This is another one of those classic favorites that I pray Disney never replaces!
The flavor of the soup is perfectly cheesy and salty form the bacon. Plus, I am always in for a good pretzel roll.
I like to dunk my pretzel roll right into the soup as I eat it!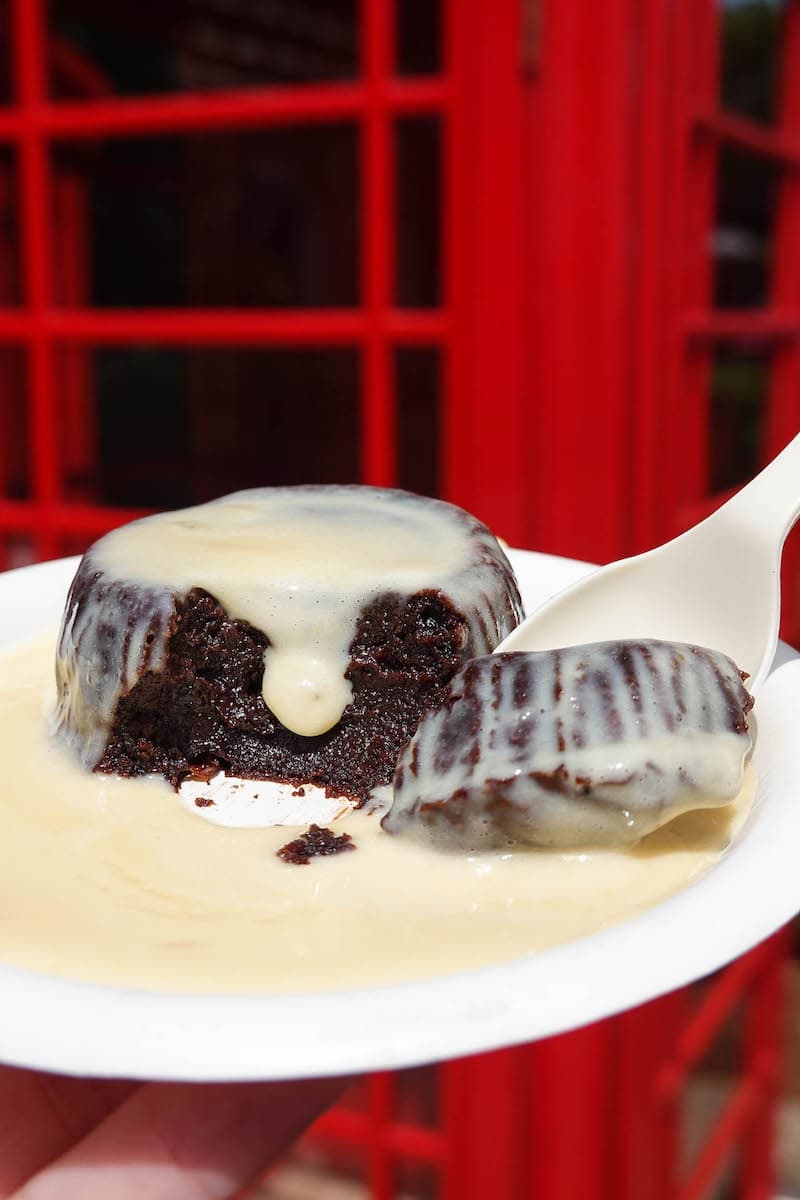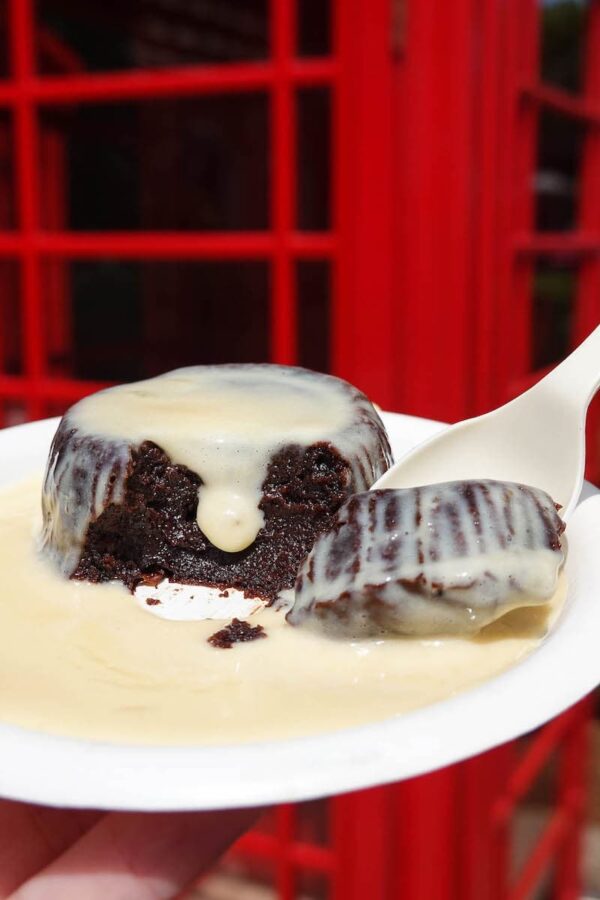 Warm Chocolate Pudding with Irish Cream Liqueur Custard
$4.25 — at the Ireland marketplace
This dark chocolate pudding is so rich and has a great texture, but the Irish Cream Liqueur on top…so good!
Bonus: this dessert is gluten free, but you wouldn't know it from how it tastes!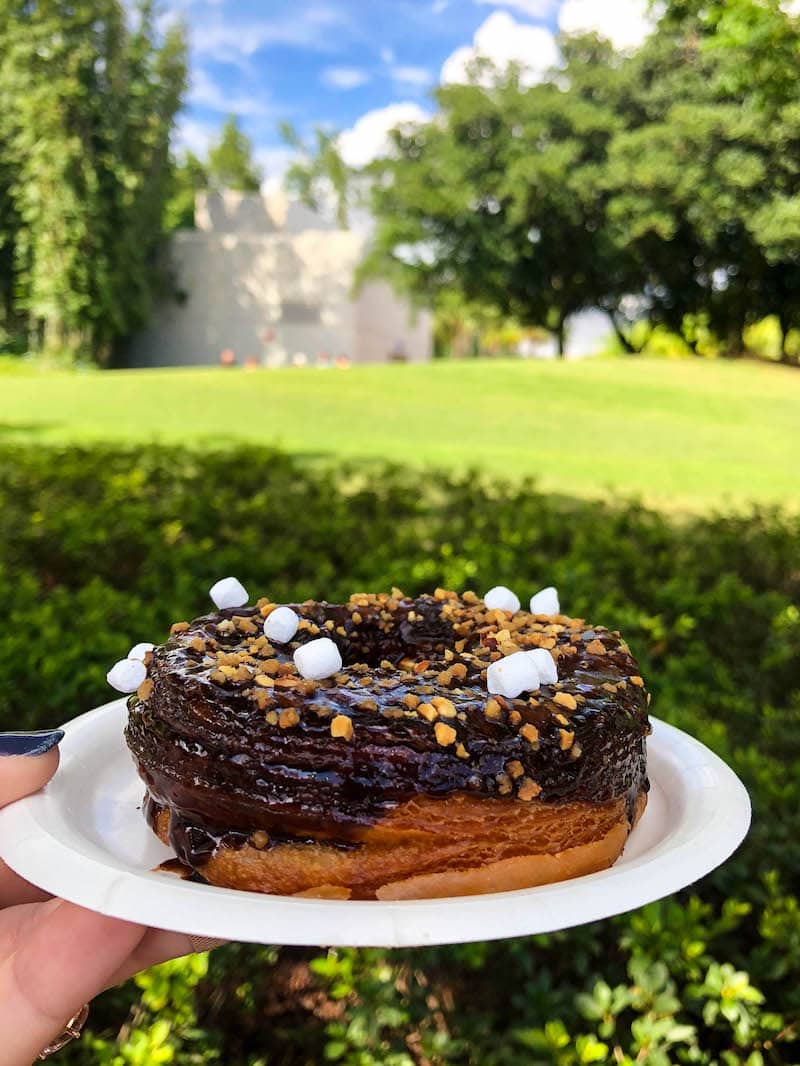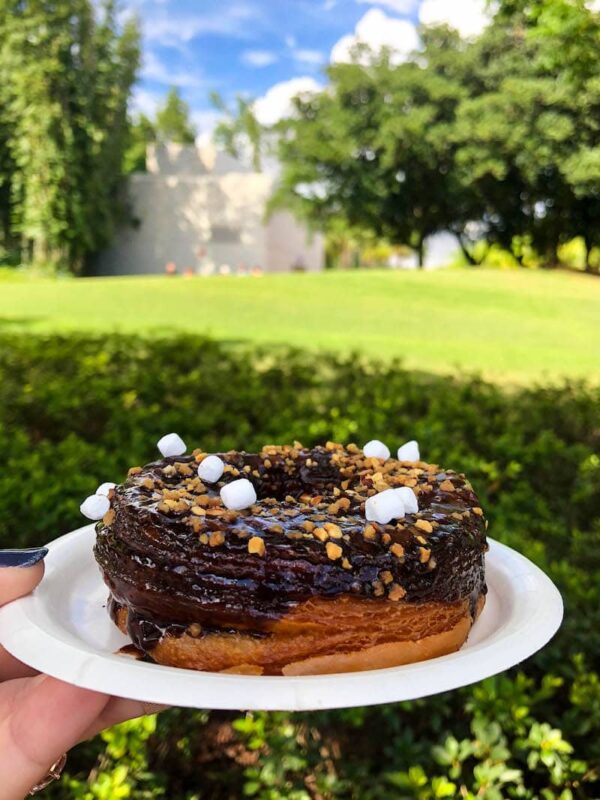 Croissant Doughnut with Chocolate and Marshmallows
$6.5o — at Taste Track marketplace
These "Cronuts" come in a ton of flavors and combinations. The photo is the Croissant Doughnut with Chocolate and Marshmallow.
They also have a classic cinnamon sugar, chocolate hazelnut cream and sprinkles! My favorite of all of them was the cinnamon sugar version.
And if you are feeling extra wild, for $2 more, you can add Chocolate, Hazelnut, White Chocolate Raspberry, or Vanilla Bean Gelato.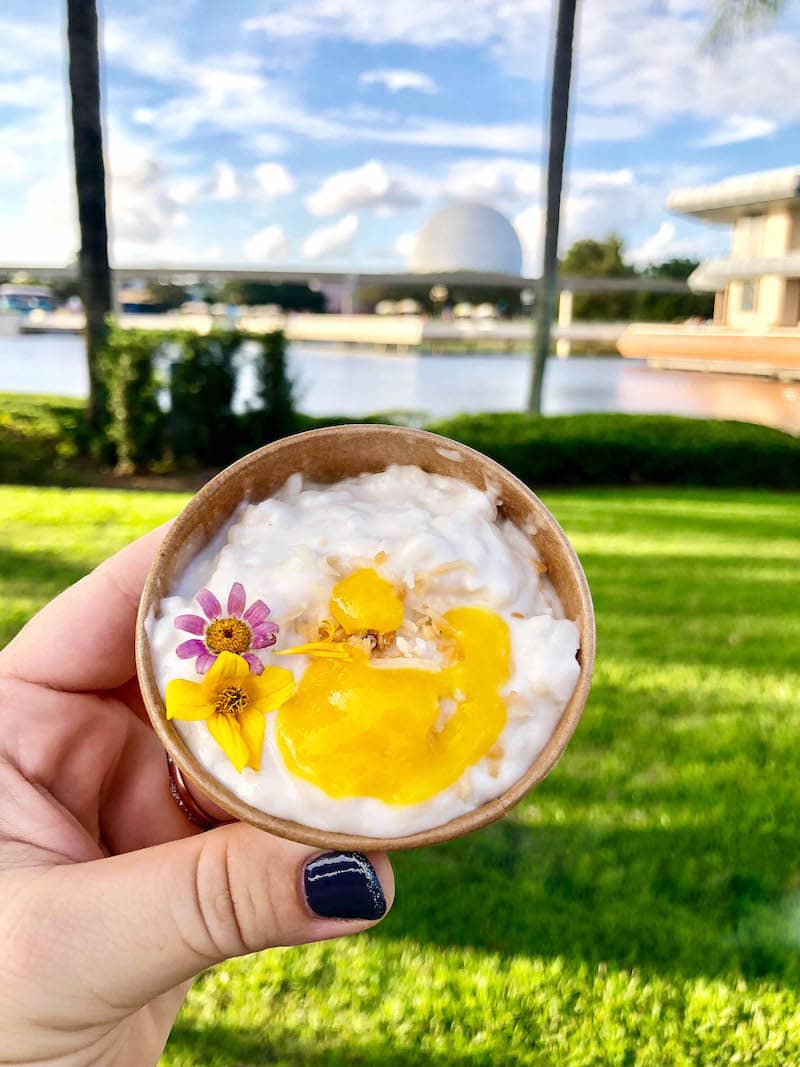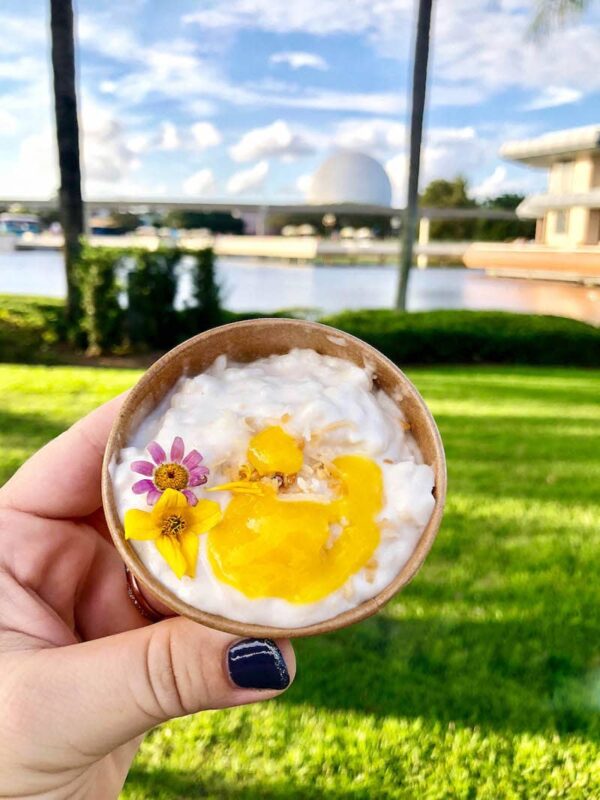 Coconut Rice Pudding served with Mango Coulis
$4.25 — at the Mexico marketplace
I am a huge rice pudding fan. HUGE. So it's no surprise that I loved this dish since I also make a Coconut Rice Pudding copycat recipe that I had on a Disney Cruise!
Personally, I prefer my rice pudding to be served warm. However, I really loved this chilled version.
I think the mango really gave it something extra and aren't the edible flowers adorable?!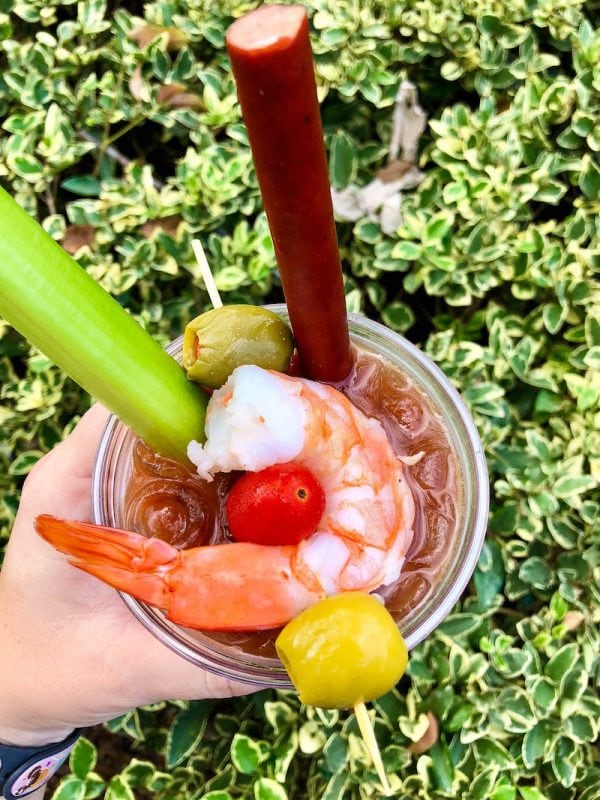 Stowaway Mary
$13.25 — at The Refreshment Port marketplace
I didn't include any other cocktails because this is a must eats list, but to round out our Top 10 Must Eats at Epcot Food & Wine, I had to mention this epic Bloody Mary.
Yes, it's a drink, but it's a must eat too! Look at those toppers!!! It's worth it for the giant shrimp alone!
---
Did I miss your favorite dishes, desserts or drinks?
I am heading back to the Food & Wine Festival for my annual birthday trip and want to make sure I try all of your favorites too!
This post may contain affiliate links. Read my disclosure policy.