Tri-Color Orzo with Zucchini & Cherry Tomatoes
My Dad has a saying that goes "If you're gonna be stupid, you better be tough." Growing up he said this to me every day, sometimes twice a day a lot. I understood what it meant, but didn't really know how true it was until I started encountering some of America's finest. For starters, today I read a story about a woman who put a frozen chicken into her dryer to defrost it. Seriously, I couldn't make that up if I tried. This my friends is the perfect example of "If you're gonna be stupid, you better be tough". But personally I like the guy at Lowes today who combined being stupid and a pig all at once…
Lowes Guy:  "Hey little lady, need some help?"
In my head: Did he just say little lady? What an ass. That's so chauvinistic. But maybe he meant I looked skinny! Cause I totally have been sticking to my Weight Watchers lately! Wow how sweet of him to notice! :::giving him a huge smile since maybe he thinks I look little:::
Lowes Guy: "So uh, your husband let you come in here all alone huh?"
………
…………..
Me: Soo ya no, he totally doesn't think I look 'little'. He is just a major asswipe. "No but my partner did. She doesn't like to do all the manly stuff."
Him: "..Oh……..Thats, uh cool. Well thanks for shopping at Lowes."  :::darting off down the paint aisle:::
Again, If you're gonna be stupid, you better be tough. And just for the record, I am not claiming to have never been on the receiving end of this saying. For example, a few years ago I accidentally responded 'to all' on an email to my entire team at work, including my boss, about how annoying the boss was. As soon as I saw it sent to everyone all I could think was "If you're gonna be stupid, you better be tough". So true, so very, very true. (Luckily I was able to play it off as a sarcastic joke…I seriously have no idea HOW I managed to pull it off.)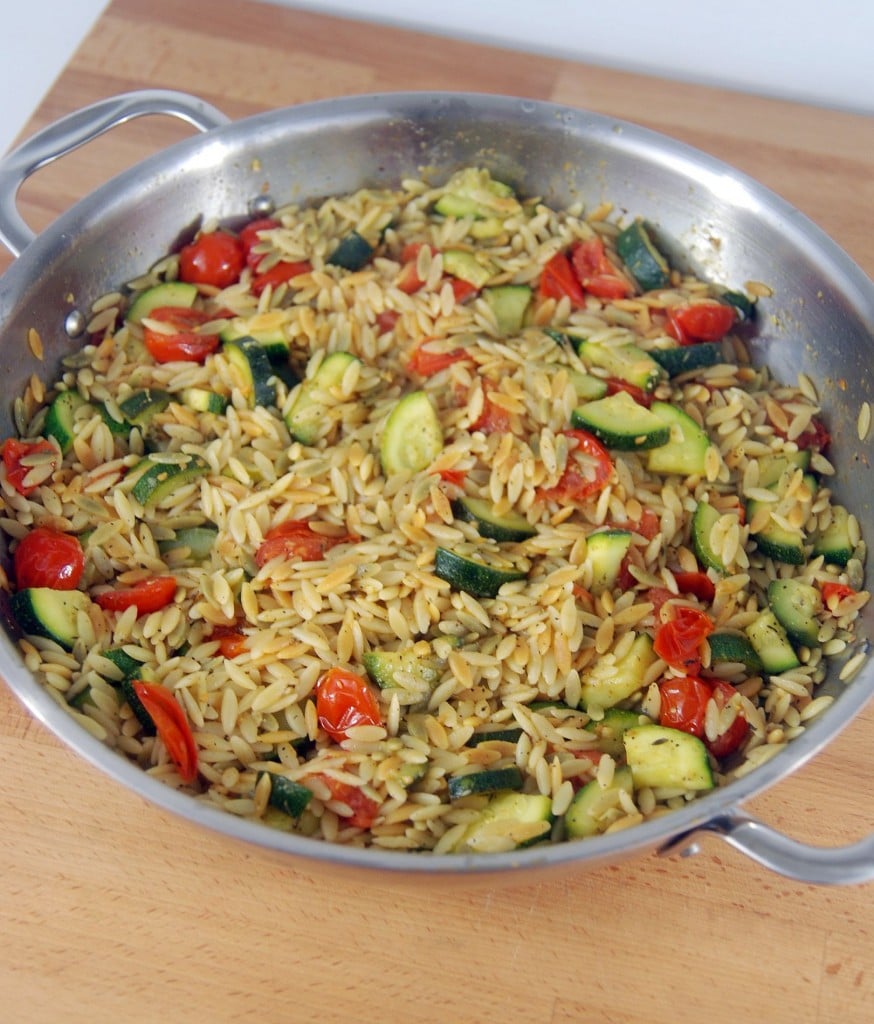 This recipe was created on one of those nights where I just tossed everything I could find together…and it turned out delicious. We have had it (on purpose) 3 times since then! We love the flavors together and it goes wonderfully along side grilled chicken or even as a stand alone dish.
Tri-Color Orzo with Zucchini & Cherry Tomatoes
Recipe Note: I use Better Than Bouillon to boil the orzo in. If you have a bunch of extra chicken stock lying around, use it instead! I use Better Than Bouillon because it is much more cost effective and really gives great flavor to the orzo. Also, to make this dish vegan just substitute the Better Than Bouillon, Chicken for Vegetable flavor, or Vegetable stock. Or of course you can always just use water in a pinch!
Ingredients:
1 cup tri-color orzo
8 cups water
1 tbl Better Than Bouillon, Chicken
Cooking Spray (or Olive Oil in your Misto)
1 lg zucchini, chopped
12-15 cherry tomatoes, sliced in half
1 lg shallot, sliced
1 clove garlic, minced
1 tsp fresh thyme, minced
salt and pepper
Directions:
Begin by bringing water to a boil in a large stockpot over high heat. Once boiling, whisk in your Better Than Bouillon. Add orzo and cook according to package, or until al dente. Drain, set aside.
In a large skillet over medium-high heat, coat with cooking spray (or Olive Oil), and add zucchini, cherry tomatoes, shallot and garlic. Saute for about 5-7 minutes, or until the zucchini is tender.
Remove from heat and add thyme, salt and pepper, stirring well. Then toss with orzo until well combined. Serve immediately.
Source: A Novice Chef Blog Original