Triple Chocolate Glazed Brownies are for the hardcore chocolate lovers. Dark chocolate brownies made with chopped chocolate and topped with a chocolate glaze… are you hooked yet?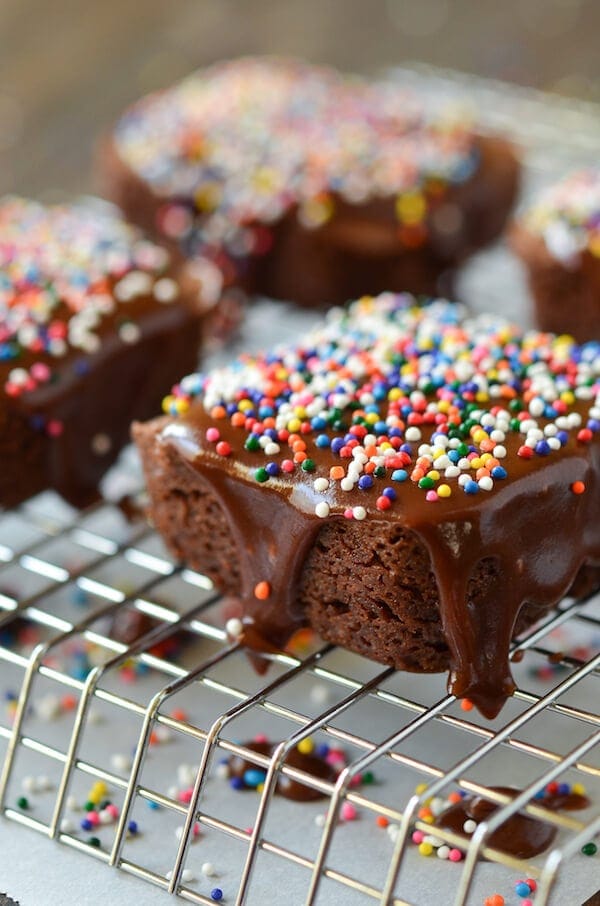 I have a serious case of the Mondays this week. Between my to-do list being 3 miles long, job stresses and moving stress…I just want to curl up and pretend like the rest of the week is a vacation. I had 3 cups of coffee today and it still wasn't enough to keep me going. And then here I am writing this post at 9:30 tonight and I haven't even had dinner yet. Well, unless you count the brownie I just ate. ;-)
When a long stressful day just won't stop, there is only want thing to do. Bake Brownies! And top them with extra chocolate! AND SPRINKLES! At least, that is what I do. I'm pretty sure bright colored sprinkles have a direct happy line to my brain. It's like a pure shot of serotonin.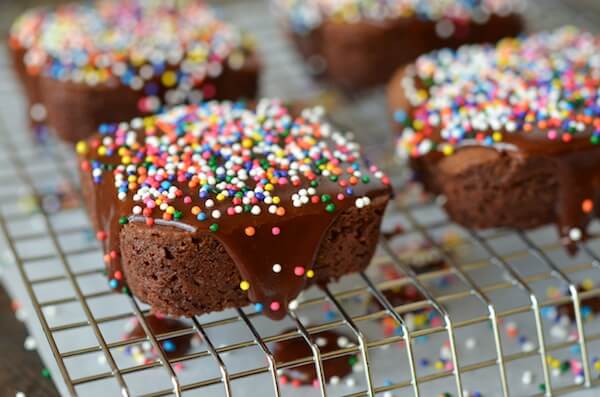 I made these brownies in my favorite individual square pan. I have talked about it many times before, but this is seriously one of the best baking items my Mom has ever bought me that I had no idea I wanted or needed until I used it. I use it for mini cakes sometimes, but it is best for baking individual square brownies. Everyone gets the crispy edges and gooey center…it's the best of both worlds. Plus, they are extra adorable.
These Triple Chocolate Glazed Brownies are divine, even if you don't cover them in extra chocolate. I have been working on this recipe for quite some time because I used to be a boxed brownie kinda girl. I loved the flavor and the shiny crinkly top I got every single time I used the box. After months of tweaking this recipe, I think I have finally managed to make homemade brownies that are possibly better than the boxed kind. And just like the boxed ones, they only dirty up one bowl!
Yield: 12 brownies
Triple Chocolate Glazed Brownies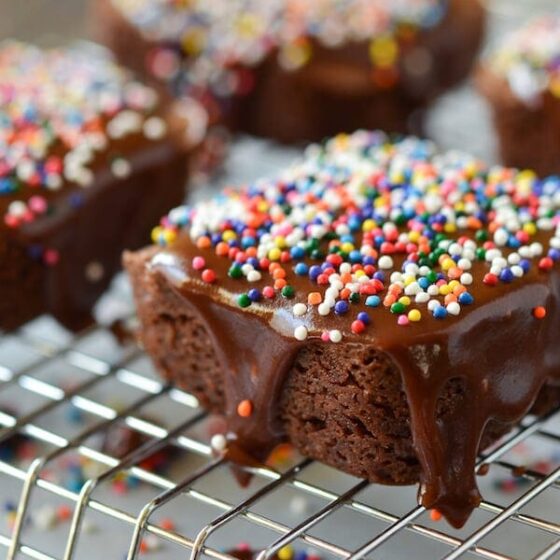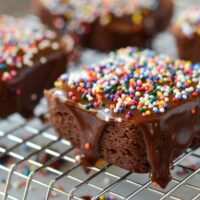 Triple Chocolate Glazed Brownies are for the hardcore chocolate lovers. Dark chocolate brownies made with chopped chocolate and topped with a chocolate glaze... are you hooked yet?
Additional Time
10 minutes
Ingredients
For the Brownies:
1 stick unsalted butter
3 oz dark chocolate, chopped
1 1/4 cup granulated sugar
1/4 cup unsweetened cocoa powder
1/3 cup water
1 large egg
1 large egg yolk
1 teaspoon vanilla extract
3/4 cup plus 1 tablespoon all purpose flour
1/4 teaspoon salt
For the Chocolate Glaze:
4 tablespoons unsalted butter
2 tablespoons whole milk
1 tablespoon light corn syrup
2 oz bittersweet chocolate, roughly chopped
1 cup powdered sugar, sifted
Instructions
For the Brownies:
Preheat oven to 350°F and grease your individual square pan. Set aside.
In a medium sized pot over medium-high heat, melt butter. Whisk in dark chocolate and continue stirring until melted. Whisk in sugar, cocoa powder and water, whisking until smooth. Remove from heat and let cool for about 5 minutes.
Add egg, additional egg yolk and vanilla extract – whisking like a mad woman so you don't wind up with scrambled brownies. Then stir in flour and salt, until just combined.
Fill each square with about 1/4 cup brownie batter, leaving a little room for rising. Bake for 18 to 20 minutes, or until a toothpick inserted in the center comes out clean. Let brownies cool for 10 minutes in pan, turn out onto wire rack and let cool completely.
Brownies are best the next day, so store in an airtight container until ready to serve.
For the Chocolate Glaze:
In a small saucepan over medium heat, melt butter. Add milk, corn syrup and chopped chocolate, stirring slowly to allow chocolate to melt completely. Once melted, remove from heat and whisk in powdered sugar.
Immediately spread the chocolate glaze on the top of each brownie and top with sprinkles or chopped up candies. Let frosting set for 10 minutes and serve!
Notes
Recipe Note: The actual brownies are much better the next day, so they are the perfect make ahead treat! Bake the brownies the day before and then ice them the day of!
Nutrition Information:
Yield:
12
Serving Size:
1
Amount Per Serving:
Calories:

323
Total Fat:

18g
Saturated Fat:

11g
Trans Fat:

0g
Unsaturated Fat:

6g
Cholesterol:

78mg
Sodium:

64mg
Carbohydrates:

39g
Fiber:

2g
Sugar:

35g
Protein:

3g
This post may contain affiliate links. Read my disclosure policy.