These Triple Chocolate Malt Cookies are chewy, flavorful and perfect for gifting. Made with a combination of milk chocolate, dark chocolate, chocolate syrup, and malted chocolate powder it's they are full of chocolaty goodness!
If you love chocolate cookies as much as I do, you've got to try these Turtle Chocolate Cookies, these delicious Double Dark Chocolate Cookies With Sea Salt, and these classic Chocolate Chunk Cookies.
I am awesome at showers. It doesn't matter if it's a baby or a bridal shower, you want me as a guest. I rock at the games, especially the "guess how much toilet paper you would need to wrap around the pregnant woman's belly" game. It's probably because I have so much practice guessing if the jeans I just spotted on sale are going to fit after the giant pretzel I just inhaled.
I also always bring a fun, attention grabbing gift. Bridal Showers = Towel Cake decorated with ribbons. Baby Showers = Diaper Cake decorated with ribbons. No shower is complete without one of these monstrosities taking up most of the gift table.
I am also excellent at helping to convince your uptight guests that it's perfectly acceptable to have a drink at 11am…. Oh, look everyone is doing it!….No, don't worry, it's only one glass…Have you tried the champagne punch yet? It's divine!…   We all know that crazy aunts and your Mother In Law are all much more tolerable after they have a drink or two in them. That's why even at a Baby Shower they include an alcoholic option. It just makes sense.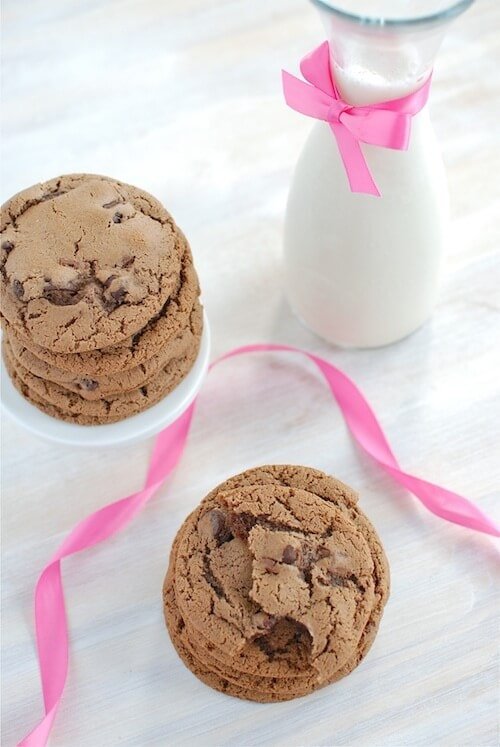 When I found out my blogging friend Amy, of Sing For Your Supper, was going to have a baby girl I was thrilled! She is going to be an amazing Mama! First, her doggie, Izzy, is even more spoiled than Brody. So obviously she knows how to keep things alive and to dress them in adorable outfits already. Secondly, she is from my wonderful home state of Texas and anyone from Texas is awesome at everything by default. Seeing as we live states apart, I knew I wasn't going to get to help out in any of my usual Baby Shower ways. So when I got an email from Kelsey, of Apple A Day, about a virtual baby shower for Amy, I immediately said yes!
Amy will soon be welcoming a baby girl named Cassidy Grace! And what better way to celebrate a baby girl than with chocolate and pink ribbons? It's just a given! These Triple Chocolate Malt Cookies are a deliciously chewy, flavorful cookie. By using a combination of milk chocolate, dark chocolate, chocolate syrup, and malted chocolate powder you end up with a delicious melding of chocolates. These keep well in an airtight container and would make a perfect lunchbox cookie!
Congratulations again to Amy and her husband Joel!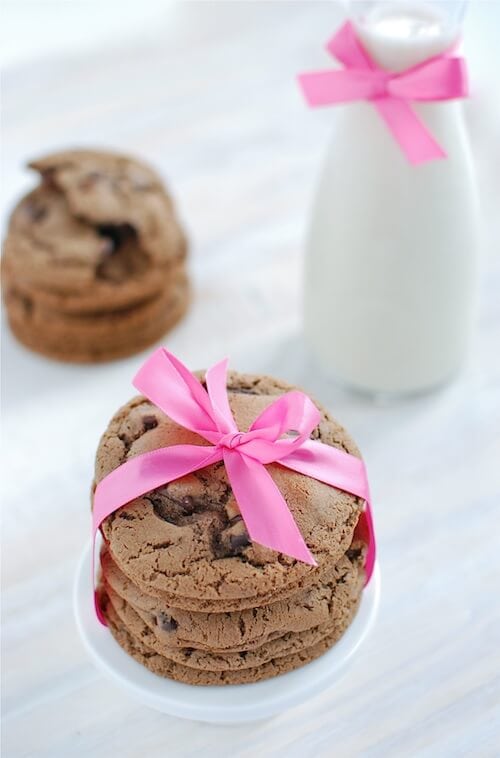 Make sure and check out the entire virtual bridal shower on either Kelsey's or Amy's blogs!
Additional Time
5 minutes
Ingredients
1/3 cup chocolate malted milk powder
1 1/2 cups all purpose flour
1 teaspoon baking soda
1/2 teaspoon salt
1 cup packed brown sugar
5 tablespoons butter, room temperature
1 large egg
1 tablespoon vanilla extract
1/4 cup chocolate syrup
1/2 cup coarsely chopped milk chocolate
1/2 cup dark chocolate morsels
Instructions
Preheat oven to 350 degrees. Line cookie sheets with parchment paper or silpat.
In a medium bowl, combine malted milk powder, flour, baking soda. Set aside.
In stand mixer (or a large bowl), beat brown sugar and butter until crumbly. Add egg, vanilla extract, and chocolate syrup and mix until smooth, scraping down the sides as needed.
Gradually add flour mixture to wet ingredients, stirring (or beating at low speed) until just combined. Do not over mix. Stir in milk and dark chocolate.
Using your hands, roll 2 tablespoons of dough into balls. Place dough balls 2 inches apart on baking sheet -- they do spread a lot. Bake for 14 minutes, remove from oven, and let sit for 5 minutes on baking sheet. Transfer to wire rack and let cool. Store in airtight container for up to 1 week.
Nutrition Information:
Yield:
16
Serving Size:
1 Cookie
Amount Per Serving:
Calories:

228
Total Fat:

9g
Saturated Fat:

5g
Trans Fat:

0g
Unsaturated Fat:

3g
Cholesterol:

24mg
Sodium:

196mg
Carbohydrates:

34g
Fiber:

1g
Sugar:

22g
Protein:

3g
Categories
This post may contain affiliate links. Read my disclosure policy.