These low calorie Tuna Cakes with Fresh Tomato Salsa are a delicious, healthy appetizer recipe that everyone will love. The fresh tomato salsa is so good, you'll want to put it on everything!
If you love tuna as much as I do, try these Mexican Tuna Salad Stuffed Avocados next time!
I Wish I Could Eat These Tuna Cakes Everyday
Thanks to Tuna Casserole and Tuna Surprise in school cafeterias in the 90's, nobody likes Tuna anymore. I get that those lunches were scary…but it wasn't the Tuna's fault! It was probably fear of the woman serving it…with her drawn on sharpie eyebrows and missing fingers –or was that just my creepy lunch lady?!
In spite of all those bad tuna memories, I LOVE tuna. I could eat it everyday, if I wasn't terrified of getting Mercury poisoning. I love tuna salad, tuna melts and this weird tuna casserole thing with bread that I found in an old Betty Crocker cookbook.
When I was dreaming up my Tuna Cakes, I was trying to figure out a way to give them some extra umph while keeping them ass friendly. I knew I could keep the Tuna Cake itself healthy, but a sauce on top was tricky. A cream sauce would be delicious…but cream is totally evil. Eventually I thought of a Fresh Tomato Salsa with a few good squeezes of lime…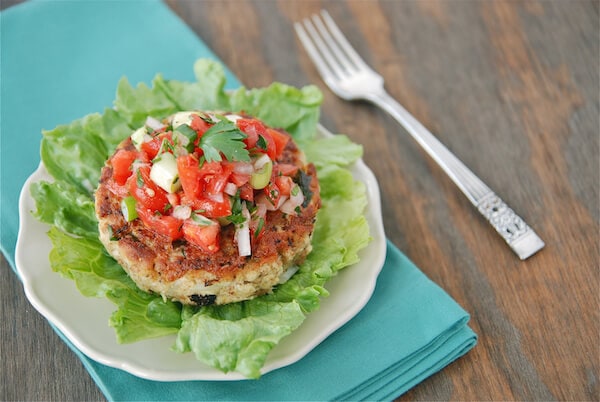 You'll Love This Delicious Low Calorie Appetizer Recipe
And I am happy to say, the result was awesome! The combination is delicious…and the lime really helps balance out all the flavors. Plus, not gonna lie, I love that I get to have one giant Tuna Cake with a ton of delicious fresh salsa on top for only 182 calories! I know Superbowl is traditionally filled with tons of stick to your bones kind of foods…but for anyone hoping to still fit in their jeans on Monday morning, this is your answer!
Try These Fun Tuna Cake Variations
1. Make them into sliders! Turn these babies into the perfect appetizer by making them mini tuna cakes and wrapping them with a whole wheat bun.
2. Serve them in a pita and toss the fresh salsa right into the pita pocket. I bet they would be awesome with a drizzle of some homemade Tzatziki too!
3. Make them like mini crabcake appetizers, but serve them in mini bowls with the salsa piled on top.
4. Serve them as full out burgers. Best part about these, you can make them a day ahead and store them in the fridge. Or if you need even more time…you can make them and freeze them! Just thaw them out the day before the party in the fridge. Once people get hungry, a quick turn in the sauté pan will give you gorgeous healthy burgers before halftime is over!
Yield:
4
Large Tuna Cakes
Tuna Cakes with Fresh Tomato Salsa
Tuna Cakes with Fresh Tomato Salsa are a delicious, healthy appetizer recipe that everyone will love. The fresh tomato salsa is so good, you'll want to put it on everything!
Ingredients
3 5

oz

cans Albacore Tuna

,

in water, drained and fluffed

½

cup

chopped yellow onion

⅓

cup

crushed Wasa Light Rye crackers

,

appx 4 crackers

2

tablespoons

freshly minced parsley

2

cloves

garlic

,

minced

1

tablespoon

freshly squeezed lime juice

1

tablespoon

dijon mustard

1 ½

teaspoons

Jalapeno Tabasco

,

the green one, or to taste

salt and pepper

,

to taste

1

large egg

,

whisked

2

tablespoons

olive oil

4

roma tomatoes

,

chopped

¼

cup

chopped yellow onion

2

green onions

,

chopped

2

tablespoons

minced parsley

1

teaspoon

freshly squeezed lime juice

¼

teaspoon

garlic salt

fresh ground pepper

,

to taste
Instructions
For the Tuna Cakes:
In a large bowl, mix together tuna, onion, crushed Wasa crackers, parsley, garlic, lime juice, mustard, and jalapeno Tabasco. Then add a little salt and pepper, stirring, and taste testing. Once you have reached your desired seasonings, stir in the egg.

Pat tuna mixture into patties, using 1/2 cup packed tuna for each patty. Set on wax paper.

To Freeze: Flash freeze Tuna Cakes, for 30 minutes, on a baking sheet lined with wax paper. Then wrap each cake individually with plastic wrap and place in a ziplock bag. Freeze for up to 1 month (which is as long as I have tried, but I think they would be fine for up to 3 months). To thaw, place Tuna Cakes in fridge a day before you plan to use them. Once thawed, follow the instructions below.

Add 1 tablespoon olive oil in a large non-stick sauté pan, over medium heat. Add two Tuna Cakes to the pan and cook for 2 minutes on each side, or until golden brown. Remove from pan and set on a paper towel covered plate to drain off any excess oil. Repeat entire process (including adding a second tablespoon of olive oil) to cook the remaining to Tuna Cakes.
For the Fresh Tomato Salsa:
Toss together tomatoes, yellow onion, green onions, parsley, lime juice, garlic salt and pepper. Place in an airtight container and refrigerate for 2 hours before eating. This allows the flavors to develop, but of course you can eat it immediately if in a rush!

Top Tuna Cakes with Fresh Tomato Salsa and serve immediately!
Notes
Make your Fresh Tomato Salsa a couple hours ahead of the Tuna Cakes to allow time for the flavors to develop.
TNCB
Nutrition
Serving:
1
,
Calories:
281
kcal
,
Carbohydrates:
15
g
,
Protein:
29
g
,
Fat:
12
g
,
Saturated Fat:
2
g
,
Polyunsaturated Fat:
9
g
,
Cholesterol:
91
mg
,
Sodium:
761
mg
,
Fiber:
3
g
,
Sugar:
4
g
Categories:
This post may contain affiliate links. Read my disclosure policy.