With a little less than a week until Thanksgiving, it is time for everything Turkey to start showing up! Some of my favorite recipes are made with Turkey leftovers and this Turkey Biscuit Casserole is no exception. It is filled with turkey and veggies in a creamy white gravy, then topped with gorgeous gluten free chive and cheese biscuits!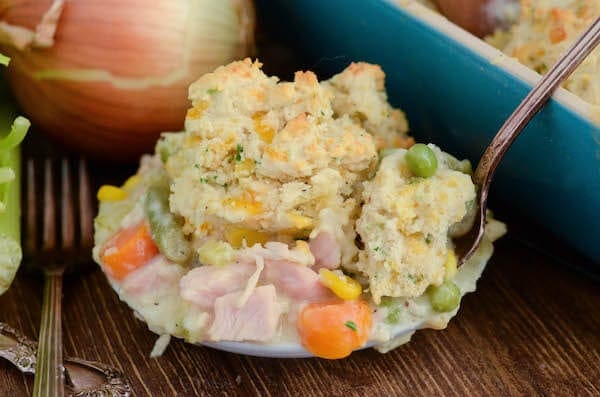 I have been working on perfecting my turkey recipe for Thanksgiving next week. I am trying out a new brine this year – sweet tea! I promise it doesn't make the turkey sweet, but it does make it extra delicious. If I get the recipe nailed down, I promise to share it.
With turkeys being only .59 cents a pound, it has given me a lot of chances to perfect my recipe…but that also means we have had a lot of leftover turkey around the house already.
I have already made my Apple, Cheddar, Turkey Paninis, Turkey Sliders with Brie, Arugula and Cranberry Chutney and my familys favorite Turkey Cups many times now. We were ready to try something new with our leftovers this year.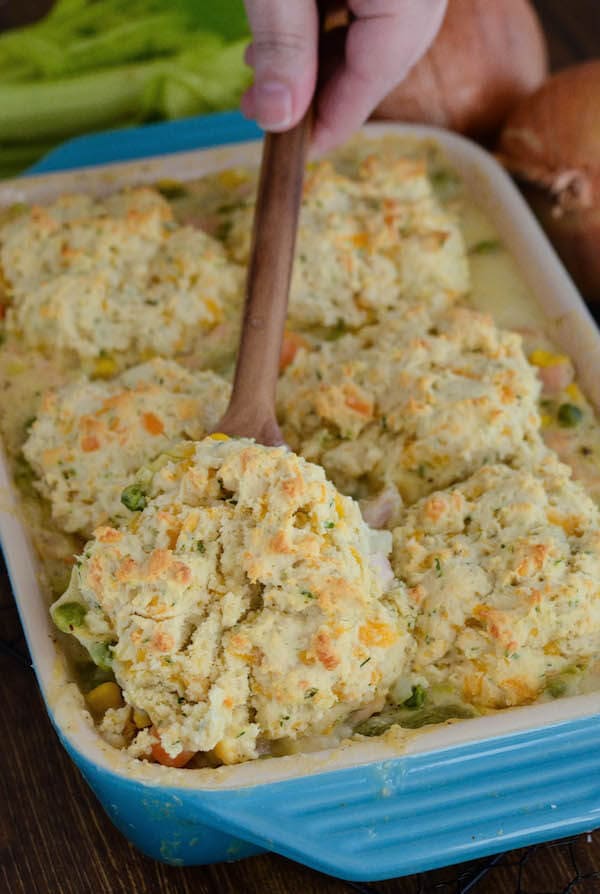 So while I was developing this recipe, I had my girls baby sitter, Sophia, in mind. She and her whole family are gluten free and I am always trying to think of recipes that I can feed them — since she is here twice a week to watch the kiddos while I am working.
I made the gravy part of the casserole with cornstarch which worked out perfectly and gave it the same consistency it would have with traditional flour. Then, I used Pamela's Biscuit & Scone Mix to make the gluten free cheddar and chive biscuits.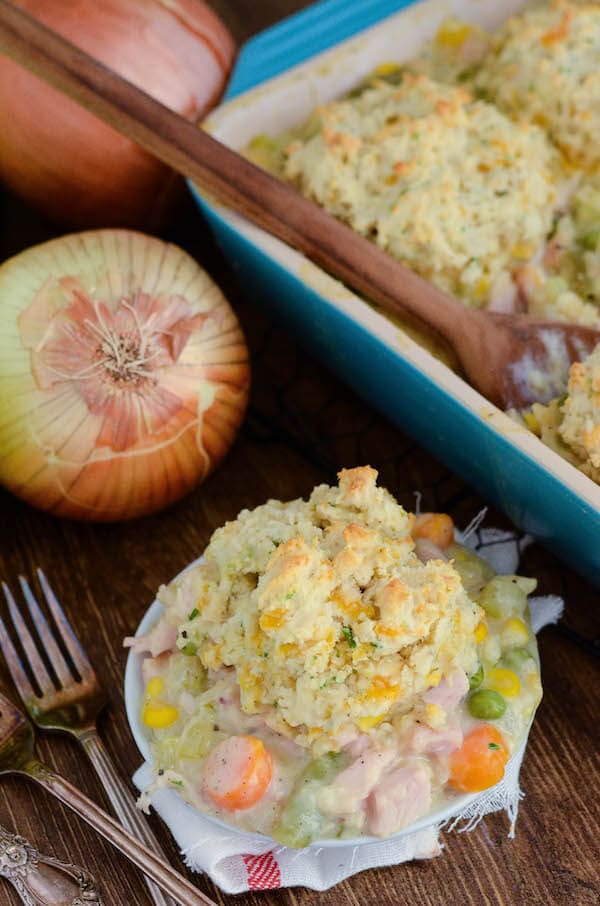 To say this casserole came out perfectly is an understatement. I made a double batch — I had so much leftover turkey to use up. The holidays are one of my favorite times to get to feed all our friends and family, so I made mini casseroles to help get everyone's appetite ready for Turkey day.
After I told everyone that these casseroles were gluten free, they were shocked! A lot of times, gluten free subtitutes can taste grainy and not as light and fluffy as the gluten filled versions. However, Pamela's Products knocked it out of the park with their Biscuit & Scone Mix! They were the perfect texture and so delicious baked on top of this casserole.
If you are interested in more gluten free recipes using Pamela's Products, make sure and check out the Chocolate Zucchini Walnut Brownies, Apple Pie Pancakes and Cherry Almond Bars!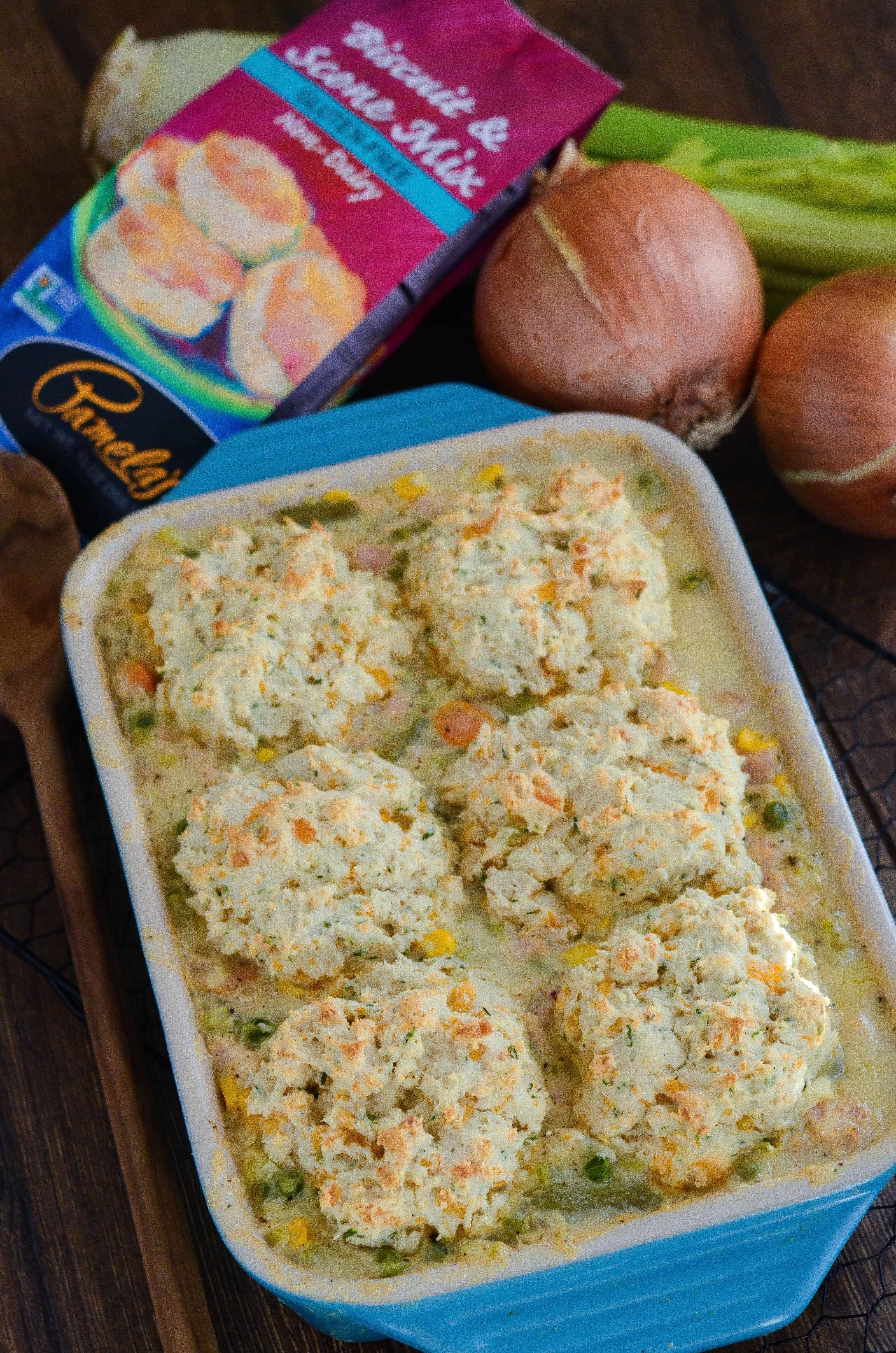 As you can see in the video at the very top of this post, it is really easy to make this Turkey Biscuit Casserole. It has a layer of turkey and mixed vegetables swimming in a white gravy.
Then you top it with big fluffy gluten free cheddar & chive biscuits that bake right on top. It's the ultimate comfort dish and the perfect way to use up any leftover turkey you might have!
Yield: 6 servings
Turkey Biscuit Casserole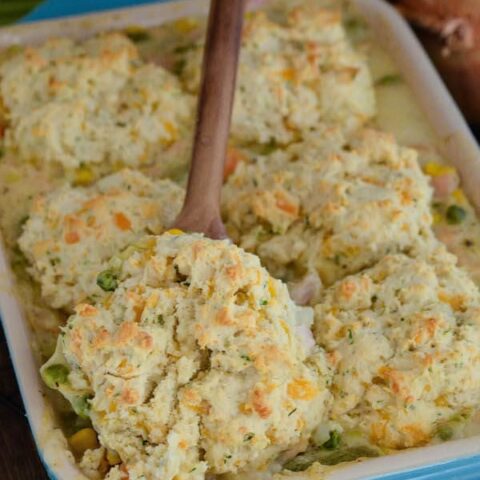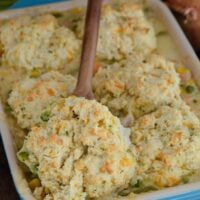 Turkey Biscuit Casserole - save your leftover turkey from Thanksgiving and make this comforting casserole! It is filled with turkey and veggies in a creamy white gravy, then topped with gorgeous gluten free chive and cheese biscuits!
Ingredients
4 tablespoons unsalted butter
3 large garlic cloves, minced
2 cups diced yellow onion (about 1 large onion)
1 1/2 cups chopped celery
12 oz mixed veggies
3 tablespoons cornstarch
1 1/2 cups chicken stock
1 cup half & half
4 cups cooked & shredded turkey
salt & fresh cracked pepper, to taste
a little cayenne pepper, to taste (I added 1/4 teaspoon)
Gluten Free Cheddar Chive Biscuits:
1 bag Pamela's Biscuit & Scone Mix
1 teaspoon fresh cracked black pepper
1/2 teaspoon salt
8 tablespoons butter
1 1/4 cups milk
1/4 cup minced chives
1/2 cup shredded cheddar cheese
Instructions
Preheat oven to 400°F. Grease a 12 x 8 casserole pan (a 11×7 works great too as long as it's a deep enough casserole dish) with butter or non-stick spray. Set aside.
In a large heavy bottomed pot (like a dutch oven), melt butter over medium-high heat. Add garlic and sauté for 30 seconds. Add in onion, celery and mixed veggies. Cook until softened, about 7 minutes.
Stir in cornstarch until well combined, continue cooking for 2 minutes.
Slowly add chicken stock and half & half, stirring after each addition. Let cook until thickened, about 5 minutes.
Stir in turkey and season to taste with salt, pepper and cayenne pepper. Transfer mixture into prepared casserole pan.
Gluten Free Cheddar Chive Biscuits: In a food processor, pulse Pamela's Biscuit & Scone Mix with butter until pea sized crumbs form.
Slowly add milk until well combined. Add chives and cheddar cheese, pulsing until combined.
Scoop our large dollops of dough and drop on top of casserole mixture, leaving about 1 inch for spreading.
Bake for 20-22 minutes, until the biscuits are starting to brown and the casserole is bubbly. Serve hot!
Nutrition Information:
Yield:
6
Serving Size:
1
Amount Per Serving:
Calories:

709
Total Fat:

45g
Saturated Fat:

24g
Trans Fat:

1g
Unsaturated Fat:

18g
Cholesterol:

194mg
Sodium:

928mg
Carbohydrates:

39g
Fiber:

4g
Sugar:

9g
Protein:

38g
Categories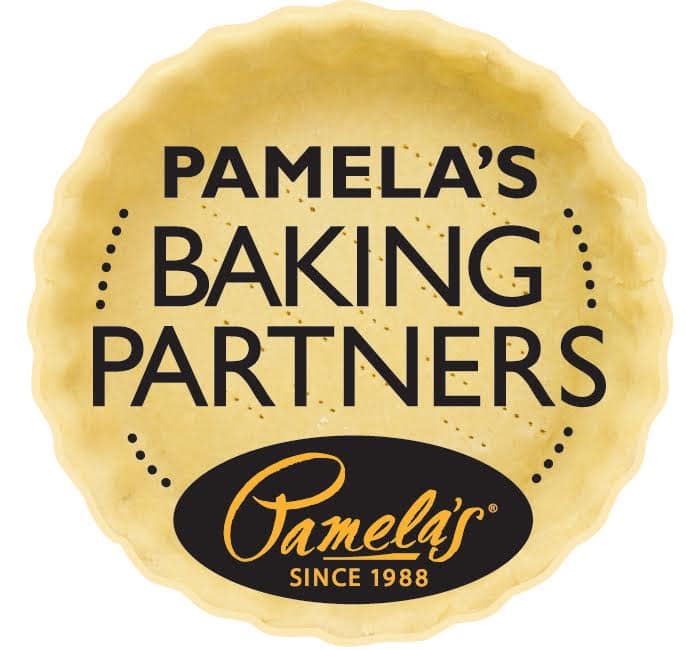 This post is sponsored by Pamela's Products. All opinions are, as always, 100% my own. Thank you for supporting the brands that I love and that keep The Novice Chef running!
This post may contain affiliate links. Read my disclosure policy.