Turkey & Cranberry Relish Bread Rolls
This time of year I can't get enough of Turkey and Cranberry things together. It's like, I could seriously have it all day, every day and it still wouldn't be enough. I make Jorge buy me a Turkey and Cranberry Deli Sub from Publix at least once a week (with extra cranberry relish, please!), I make these little sliders with the carving board turkey a couple of times a week for lunch…and now I also have these little hot turkey and cranberry bread rolls to throw in the mix. And I'm still not sick of Turkey and Cranberry together.
But to be perfectly honest, it's not really the turkey that is doing it for me. It's the cranberries. Know what I mean? It's like the movie Elf. I could watch it a bajillion times and still love it. But it's not the movie Elf, it's Will Ferrell as Elf. The plot of the movie is fun, but it's Will Ferrell that keeps me watching Elf on repeat. So in closing, Cranberries are my Will Ferrell. Make sense? …ahhh never mind. Just know that I freakin love cranberries almost as much as I love sweet baby Jesus. 😉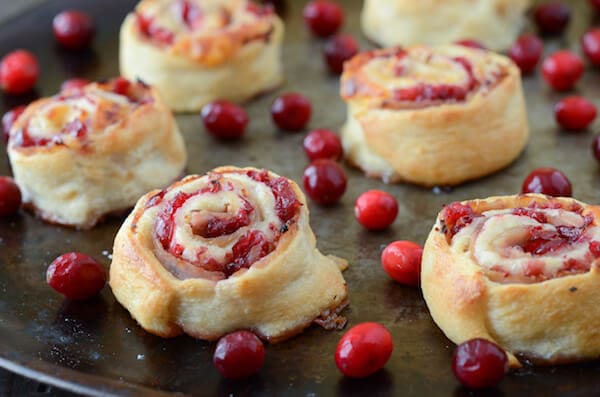 I know some families who do different Christmas/Christmas Eve meals. My weirdo Aunt Kimmy will serve a big steak dinner for their Christmas meal. But my family makes Thanksgiving dinner all over again. We couldn't get enough of it the first time, so we make it one more time for good measure.
So if your family is like mine and will be having a big Turkey on Christmas, save some of those leftovers for these Turkey & Cranberry Relish Bread Rolls! I used deli turkey this time because I didn't have any leftover turkey, but this would be a great way to freshen up those leftovers!
Turkey & Cranberry Relish Bread Rolls
Recipe Note: The recipe calls for cranberry relish. use whatever you like! I used this delicious cranberry chutney, but Publix makes a delicious Cranberry Orange Relish that would be great in this. Or of course, you can also used the canned stuff.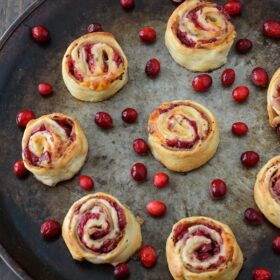 Ingredients:
1 Pillsbury thin crust pizza dough
8 slices turkey
4 slices provolone cheese
1 cup cranberry relish
Directions:
Preheat oven to 400°F. Line a baking sheet with parchment paper. Set aside.
Roll out pizza dough. Evenly spread out cranberry relish, leaving a once inch border for sealing. Layer turkey and cheese on top.
Beginning with the long side, carefully roll dough into a log; press edge to seal. With serrated knife, cut each roll into 1 1/2 inch slices. Place on prepared cookie sheet, leaving a little room for spreading.
Bake for 20-22 minutes, or until golden brown. Serve immediately, or let cool and serve room temperature.
SaveSave