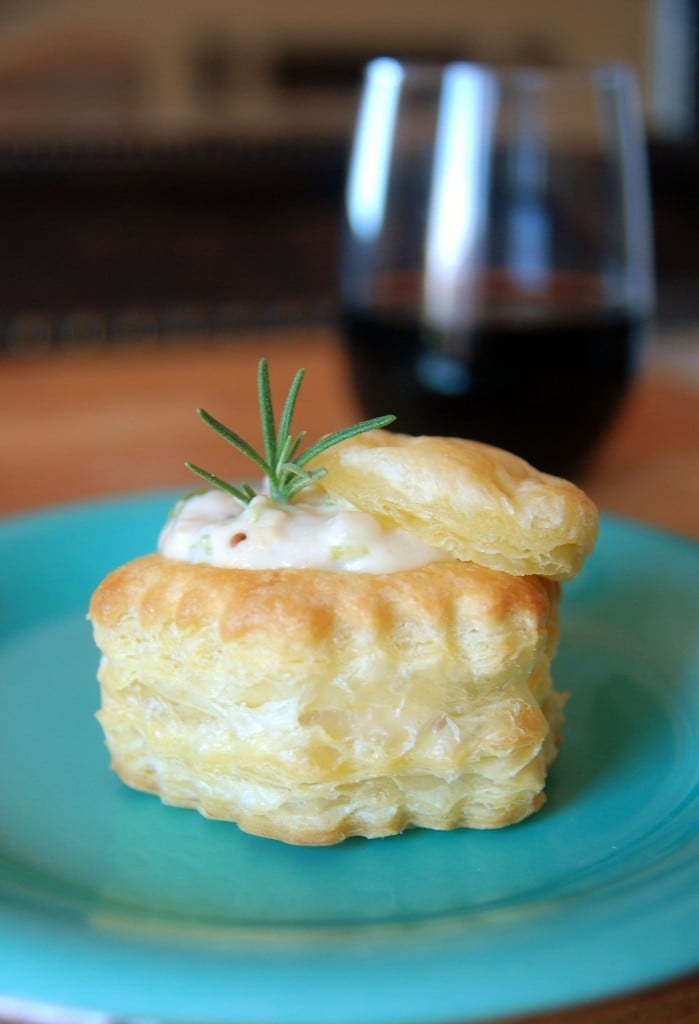 Some people love their birthdays and some people are all about Christmas. And while I love both, Thanksgiving is probably my favorite. Now I know that's weird because you don't get gifts, but for me Thanksgiving has the best food. First of all, you get the huge stuffed turkey. That alone can make me cry tears of joy…but you combine it with sweet potato casserole, you know the orange stuff filled with brown sugar and topped with marshmallows…ya totally makes Thanksgiving the best. As a matter of fact, I have already told Jorge that when I become old, and I lose all my teeth, all I will be eating is Sweet Potato Casserole. Wait, who am I kidding, that's all I ate last week… :::hangs head in sweet potato shame:::
I also love Thanksgiving for the kitchen accidents that are bound to happen. Drop a pumpkin pie on the dog. Fall asleep with the turkey in the oven. Or how about getting a turkey suctioned into a bowl? A few years ago, my Mom decided that she would try the Turkey in a bag thing. You know, the plastic bag they sell so you keep all the juices in? Well, everything went fine until it was time to take the Turkey out of the bag. For starters, it had just come out of the oven and was not easy to handle, but we were already running late. So my Mom decides to cut a hole in the bottom of the bag to pour the juices into a bowl, then we would slide the turkey out….well as we were draining the juices from the bag, the hole ripped, the turkey fell through, and SUCTIONED ITSELF INTO THE BOWL. It took about 10 minutes of my Dad prying the Turkey, with knives, to get it out of the bowl. Long story short, that year it looked like Edward Scissorhands cooked our Turkey.
One of the biggest reasons I love Thanksgiving, besides bowl suctioned turkeys, is Black Friday. Black Friday is one of my favorite traditions, EVER. Since Jorge and I first started dating, we have always celebrated Black Friday together. Yes, celebrated. We stay up all night, watch bad movies, and drink fish bowl size glasses of wine. We then go out for a fabulous greasy diner breakfast and then cruise around checking out all the losers camped outside Best Buy. And lastly, if there is something worth it, we go do a little shopping ourselves. Then we come home and crash for a few hours. And for dinner that night, I break out the old family recipe and make Turkey Cups with the left over Turkey. I honestly think Turkey cups may be better than actual Thanksgiving dinner. The gravy sauce and turkey all wrapped up in puff pastry…Sweet Baby Jesus, it's delicious.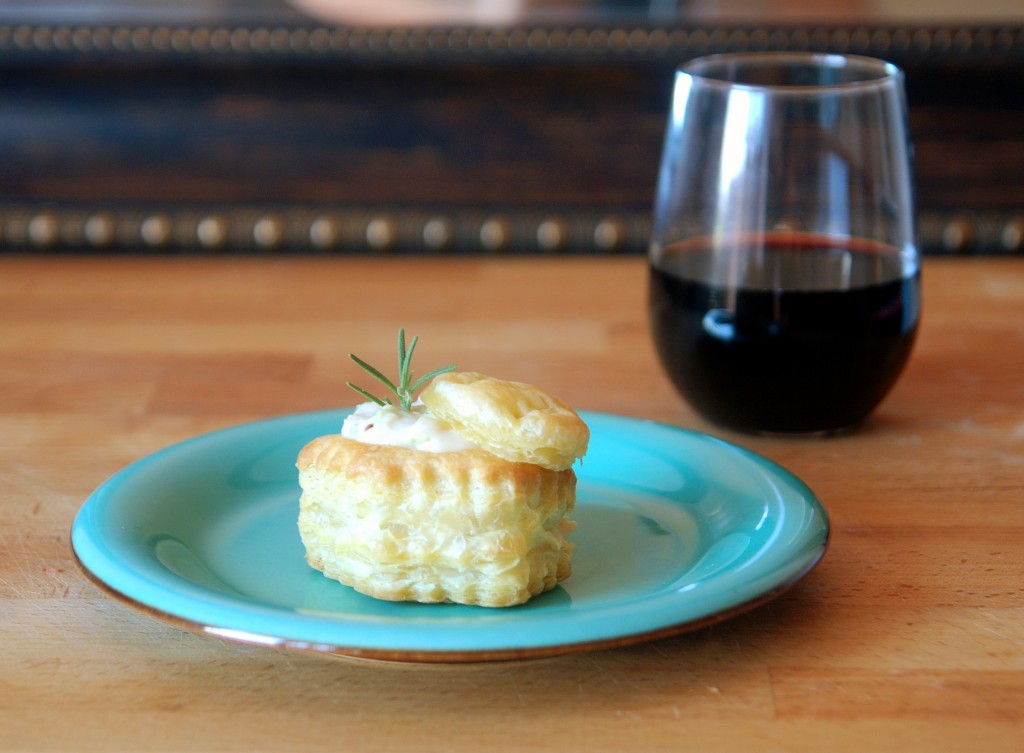 Yield: 4-6 servings
Turkey Cups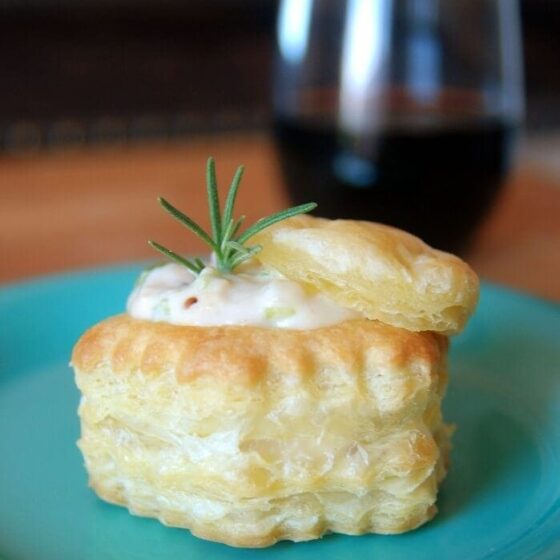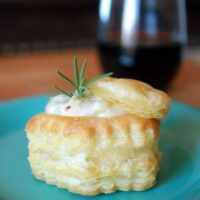 Wondering what to do with all that leftover Thanksgiving turkey? These Turkey Cups are here to save the day! Grab some pastry cups and enjoy this easy dinner.
Ingredients
3 tablespoons butter
3 tablespoons flour
18 oz evaporated milk
2 cups cooked turkey, chopped
3/4 cup celery, chopped
3/4 cup onion, chopped
3/4 cup olives (with pimento), chopped
1 1/2 teaspoon salt
1 teaspoon pepper
1/2 teaspoon white pepper
2 boxes of (12) Pepperidge Farm Pastry Cups
Instructions
Preheat oven to 400 degrees.
On a baking sheet, covered in parchment paper, line pastry cups with about 1 inch between them. In the middle rack, cook for 20-25 minutes at 400 degrees, or until golden brown.
While the pastry cups are baking, in a 2 quart sauce pan, melt butter over a medium flame. Sift in flour, and whisk together to make a paste. Slowly stir in condensed milk, whisking the entire time to avoid lumps. You do not want the sauce to be runny, you want it to have a gravy consistency.
Once you have reached the correct consistency, gently stir in turkey, celery, onion, olives, salt, pepper, and white pepper. Keep turkey mixture on low until pastry cups are done.
Once the pastry cups are perfectly golden brown, remove from the oven and carefully pop out the centers (I do this with a fork). Fill pastry cups with turkey mixture, place tops back on top, and serve immediately.
Notes
Recipe Notes: Yes, this has Olives in it. Yes that may sound weird. But the olives give it a great flavor and you really can not even tell what they are. So in case you are an anti-olive eater like Jorge, please trust me and give them a chance in this. I bet that you, like Jorge, will love them!
Source: The Novice Chef Blog
Nutrition Information:
Yield:
4
Serving Size:
1
Amount Per Serving:
Calories:

544
Total Fat:

31g
Saturated Fat:

16g
Trans Fat:

0g
Unsaturated Fat:

13g
Cholesterol:

148mg
Sodium:

1367mg
Carbohydrates:

35g
Fiber:

3g
Sugar:

20g
Protein:

32g
Want to Save This Recipe?
This post may contain affiliate links. Read my disclosure policy.