Turkey Sliders with Brie, Arugula & Cranberry Chutney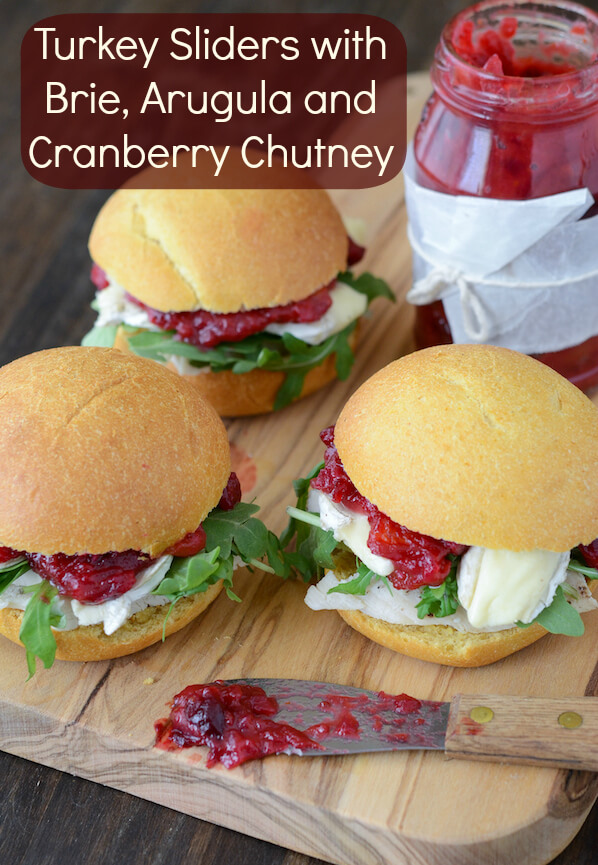 Jorge and I have been eating Turkey every day since Wednesday. At some point I think we might actually start growing some tail feathers. We started Thanksgiving early with his family on Wednesday and then on Thursday I made a 25lb bird for 5 people. That's right, my mother wanted to make sure we had enough Turkey leftovers until Christmas. 😉
I have already made my all time favorite Thanksgiving leftovers, Turkey Cups (ignore the photos, but if you have half a brain you will make the awesomeness that is Turkey Cups). But considering we still had about a weeks worth of turkey left, I needed to find another way to fancy up some leftover turkey.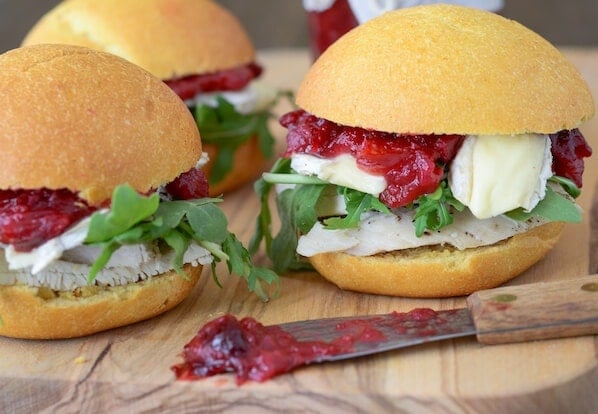 Luckily, in my freezer I had some of the new Alexia Sweet Potato Rolls and a whole bag of fresh cranberries. Turkey Sliders were destined to be! After a little googling, I found an awesome recipe from Foodie Bride and changed it up to fit my tastes and what I already had in my kitchen. The Cranberry Chutney is too die for…and I love that it's more savory than sweet. Then with a few slices of brie and a handful of arugula, you have yourself one hell of a tasty leftover turkey sandwich!
Turkey Sliders with Brie, Arugula and Cranberry Chutney on Sweet Potato Rolls!
recipe note: I used a large sauté pan to make my chutney because it cooks faster. However, feel free to switch it up to a large sauce pan, just expect it to take a little longer.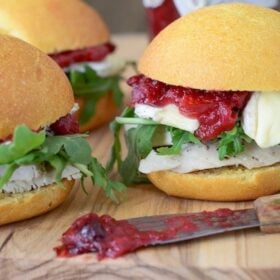 Ingredients:
2 tablespoons olive oil
1 small yellow onion, chopped
1 clove garlic, minced
12 oz bag of cranberries
15 dried apricot rounds, chopped
1 cup water
Zest and Juice of 1 orange
Juice of 1 lemon
1 tsp worcestershire
1/4 cup packed light brown sugar
Pinch of salt
1 bag Alexia Sweet Potato Rolls, baked
sliced turkey
24 small slices of brie (from about 1 wedge of brie)
Cranberry-apricot chutney
Handful of arugula
Directions:
for the cranberry chutney:
In a large saute pan over medium-high heat, heat olive oil. Add onion, cooking for 3 minute for until wilted. Add garlic, cooking for 30 seconds.
Add the remanding ingredients, and stir to combine. Bring to a low boil and cover with lid. Cook for 10 minutes, stirring occasionally, until cranberries have softened.
Remove lid and cook for 8-10 minutes, stirring occasionally, or until almost all the liquid has cooked away. Remove from heat and let cool.
Use immediately in turkey sliders, or store up to 2 weeks in a glass container in the fridge.
for the turkey sliders:
Slice Alexia Sweet Potato Rolls in half. Assemble sliders with a healthy smear of cranberry chutney, 2 slices of brie cheese, turkey and arugula. Serve immediately.
Disclaimer: I'm happy to be a part of the blogger Tastemaker group with Alexia foods. I love their products and love getting to share fun ways to use them! All opinions expressed are my own.