Homemade Pumpkin Cinnamon Applesauce is a healthy and delicious alternative to store-bought! Naturally sweetened with apples and pumpkin and a hint of vanilla and cinnamon, you and your kids will love this easy homemade applesauce recipe all season long!
My Favorite Homemade Applesauce
Sometimes, we all need a break from store-bought! I'm certainly the last person to tell anyone to cut out processed foods completely, but I love having the option to make things at home. One of my favorite recipes to make from scratch is easy and delicious applesauce made from natural ingredients; it's just so incredibly simple to make, and a thousand times tastier than the store-bought kind!
As someone who frequently bought applesauce from the store once upon a time, I had never actually read the ingredients label on my "Natural" applesauce and surprise, surprise; not so natural. That's why this Pumpkin Cinnamon Applesauce is everything I love about a homemade recipe: super easy, with seasonal ingredients, and above all, unprocessed!
I was happily surprised to find that I didn't even need to add any sugar to the recipe; the pumpkin and apples are sweet enough, naturally! Delicious, packed with fall flavors, diet-friendly, vegan and gluten-free – you couldn't ask for more out of an applesauce recipe. Especially one as easy to make as this one!
Why Add Pumpkin?
The best part about making your own applesauce is the abundance of add-in options, and how easy it is to customize! You can add just about anything in terms of ingredients and flavors, which is how I wound up with Pumpkin Cinnamon Applesauce. Not only does Pumpkin really bring the flavor of fall, but it serves to naturally sweeten this recipe alongside the apples without compromising on the texture.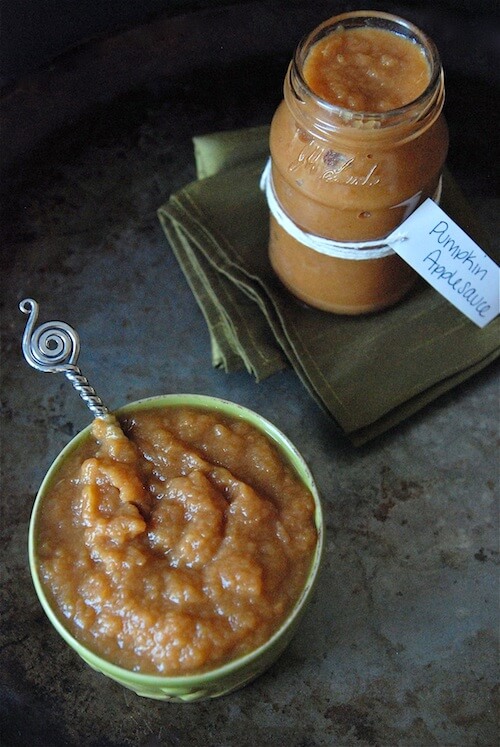 Recipe Ingredients
Just six simple ingredients come together to make this irresistibly fall-flavored pumpkin applesauce! Here's the short list of what you'll need:
Apples: Cored and chopped.
Cinnamon: For a hint of warm spice next to the pumpkin and apple. You can also use pumpkin pie spice for an extra fall kick!
Pumpkin Puree: Pure canned pumpkin puree, and not pumpkin pie filling.
Vanilla: Pure vanilla extract gives the best natural flavor.
Lemon Juice: Alternatively, apple cider vinegar for a bit of acidity to brighten the flavors.
Water
What Kinds of Apples to Use
The best apples for applesauce are McIntosh or Golden Delicious apples since both varieties soften easily when cooked.
How to Make Pumpkin Cinnamon Applesauce
There are two types of people when it comes to applesauce: Chunky, or Smooth! To make the applesauce, you'll need a large pot, plus a potato masher or food processor depending on the texture you prefer your sauce to be. Either way, this is the easiest recipe for homemade applesauce!
Cook the Apples: Combine the chopped apples, cinnamon, lemon juice, and water and bring everything to a boil. You'll continue to simmer the apples until they're super soft, then remove the mixture from the heat.
Add Pumpkin & Vanilla: Add in the pumpkin puree and vanilla extract and stir well. Next, decide whether you would like your sauce prepared to a smooth or chunky texture!
Blend: For chunkier applesauce, use a potato masher to smash the mixture together until you reach the desired consistency. For smooth applesauce, transfer the mixture to a food processor or blender and puree until the sauce is completely smooth.
Serve applesauce at room temperature, or cold straight from the fridge. Enjoy this delicious Pumpkin Cinnamon Applesauce on its own, or see more serving suggestions below!
Tips for Success
Leave the Apples Unpeeled: Not only will it save time, but the skin of an apple holds a lot of nutrients. Once the apple is cooked down and pureed, you won't even notice the peels!
Add Honey or Maple Syrup: If you prefer your applesauce with some extra sweetness, you can keep it natural by adding in a little honey or pure maple syrup.
Ways to Use Applesauce
Breakfast, side dish, healthy snack, condiment – applesauce is just the best of all worlds and super versatile! I love to enjoy this homemade applesauce alone or as an accompaniment to so many ingredients and dishes. Here are just a few suggestions on ways to use Pumpkin Cinnamon Applesauce:
Enjoy fresh applesauce for breakfast two ways: topped with yogurt and sprinkled with chopped nuts or muesli, or spread over toast in place of jam or butter
Use it as a topping for Gluten Free Pancakes or Pumpkin Pancakes
This applesauce makes a delicious autumn-inspired filling for homemade Pop Tarts
Stir a spoonful into Overnight Oats for some extra apple-pumpkin flavor
Sweet and flavorful applesauce is amazing as a condiment for juicy Pork Chops or roasted Pork Tenderloin
Warm your applesauce a little and serve it over vanilla ice cream for a delicious fall treat "à la mode"
How to Store
Store this Pumpkin Cinnamon Applesauce in an airtight container in the refrigerator for up to 1 week to enjoy whenever inspiration strikes!
Can I Freeze This?
Yes! To freeze applesauce, store it in a freezer-safe container and keep frozen for up to 3 months. Allow frozen applesauce to thaw overnight in the fridge before serving.
More Apple Recipes to Try
Can't get enough when it comes to apples? Here are more recipes to try this season:
Yield: 8 servings
Pumpkin Cinnamon Applesauce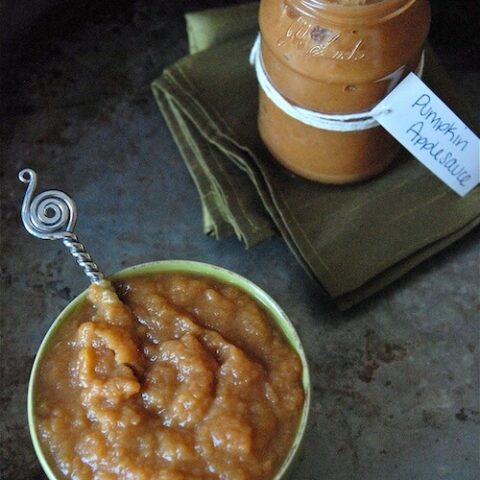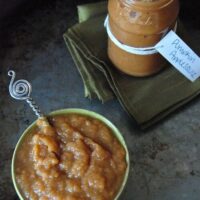 This flavorful Homemade Pumpkin Cinnamon Applesauce is a healthy and delicious alternative to store bought! Naturally sweetened with apples and pumpkin plus a hint of vanilla and cinnamon, you and your kids will love this easy applesauce recipe all season long!
Total Time
1 hour
15 minutes
Ingredients
2 1/2 pounds apples, cored and chopped
2 teaspoons ground cinnamon
juice of 1 lemon
3/4 cup water
1/2 cup pumpkin puree
1 teaspoon vanilla
Instructions
In a heavy bottomed pot over medium high heat, combine apples, cinnamon, lemon juice, and water. The liquid will not cover the apples. Bring to a boil, then lower the heat. Simmer the apples for 45 minutes to an hour, stirring occasionally, until apples are super soft.
Once apples are nice and tender, remove the pot from the heat. And now we split off into two groups of people. Chunky or Smooth!
Chunky: Add pumpkin puree and vanilla. Smash apples with a potato masher until you reach the desired chunky-ness.
Smooth: Carefully transfer apples and all liquid to food processor or blender. Add pumpkin puree and vanilla. Puree until desired consistency.
Serve applesauce room temperature or cold, straight from the fridge. Store applesauce in an airtight container, refrigerated, for up to 1 week. Or freeze up to 3 months.
Notes
Notice in the directions the apples do not need to be peeled. The skin of an apple holds a lot of nutrients, and once the apple is cooked down and pureed, you won't even notice it's there! Also, this recipe has No Sugar Added, just natural sweetness!
Nutrition Information:
Yield:
8
Serving Size:
1 serving
Amount Per Serving:
Calories:

83
Total Fat:

0g
Saturated Fat:

0g
Trans Fat:

0g
Unsaturated Fat:

0g
Cholesterol:

0mg
Sodium:

3mg
Carbohydrates:

22g
Fiber:

4g
Sugar:

15g
Protein:

1g
Want to Save This Recipe?
This post may contain affiliate links. Read my disclosure policy.