Pumpkin Applesauce
Unprocessed. What does that even mean anymore? These days almost everything we put in our bodies is processed in one way or another. Just yesterday my Mom was joking about why I won't use the pre-minced garlic in oil.
I am certainly not the person to tell anyone to cut out processed foods from their diet. It's hard. I still drink one of the 6 oz mini diet cokes every morning. I have never turned down a Little Debbie Swiss Roll, and if you glance in my purse, you are sure to find sugar free gum and butterscotch hard candies floating around the bottom. But I give my best effort to try to not eat processed foods. I try to make things from scratch when I can…and I think that is all we can do. Try!
Honesly, will processed food kill us all one day? Hell if I know. But I really don't want to find out. I figure chemicals and preservatives are our generations cigarettes. They probably aren't good for us, but hey…no one is dying from them…yet. So just like drinking, it's all about moderation. 😀  Have your Little Debbie, but have some real food too!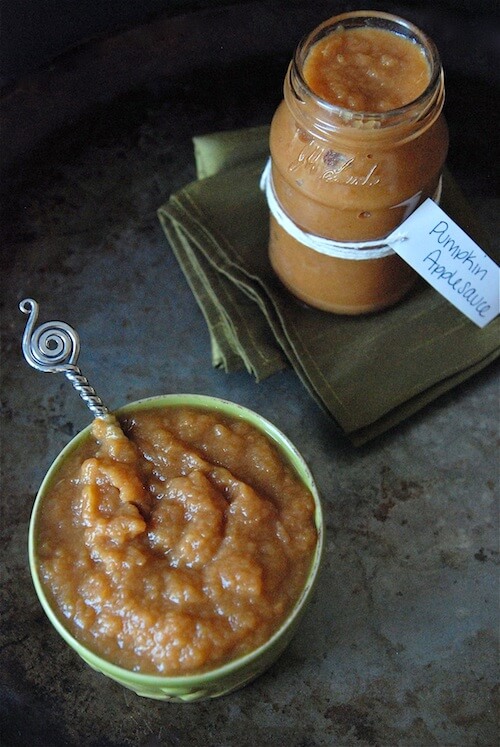 This month, Andrew of Eating Rules, is hosting October Unprocessed. He is challenging everyone to go one month, or even just a week, with no processed foods. Can you do it? I don't know if I can, but I am going to give it my best shot! At the very least, my goal is going to be to eat 5 days a week completely unprocessed. Leaving the weekends with a little wiggle room for dinners out with friends and family.
So in preparation for October Unprocessed, I had to make up a batch of applesauce for myself. I eat applesauce almost daily…and for some reason I had never read the ingredients label on my "Natural" applesauce. Turns out, not so natural.
So I set off to make my own natural applesauce! The best part about making your own applesauce is the abundance of flavor ideas! You can add just about anything you want, which is how I wound up with Pumpkin Cinnamon Applesauce. And I was happily surprised to find that I didn't even need to add any sugar, the pumpkin and apples are sweet enough naturally! Delicious, seasonally flavored, ass friendly, vegan and gluten free? You couldn't ask for more out of an applesauce.
Pumpkin Cinnamon Applesauce
Recipe Note: Notice in the directions the apples do not need to be peeled. The skin of an apple holds a lot of nutrients, and once the apple is cooked down and pureed, you won't even notice it's there! Also, this recipe has No Sugar Added, just natural sweetness!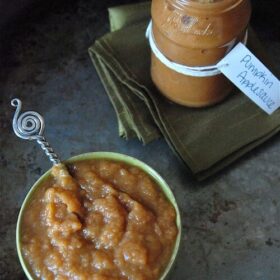 Ingredients:
2 1/2 pounds apples, cored and chopped
2 teaspoons ground cinnamon
juice of 1 lemon
3/4 cup water
1/2 cup pumpkin puree
1 teaspoon vanilla
Directions:
In a heavy bottomed pot over medium high heat, combine apples, cinnamon, lemon juice, and water. The liquid will not cover the apples. Bring to a boil, then lower the heat. Simmer the apples for 45 minutes to an hour, stirring occasionally, until apples are super soft.
Once apples are nice and tender, remove the pot from the heat. And now we split off into two groups of people. Chunky or Smooth!
Chunky: Add pumpkin puree and vanilla. Smash apples with a potato masher until you reach the desired chunky-ness.
Smooth: Carefully transfer apples and all liquid to food processor or blender. Add pumpkin puree and vanilla. Puree until desired consistency.
Serve applesauce room temperature or cold, straight from the fridge. Store applesauce in an airtight container, refrigerated, for up to 1 week. Or freeze up to 3 months.
Novice Chef Blog Original