This vegetarian friendly Spinach Pesto Pasta is loaded with fresh vegetables and tossed in a homemade pesto sauce. Best of all, his healthy, quick meal takes only 15 minutes to toss together!
If you love pesto pasta recipe, be sure to also try this delicious Pesto Bacon Pasta Salad.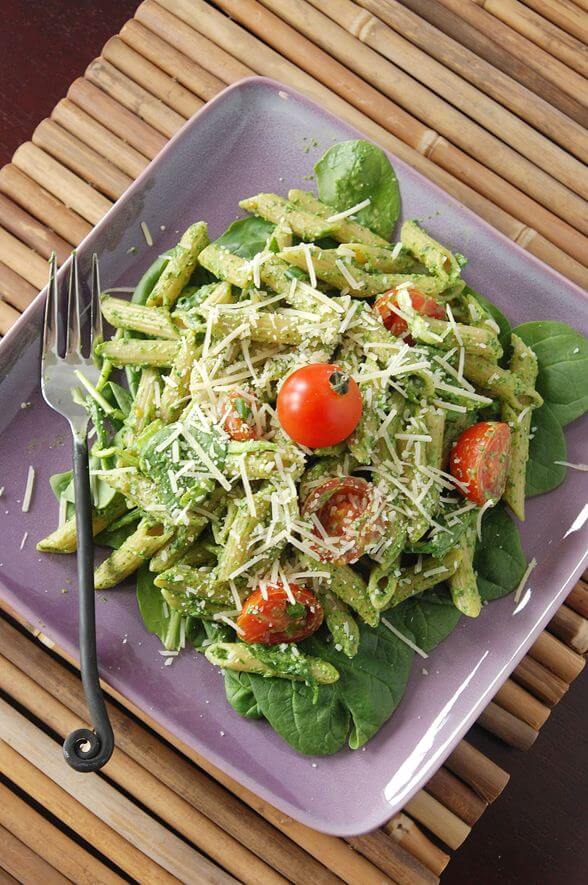 Spinach Pesto Pasta
I was lucky enough to get to spend this past weekend with my family. I know when most people say that it is dripping with sarcasm…but despite my usual snark, I actually mean that. Saturday night I took my baby sister to see Lady Gaga to celebrate her 16th birthday. Then I got to spend Sunday and Monday relaxing and hanging out with my Mama…which is rare since she tends to work a lot of weekends. Sunday morning Jorge had to fly out to Boston for work, so we all got up and had a family breakfast before he had to head to the airport. We had biscuits & gravy, eggs, and bacon. It was heaven. I haven't had a breakfast that good in a long time! Then later that afternoon, we followed it up with a little BBQ get together where we pigged out on beer and chips & dip. Even Brody was too full to move!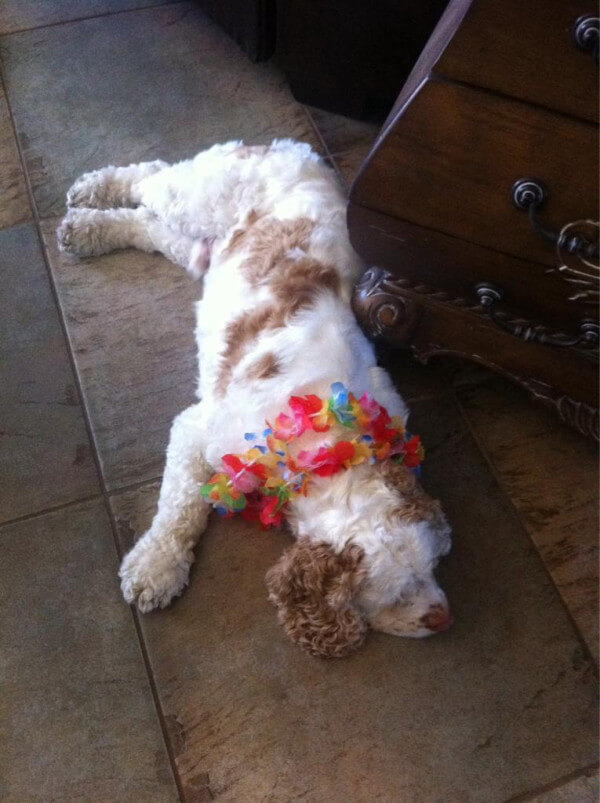 This Quick Homemade Pesto Pasta Is Delicious
So after such a jean tightening delicious weekend, I knew a healthy dinner would be the next smartest move. Last week I promised you would see a lot of upcoming veggie-full recipes, and I am here to fulfill that promise. This Spinach Pesto Pasta is loaded with delicious Spring time vegetables that are guaranteed to satisfy any belly! It is a vegetarian dish, but would also be delicious with some grilled chicken breasts on top. I served it on a bed of extra Spinach leaves, to add even more protein, and really liked the crunch they added. The best part about this dish? It honestly only took 15 minutes to toss together…which makes it the perfect week night meal at my house!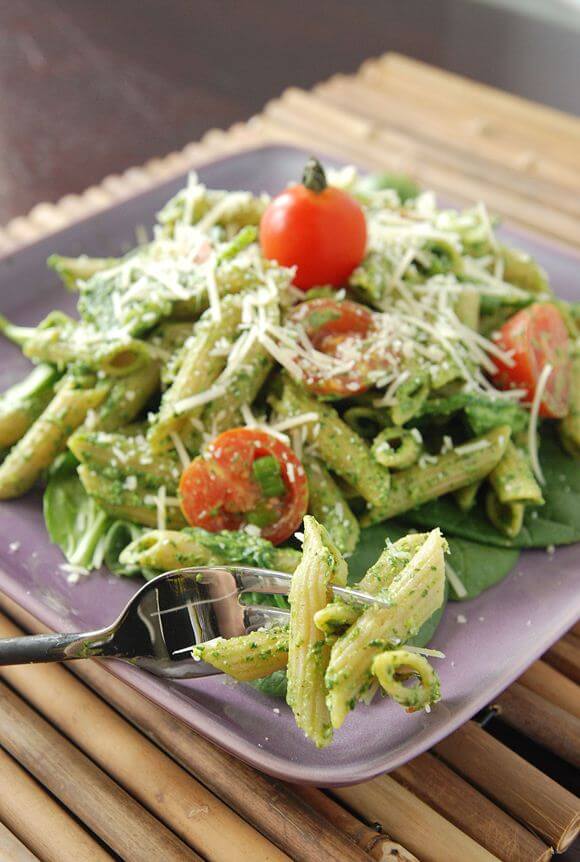 Yield: 4 Servings
Spinach Pesto Penne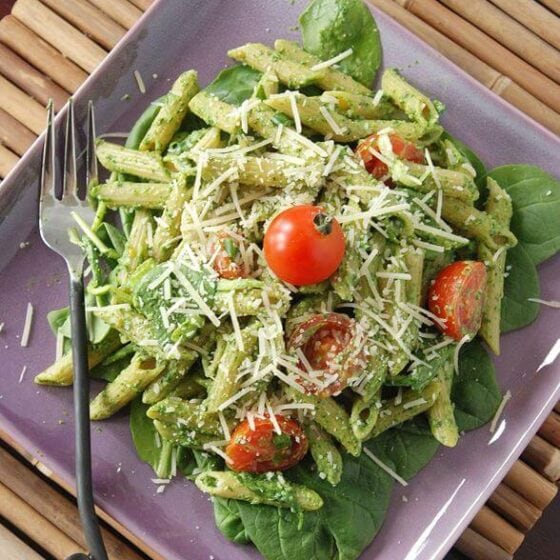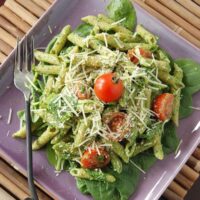 This vegetarian friendly Spinach Pesto Pasta is loaded with fresh vegetables and tossed in a homemade pesto sauce. It's great for quick dinners!
Ingredients
1 pound whole wheat penne
3 garlic cloves
2 oz goat cheese
1 oz fat free cream cheese
1 tsp salt
3/4 tsp freshly ground black pepper
1/2 cup fresh basil
8 oz fresh baby spinach leaves
1 cup cherry tomatoes, halved
2 tablespoons freshly grated Asagio
Instructions
Bring a large pot of salted water to boil. Add the penne and cook until it is tender but still firm to the bite, stirring occasionally, about 12 minutes.
Mince the garlic in a food processor. Add the goat cheese, cream cheese, 3/4 teaspoon of salt, 1/2 teaspoon of pepper, basil, and half of the spinach leaves. Blend until the mixture is smooth and creamy. Set the cheese and spinach mixture aside.
Meanwhile, place the cherry tomatoes and the remaining spinach leaves in a large bowl. Drain the pasta. Spoon the pasta atop the spinach leaves in the bowl. Scrape the cheese and spinach mixture over the pasta mixture and toss to coat. Season the pasta, to taste, with salt and pepper. Sprinkle the Asagio cheese over and serve.
Nutrition Information:
Yield:
4
Serving Size:
1
Amount Per Serving:
Calories:

239
Total Fat:

5g
Saturated Fat:

2g
Trans Fat:

0g
Unsaturated Fat:

2g
Cholesterol:

7mg
Sodium:

743mg
Carbohydrates:

39g
Fiber:

6g
Sugar:

2g
Protein:

13g
Want to Save This Recipe?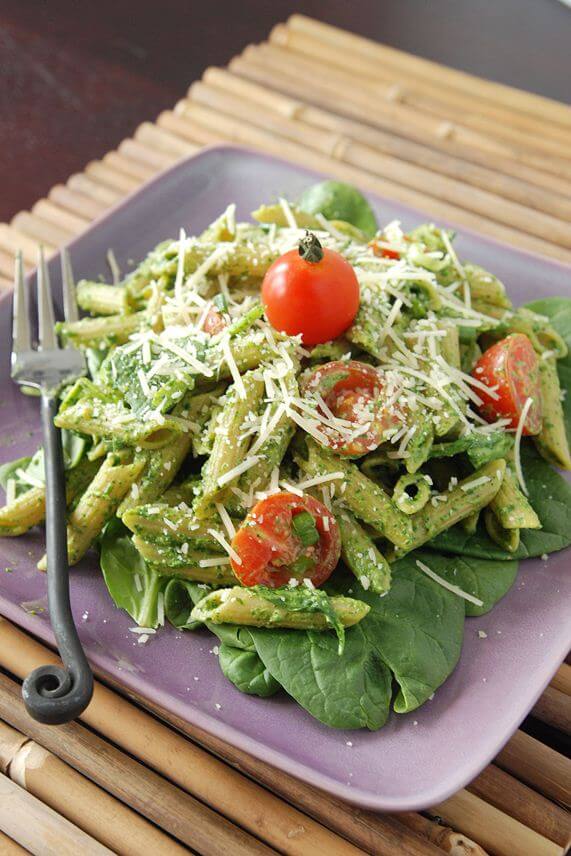 This post may contain affiliate links. Read my disclosure policy.