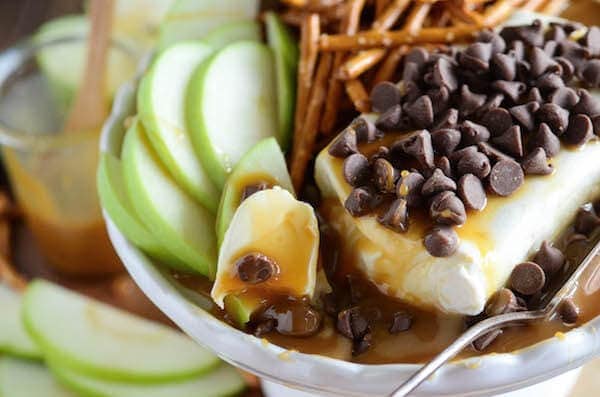 Warm Caramel Apple Dip! An easy decadent sweet dessert dip for holiday entertaining that features chocolate, sweet caramel and smooth cream cheese.
The flavors pair perfectly together on fresh apple slices and salty pretzels.
You can make your own caramel sauce, or if you are pinched for time, pick up a jar at the grocery store in the ice cream toppings section.
With a store bought jar of caramel sauce, this recipe takes a total of 5 minutes to put together!
I personally really like Smuckers' jarred salted caramel version. Just quickly heat it up in the microwave for a few seconds to fake it like it's homemade.
Your secret is safe with me!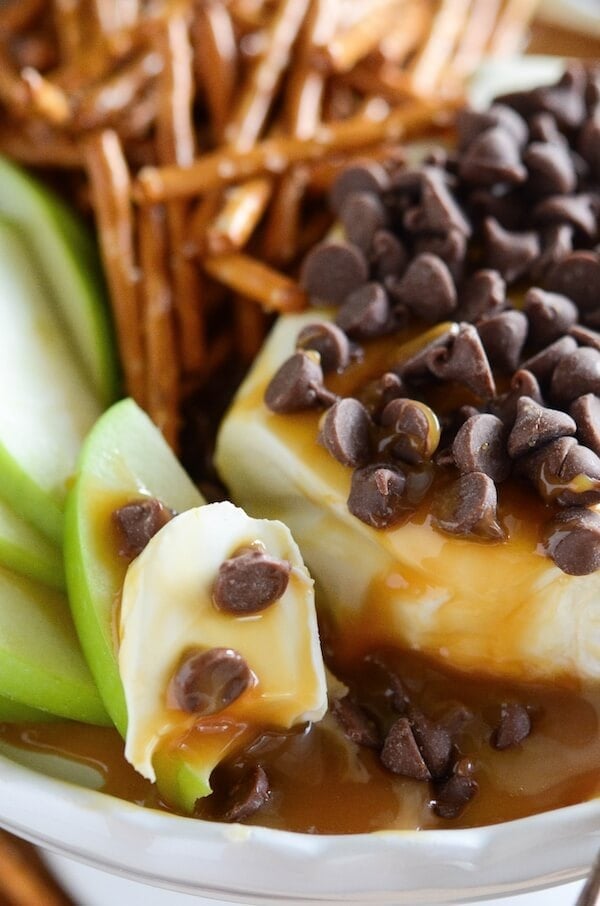 I love warm cream cheese dips and always make this savory one with pico: Creamy Pico De Gallo Dip.
I had never had a sweet version until just a few weeks ago, when I spotted this Caramel Apple Dip at a friends party.
She had topped her version with crushed pretzels, but I thought if you added chocolate chips on top it was more similar to those big gorgeous candied apples I love so much.
You could also skip a topping completely and use chocolate dipped pretzel sticks to dip!
You can serve this dip with apple slices or pretzels — but I like to serve it with both.
Sometimes I even take a bite of them all together at once. It's all of the best textures and flavors combined!
Sweet, salty, creamy and crunchy. Perfection!
Head on over to Dixie Crystals for the RECIPE: Warm Caramel Apple Dip
This post may contain affiliate links. Read my disclosure policy.