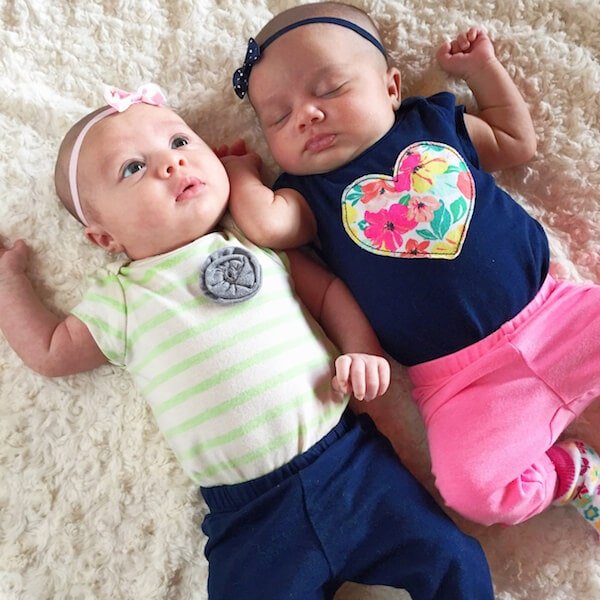 On Saturday, the girls will officially be 3 months old. Holy baby — time is flying!
There has been the good, the bad and the gross, but we all made it to the other side. (The other side being the girls are finally sleeping through the night!…mostly)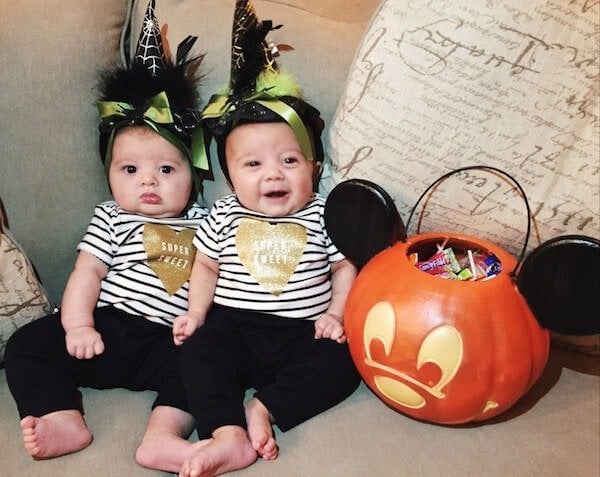 There were so many things that people told me about that was true. There were SO many things that people told me about that were wrong. I know everyone's experiences are different…and it is really different with twins.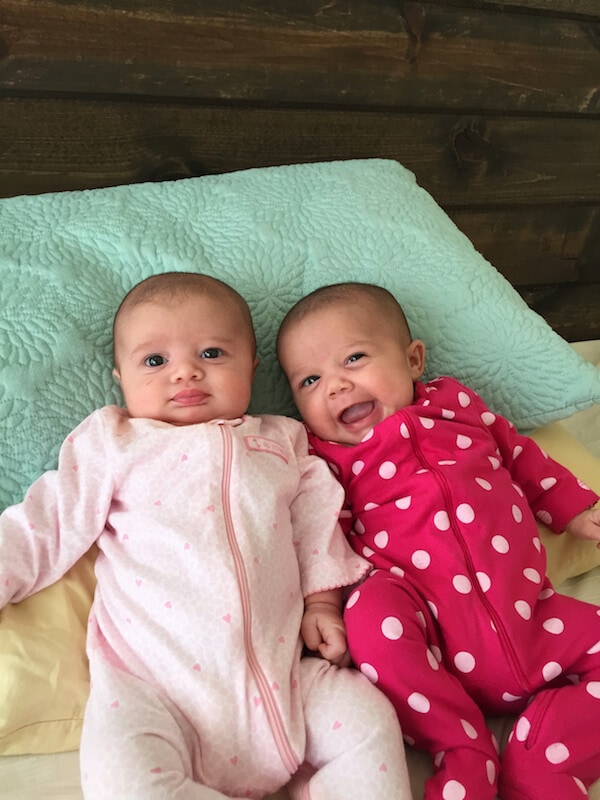 We have just figured it out as we go and found out what works for us. There really is only so much "preparing" you can do for TWO newborns. Ha! The best thing anyone said to me was: "They are two different babies." (thanks Mom!)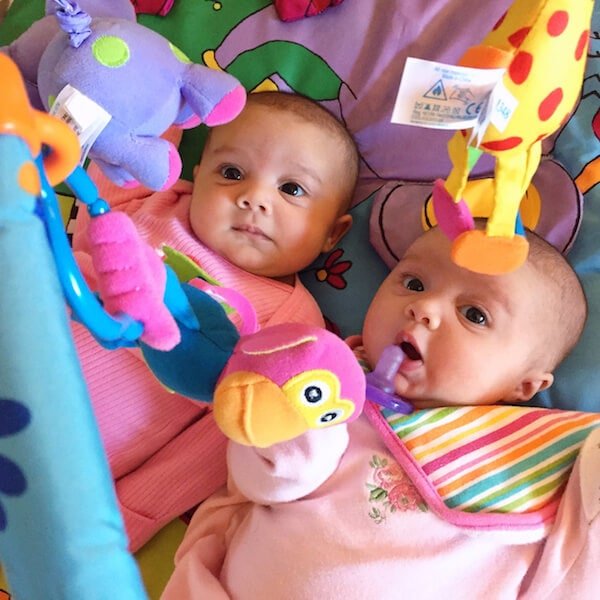 I kept trying to keep the girls on the same schedule all the time, but it just wasn't working. Ellie likes to sleep in till around 7:30, but Lyla is up at 6am. Lyla loves to take good naps…Ellie takes little cat naps throughout the day.
Sure, I get absolutely nothing done throughout the day, but I am now able to keep the babies alive and mostly happy. ;-)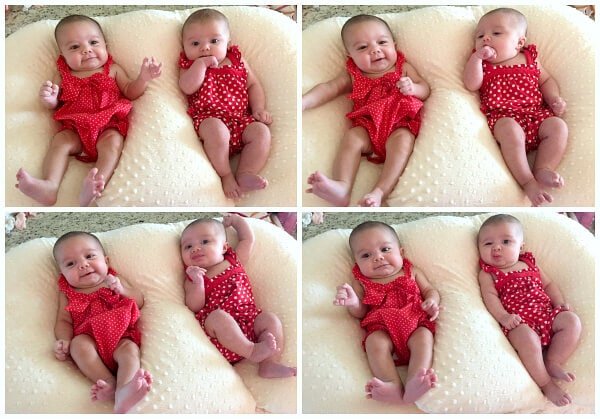 The girls are growing so fast and are surpassing all the other babies their size. They are wearing 3 to 6 months clothes and are in the 98% for height. I'm sure part of that is their 6'4 father, but I like to think it also helped that I kept them in until 37 weeks. ;-)
We did find out that Lyla had slightly shallow hip sockets (probably caused by being breach almost all of my pregnancy). It's not a huge deal, especially since we caught it early. She does have to wear a brace 24/7 for 6 weeks to correct the problem.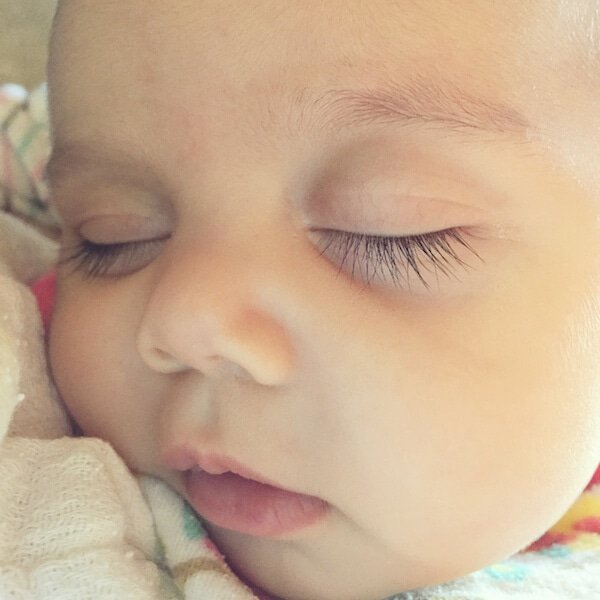 Ellie's struggle has been reflux. It sucks. She has to take medicine twice a day for it and sit upright for 30 minutes after eating. Until we found out what it was, she struggled to keep any of her milk down. Once the doctor started her on medicine, it was like a new baby. Sure she still has issues every once in a while, but is so much better.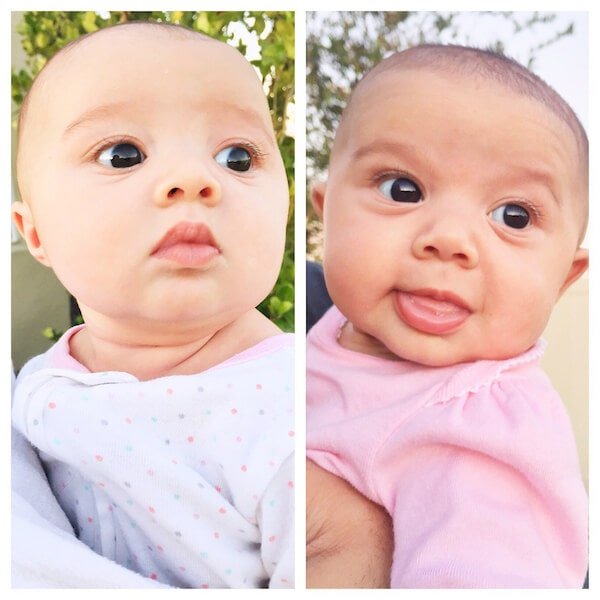 Otherwise, the girls are both perfectly healthy and are both over 12 pounds now! So incredibly different than those little 6 pounders we brought home from the hospital!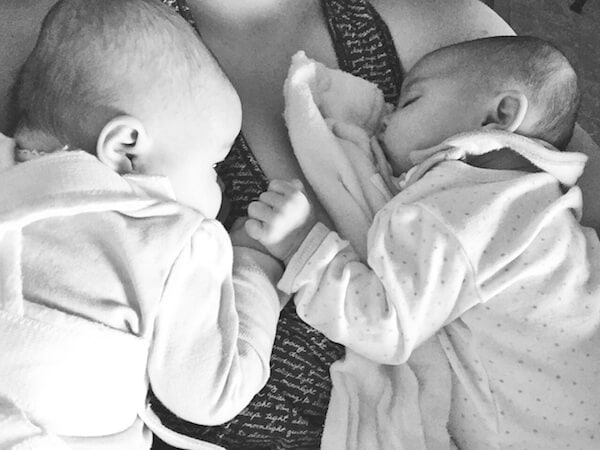 The last 3 months have honestly been the best 3 months of my life. I used to tell my Mom that I wasn't going to get married until I was 28…and if I had children, it wouldn't be until I was 35. Here I am with twin girls at age 27 and I wouldn't trade it for the world. I'm so glad we don't get to pick our future.
This post may contain affiliate links. Read my disclosure policy.