We survived the first 3 months with twins.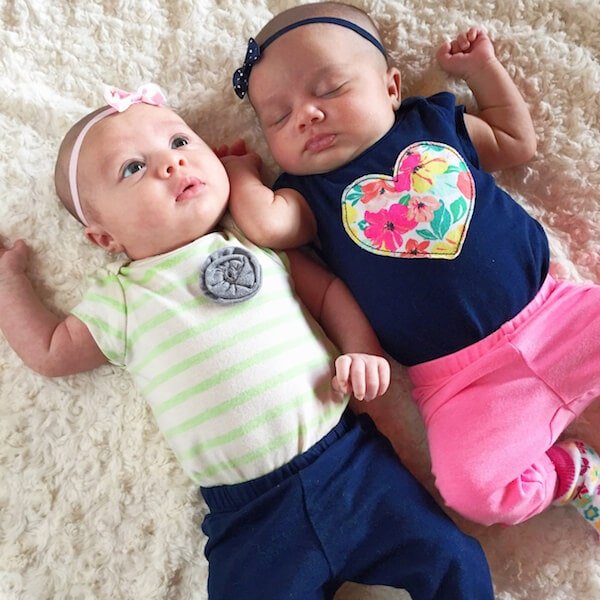 On Saturday, the girls will officially be 3 months old. Holy baby — time is flying!
There has been the good, the bad and the gross, but we all made it to the other side. (The other side being the girls are finally sleeping through the night!…mostly)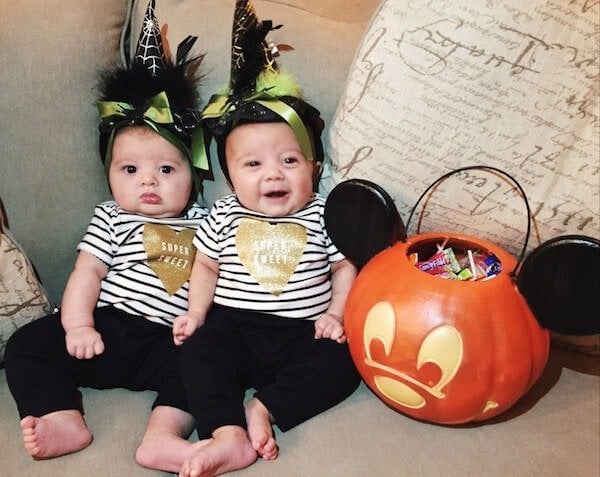 There were so many things that people told me about that was true. There were SO many things that people told me about that were wrong. I know everyone's experiences are different…and it is really different with twins.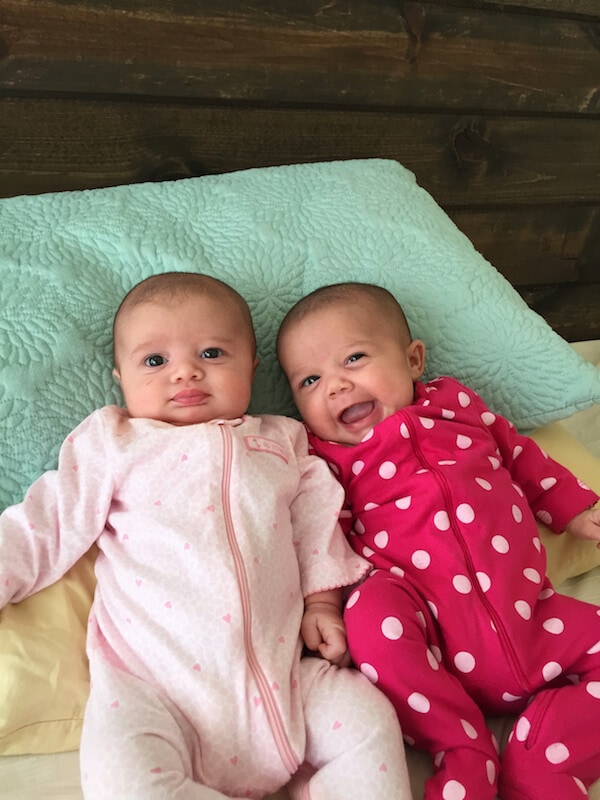 We have just figured it out as we go and found out what works for us. There really is only so much "preparing" you can do for TWO newborns. Ha! The best thing anyone said to me was: "They are two different babies."  (thanks Mom!)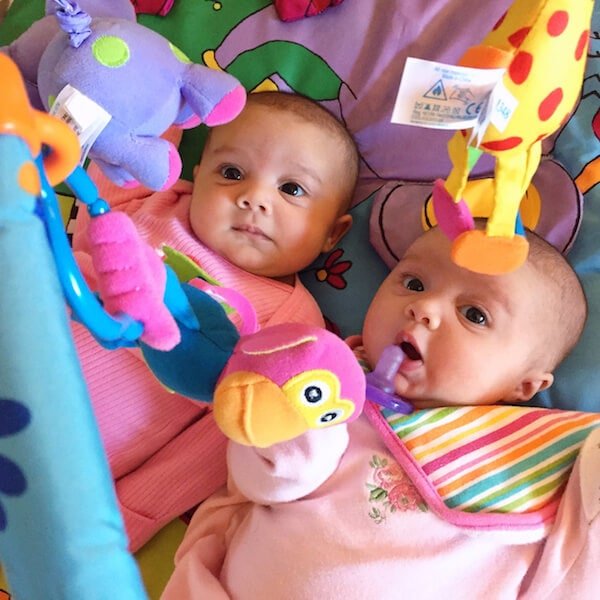 I kept trying to keep the girls on the same schedule all the time, but it just wasn't working. Ellie likes to sleep in till around 7:30, but Lyla is up at 6am. Lyla loves to take good naps…Ellie takes little cat naps throughout the day.
Sure, I get absolutely nothing done throughout the day, but I am now able to keep the babies alive and mostly happy. 😉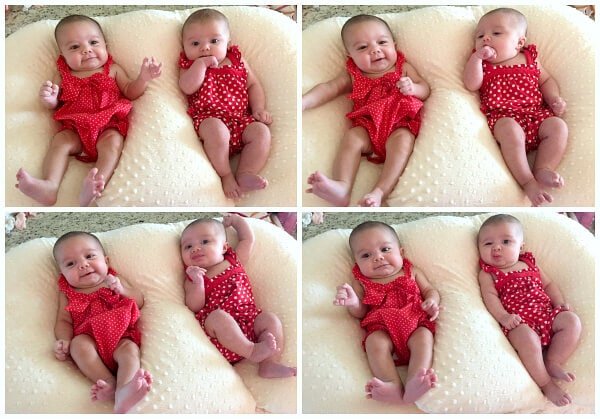 The girls are growing so fast and are surpassing all the other babies their size. They are wearing 3 to 6 months clothes and are in the 98% for height. I'm sure part of that is their 6'4 father, but I like to think it also helped that I kept them in until 37 weeks. 😉
We did find out that Lyla had slightly shallow hip sockets (probably caused by being breach almost all of my pregnancy). It's not a huge deal, especially since we caught it early. She does have to wear a brace 24/7 for 6 weeks to correct the problem.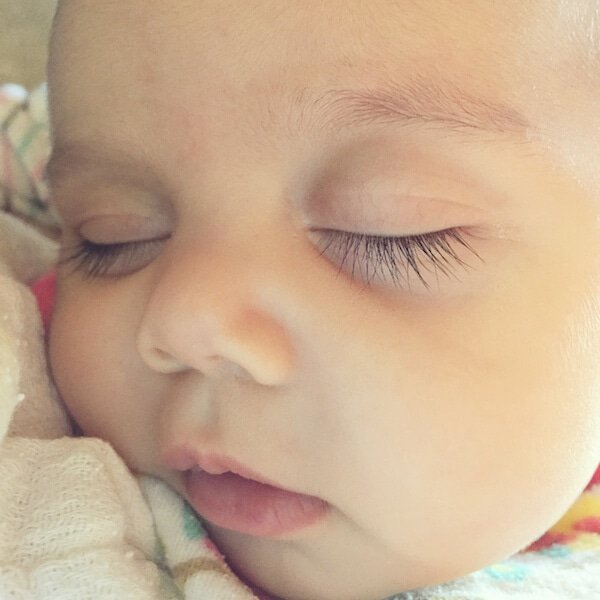 Ellie's struggle has been reflux. It sucks. She has to take medicine twice a day for it and sit upright for 30 minutes after eating. Until we found out what it was, she struggled to keep any of her milk down. Once the doctor started her on medicine, it was like a new baby. Sure she still has issues every once in a while, but is so much better.
Otherwise, the girls are both perfectly healthy and are both over 12 pounds now! So incredibly different than those little 6 pounders we brought home from the hospital!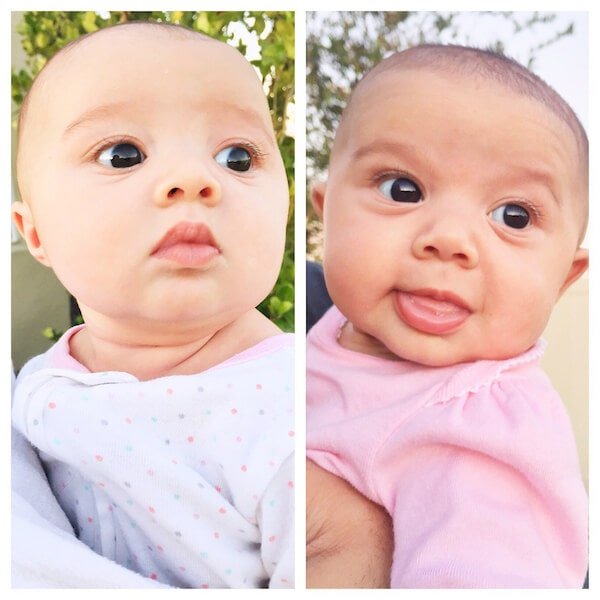 Lastly, I wanted to share the things we found to be extremely useful these first 3 months. I know when I was making my registry with the girls, I wanted to know what actually worked for other moms.
Here are my top 10 things that helped us survive the first 3 months:
1. That big pillow thing above (3 pictures up) you see the girls sitting in. It rocks! We use it for everything from tummy time (which the girls absolutely hate) to feedings. I had two separate bobby things, but it was a pain trying to keep them close to each other. This pillow is made for twins and was worth every penny!
2. Rock N Plays. The girls haven't slept in their crib at all. They spend every night in their Rock N Plays. Ellie has really bad reflux and it keeps her at a great angle. Lyla loves it because it rocks (and vibrates). And I love them because I can easily move them around the house as needed!
3. Changing Table both upstairs and downstairs. If I had to go upstairs every time we had to change a diaper…well my thighs would be ridiculously awesome.
4. Target store brand (Up & Up) for diapers has saved us a TON of money. We love their diapers and have no issues with them. They are great and we get a whole lot more for our money.
5. Swings. I only bought one swing to start. I didn't know if both girls would love the swing. At first, Ellie wasn't crazy about it, but then she totally changed her mind in the last few weeks and loves it! It's sometimes the only way I can get both girls to sleep or entertain themselves. I ended up buying a second one and it has really helped me during the day when I am alone!
6. A Recliner. No seriously, best thing ever. There is a back story to our recliner…it took 8 years for Jorge to talk me into buying one. 8 YEARS. And now that we have babies, good luck getting me out of it. Best place ever to feed and rock babies.
7. Monitor. The girls have slept in their own room from the get go. Being able to see them is crucial to my sanity. And now that they are sometimes soothed by me talking to them, I have been getting lots of use out of being able to talk to them through it. The best part about this monitor though is the wide view — both girls cribs easily fit!
8. Stroller: I refused to spend over $500 for a stroller and was really happy to find the Joovy brand. We have two strollers and use both already. We have the Joovy Twin Roo for as long as we have their infant car seats. It is super light and easy to fold up, plus it turns on a dime for something so large. The other stroller is a Joovy Scooter X2 (except mine is black). For now, we use it for walks around the neighborhood. Once the girls outgrow their infant carseats, this will become our every day stroller. I love the size of the bottom, the handlebar and the built in cup holders (both mine and the girls). And for a side by side double stroller — I have yet to find a door it can't fit through.
9. Bottles and bottle stuff: We use Dr. Browns bottles and love them. To clean them, I insist you buy this Bottle Brush and Grass for drying. When we went to Texas to visit my family, I forgot my bottle brush and bought one I found at Target. I figured it was the same…but it splashed water EVERYWHERE. Even my Mom was complaining about it and asking why I didn't bring my bottle brush. And as for the grass, it holds everything so easily. I love it.
10. Diaper Bag: Well, I have two. I talked Jorge into buying me a Petunia Pickle Bottom weekender bag. I know, most ridiculous name ever. However, I loved the print and was convinced the bag would be awesome. Well, it wasn't. I was constantly digging around the bottom of the stupid thing looking for what I needed. Then I started using this Skip Hop Diaper Bag and it ROCKS. It has tons of pockets inside and out and has plenty of room for all of the girls stuff as well as my own. I absolutely love it.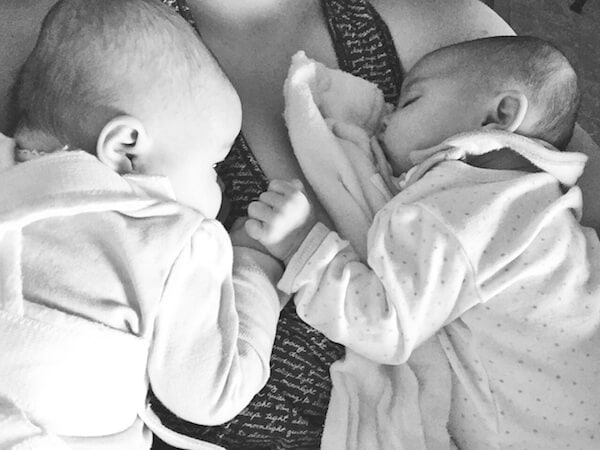 The last 3 months have honestly been the best 3 months of my life. I used to tell my Mom that I wasn't going to get married until I was 28…and if I had children, it wouldn't be until I was 35. Here I am with twin girls at age 27 and I wouldn't trade it for the world. I'm so glad we don't get to pick our future.
This post contains affiliate links. Meaning if you buy something by clicking on one of my links I get a small percentage back from amazon. Thanks for helping supporting my blog!