Watermelon Feta Salad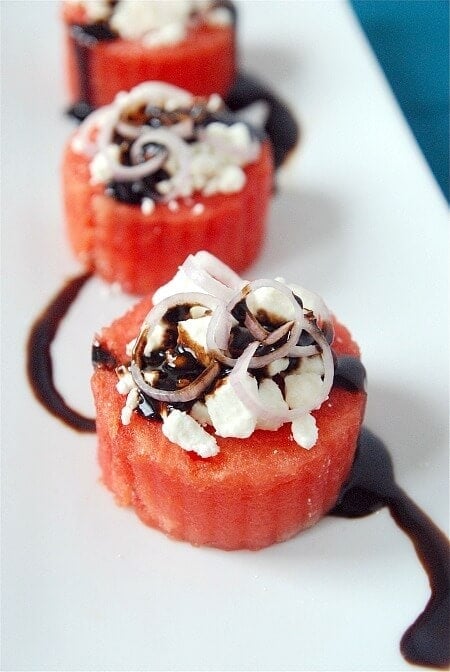 Salted Watermelon. Nothing beats it. Growing up, I spent a few summers eating watermelon by the truckload since my family grew it. They sold most of it at the local grocery stores…but I am almost convinced I ate more than was sold. The only way I ate it was at the picnic table with a big slice in one hand and a salt shaker in the other. I had no idea until I moved to Florida that salting your watermelon was a southern thing. To me, it is second nature. The salt tends to change the flavor just a little and to give you that perfect salty/sweet flavor that I crave.
I recently bought 3 big seedless watermelons at the farmers market. And while I am a fool for watermelon, there is only so much one person can eat before it goes bad. In hindsight, maybe 3 big watermelons was a little much for one person…but I have always had that problem with my eyes being bigger than my stomach which is why Jorge gets embarrassed with me at buffets. So I decided to finally try out the Watermelon Feta Salad I have heard about. Oh I am in lust! A big thick slice of watermelon, topped with some delicious feta tossed with sliced shallots. And then a thick drizzle of Balsamic Glaze? Heaven. Simple 4 ingredient heaven.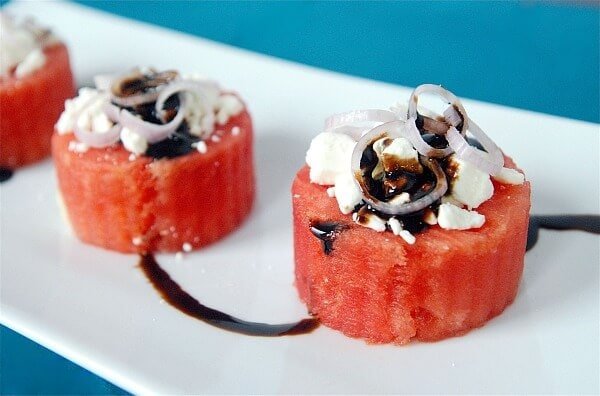 Watermelon Feta Salad
Recipe Note: I sliced my Watermelon into perfect rounds with a large biscuit cutter.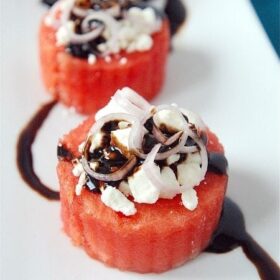 Ingredients:
2 pounds seedless Watermelon, sliced into rounds
1 cup crumbled feta
2 large shallots, sliced
Salt and Pepper, to taste
Balsamic Glaze, for drizzling
Directions:
Ok, this is one of the easiest recipes ever. Ready?
Toss feta and sliced shallots together. Lay down a slice of watermelon. Top with the feta/shallot mixture. Add a little fresh ground pepper and a pinch of salt. Drizzle on some delicious thick balsamic glaze. EAT.
A Novice Chef Blog "Original" <--If you can call this a recipe :-D