White Chocolate Butterfinger Bars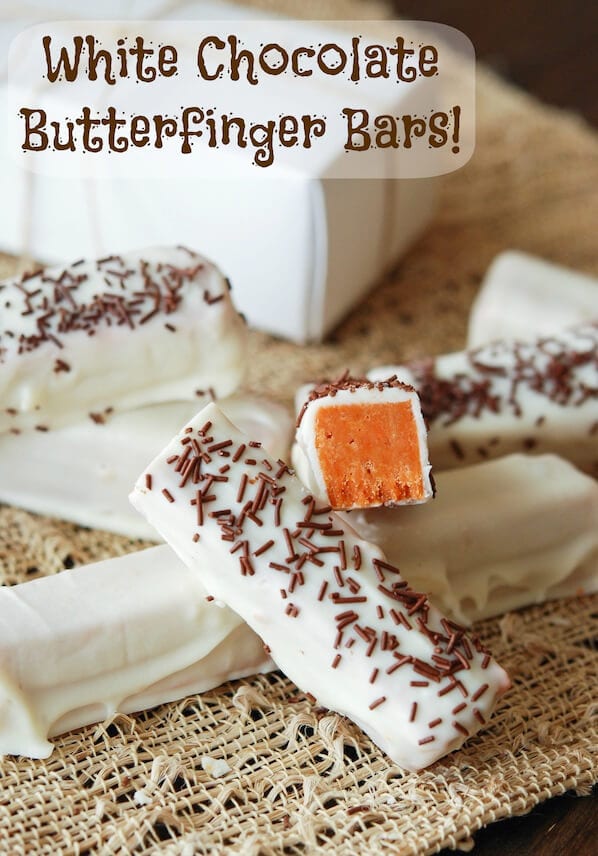 Halloween has been over for a couple of weeks now, but that doesn't mean I didn't still have some Candy Corn sitting around on my counter. Every day I would walk by it and it would taunt me to grab a handful. Eventually I decided it was time to do something with it, either throw it out or somehow reuse it. But what can you reuse candy corn in?
Thanks to a good old google-ing session, I found out there is A LOT of stuff I can do with candy corn. For starters, I found candy corn infused vodka, candy corn turkeys for Thanksgiving and even some lady who likes to make jewelry out of it.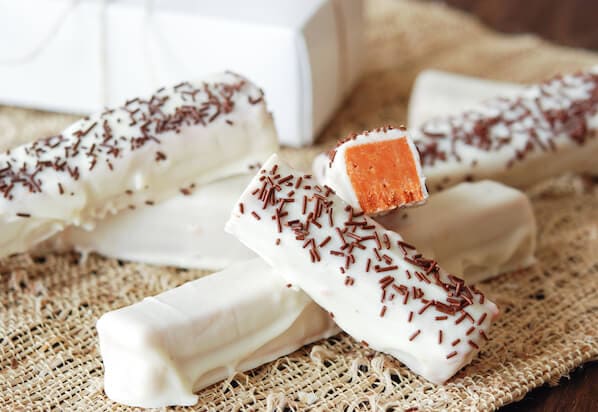 I thought I might look a little strange walking around wearing candy corn necklaces in December and I like my Vodka to be Rum…so I kept looking. Then I stumbled upon a lot of people making Butterfingers out of their leftover Candy Corn. Say WHAT??
They were claiming that you heated up some peanut butter and some candy corn…and out came the inside of a Butterfinger. Then you just dunk it in some chocolate, and tada!, you got yourself one of my favorite candy bars ever. First of all, I thought this was too good to be true. But, I also thought it was a lot better than throwing out my leftovers…or finding myself binging on them mixed with some salted peanuts (Seriously – Candy Corn + Salted Peanuts = a Payday!). So I put it all in a pot (snapped a photo for proof on instagram) and give it a shot.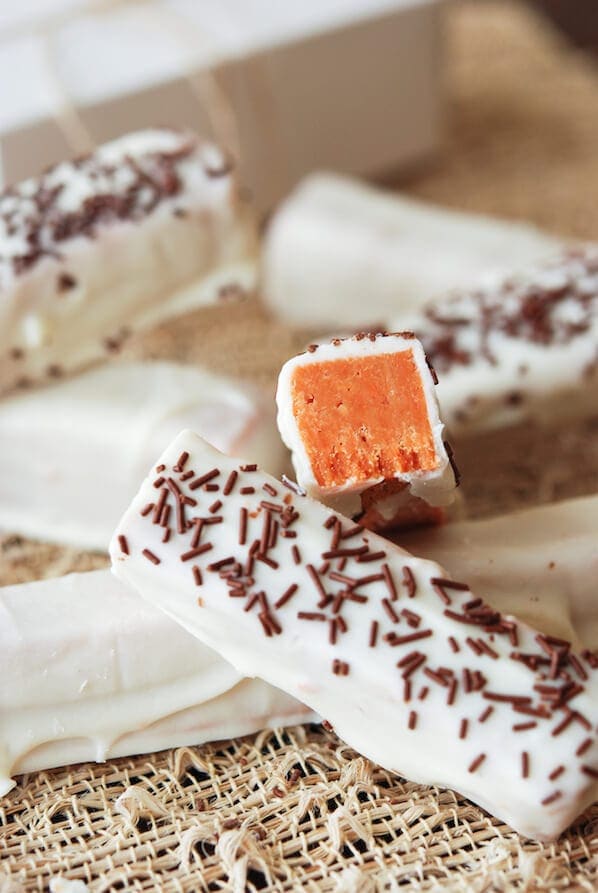 And surprise, surprise but the interwebs were right again! It is possible to make Butterfinger bars out of candy corn and peanut butter. It's a weird miracle!
I dipped mine in white chocolate and sprinkled them with chocolate sprinkles…for no other reason than I can have a regular Butterfinger anytime…but a white chocolate one with sprinkles is special.
P.S. If you are a fan of Chick-O-Sticks, the filling tastes just like them before it's dunked in chocolate!
White Chocolate Butterfinger Bars
Recipe Note: You can make these on the stove or the microwave. I made them twice and thought melting the candy corn in the microwave and then stirring in the peanut butter was the easiest way!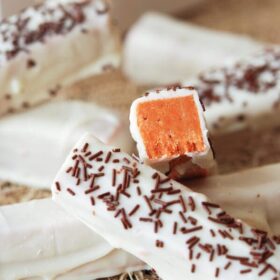 Ingredients:
3 cups candy corn
1 1/2 cups creamy peanut butter
2 cups white chocolate chips
Directions:
Line an 8×8 baking dish with parchment paper. Set aside.
In a microwave safe bowl, melt candy corn in 30 second intervals. Stirring between each interval, until candy is completely melted. Stir in peanut butter, until smooth. Pour into prepared pan and smooth the top with a spatula. Let mixture cool completely.
Remove candy from baking dish by pulling up on the corners of the parchment paper. Cut candy into 1 inch candy bars.
Melt white chocolate chips in the microwave, stirring every 15 seconds, until smooth. Dip each bar into chocolate to coat completely. Place on wax paper lined baking sheet for chocolate to harden, about 20 minutes.
Serve immediately or store in an airtight container.