White Chocolate & Cranberry Blondies
White Chocolate & Cranberry Blondies are a delicious twist on traditional blondie brownies. These festive blondies are perfect for the holidays!
If you love blondies as much as I do, you should also try my Apple Blondie Recipe and these yummy Butterscotch Blondies.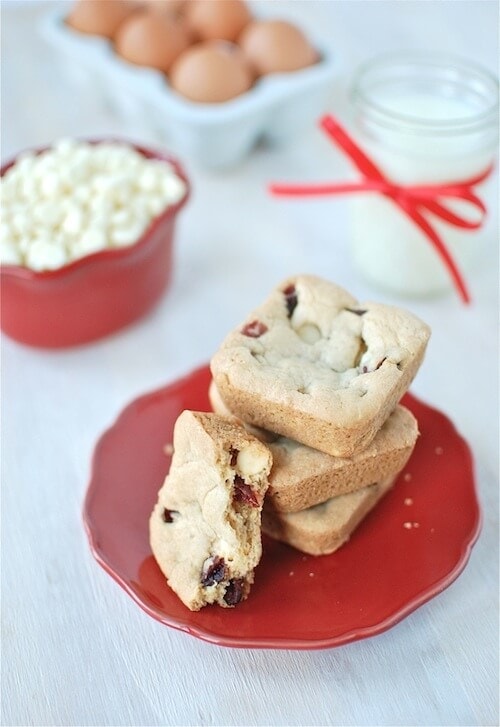 White Chocolate & Cranberry Blondies
I am going to start this by saying that I am not a crier. I don't cry at the drop of a hat or because I saw a sad movie. I will cry when I am really angry or frustrated. I will also cry when someone dies. But I do not cry at Twilight movies. Until yesterday.
Before you scorn me for being a Twilight watcher/reader, give me a break. I was still in high school when the first book came out (2005) and I had to see this through. Since Jorge moved me to Jacksonville, far away from my girlfriends, he is the one who must accompany me to see them now. So there we are, watching Taylor Lautner remove his clothes –my favorite part of every movie– and the girl next to me is squealing. And I think, oh this isn't going to be good.
A little while later, an emotional scene comes along, and girlfriend next to me starts crying. Full on streams of tears running down her cheeks with a sniffle or two every few seconds. And that was all it took. Because of a new medication I am on, my lady bits have been all out of whack and my schedule has been thrown off. I have been running so high on hormones, that I could probably power our apartment for a week. So once she started, I knew there was no way I could stop it. Tears. Embarrassing, hot tears running into my popcorn.
I tried explaining to Jorge when we got out of the movie. It wasn't my fault! It was the girl next to me! When she started, I couldn't stop my own. It was out of my control. He just kind of looked at me and shook his head. Men, they just don't get it. For the record, I didn't sniffle once. I didn't want the cute guy in front of me to know what a hormonal mess I am…I like to save that fun for my husband. 🙂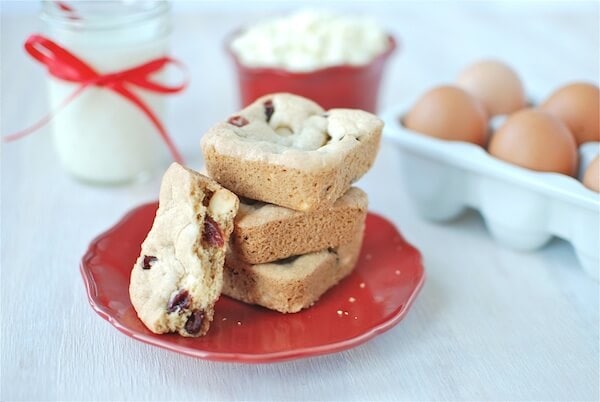 These Easy White Chocolate Blondies Are Perfect For The Holidays
So once we got home, there was only one way to make myself feel less ashamed. Bury my embarrassment in Blondies! And to make them a little more seasonal, lets add some cranberries and white chocolate. I knew from the trip to Nashville, that these blondies on The Little Kitchen were really delicious. I made them in the individual square cake pan to help myself with portion control. I am a big fan of the center pieces…so next time I would go back to the regular baking dish method, portion control be damned. 😉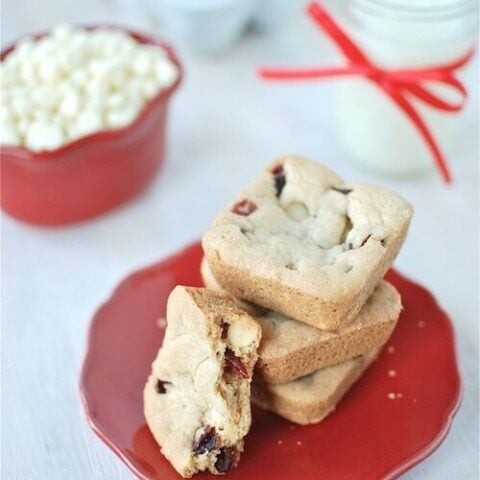 White Chocolate & Cranberry Blondies
Yield: 9 large blondies
Prep Time: 10 minutes
Cook Time: 25 minutes
Total Time: 35 minutes
White Chocolate & Cranberry Blondies are a delicious twist on traditional blondie brownies. These blondies are full of sweet white chocolate and tangy dried cranberries. Perfect for the holidays!
Ingredients
3/4 cup plus 2 Tbsp packed light brown sugar
1 large egg
2 tsp vanilla extract
8 Tbsp (1 stick) unsalted butter, melted
1 1/2 cups all-purpose flour
1/2 tsp baking soda
1/8 tsp salt
3/4 cup white chocolate chips
1/2 cup dried cranberries
Instructions
Preheat oven to 325 degrees. Spray an 8x8 inch square baking dish with Baker's Joy.
In a small bowl, whisk together the flour, baking soda, and salt. Set aside.
In a stand mixer, beat together the brown sugar and egg, for about 2 minutes. Add vanilla extract and melted butter, beating until combined.
Add the dry mixture to the butter mixture, beating until just incorporated. Do not overmix.
Remove from stand mixer, and using a rubber spatula, stir in the white chocolate and cranberries.
Spoon the batter into the prepared baking dish. Using your fingers, or a spatula sprayed with a little Baker's Joy, press down the batter until flat/smooth. Bake for 25-28 minutes, or until until the top is dry and golden and a knife inserted in the center comes out with just a few crumbs attached (not wet, but not perfectly dry).
Remove the pan from the oven and place on a wire rack to cool. Cut the blondies into 2-inch squares. The blondies can be stored, well wrapped, at room temperature for up to 3 days (these seem to get better as they sit) or frozen for up to 2 months (thaw before serving).
Recommended Products
I am an Amazon affiliate member and I earn a small percentage from qualifying purchases. Thank you!
Nutrition Information:
Yield: 9
Serving Size: 1 piece
Amount Per Serving:
Calories: 289
Total Fat: 16g
Saturated Fat: 9g
Trans Fat: 0g
Unsaturated Fat: 5g
Cholesterol: 51mg
Sodium: 204mg
Carbohydrates: 34g
Fiber: 1g
Sugar: 17g
Protein: 4g