If you love baking and eating cookies as much as I do, you've got to try these Funfetti Cookies and my recipe for The Best Chewy Peanut Butter Cookies.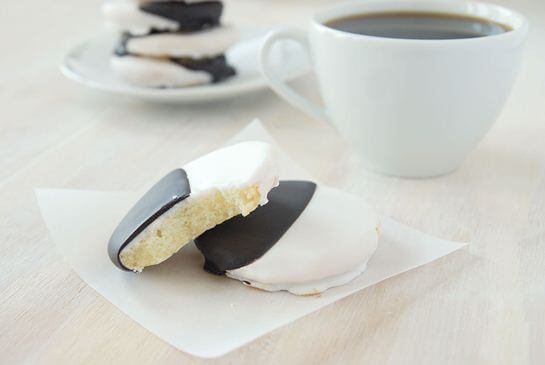 While every one else is preparing for summer with salads and vegetables and all that ass friendly crap, I am here to tell you that it's too late. Summer is already here. Today I tried going for a walk with the dog and I didn't even make it two miles. I have used the saying "Sweating like a whore in church" many times before…but that doesn't even begin to cut it. Maybe sweating like Lindsay Lohan in jail might be closer, but still no where close. Every year Summer rolls around and I am convinced it is way hotter than it was last year, but I checked and it was only 98 today.
So I have decided that the only way to pass time this summer will be baking indoors with my lovely air conditioner, tanning IN the pool, and at the movies. Also my days of walking the trails are over, I am going to have to start driving myself 15 minutes to the gym so I can use the treadmill inside….because I am pretty sure a heat stroke is imminent in this Florida heat.
For the start of my baking kick off, I wanted to make Black & White Cookies. They are a very traditional cookie and I see them a lot in bakeries, but I have never actually had one. It is pain to get the lines straight on the icing, but I found that if you do a solid layer of white and then the black it is much easier. These were great and easily divided down to just make a few cookies.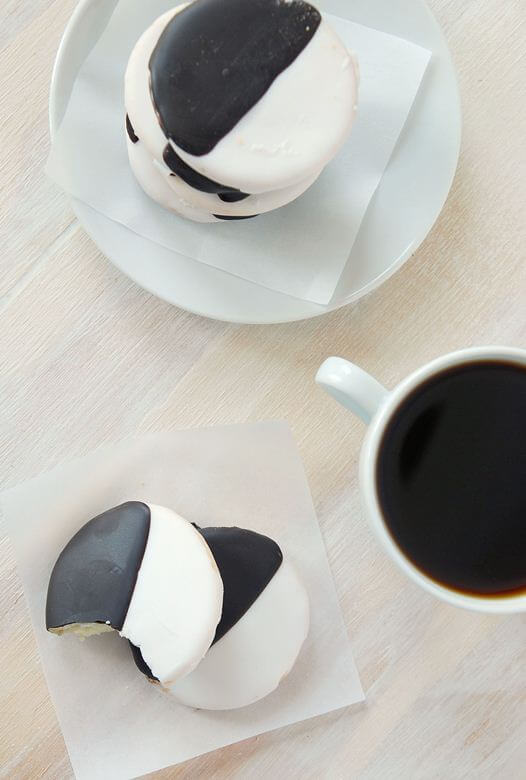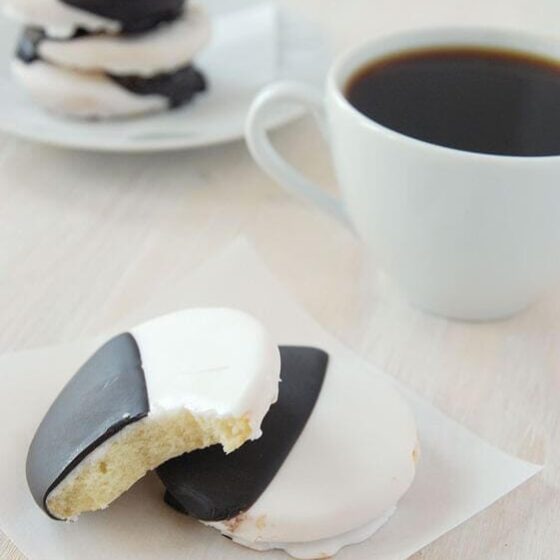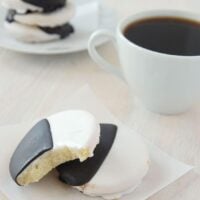 These homemade Black and White Cookies are soft, delicious and so easy to make. This recipe makes traditional cookies just like you'd find in a bakery!
Ingredients
FOR THE COOKIES
2 cups cake flour
2 cups all-purpose flour
1/2 teaspoon baking powder
1/2 teaspoon salt
1 cup unsalted butter, at room temperature
1 3/4 cups sugar
3 eggs
1/2 teaspoon vanilla extract
1 teaspoon almond extract
1 cup milk
FOR THE ICING
3 ounces bittersweet or unsweetened chocolate, chopped
1/2 cup water
3 tablespoons honey
5 cups confectioners' sugar
1/2 teaspoon vanilla
Instructions
To make the cookies: Preheat oven to 375 degrees. Line baking sheet(s) with parchment paper; set aside.
In a medium bowl, whisk together the flours, baking powder, and salt; set aside.
In a large bowl, or the bowl of a standing mixer, beat the butter until creamy. Gradually beat in the sugar until well combined and light and fluffy. Add the eggs, one at a time (scraping the bowl between additions, as needed), until fully incorporated. Add 1/3 of the flour mixture and mix until just combined, followed by half of the milk, mixing until just combined. Repeat with the remaining flour and milk, ending with the final 1/3 of the flour mixture. Stir in vanilla and almond extracts until combined, being careful not to overmix.
Drop the batter by 1/4 cupfuls onto the prepared baking sheet(s), leaving 2 inches between the cookies. Bake until centers are firm and edges just begin to brown, 15-18 minutes. Cool the cookies for 2 minutes on the sheet before transferring to a wire cooling rack. Allow to cool completely before icing. Once the cookies are completely cooled, flip them over.
To make the icing: Melt the chocolate in a small bowl and set aside.
In a small saucepan set over medium high heat, bring the water and honey to a boil. Remove from heat and add half of the mixture into the sugar. Whisk until fully incorporated and smooth, adding more of the honey mixture, 1 teaspoon at a time, as needed. Stir in the vanilla extract. Add extra liquid very slowly to be sure that the icing doesn't get runny.
Fill a decorating bag with a small amount of icing and snip off the end. Draw a straight line directly across the center of the bottom of each cookie. Return any extra icing to the bowl. Using a small offset spatula, spread vanilla icing over half of each cookie, filling it in up to the line.
Once all of the cookie have vanilla icing, stir the melted chocolate into the remaining vanilla icing. If needed, stir in any remaining honey mixture, 1 teaspoon at a time, until the desired consistency is reached.
Again using a small offset spatula, fill in the other half of the cookie with chocolate icing.
Notes
Recipe Note: I actually found it much easier to do a full layer of white icing (allowing it to dry) and then putting the half layer of black. It leads to nicer lines!
Recipe very slightly adapted from My Baking Dom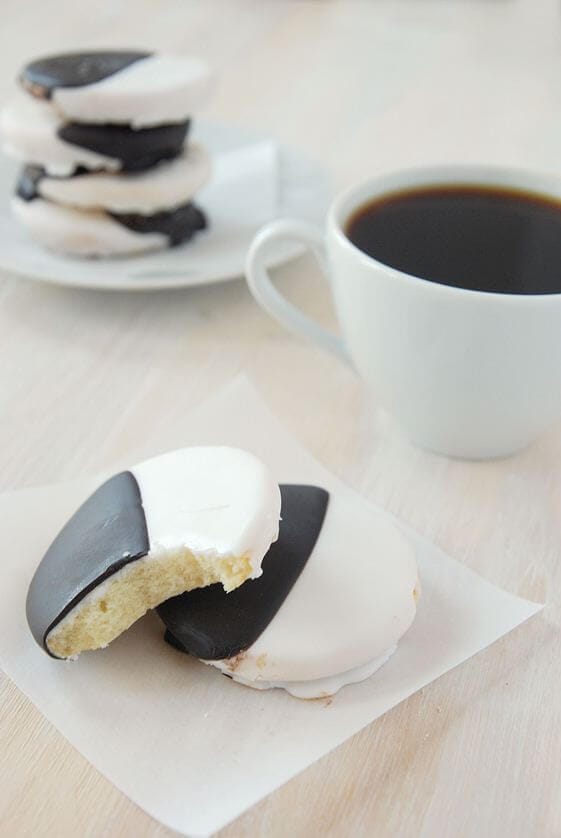 This post may contain affiliate links. Read my disclosure policy.