You're going to love this Zucchini Noodles In A Lemon Cream Sauce recipe! The fresh ingredients make this dish a great healthy alternative to regular pasta. It's so easy to make and it's vegetarian friendly!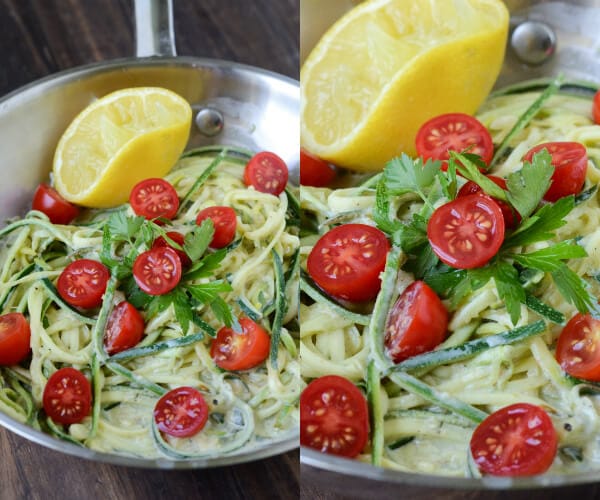 Zucchini Noodles Are A Great Way To Use Up Extra Zucchini
Zucchini Noodles – Zoodles. Don't run! I swear — this is a real thing. The first time I saw them, they were served raw and it just wasn't my thing. I blew it off as one of those weird things that I just didn't get. Then last week I wound up with an abundance of zucchini. I used up as much as I could, but I still had a bunch leftover.
I had 4 zucchinis that were about to go bad and decided I was going to give Zucchini Pasta another shot. But this time I was going to cook it and serve it up in a sauce that I love on regular pasta. Sure I was still totally skeptical, but how can anything be bad when it's in a Lemon Cream Sauce?
This Zoodle Recipe Is So Good You Won't Miss Regular Pasta
The only word I can use to describe my first bite: Whoa. Jorge and I both gobbled up our huge bowls and talked about how perfect it would be with some grilled chicken next time. The zucchini was cooked al dente (with a little crisp still in it) and the sauce was the absolute perfect pairing. Jorge and I both said we didn't miss the traditional pasta at all!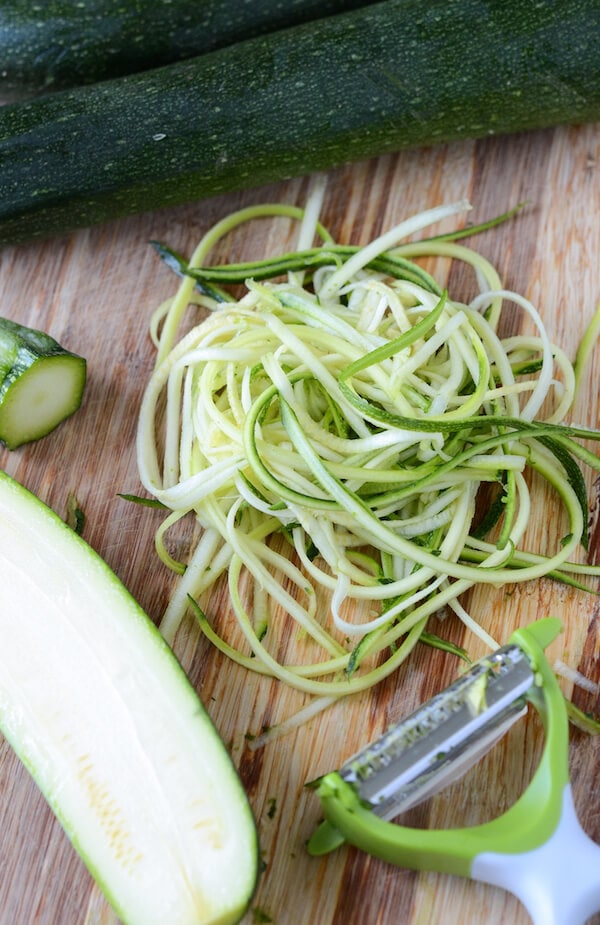 The Homemade Lemon Cream Sauce Is So Easy To Make
I have made this Lemon Cream Sauce a lot over the years for a quick creamy pasta dinner. It utilizes Philadelphia Cream Cheese as the creamy ingredient, instead of cream or half & half, which really speeds up the process. Unlike a traditional alfredo sauce, this Lemon Cream Sauce just takes a few minutes in the saute pan…and on a busy week night I know we can all really appreciate a quick homemade sauce.
I like to use Philadelphia Cream Cheese specifically because of their great standards. Philadelphia has been around since 1872 and uses all real fresh ingredients in their cream cheese. It's all real, fresh, local milk from farms nearby and wholesome cream. I am considering using one of their flavored Spicy Jalapeno cream cheese next time for a little spice. It uses real jalapenos and I like the heat it adds!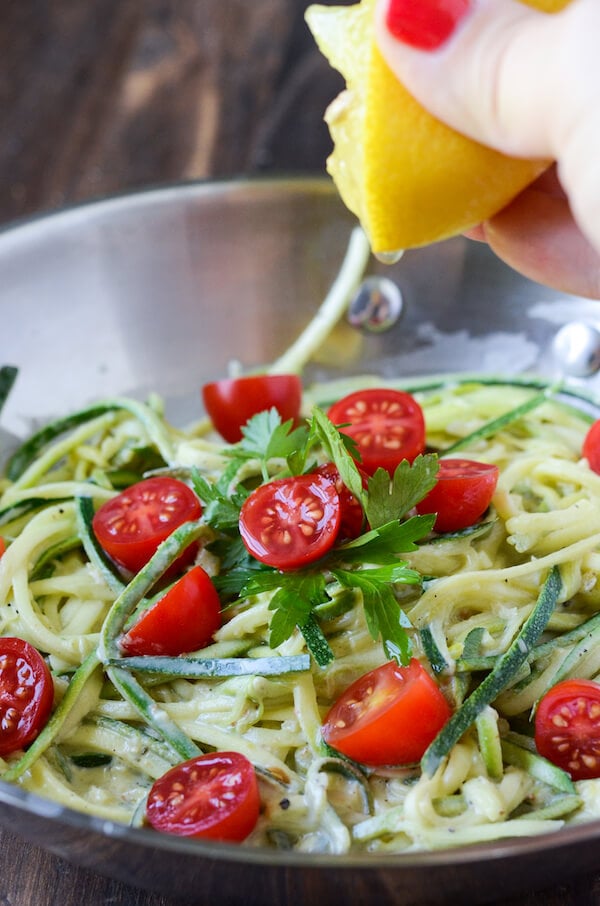 How To Make Zucchini Noodles Or Zoodles
It is super easy to make the noodles with a julienne peeler. I had all 4 zucchini made into noodles in just a few minutes! Then as I said earlier, the sauce also comes together very quickly…then a few minutes for the "noodles" and this dish is done. From start to finish, this dish only took me 20 minutes to make! Perfect for those quick Meatless Monday night dinners!
This recipe uses so few ingredients, that it is important to use quality ingredients. So use fresh lemon juice and some freshly ground black pepper…and garlic that didn't come out of a jar. The freshness really makes all the flavors POP!
Yield: 2 large servings (or 4 servings if using as a side)
Zucchini Noodles In A Lemon Cream Sauce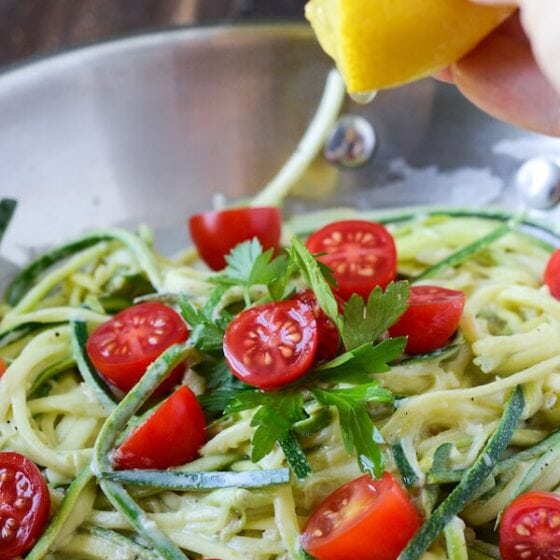 You're going to love these Zucchini Noodles In A Lemon Cream Sauce! Fresh ingredients make this easy dish a healthy alternative to regular pasta.
Ingredients
4 medium zucchini, ends trimmed and peeled a julienne peeler into noodles
1 tablespoon olive oil
2 large cloves garlic, minced
3 oz Philadelphia Cream Cheese
1 large lemon, juiced
kosher salt & fresh ground black pepper, to taste
a big handful of cherry tomatoes, halved
Instructions
In a large saute pan over medium heat, heat olive oil. Add garlic, cooking for 30 seconds. Add cream cheese and lemon juice, stirring until cream cheese is melted. Season with salt and pepper.
Add zucchini noodles, tossing to coat in sauce, and cook for 2 - 3 minutes until wilted. You don't want to overcook the noodles -- you want that slightly crisp texture!
Top with cherry tomatoes and serve immediately.
Notes
Recipe note: When I make this Lemon Cream Sauce for normal pasta, I add a little chicken broth to the sauce, but all the water in the zucchini makes it unnecessary.
Nutrition Information:
Yield:
2
Serving Size:
1
Amount Per Serving:
Calories:

389
Total Fat:

24g
Saturated Fat:

10g
Trans Fat:

0g
Unsaturated Fat:

11g
Cholesterol:

43mg
Sodium:

440mg
Carbohydrates:

38g
Fiber:

6g
Sugar:

11g
Protein:

12g
Want to Save This Recipe?
I have been selected by Kraft Foods to be an ambassador for PHILADELPHIA. While I have been compensated for my time, my opinions are my own, and I have not been paid to post positive comments.
This post may contain affiliate links. Read my disclosure policy.