You're going to love this easy recipe for zesty Zucchini Noodles in Lemon Cream Sauce! Fresh vegetables and healthy ingredients make this a wonderful and filling alternative to regular pasta. Creamy zoodles are vegetarian-friendly and perfect for Meatless Monday dinners!
Easy Zucchini Noodles with Creamy Lemon Garlic Sauce
These are the best Zucchini Noodles, also known fondly as Zoodles!
Wait, don't run – I swear, this recipe is the real deal! Once upon a time I too blew off zoodles as one of those weird food trends I just didn't "get". That is, until a few extra zucchinis and a little pasta inspiration led me to this zoodles recipe.
All I can say about my first bite: Whoa! And I wasn't alone. The whole family gobbled up these easy and tasty zoodles, cooked al dente with a delicious garlic and lemon cream sauce made with Philadelphia Cream Cheese. Traditional pasta has nothing on these fresh, healthy zoodles, and you'll never look at zucchini squash the same way again!
Do Zoodles Taste Like Pasta?
When cooked, zucchini noodles really mimic the texture of pasta noodles, and (depending on how you cut them) the shape as well! Zoodles also taste similar to pasta in that they tend to take on the flavors of the sauces and ingredients they're paired with. All the deliciousness with less carbs and calories!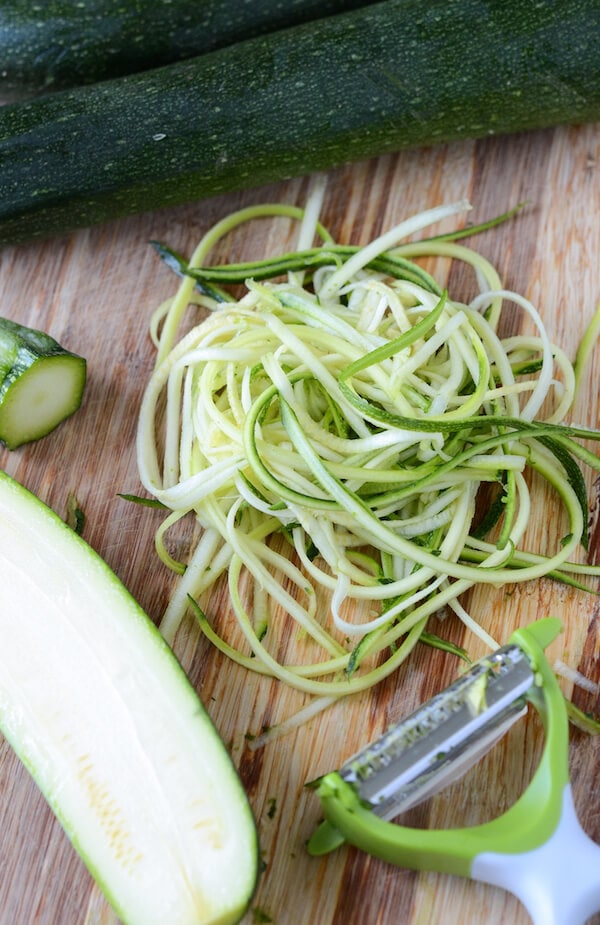 What You'll Need
This zoodles recipe uses so few ingredients, and freshness is what really makes the flavors pop! So think fresh lemon juice, freshly ground black pepper, fresh cloves of garlic, etc. Here's everything you'll need:
Zucchini Squash: Trim off the ends and julienne the rest into noodles. ( I use a julienne peeler that works wonderfully!)
Garlic: Whole fresh cloves, minced.
Cream Cheese: Classic Philadelphia Cream Cheese is an all time favorite, and using quality cream cheese really brings the wow factor to this cream sauce!
Lemon: You'll need the juice of one whole lemon.
Cherry Tomatoes: No specific quantity, but a good handful, cut into halves.
Olive Oil
Kosher Salt & Fresh Cracked Pepper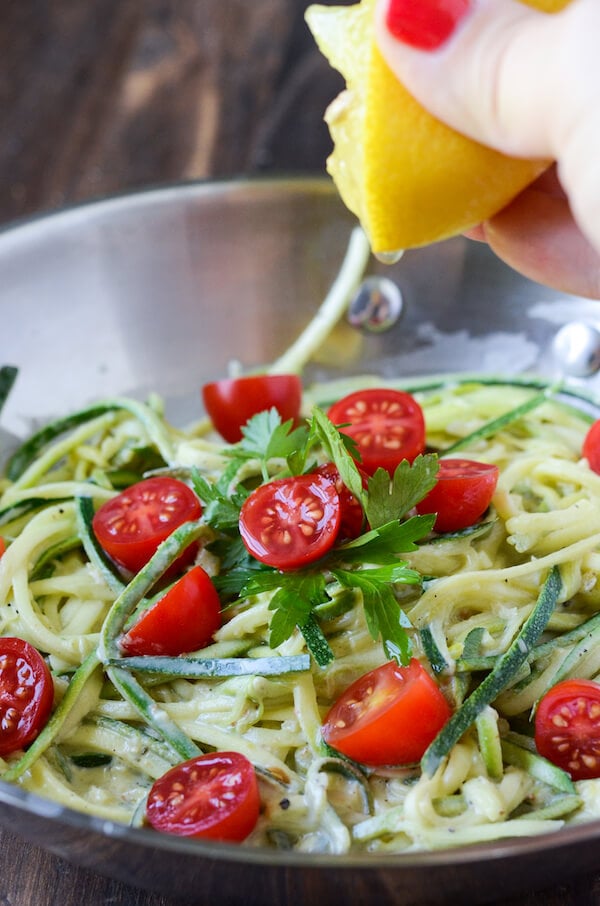 How to Make Zoodles with Lemon Cream Sauce
This whole recipe comes together in about 20 minutes! It is super easy to make the noodles with a julienne peeler (you can also use a spiralizer for longer, curly strands). Then all that's needed is to cook the sauce and the zoodles:
Make the Sauce: Quickly saute the garlic in a pan with olive oil. Next add in the cream cheese followed by the lemon juice. Keep stirring the sauce until all the cream cheese is melted, and then season to taste.
Toss in the Zoodles: Transfer the zucchini noodles into the lemon cream sauce and toss them until well coated. It only takes a couple minutes for the zoodles to cook to a perfect slightly crisp texture, so be careful to not overcook them!
Garnish and Serve: Throw in some ripe cherry tomatoes and dish up right away!
Tips for Success
The Larger the Better: When selecting your zucchinis for zoodles, aim for the larger ones for longer noodles.
If Your Zoodles Are Watery: However, if you're using large squash and ending up with watery zoodles, you may need to opt for smaller zucchini with less seeds.
Prep Ahead of Time: Julienne the zucchini noodles ahead of time and store them uncooked, airtight in the fridge for up to 4-5 days.
Use Thick Sauces: Heavier sauces like this lemon and garlic cream sauce work best for zoodle recipes.
Variation Ideas
You can enjoy your homemade zoodles with other sauces, too! As mentioned in the Tips section, thicker sauces are the best to pair with zucchini noodles (compared to a thin, watery sauce). Here are some suggestions:
You can also try out different variations of Philadelphia's Cream Cheese range to bring different flavors to the cream sauce used for this recipe. Replace the classic version with their Chive and Onion, or Garlic and Herb flavors, or Spicy Jalapeno for a bit of kick.
Serving Suggestions
Zucchini noodles are a great low carb alternative to pasta, and you can serve them much in the same way!
How to Store and Reheat Leftovers
Leftover zoodles will keep airtight in the fridge for up to 3 days. I wouldn't recommend reheating them more than once, as they'll likely become mushy afterwards. To reheat your zoodles, warm them in a skillet or in the microwave until heated through.
Are Zoodles Freezer-Friendly?
Freezing zoodles is not recommended. They'll thaw into a watery mush!
More Zucchini Recipes to Try
Yield: 2 large servings (or 4 servings if using as a side)
Zucchini Noodles In A Lemon Cream Sauce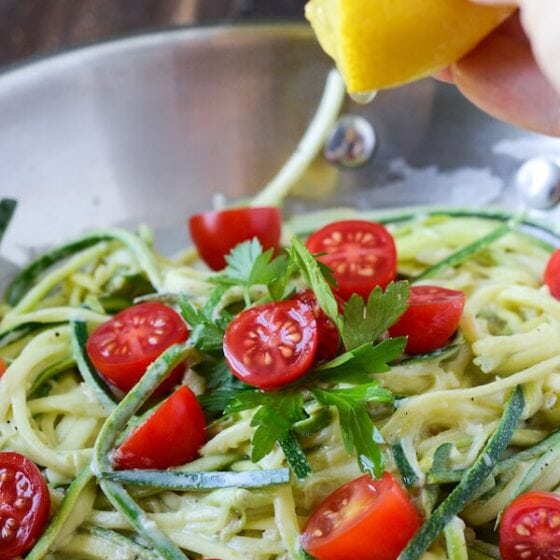 You're going to love this delicious and creamy zoodles recipe! Fresh ingredients make this easy dish a healthy alternative to regular pasta.
Ingredients
4 medium zucchini, ends trimmed and peeled a julienne peeler into noodles
1 tablespoon olive oil
2 large cloves garlic, minced
3 oz Philadelphia Cream Cheese
1 large lemon, juiced
kosher salt & fresh ground black pepper, to taste
a big handful of cherry tomatoes, halved
Instructions
In a large saute pan over medium heat, heat olive oil. Add garlic, cooking for 30 seconds. Add cream cheese and lemon juice, stirring until cream cheese is melted. Season with salt and pepper.
Add zucchini noodles, tossing to coat in sauce, and cook for 2 - 3 minutes until wilted. You don't want to overcook the noodles -- you want that slightly crisp texture!
Top with cherry tomatoes and serve immediately.
Notes
Recipe note: When I make this Lemon Cream Sauce for normal pasta, I add a little chicken broth to the sauce, but all the water in the zucchini makes it unnecessary.
Nutrition Information:
Yield:
2
Serving Size:
1
Amount Per Serving:
Calories:

389
Total Fat:

24g
Saturated Fat:

10g
Trans Fat:

0g
Unsaturated Fat:

11g
Cholesterol:

43mg
Sodium:

440mg
Carbohydrates:

38g
Fiber:

6g
Sugar:

11g
Protein:

12g
Categories
I have been selected by Kraft Foods to be an ambassador for PHILADELPHIA. While I have been compensated for my time, my opinions are my own, and I have not been paid to post positive comments.
This post may contain affiliate links. Read my disclosure policy.