Zucchini, Shallots, & Parmesan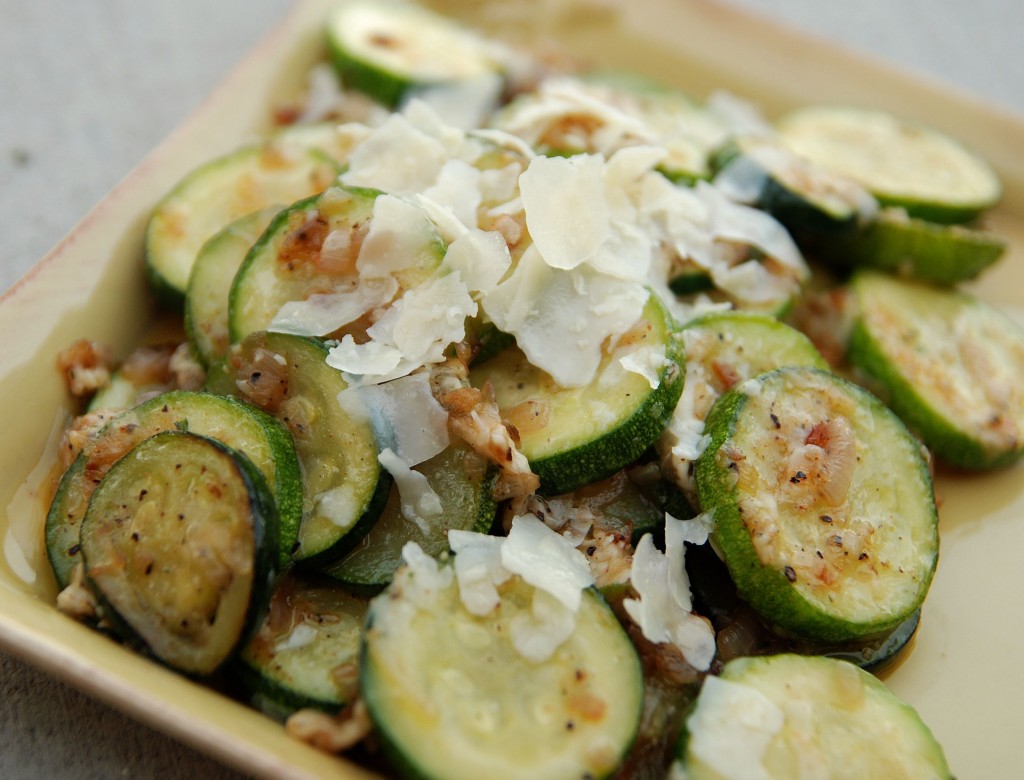 Squash and I have a long history. I grew up hating it…well all of it except pumpkin when made into a pie or Mashed Acorn Squash. My mom would make it regularly and I would always avoid it like the plague. Then one day something changed…and I now eat all squash and love it! I even grew yellow squash and eggplant this summer!  And then because Florida is so freaking hot, my entire garden died. But about two weeks ago, on the complete other side of where my garden was…a plant started to grow. And I kept watering it and just waiting to see what it was….and it grew and it grew….and it grew! I eventually had to go buy a trellis to allow it room to continue growing. I still had no idea what it was…but eventually it bloomed…and it grew a Zucchini! Actually it grew a bunch of Zucchinis! I have NO clue how the seed got there…since I have never grown Zucchini before. My Mom says that something like this can happen if a bird gets into trash and gets some Zucchini…and nature takes its course…and the bird does its business there. However it happened to get there, I am thrilled that it did! It is still producing Zucchini and besides some herbs and Eggplant, is the only thing growing despite this heat. So with all the Zucchini it has been making, I have been on the hunt for more recipes for it. This particular recipe was delicious. We (my Mom and I) LOVED this recipe! It was delicious and the perfect side dish to just about anything! And for 167 calories per serving…you can't go wrong!
Zucchini, Shallots, & Parmesan
Ingredients:
3 tablespoons Olive Oil
2 lg Shallots, chopped
2 tablespoons balsamic vinegar
4 cups sliced Zucchini
1/2 c freshly shredded Parmesan
Salt & Pepper, to taste
Directions:
In a nonstick skillet over low, heat olive oil. Add shallots and cook on low until they are soft, about 5-6 minutes. Add balsamic vinegar, mix well, and allow to cook for 1 minute.
Add Zucchini, salt, and pepper. Saute over medium-low, turning occasionally, until cooked through, but not wilted. About 10-13 minutes.
Once the Zucchini is cooked thoroughly, sprinkle Parmesan over Zucchini and toss quickly so that it is evenly distributed. Serve immediately.