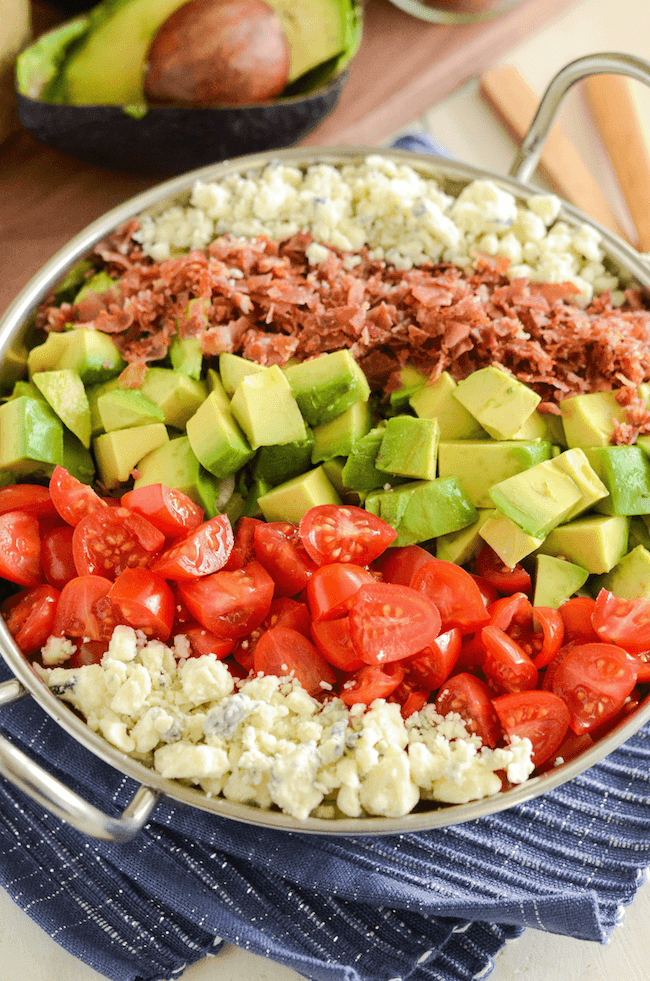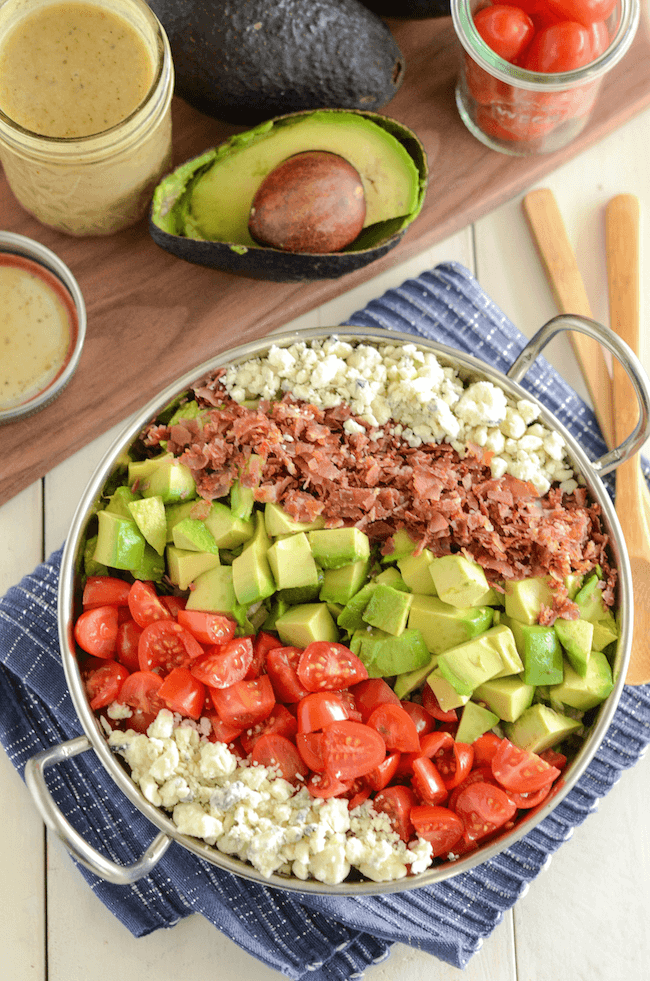 This Copycat Maggiano's Chopped Salad is a life changer. No really, life changer. Jorge has always turned up his nose when I have tried to make salad for dinner…joking it was too healthy. So this week, I decided I would make one for myself and also do a thin crust pizza on the side for him.
I gave him a tiny side of salad and a huge bowl for myself. Next thing I know, he was going back for seconds and then thirds…and then fourths! And I was SHOCKED when he asked me to start making this for dinner weekly. WHOA. I knew I had a winner. I made it again to photograph it and guess who ate another huge helping? Yup. He's a chopped salad addict now.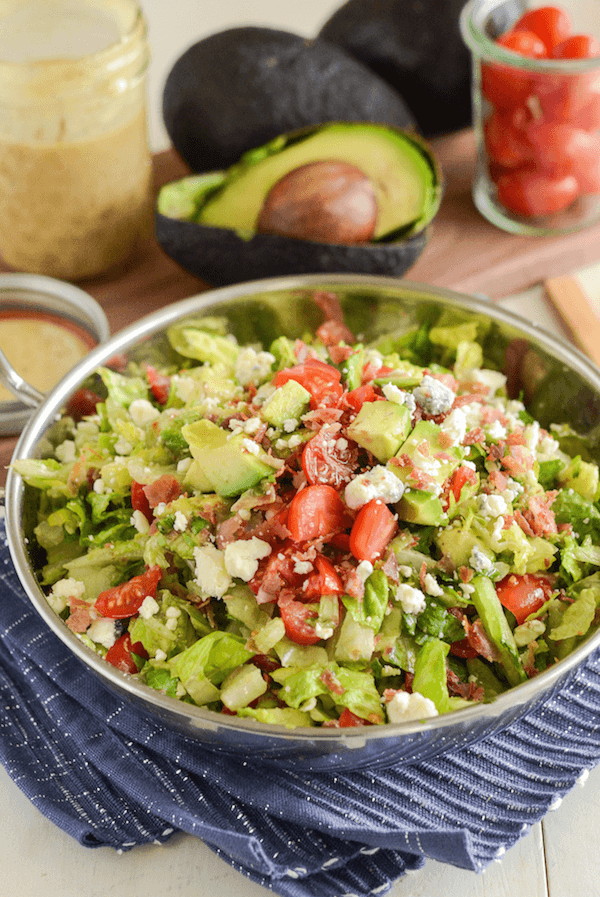 I love love love this chopped salad from Maggiano's. I order it every single time we go and I had a serious random craving for it. We don't live super close to a Maggiano's and haven't been in probably close to a year, but I couldn't get it out of my head.
We used to go to Maggiano's a ton growing up for family dinners and Jorge and I even went there the night we got engaged (10 years ago this July – holy crap). So you can understand, I have a certain soft spot for their food.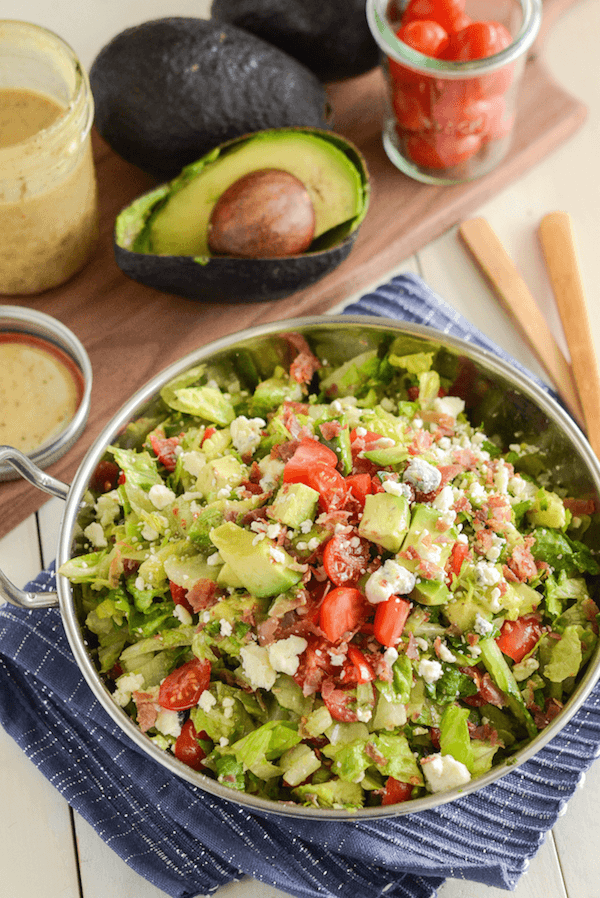 I am proud to say this Copycat Maggiano's Chopped Salad recipe is just as good – if not better – than the original. Crispy salty prosciutto, juicy cherry tomatoes, creamy ripe avocado and tangy gorgonzola cheese make this salad divine. The creamy homemade vinagrette adds just the right finishing touch!
Oh and did I forget to mention — it takes less than 30 minutes to make!
For a party: arrange the salad with toppings in lines on top like I did in the first photo. Then when you are ready to serve, toss it all together and add the dressing!
Yield: 1 large salad
Copycat Maggiano's Chopped Salad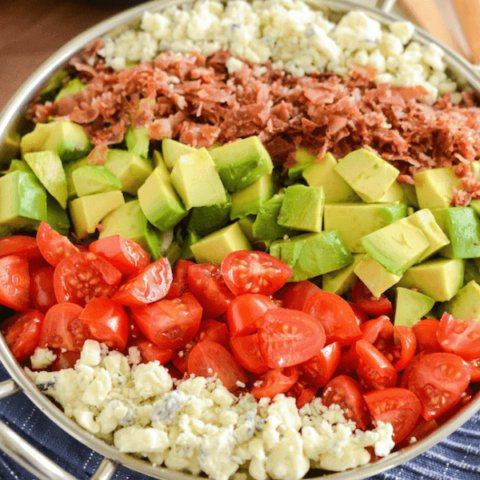 This Copycat Maggiano's Chopped Salad has prosciutto, juicy tomatoes, creamy avocado, tangy gorgonzola cheese, and a homemade vinaigrette!
Ingredients
Dressing:
1 tablespoon granulated sugar
1 teaspoon dry mustard
1⁄2 teaspoon black pepper
1⁄2 teaspoon crushed red pepper flakes
1⁄2 teaspoon dried oregano
1/4 teaspoon salt
1 clove garlic, minced
2 tablespoons red wine vinegar
2 tablespoons white vinegar
2 tablespoons water
1/3 cup canola oil
1⁄3 cup extra virgin olive oil
1⁄3 cup shredded parmesan cheese
Salad:
3 romaine hearts, chopped
1 (10.5 oz) container cherry tomatoes, chopped
5 oz crumbled gorgonzola cheese (or blue cheese)
3 oz prosciutto, pan fried till crispy and chopped
1 large avocado, chopped
Instructions
Dressing: In a food processor or blender, add all ingredients and process until smooth. Store in an airtight container, in the refrigerator for up to a week until ready to serve.
Salad: In a large bowl, toss together lettuce, tomatoes, gorgonzola, prosciutto and avocados. Drizzle on top as much dressing as you would like and toss to coat. Serve immediately.
Notes
Recipe Note: to pan fry prosciutto — you cook it just like bacon. In a frying pan over medium-high heat, cook prosciutto slices for about 30 seconds per side. Remove from pan and transfer to a chopping board. Let cool for 2 minutes and it will crisp up. Then just chop it up!
Nutrition Information:
Yield:
4
Serving Size:
1
Amount Per Serving:
Calories:

641
Total Fat:

58g
Saturated Fat:

13g
Trans Fat:

0g
Unsaturated Fat:

42g
Cholesterol:

46mg
Sodium:

1242mg
Carbohydrates:

15g
Fiber:

7g
Sugar:

6g
Protein:

19g
Categories
This post may contain affiliate links. Read my disclosure policy.