This Pollo Asado is grilled to tender perfection. Juicy chicken is loaded with citrusy flavor and Mexican spices for a chicken dinner idea everyone loves!
Authentic Pollo Asado Recipe
Marinated with sour orange and a blend of Mexican spices, this pollo asado is unlike any roasted chicken you've ever had. Best of all, its irresistible copper-like color isn't the result of endless hours in the kitchen. It's achiote, the secret ingredient.
With a slightly crispy exterior, the lovely char is the result of excess sauce sizzling away. Once it caramelizes, it adds a pop of color and an amazing concentration of flavors. Every bite is packed with smokiness, earthiness, and tang.
Serve it with a simple side like rice because this chicken deserves all the gold stars. As for the leftovers, use them to make incredible tacos or enchiladas. Trust me, after trying pollo asado, you're never going back to rotisserie chicken again.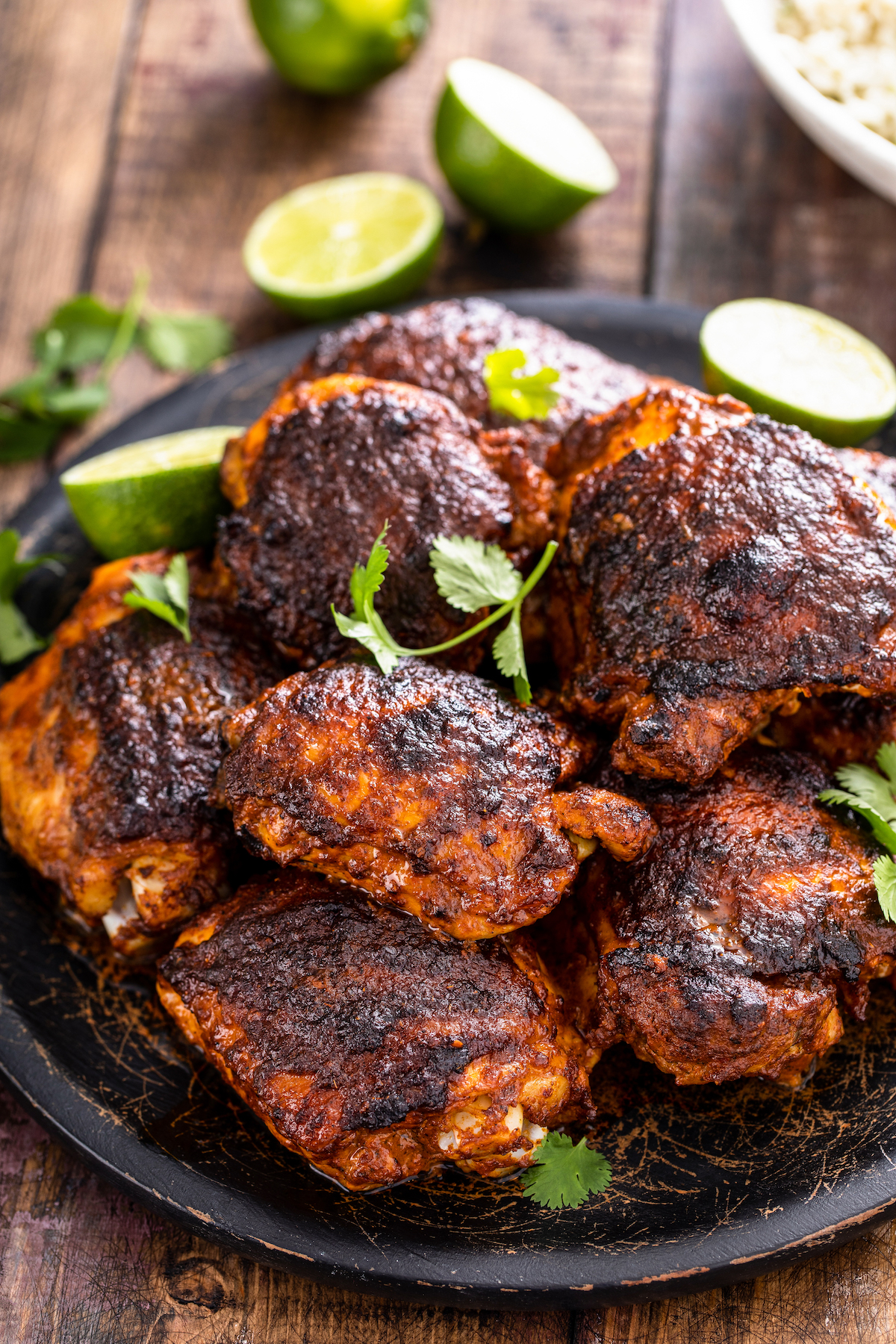 What Is Pollo Asado?
The literal translation of "pollo asado" is roasted chicken. However, pollo asado is a Mexican dish that's much more exciting than that. Pollo asado is a combination of smoky, earthy, peppery, spicy, and tangy flavors.
The chicken is marinated in a spiced orange-based sauce that contains ground cumin, smoked paprika, ground coriander, and guajillo chiles. These ingredients pack worlds of complex flavors. It also relies on achiote paste for its signature red color and peppery flavor. Once marinated, it's placed over a scorching grill until perfectly cooked and juicy.
What is asado seasoning made of?
It's a mixture of guajillo chile, cumin, achiote, oregano, sour orange, garlic, black pepper, vinegar, brown sugar, and paprika. However, some recipes can call on slightly different ingredients.
What does chicken asado taste like?
Chicken asado tastes like savory barbecued chicken with a slightly sticky sauce. It's also peppery and a little spicy, with bits of charred goodness where excess sauce caramelizes.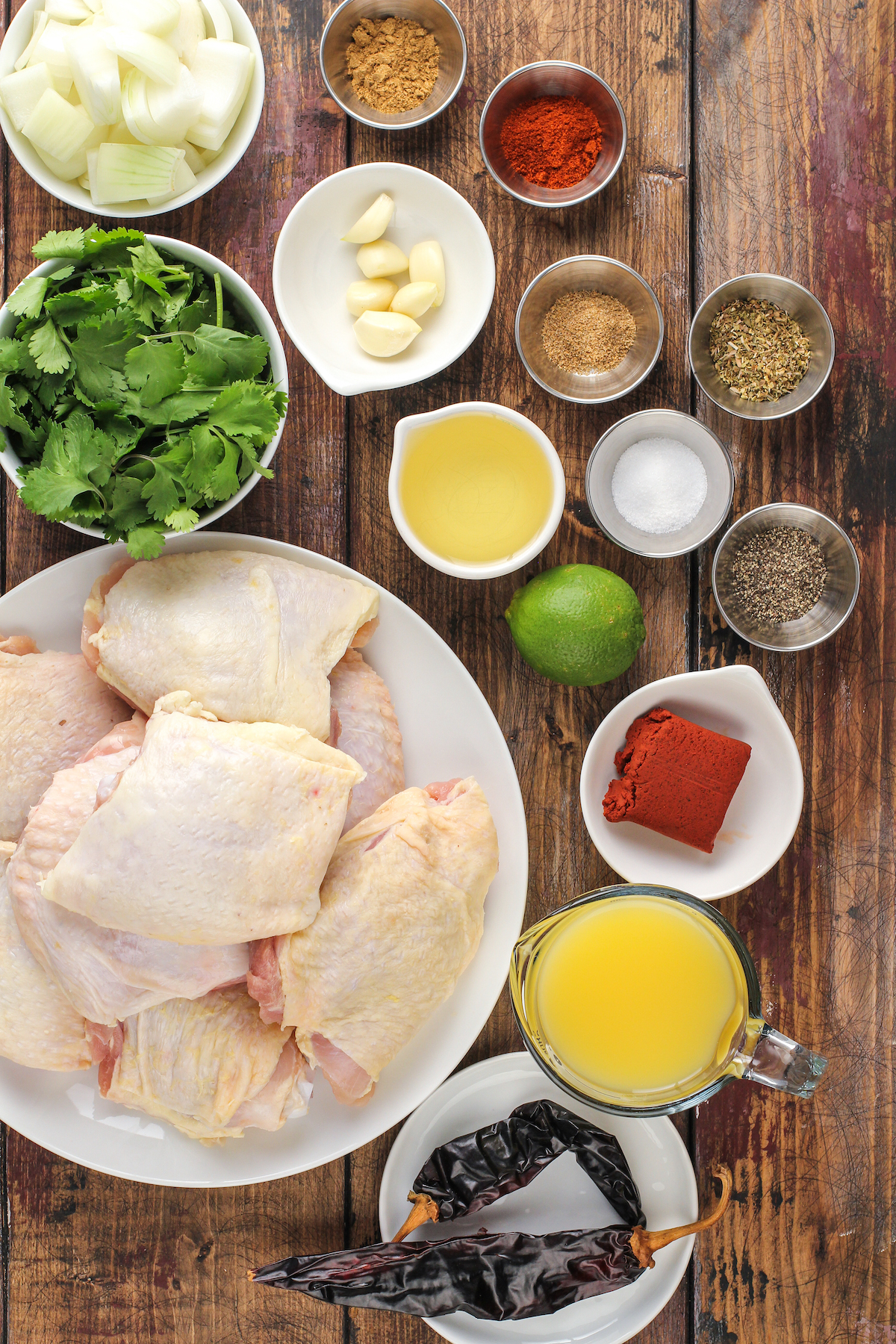 Recipe Ingredients
Most of the ingredients are very easy to find. If you have any trouble, go to your local Mexican supermarket. Head to the recipe card at the bottom of this post for exact ingredient amounts.
Bone-In Chicken Thighs – You can also use drumsticks, chicken leg-quarters, or chicken breasts. If using breasts, keep an eye on the heat because they dry out quickly.
Olive Oil – Feel free to use any neutral-flavored oil with a high smoke point like corn, vegetable, or canola oil.
Cilantro

Garlic Cloves

– Substitute them for 1/2 tsp garlic powder for every clove in the recipe.
Yellow Onion – This has a sweeter taste, but white onion is okay too.
Achiote Paste – There are no substitutes for this. It's the flavor base. You can use Store Bought Achiote Paste or Homemade Achiote Paste.
Smoked Paprika – Regular paprika works too.
Ground Cumin
Ground Coriander
Kosher Salt
Mexican Oregano – In the worst of cases, Italian oregano is fine, but I recommend using real Mexican Oregano for the best flavor!
Dried Guajillo Chile – These Dried Guajillo Chiles are the best for this recipe, but you can also use an Ancho Chile. You should be able to find these in the Spanish section of your grocery store.
Ground Black Pepper
Sour Orange Juice – Don't use store-bought juice. It needs to be freshly squeezed from bitter/sour oranges.
Lime
How to Make Pollo Asado
With only 6 easy steps, this pollo asado will be on your table in no time.
Prepare the chicken. Clean the chicken thighs and pat them dry with a clean paper towel. Place them in a large Ziploc bag or baking dish. Set them aside.
Blend the marinade. Except for the chicken and lime, blend all of the ingredients until you get a smooth mixture. Reserve 1/3 cup of the marinade and pour the rest over the chicken. Rub it into the chicken to make sure it's completely covered.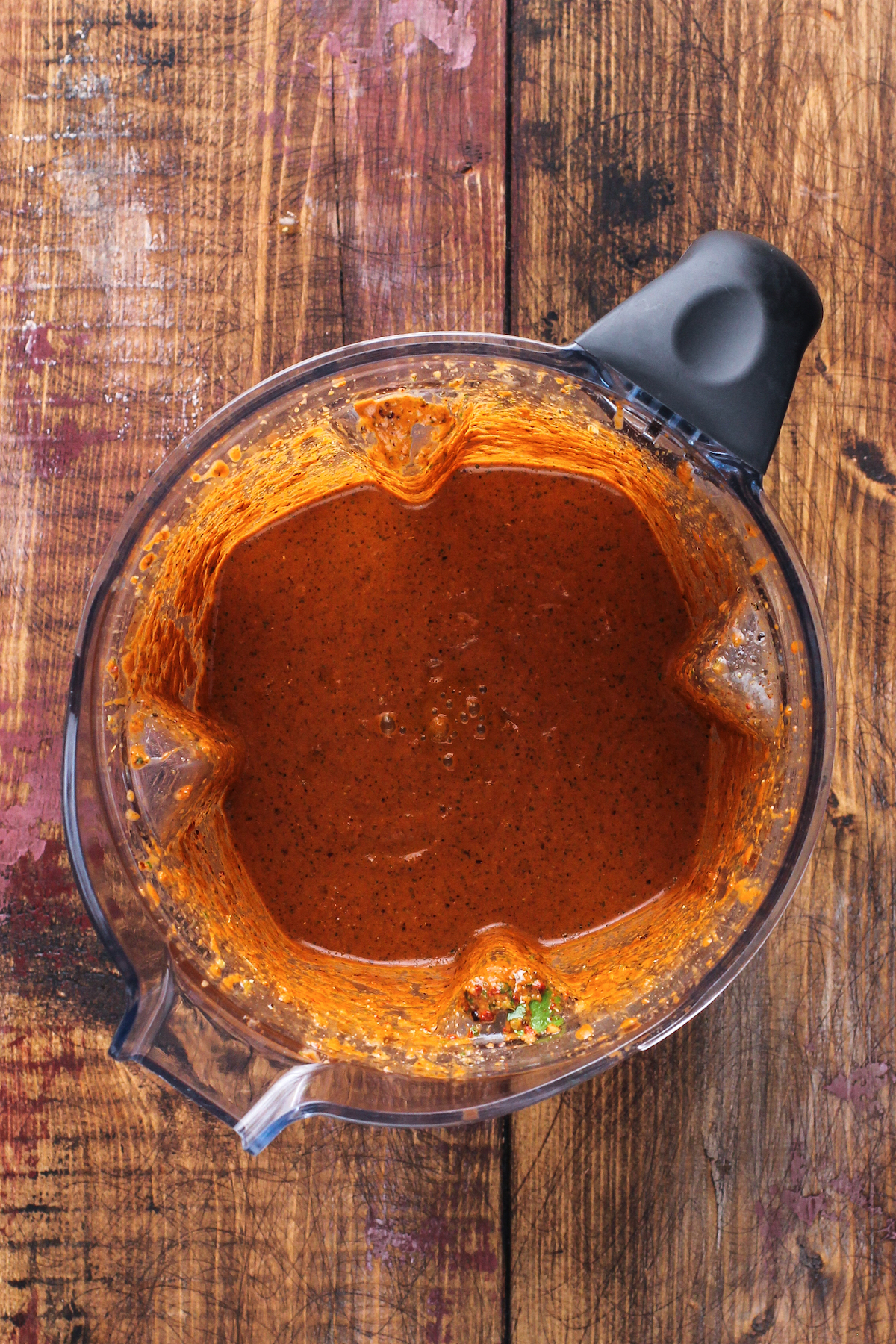 Marinade. Pop the bag or container into the fridge for 2-4 hours to let the flavors develop. Halfway through the marinade time, flip the chicken over.
Place it at room temperature. Remove the chicken from the fridge 20 minutes before you're ready to cook it. Set it on a wire rack at room temperature. Discard the excess marinade.
Grill it. Heat the grill over a medium flame and place the chicken skin-side down. Let it grill for 5-7 minutes. Use kitchen thongs to flip it over and let it cook over medium-low for 20-25 minutes. A meat thermometer should read 165 F. Make sure to baste the chicken with the reserved 1/3 cup of marinade so it doesn't dry out.
Let it rest. Remove the chicken from the heat. Serve with rice and enjoy.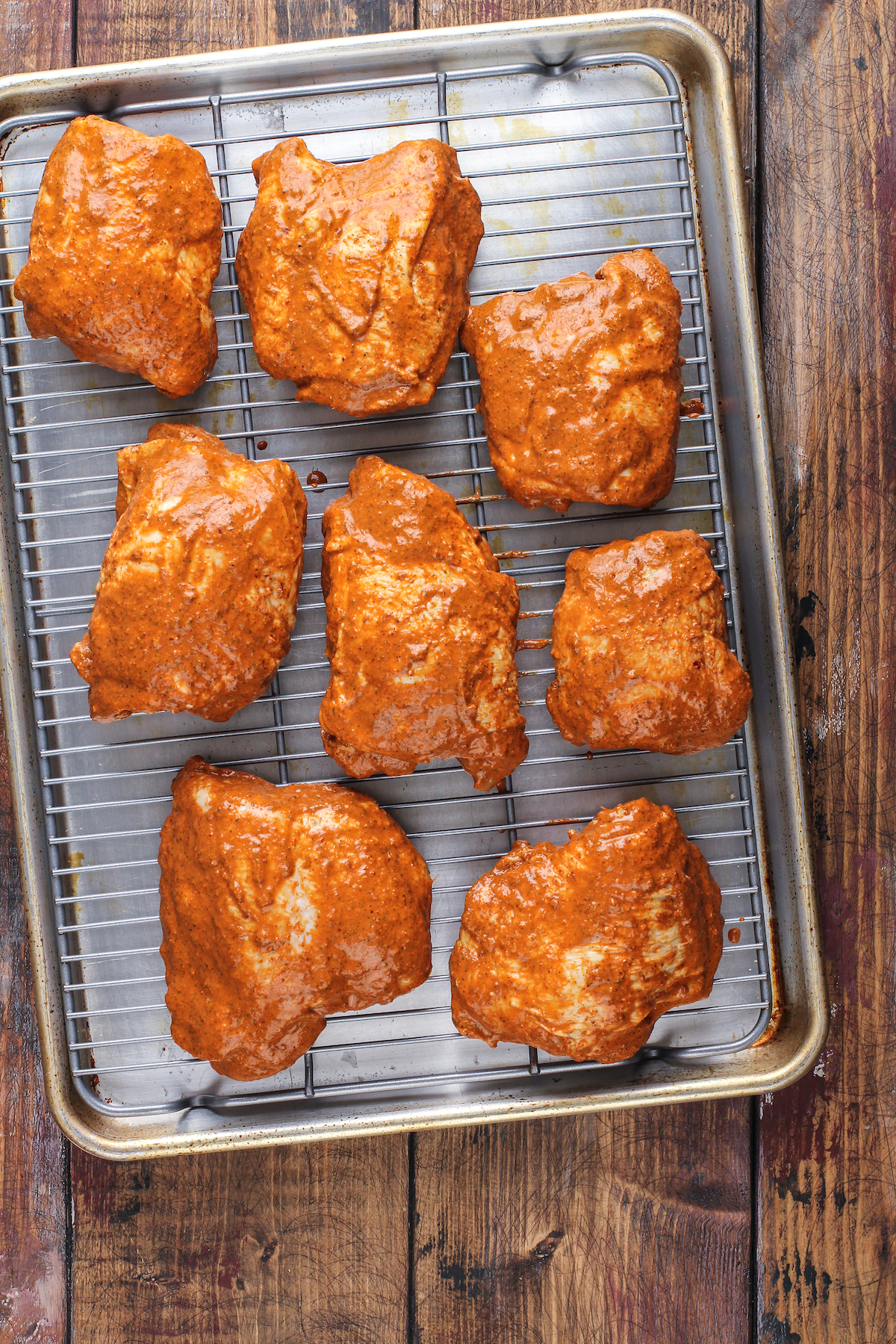 Tips for the Best Pollo Asado
Marinating for a long time isn't good. Read my tips to find out why.
Don't marinate too long. Leaving the chicken in the marinade for more than 4 hours will result in rubbery chicken. The acidity starts breaking the meat down and results in an unpleasant texture.
Use bone-in chicken. Bone-in chicken thighs make juicier pollo asado. Preferably get them with the skin-on too.
Bake it. Place the chicken in a greased or foil-lined baking dish. Bake it at 425°F for 40-45 minutes.
Make the skin crispy. After it's done baking or grilling, make the skin crispy by placing the chicken under the broiler for 2-3 minutes.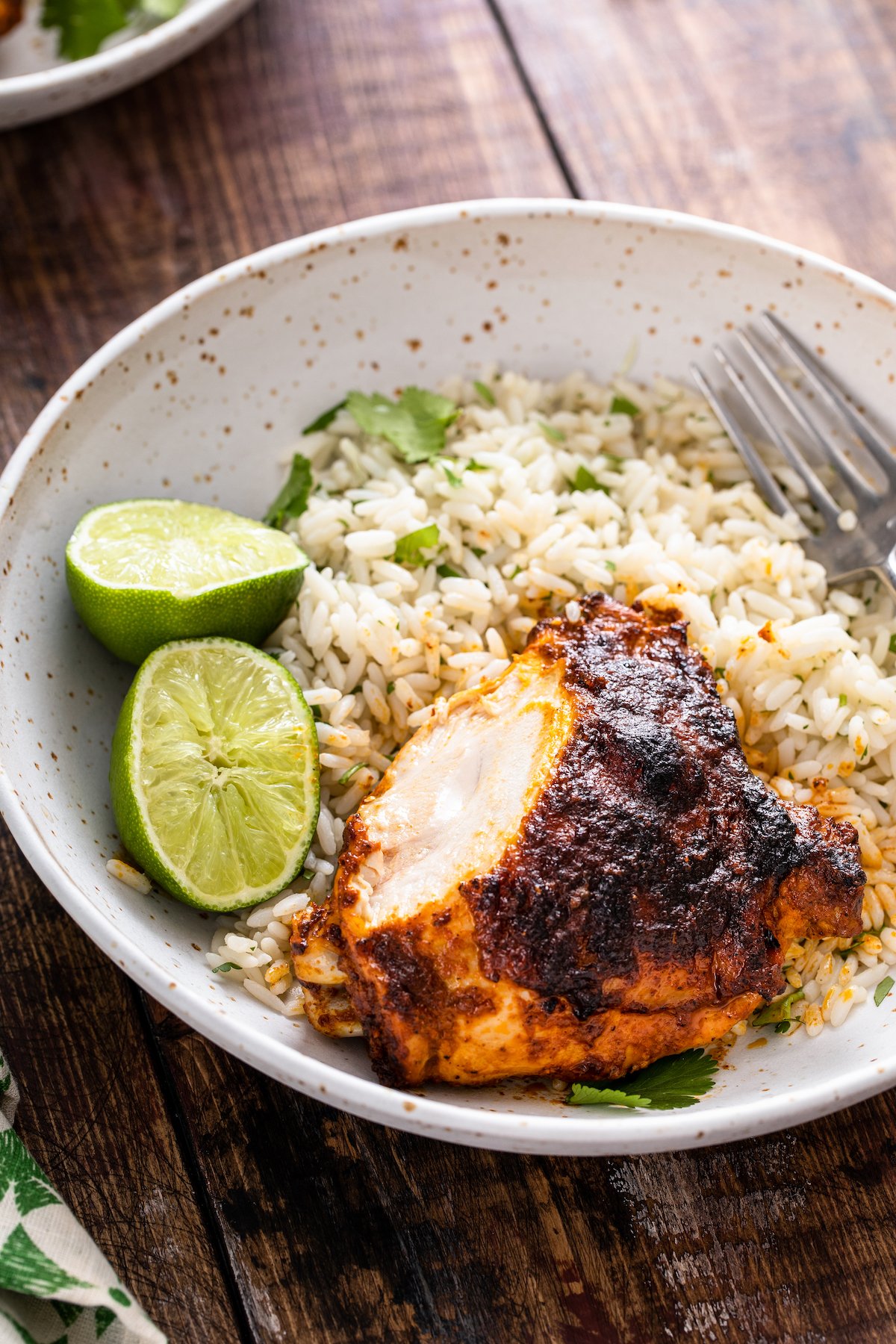 What To Serve with Chicken Asado
This chicken goes great with Mexican rice or my Arroz Blanco Puertorriqueño. You can even add a splash of lime juice and chopped cilantro for freshness and tang. Or try this Cilantro Lime Rice!
Other side dish options include my guacamole, Mexican calabacitas, refried beans or charro beans. Most Mexican recipes pair nicely with this juicy chicken asado.
To switch things up, shred the leftover chicken and use it to make incredible crispy taquitos, enchiladas, and tostadas.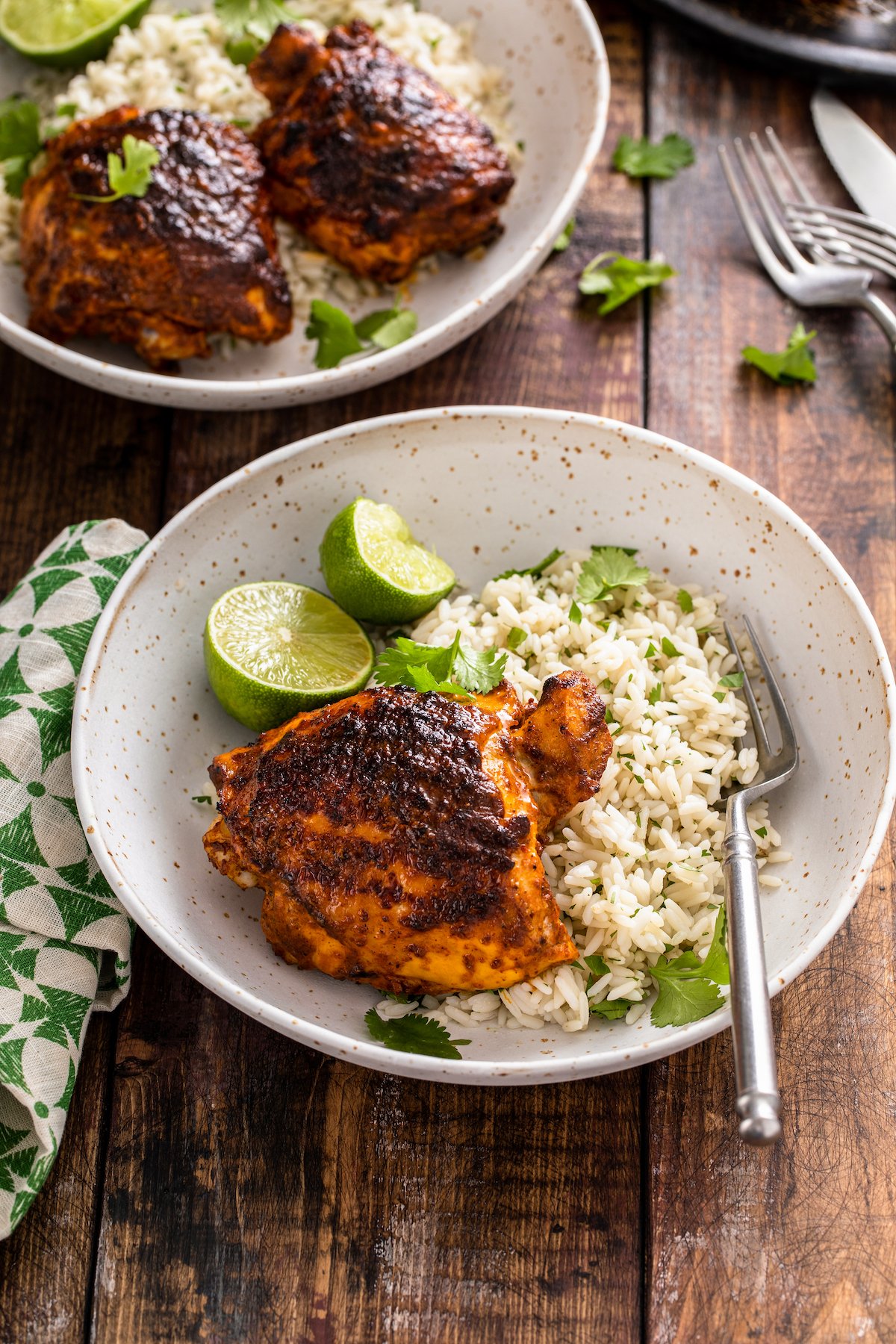 How to Store & Reheat Leftovers
Refrigerate any cooled leftovers in an airtight container for up to 5 days. To reheat it, pop it into the microwave for up to a minute or until warm. You can also place it in a pan over medium heat and cook it for 4-5 minutes on each side.
Can I Freeze It?
Yes! You can freeze raw and cooked pollo asado.
Cooked chicken: The first method is to freeze whole pieces of chicken in a freezer-friendly container or bag. The second is to shred the cooled leftover chicken and pop that into a freezer-friendly bag or container. You can freeze the chicken for up to 3 months with either method.
Raw chicken: Transfer the marinated chicken and marinade into a freezer-friendly bag. Remove as much air as possible and seal the bag. Freeze it for up to 3 months. Place it in the fridge a day before you're ready to cook it so that it thaws.
More Authentic Mexican Recipes
Pollo Asado
This juicy Mexican pollo asado is tangy, sweet, and smoky. Loaded with orange juice and cumin, it's then grilled to tender perfection. 
Ingredients
4

pounds

bone-in chicken thighs

⅓

cup

olive oil

1

bunch cilantro

,

remove bottom of stems

6

large garlic cloves

1

small yellow onion

,

roughly chopped

2

oz

achiote paste

2

teaspoons

smoked paprika

2

teaspoons

ground cumin

1

teaspoons

ground coriander

2

teaspoons

kosher salt

2

teaspoons

Mexican oregano

2

teaspoons

ground black pepper

1

cup

bitter/sour orange juice

1

lime

,

halved (for topping, optional)
Instructions
Clean chicken thighs, and pat dry. Place chicken in a gallon-sized ziplock bag or a 9×13 baking dish and set aside.

In a blender or food processor, combine all the ingredients – minus the chicken and halved lime – blend until smooth. Reserving 1/3 cup marinade, pour marinade on top of the chicken and ensure the chicken is well coated. 

Place the marinated chicken into the refrigerator for 2 to 4 hours, turning midway through. Store marinade in an airtight container until ready for basting. (If marinating in a baking dish, cover the dish with aluminum foil. Flip the chicken several times during the marinating process.) 

Take chicken out of the refrigerator for about 20 minutes before grilling. Remove the chicken from the marinade and place it on a cookie sheet.

Prepare the grill. Allow the grill to come to 375-400°F. Place chicken skin side down. Do not place the chicken over direct heat. Grill for 5-7 minutes. Carefully flip the chicken and allow it to cook for 20-25 minutes or until a thermometer reads 165°F. Baste with reserved marinade several times throughout the grilling process. Be sure to place the thermometer in the thickest part of the chicken (but not against the bone) to ensure an accurate reading.

Remove chicken from the grill and cover with aluminum foil until ready to serve. It can be placed under the broiler for an additional 2-3 minutes if crispier skin is preferred.

Squeeze the juice of a lime over the chicken before serving. 
Notes
Storage: Refrigerate any cooled leftovers in an airtight container for up to 5 days. To reheat it, pop it into the microwave for up to a minute or until warm. You can also place it in a pan over medium heat and cook it for 4-5 minutes on each side.
Achiote Paste: If you don't want to make your own Homemade Achiote Paste, you can also find it in most grocery stores in the Latin food aisle or on amazon: Achiote Paste.
Dried Guajillo Chile: These Dried Guajillo Chiles are the best for this recipe, but you can also use an Ancho Chile. You should be able to find these in the Spanish section of your grocery store.
Nutrition
Serving:
1
,
Calories:
602
kcal
,
Carbohydrates:
9
g
,
Protein:
54
g
,
Fat:
41
g
,
Saturated Fat:
11
g
,
Polyunsaturated Fat:
30
g
,
Cholesterol:
290
mg
,
Sodium:
714
mg
,
Fiber:
1
g
,
Sugar:
4
g
Categories:
This post may contain affiliate links. Read my disclosure policy.