This easy banana pudding recipe has layers of fresh bananas, creamy pudding, vanilla wafers & whipped cream. It's the perfect no bake dessert for summer and always a hit!
Why You'll Love This Homemade Banana Pudding
This banana pudding recipe is my Mom's and it's seriously dang near famous at this point. Here are all the reasons it's always a hit:
Easy: Like most of my mom's recipes growing up, it's meant to be quick, easy, and delicious!
Simple ingredients: This is a shortcut banana pudding using instant pudding, vanilla wafers, sliced bananas, and her secret ingredient — sweetened condensed milk!
Flexible: Below you will also find directions on how to use cool whip or homemade whip cream to give your Banana Pudding that extra silky taste.
There are a few things that my Mom makes that are truly, THE BEST and this banana pudding is absolutely one of them. I'm excited to share this easy recipe with you!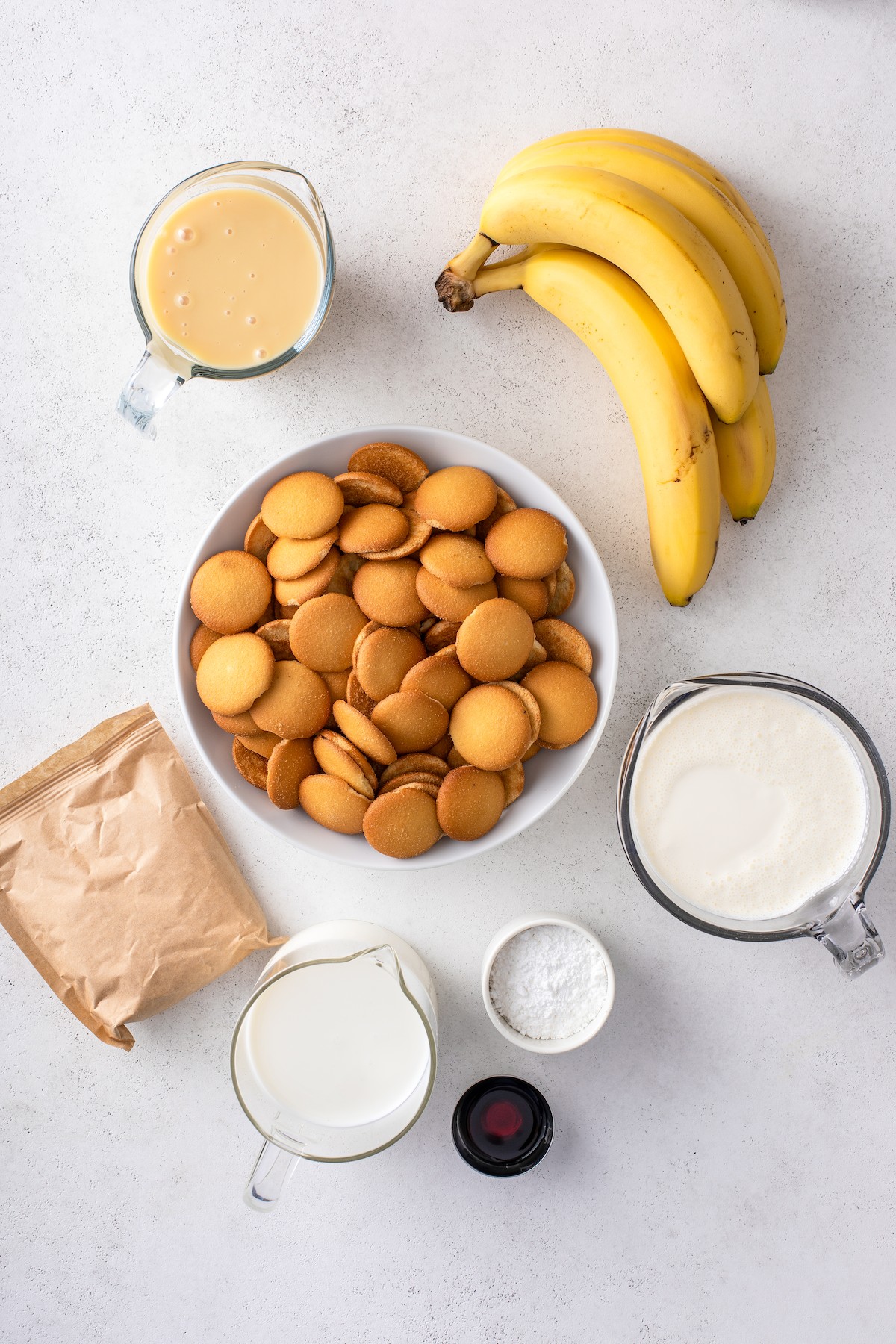 What You'll Need
In addition to the sweetened condensed milk mentioned above, you will use a few other packaged items in this recipe. That's part of what makes this banana pudding so easy to make! Here's what you'll need:
Whipping cream, powdered sugar & vanilla: For making homemade whipped cream. You can use Cool Whip instead if you prefer!
Vanilla Pudding Mix
Whole Milk
Sweetened Condensed Milk – This makes the banana pudding extra rich and creamy.
Bananas
Vanilla Wafers
What If I Can't Find Vanilla Wafers?
If you don't have vanilla wafers you can also use graham crackers in this recipe. The flavor and texture will be slightly different, but it will still be delicious!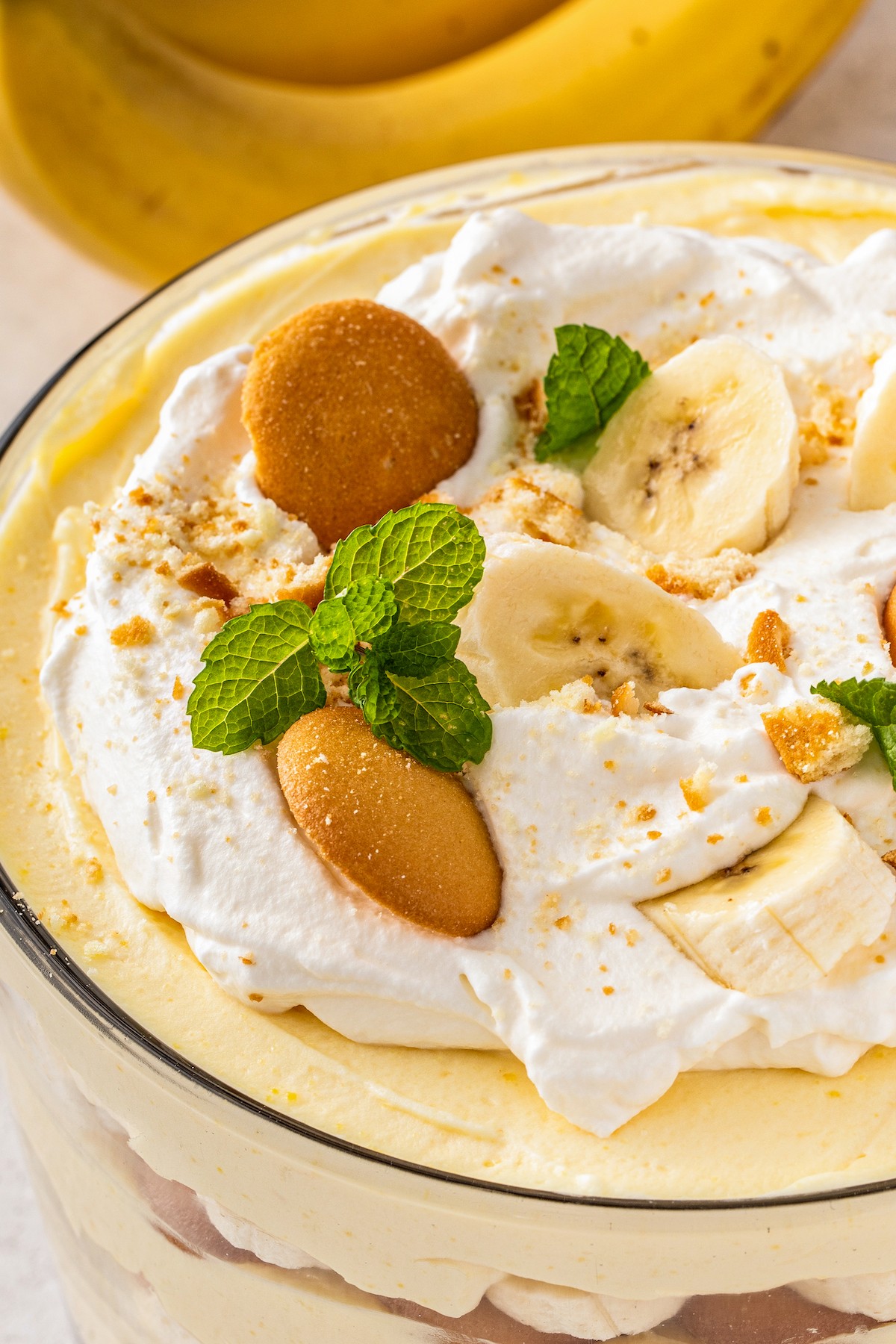 More About the Ingredients
I often get questions about the ingredients used in this easy banana pudding recipe, like whether to use homemade whipped cream or Cool Whip or why banana pudding doesn't actually include banana pudding. Here are the answers!
Is There a Substitute to Sweetened Condensed Milk In This Recipe?
As with a lot of my Mom's recipes, the secret to this extra creamy banana pudding is sweetened condensed milk. It's one of those things that just can't be replaced. It brings a sweetness and creamy texture that no other ingredient can give. It's also the secret to her famous sweet potato casserole!
Should You Use Cool Whip or Homemade Whipped Cream in Banana Pudding?
This is 100% a personal choice and I know many people feel strongly about this. I have included directions on how to use both, so it is absolutely up to you! If you want the 90's version of banana pudding that your mom probably made, then use cool whip. If you would like a richer version, use real whipped cream.
Why Don't You Use Banana Flavored Pudding in Banana Pudding?
I know this question is coming. You are going to scroll down and see that this banana pudding recipe calls for vanilla pudding. Why not use banana pudding instead?
Well, because artificial banana pudding does not taste nearly as good as real bananas. In this recipe, we use a ton of REAL slices of fresh bananas mixed into the pudding to give it all the banana flavor that this pudding needs. The vanilla pudding plays perfectly with the flavor from the strong fresh banana flavor to create the perfect balance between the two.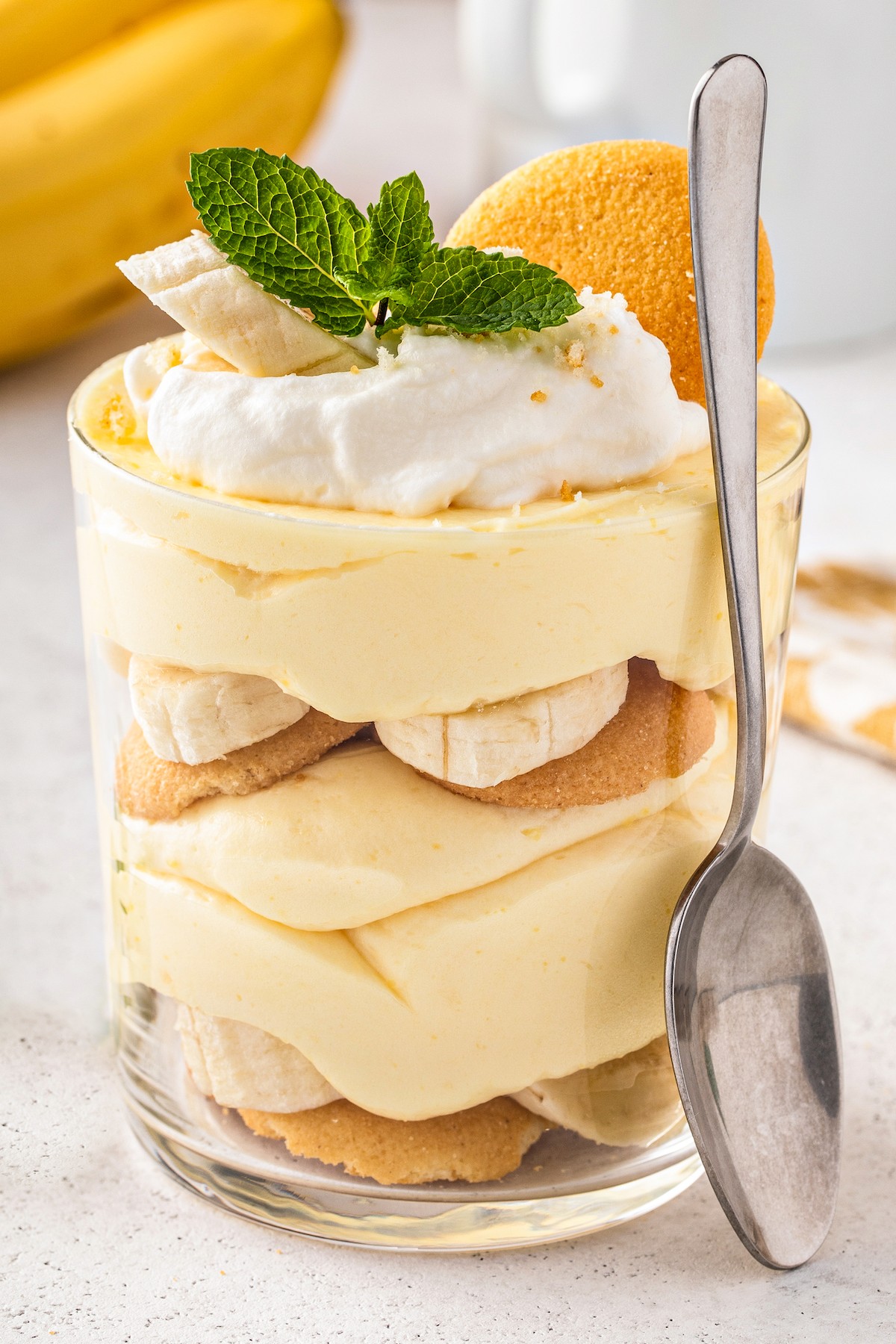 Tips for The Best Banana Pudding
Here are a few tips to ensure you end up with the most beautiful and tasty dessert possible!
Layering the bananas. When layering the banana pudding, cut and cover the banana slices quickly with the pudding to minimize exposure to the air. This will help keep them from browning. (Read more on that below!)
Don't slice the banana for garnish until just before serving time. Or, you can also just garnish it with whip cream and vanilla wafers.
Serving options. You can use mini serving bowls (like small mason jars), a large trifle bowl or a 9×13 baking dish to make your trifle. The 9×13 is probably the easiest to make and travel with, but the other two look very impressive.
Can Banana Pudding Be Made Ahead?
YES! You can make this banana pudding ahead. This recipe is honestly best if you let it rest for at least a few hours before serving it to allow the wafers to soak up some of the pudding.
If I'm having company, I prefer to serve this pudding within 4 to 6 hours of making it. In that time, the bananas won't have browned much and it will still look picture-perfect. However, if I am serving this just for my immediate family, we all love it just as much the next day or two! Yes, your bananas will brown a little, but the overall pudding will taste exactly the same.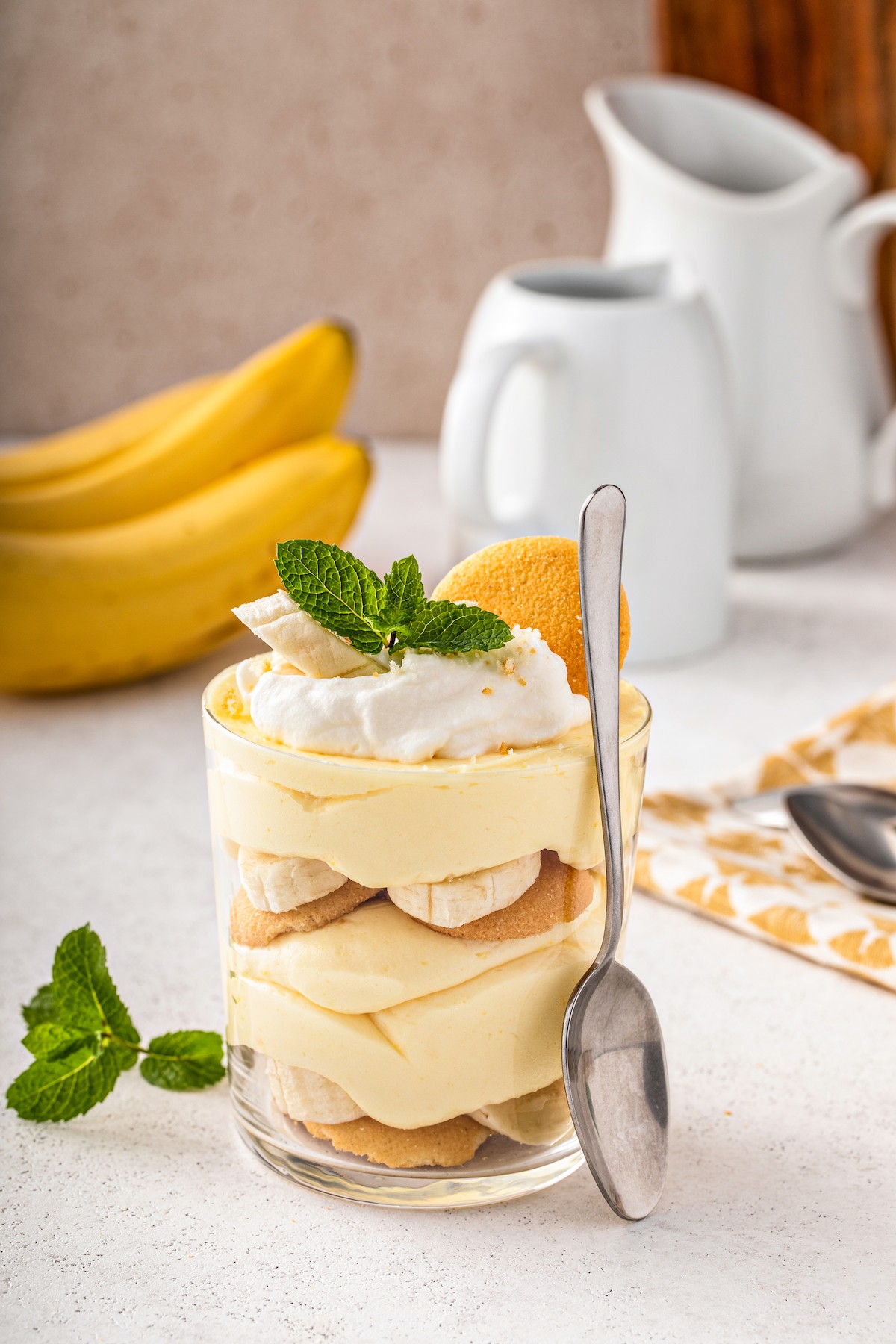 How Do You Keep the Bananas From Browning?
One way to prevent your bananas from changing colors is to coat the banana slices in an acidic fruit juice like lemon, lime juice, or pineapple juice. However, this is completely unnecessary. A slightly browned banana does not taste any different and the texture is still exactly the same.
Even with coating the banana slices in something like lemon juice, your bananas are going to turn a little brown…especially the ones toward the top that are most exposed to the air. Once you peel and cut a banana, they will start turning brown almost immediately, it's just nature, so acting quickly will be in your favor!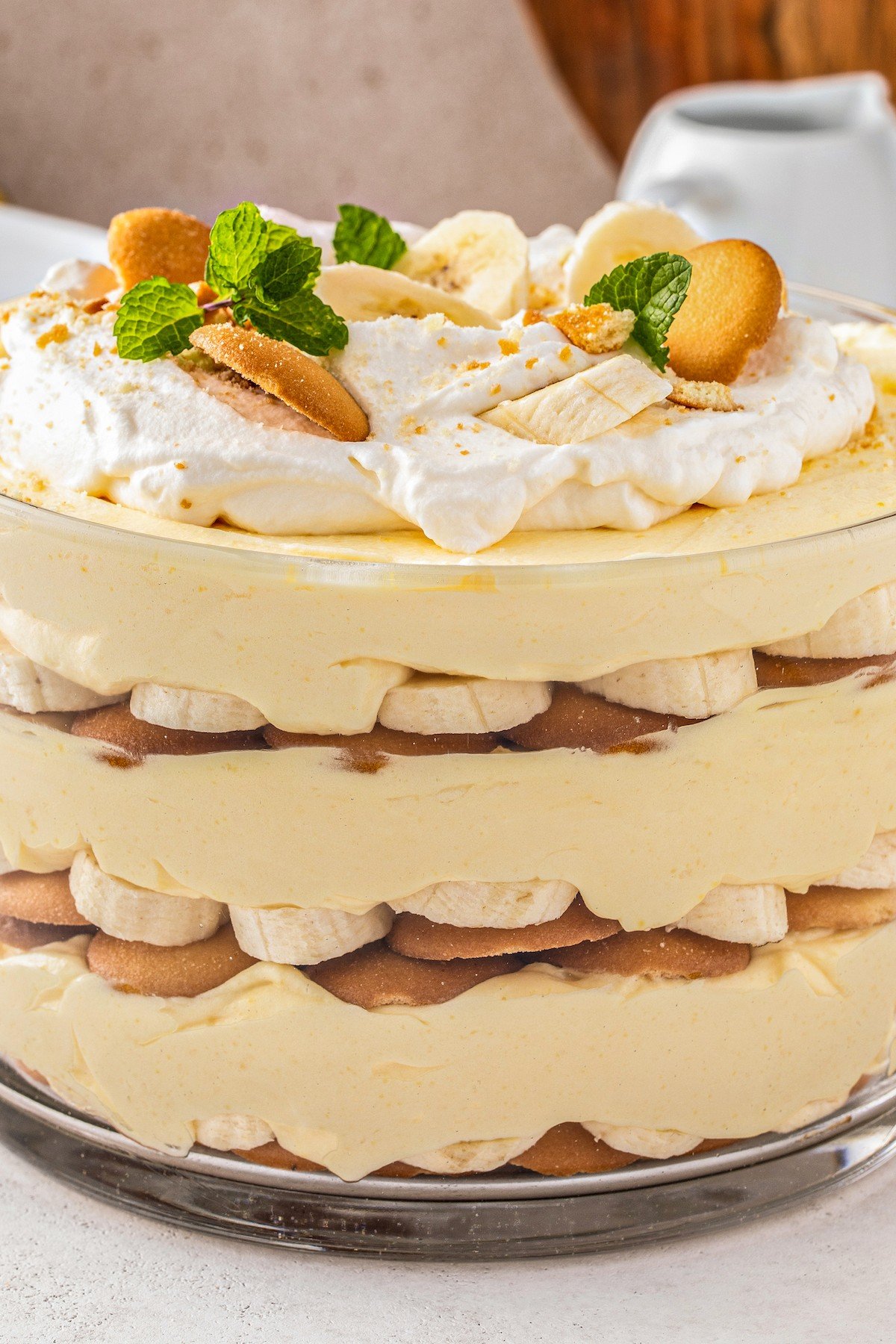 How to Store Banana Pudding
This pudding will keep for 4 days when stored in an air-tight container in the fridge. Your bananas may brown slightly during this time, but the pudding will taste the same. The vanilla wafers will also continue to soften over time.
Homemade Banana Pudding
This easy banana pudding recipe has layers of fresh bananas, creamy pudding, vanilla wafers & whipped cream. It's the perfect no bake dessert for summer and always a hit!
Ingredients
16

ounce

heavy whipping cream

¼

cup

powdered sugar

2

teaspoons

vanilla extract

1

5.1 oz box instant vanilla pudding (dry mix only)

1 ½

cups

whole milk

1

14 oz can sweetened condensed milk

5

large bananas

,

sliced

1

11 oz box vanilla wafers
Instructions
With a stand mixer or in a large bowl with a hand mixer, whisk heavy whipping cream, powdered sugar, and vanilla until stiff peaks form. Set aside.

In a large mixing bowl, whisk together powdered pudding mix, milk and condensed milk until smooth. Let sit for 3 minutes. Fold in whipped cream until smooth (reserve a little whip cream for decoration on top if desired).

In a large trifle bowl (or individual parfait glasses) assemble the pudding. First, lay one third of vanilla wafers across the bottom of the bowl. Top with one third of the banana slices. Cover with one third of the pudding mixture. Continue with two more layers, reserving a few vanilla wafers to lay across the top as garnish.

Cover pudding and let it rest in the fridge for at least 3 hours before serving. Can also be made up to a day ahead and stored in the fridge until ready to serve!
Notes
COOL WHIP: If you would prefer to use cool whip, swap the first 3 ingredients (whipping cream, powdered sugar, vanilla extract) with a 12 oz container of Cool Whip.
Nutrition
Serving:
1
serving
,
Calories:
299
kcal
,
Carbohydrates:
28
g
,
Protein:
4
g
,
Fat:
20
g
,
Saturated Fat:
12
g
,
Polyunsaturated Fat:
6
g
,
Trans Fat:
1
g
,
Cholesterol:
59
mg
,
Sodium:
62
mg
,
Fiber:
2
g
,
Sugar:
19
g
Categories:
More Banana Pudding Recipes:
This post may contain affiliate links. Read my disclosure policy.