Mama's Best Banana Pudding
Mama's Best Banana Pudding: creamy pudding is layered with bites of fresh bananas, sweet vanilla wafers and whipped cream in this quick classic family recipe.
There are a few things that are only good when made the way my Mom makes them. This Banana Pudding is absolutely one of them.
I have tried many, many other banana puddings at restaurants and bakeries and I always regret it.
It's just never, ever as good as my Mama's Best Banana Pudding!
They don't even come close and you would be shocked when I show you how easy it is to make.
I fell for it again last week and picked up a small carton of Banana Pudding at Publix because it was on sale and I knew Jorge would be excited.
We both took a bite and immediately said at the same time that it wasn't even close to being as good as my Mom's.
Family recipes are the best for a reason.
So I promised to get everything to make it the next time at the store. And I kept forgetting…and forgetting…and forgetting.
Next thing I know, it's January and Jorge is begging me to make some Banana Pudding. Literally begging.
I headed to the store and picked up the few things I needed to make it and by the time I got to checkout I was drooling.
I rushed home and whipped up a batch for Sunday family supper.
Jorge and the girls dove into it. Ellie loved it so much she was actually dancing in between bites — it was absolutely adorable.
But to be fair, that girl could eat bananas morning, noon and night.
I think the secret to my Mama's Best Banana Pudding is the can of sweetened condensed milk.
My mom loves to put that sweet creamy nectar into everything she can! It's also the secret to her famous sweet potato casserole!
I love a ton of banana and vanilla wafers in my banana pudding and the recipe below has that.
However, if you like more pudding to wafers/banana, just cut back on the wafers as you stack it.
This recipe also easily doubles to fill a 13×9 and feed a crowd!
You can serve it in a big beautiful trifle bowl (my favorite way!) or in individual mason jars.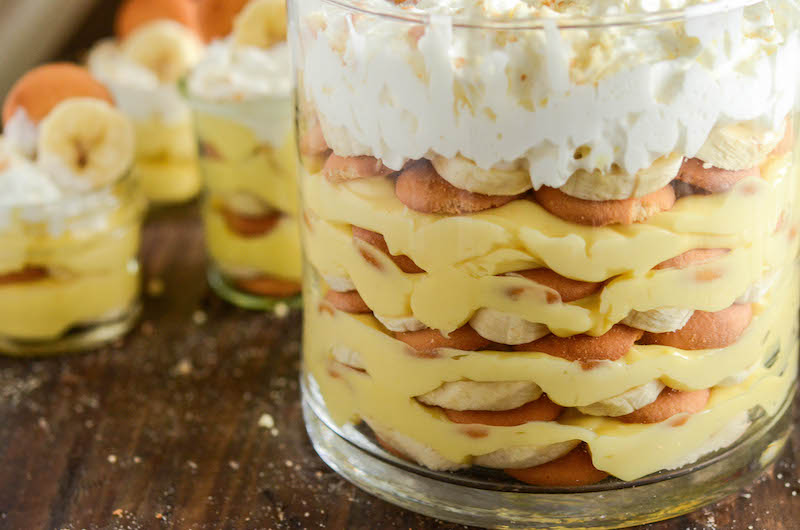 I also like to save cute jars from pickles, olives and yogurt to serve my trifles/puddings in. It's a very cute, accletic way to serve them!
I hope you enjoy this family recipe for Banana Pudding as much as we have over all these years! I promise it's the best!
Recipe note: The trifle bowl in the background is this awesome one from amazon. It's footless so you can't knock it over (been there, done that) and it has a lid for travel/storage. Love it!
Mama's Best Banana Pudding Recipe
Recipe Note: Some people are confused by this recipes use of instant pudding. You use the dry pudding mix and mix it with the ingredients listed. You do NOT make the pudding and then add in the extra ingredients. Watch the video right above the recipe to see what I mean!
Ingredients:
1 (5.1 oz) box instant vanilla pudding (dry mix only)
1 1/2 cups whole milk
1 (14 oz) can sweetened condensed milk
12 oz cool whip or 12 oz heavy cream, whipped to stiff peaks
5 large bananas, sliced
1 (11 oz) box vanilla wafers
Directions:
In a large mixing bowl, whisk together powdered pudding mix, milk and condensed milk until smooth. Let sit for 3 minutes. Fold in whipped cream until smooth.
In a large bowl (or individual parfait glasses) assemble the pudding. First, lay one third of Nilla Wafers across bottom of the bowl. Top with one third of the banana slices. Cover with one third of the pudding mixture. Continue with two more layers, reserving a few vanilla wafers to lay across the top as garnish.
Cover pudding and let it rest in the fridge for at least 2 hours before serving. Can be made up to a day ahead.
If you love this recipe for Banana Pudding, make sure and check out my favorite Toasted Coconut Cream Pudding!