Banana Moon Pie Trifle is a twist on the classic Banana Pudding with layers of creamy banana pudding and Banana Moon Pies instead of the standard 'Nilla Wafers!
Looking for a classic banana pudding recipe? You have to try my Mama's banana pudding recipe!
Banana Moon Pie Trifle
Calling all my Banana Pudding fans, have I got a new fun recipe for you!
Y'all are very well aware of my love of banana pudding, especially my Mama's Banana Pudding.
Well I took that recipe, switched it up just slightly and I swapped the 'Nilla Wafer cookies for chunks of Banana Moon Pies.
And then I did the insane thing…and I gave a big trifle bowl full of it to my Mom to try!
She LOVED it and said it just might actually be better than the original version. I'll take that as a win.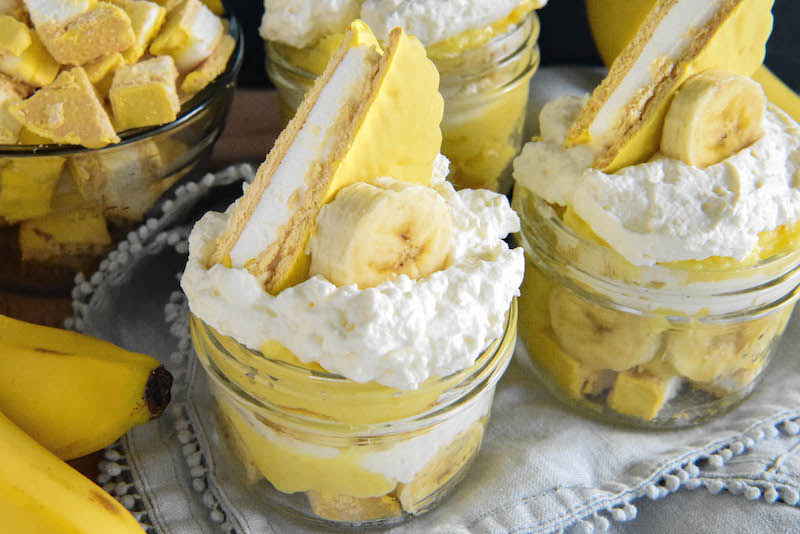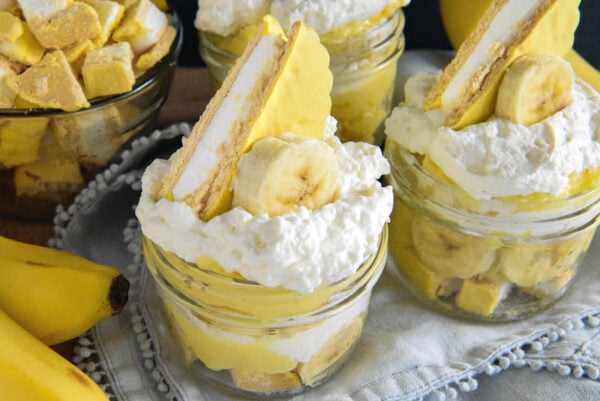 What Makes this Trifle So Good?
Are you ready for the secret to this banana trifle? I didn't use banana pudding.
That's right, this recipe actually uses vanilla pudding and fresh bananas!
And in this case, it also uses Banana Moon Pies to add an extra banana kick to the trifle.
Y0u can use banana pudding instead of vanilla pudding, but be warned, you may overwhelm everything with banana flavor.
The creamy vanilla pudding, homemade whip cream, fresh bananas and Banana Moon Pies pair together so perfectly in texture and flavor.
The final dish is light and balanced with just the right amount of banana flavor.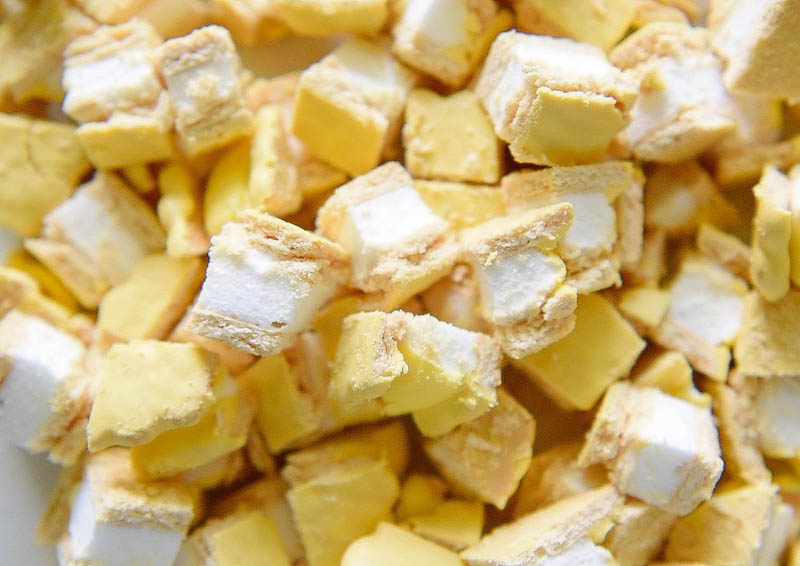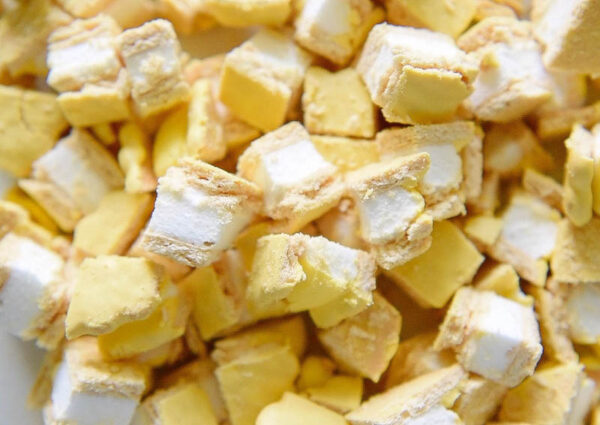 What Are Moon Pies?
Moon Pies are a classic Southern treat that have been around since the 1900s.
Moon Pies consist of two light flaky cookies filled with marshmallow filling and dipped in a flavored coating.
They come in a few different flavors, but the most traditional you will see in grocery stores are Chocolate (the original), Banana and Vanilla.
Personally the Banana Moon Pie is my favorite, so it made perfect sense to use it in a delicious Banana Pudding Trifle.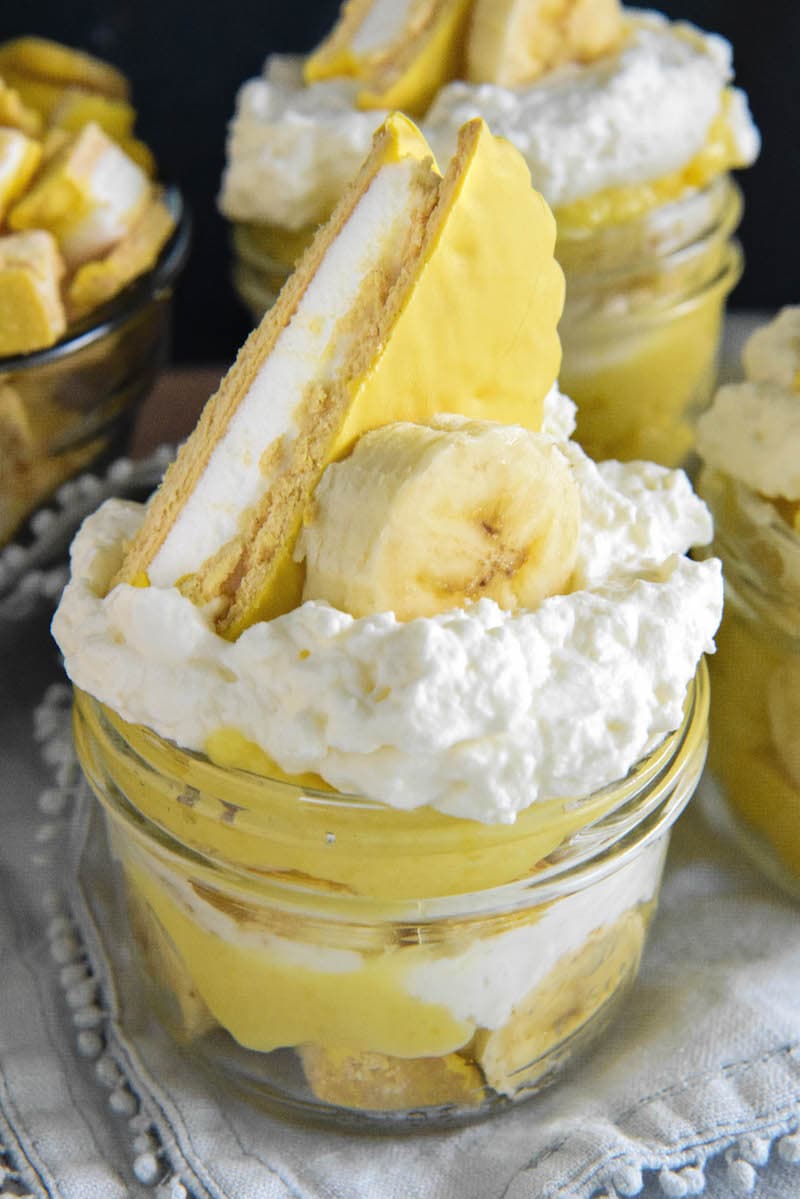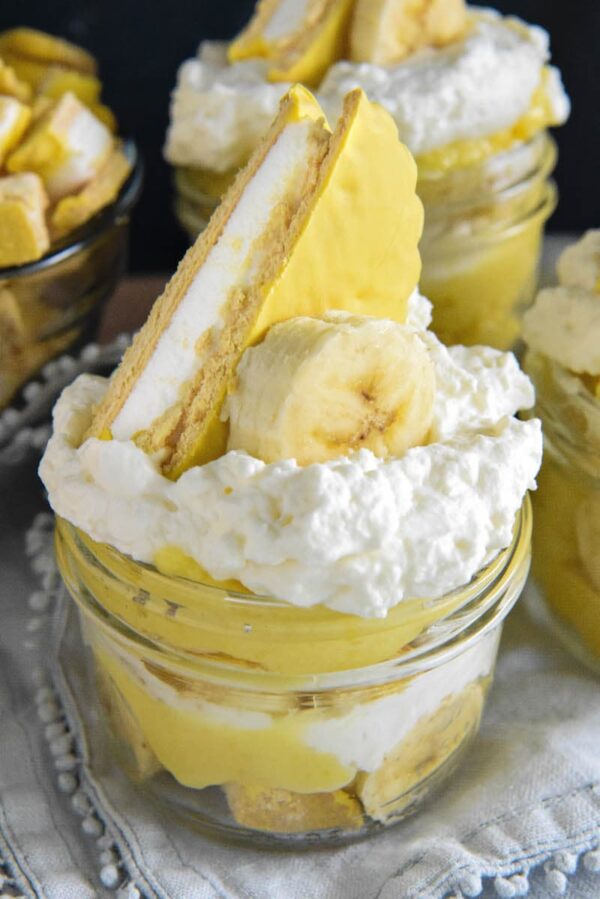 My Secret Ingredient
There is one secret ingredient you don't want to miss in this Banana Moon Pie Trifle recipe, sweetened condensed milk.
Just like in the fan favorite Toasted Coconut Pudding, the sweetened condensed milk really makes all the difference!
It makes the vanilla pudding extra creamy and perfectly sweet. It's my mom's secret weapon and I couldn't make a pudding trifle without it.
With the bites of fresh bananas, creamy vanilla pudding, homemade fluffy whipped cream and big chunks of Banana Moon Pies, no one will be able to resist this summertime dessert!
Head on over to Dixie Crystals for the full recipe that I developed for them!
RECIPE: Banana Moon Pie Trifle
This post may contain affiliate links. Read my disclosure policy.