The Best Baked Chicken Recipe
If you're looking for a super juicy baked chicken recipe, you've found it! Bone-in and skin-on breasts or thighs are marinated and baked in a perfectly seasoned, citrusy and garlicky glaze.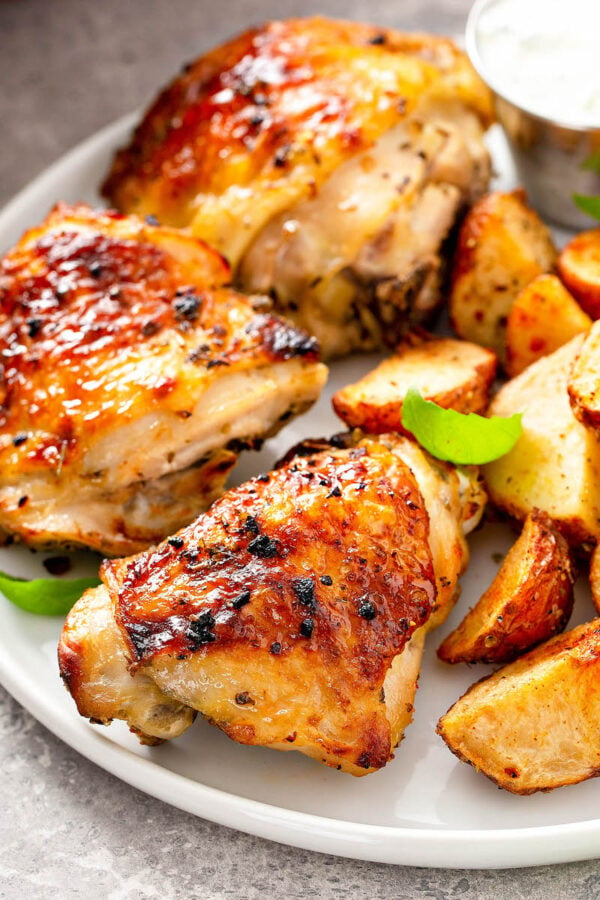 My Best Baked Chicken Recipe
Chicken is the star protein in our house. It's affordable and pretty hard to mess up. Give me chicken in a stir fry, a soup, a taco – and I'm happy. But, this easy baked chicken recipe is so good it makes me more than happy! It makes me overjoyed.
Baked chicken is so simple. When it's done right – with the perfect marinade – it'll be up there as one of the best chicken dishes you make. All you need to do is marinate it, pop it in a baking dish, get it in the oven, and then walk away for 45 minutes. Baking chicken is like giving yourself the gift of time! No need to stand over the stove or hover over and intricate meal. The stove does all the work, so pour yourself a glass of wine and kick your feet up for 45 minutes!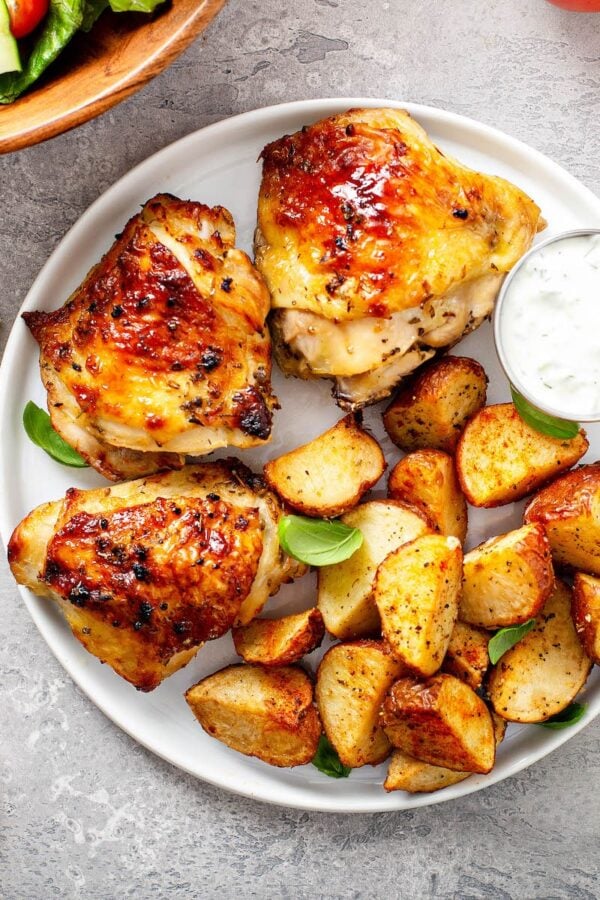 Recipe Ingredients
For the absolute best baked chicken, you'll need chicken breasts or thighs, plus a lip smacking marinade.
Here is what you'll need to make this juicy chicken recipe:
olive oil
orange juice
lemon juice
Italian seasoning
salt
black pepper
paprika
garlic
chicken breasts and/or thighs (bone-in and skin on)
salt and freshly cracked pepper
How to Bake Chicken
1. Marinate: Mix together all of the ingredients besides the chicken.
Place chicken in a bowl or large ziplock bag. Add the marinade to the chicken and toss to coat.
Cover the bowl or seal the ziplock bag and place it in the fridge to marinate for 1 hour.
2. Prep the Oven and Pan: When you're ready to cook, preheat the oven to 375°F. Place the chicken breast, bone side down, on a baking pan.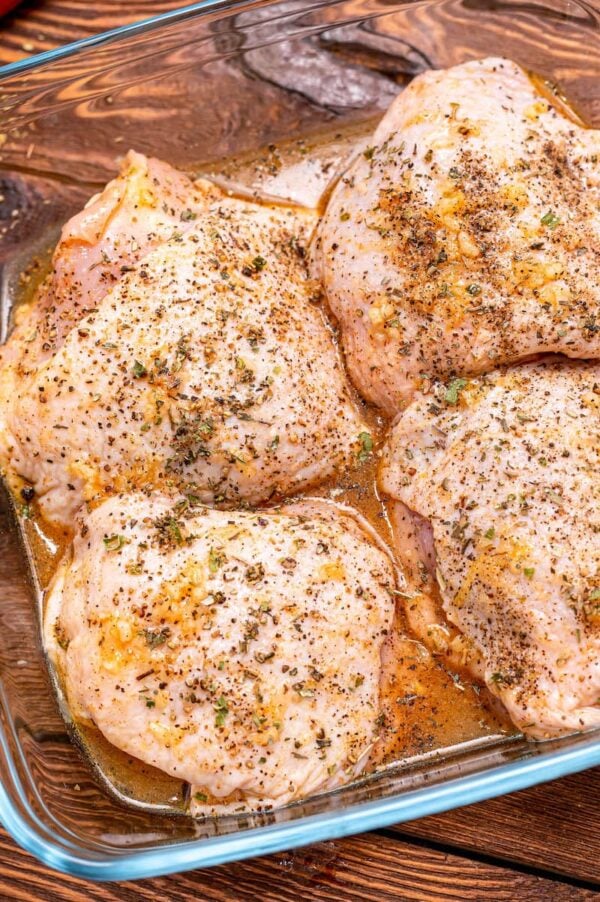 3. Bake: Spoon a little extra marinade on top of each piece of chicken and then toss the remaining marinade. Sprinkle the chicken with Italian seasoning, salt and pepper.
Bake the chicken in the preheated oven until the chicken meat is no longer pink at the bone and the juices run clear. This should take about 45 to 55 minutes. An instant-read thermometer inserted in the thickest part of the breast meat should read 165°F.
4. Rest and Serve: Cover the chicken loosely with foil and allow it to rest for 5 minutes, then serve. This ensures your chicken stays extra juicy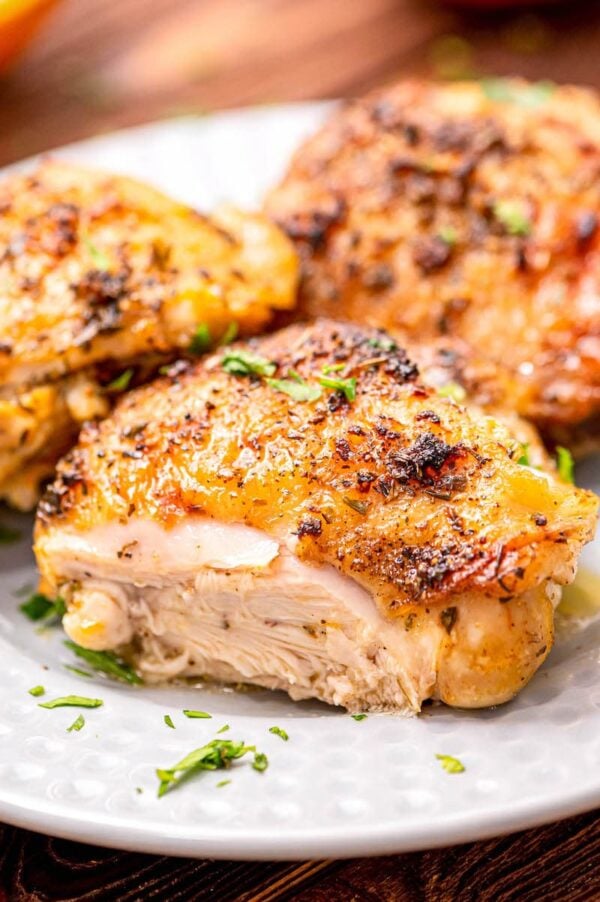 How Long to Bake Chicken Breasts
For this recipe, you can choose to use chicken breast or chicken thighs. Chicken breasts have a tendency to dry out more quickly than a chicken thigh so the cook time will be shorter.
Here are some simple cooking time guidelines:
Bone-in skin-on chicken breasts: bake at 375°F for just about 45 minutes.
Boneless skinless chicken breasts: bake at 375°F for just about 20 minutes.
You'll know the chicken is done when it is no longer pink at the bone and the juices run clear. For the most accurate results, I use an instant-read meat thermometer. I insert it into the thickest part of the meat and I look for a temperature of 165°F.
How Long to Bake Chicken Thighs
Bone-in skin-on chicken thighs are, IMO, the most underrated cut of chicken. The dark meat is juicy and moist and doesn't really dry out.
Bake your chicken thighs in a 375°F oven for about 55 minutes. Use that instant read meat thermometer to make sure you reached an internal temp of 165°F.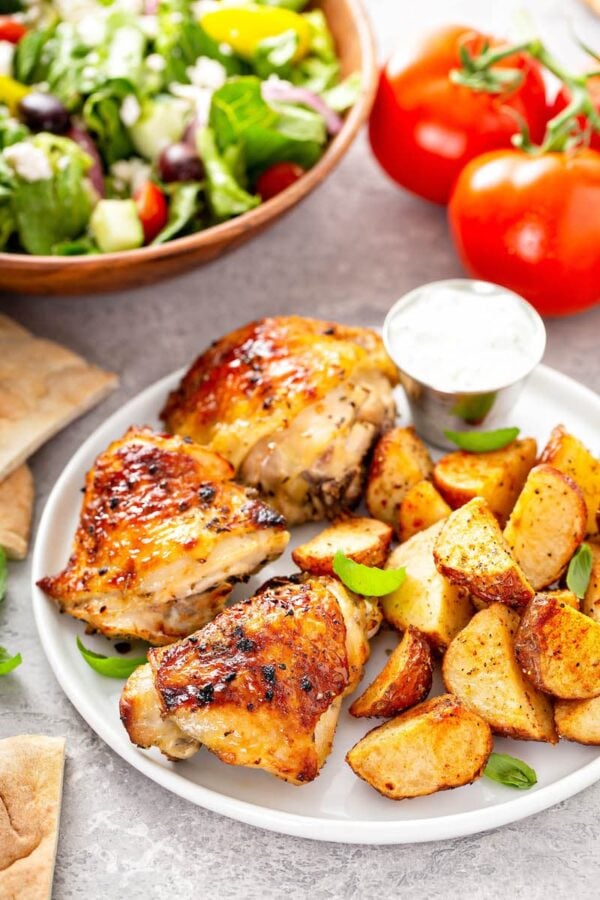 Cooked Chicken Temperature
The perfect internal temperature to cook your chicken is 165°F. This temperature will ensure the meat is cooked through and no longer pink, but also that it isn't dry or tough. It's the best temperature for moist, juicy chicken every time. If you're not sure how you can tell what the internal temp is, use an instant read meat thermometer. Insert it into the thickest part of the meat and you'll have your answer in seconds.
Tips for the Best Baked Chicken
There are few simple tricks I use to make sure my chicken comes out perfect every time. Here's what I recommend:
Pat your chicken dry with a paper towel before marinating, this will make it marinade stick to the chicken better.
Don't forget to let your meat rest, wrapped in foil, for 5 minutes before you cut in. This will make your chicken extra juicy and tender.

Serving Suggestions
There are so many options here! I like to serve baked chicken with a starch and a veggie. I'm thinking rice or riced cauliflower, roasted or mashed potatoes, egg noodles – you get the idea.
Broccoli, green beans, or any green veggie will pair great with this meal! I really love this chicken with my green bean casserole or creamy baked brussels sprouts!
For a one pan meal, you can roast potatoes and veggies right in the pan with the chicken. Spoon some of the marinade right on top and you are all set.
The leftover chicken is also great to pull from the bone and use in a soup or chicken pot pie!
How to Store and Reheat Baked Chicken
You've got two options for storing your leftover baked chicken – the fridge or the freezer. Whichever you choose, you are going to want to wrap the chicken tightly or store it in an airtight container.
In the fridge, your chicken will be good for about 3 days. In the freezer, you could get about 4-6 months.
To reheat baked chicken, place it in a baking dish and warm them in the oven. To avoid drying out, you could whip up some extra marinade and spoon it over the chicken.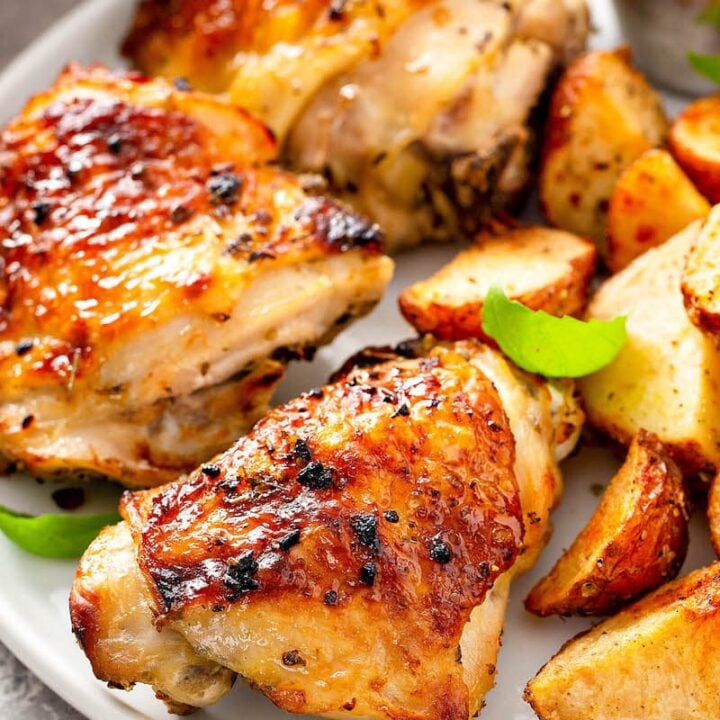 Best Baked Chicken Recipe
Yield: 6
Prep Time: 5 minutes
Cook Time: 55 minutes
Additional Time: 1 hour
Total Time: 2 hours
Looking for a juicy chicken recipe? You've found it. Bone-in breasts or thighs marinated & baked in a citrus, garlicky glaze.
Ingredients
2 tablespoons olive oil
juice from 1 orange
juice from 1 lemon
1 teaspoon Italian seasoning
1 teaspoon salt
1 teaspoon black pepper
1/2 teaspoon paprika
3 cloves fresh garlic, minced
1.5 lbs chicken breasts and/or thighs (bone-in and skin on)
1/2 teaspoon Italian seasoning
salt and freshly cracked pepper, to taste
Instructions
Mix together all ingredients besides chicken. Place chicken in a bowl or large ziplock bag and add marinade.
Add marinade to chicken and toss to coat. Cover bowl or seal ziplock bag and place in fridge to marinade for 1 hour.
When ready to cook, preheat oven to 375°F. Place chicken breast, bone side down, on a baking pan.
Spoon on a little extra marinade on top of each piece of chicken and then toss remaining marinade. Sprinkle chicken with Italian seasoning, salt and pepper.
Bake in preheated oven until chicken meat is no longer pink at the bone and the juices run clear, 45 to 55 minutes. An instant-read thermometer inserted in the thickest part of the breast meat should read 165°F.
Cover chicken loosely with foil and allow to rest for 5 minutes, then serve. This ensures your chicken stays extra juicy
Nutrition Information:
Yield: 6
Serving Size: 1
Amount Per Serving:
Calories: 338
Total Fat: 12g
Saturated Fat: 3g
Trans Fat: 0g
Unsaturated Fat: 8g
Cholesterol: 124mg
Sodium: 623mg
Carbohydrates: 16g
Fiber: 2g
Sugar: 12g
Protein: 41g