Creamy Brussels Sprouts Bake
Creamy Brussels Sprouts Bake: this EASY low carb vegetable side dish is so loaded with flavor it's going to be your new favorite way to eat Brussels Sprouts!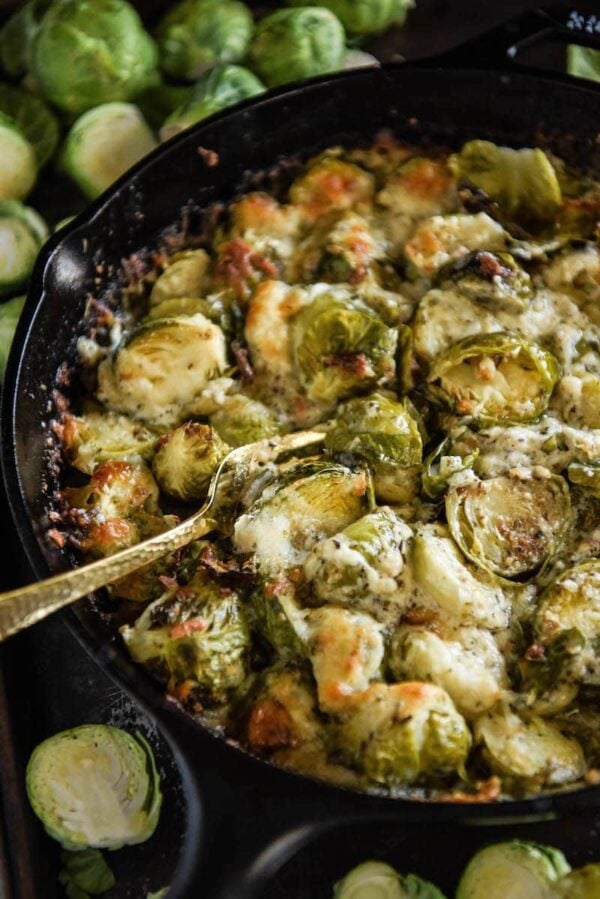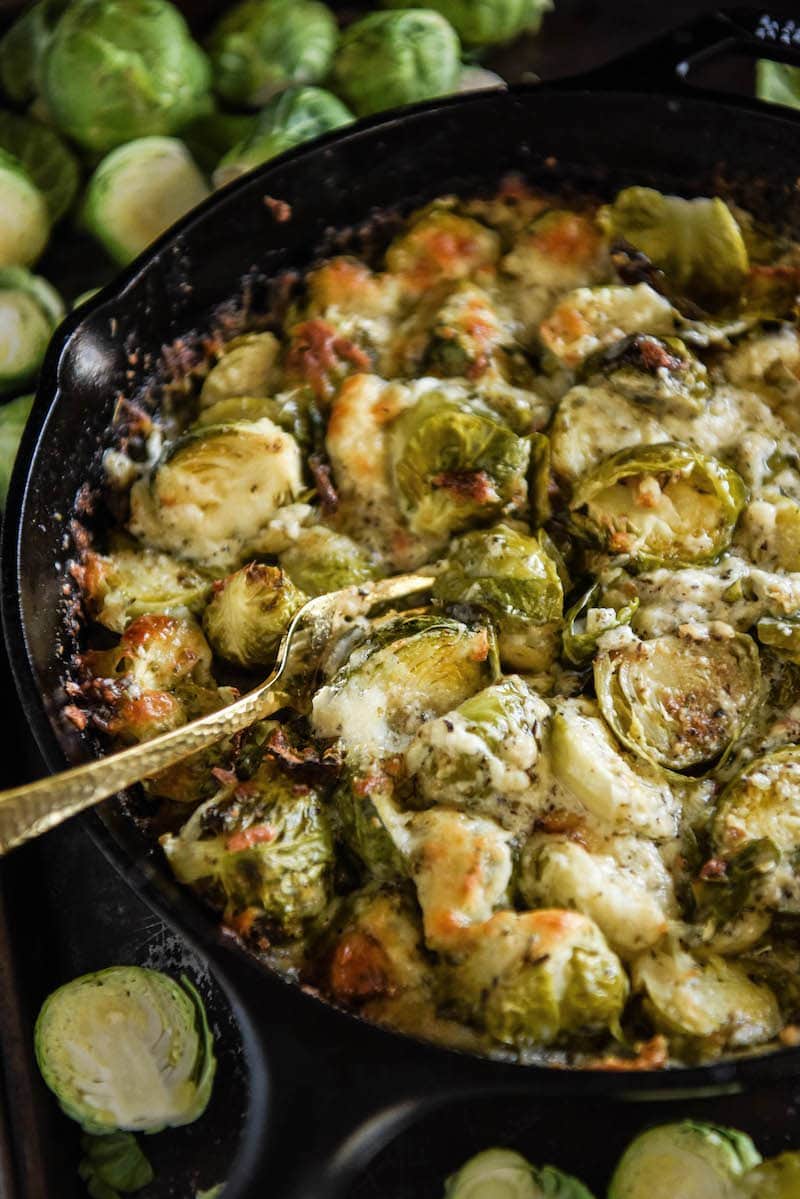 Hey there fellow brussels sprouts lovers, I have an amazing new recipe for you! This Creamy Brussels Sprouts Bake was a very happy accident that happened on a lazy Wednesday night.
I had previously made a brussels sprouts gratin a few times and loved it, however, it was a good amount of work. I had to precook the brussels and make a roux. That is a lot of work for a side dish! Plus, the flour or cornstarch made if far from low carb.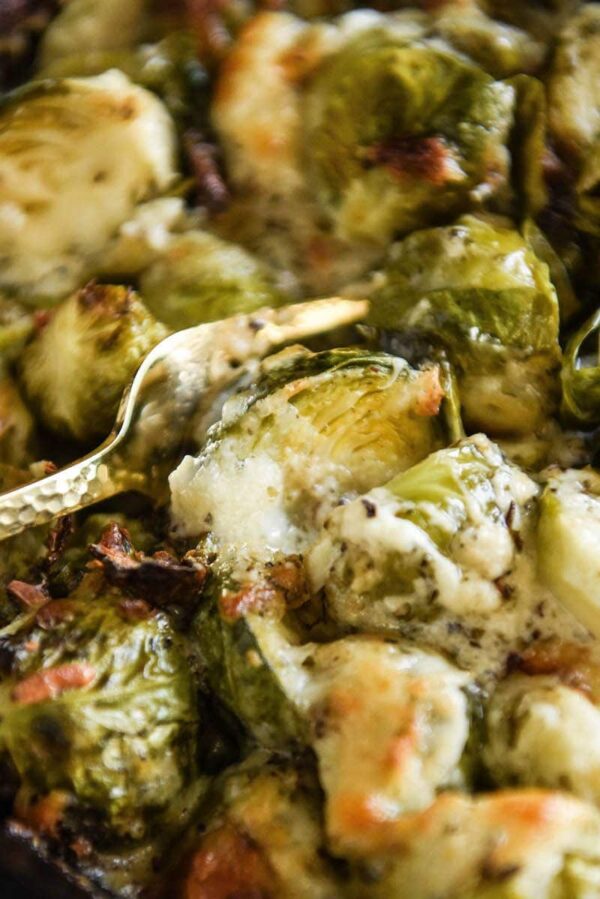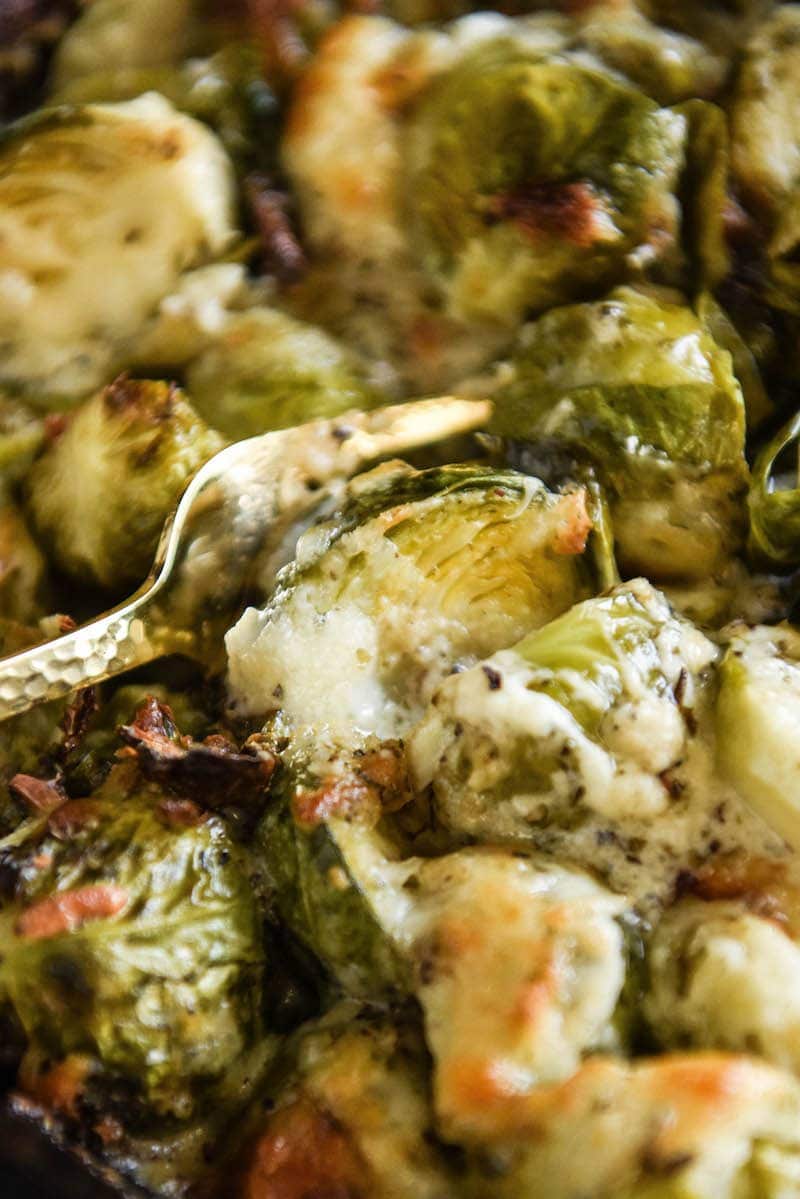 SO, I tossed together some cheese, heavy cream, seasonings and brussels sprouts. Threw it in my cast iron skillet and stuck it in the oven. Hoping for the best and prepared for a potentially very bad result.
To say it was good would be the ultimate understatement. It was DIVINE. Even the girls gobbled it up, which was shocking! They hate brussels sprouts!
The sauce reminded me of an alfredo sauce, but with much more flavor. And the best part? It only took about 5 minutes of effort on my part. #CookingWin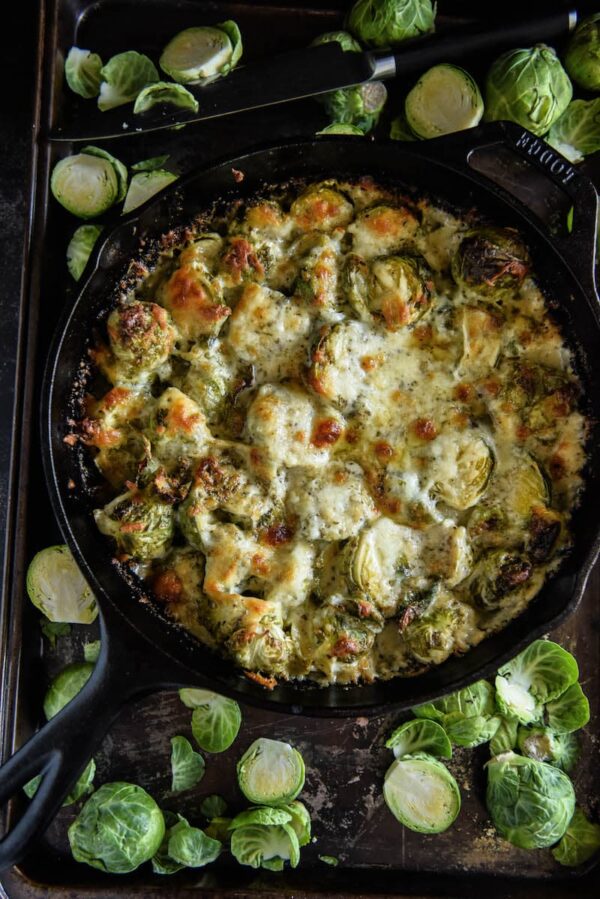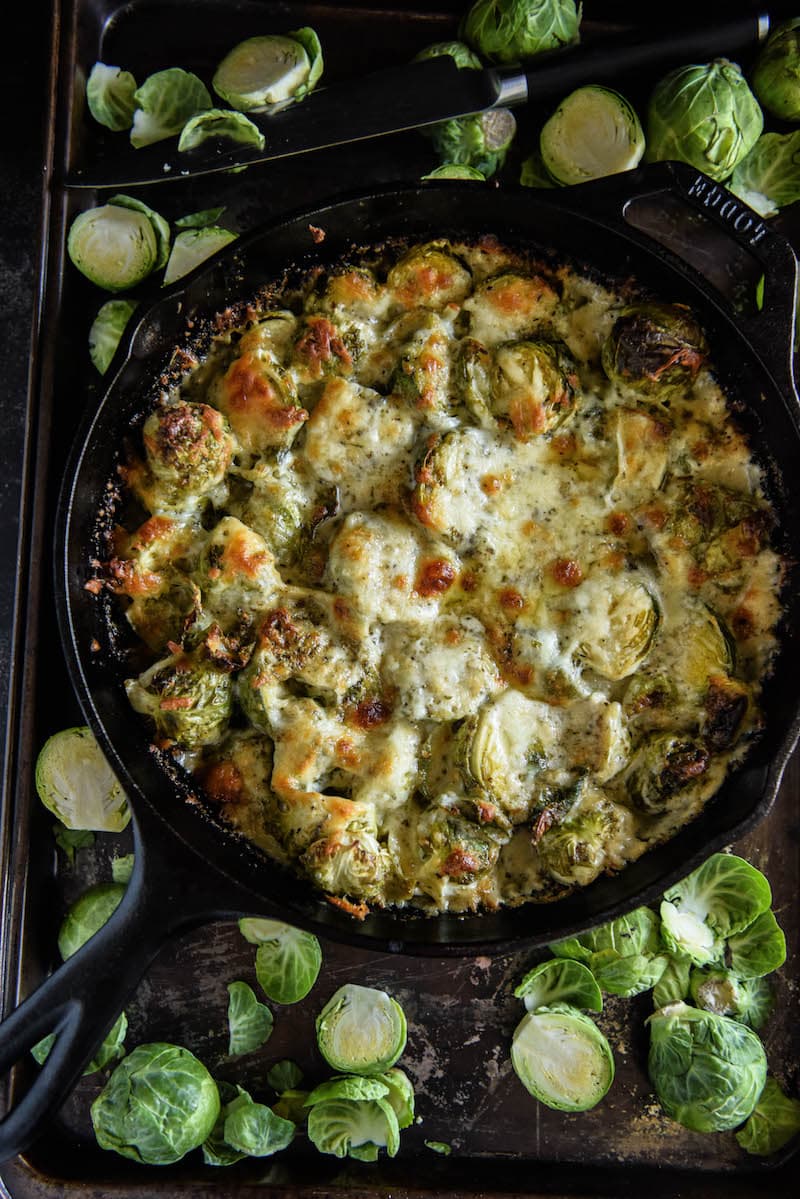 You literally dump all the ingredients into a big bowl, stir it around and then into the pan it goes. Bake it for about 25 minutes and it's all done! It really is that easy.
I use Italian seasoning, salt, pepper and fresh garlic to flavor it up. It's very simple, but oh so delicious. However, you can use any seasonings your family prefers.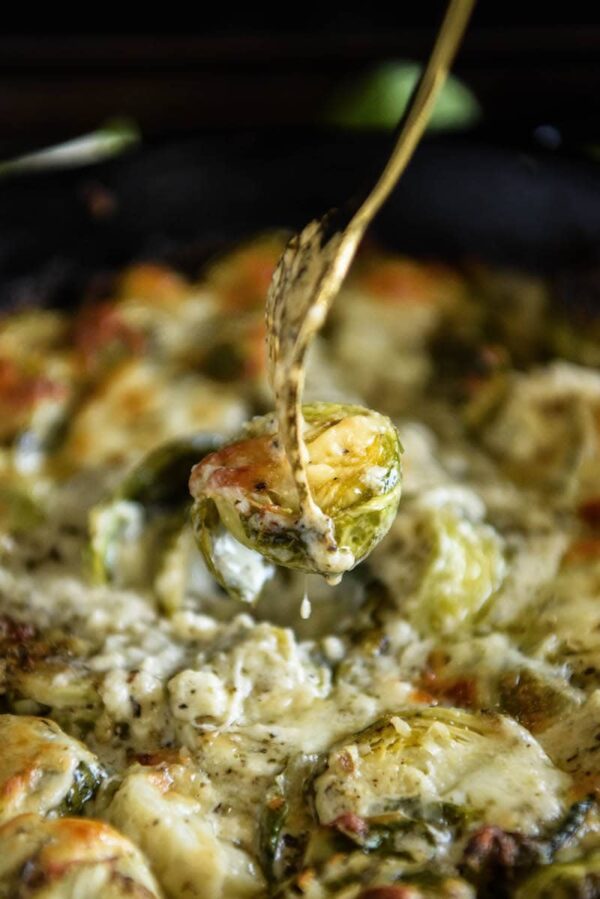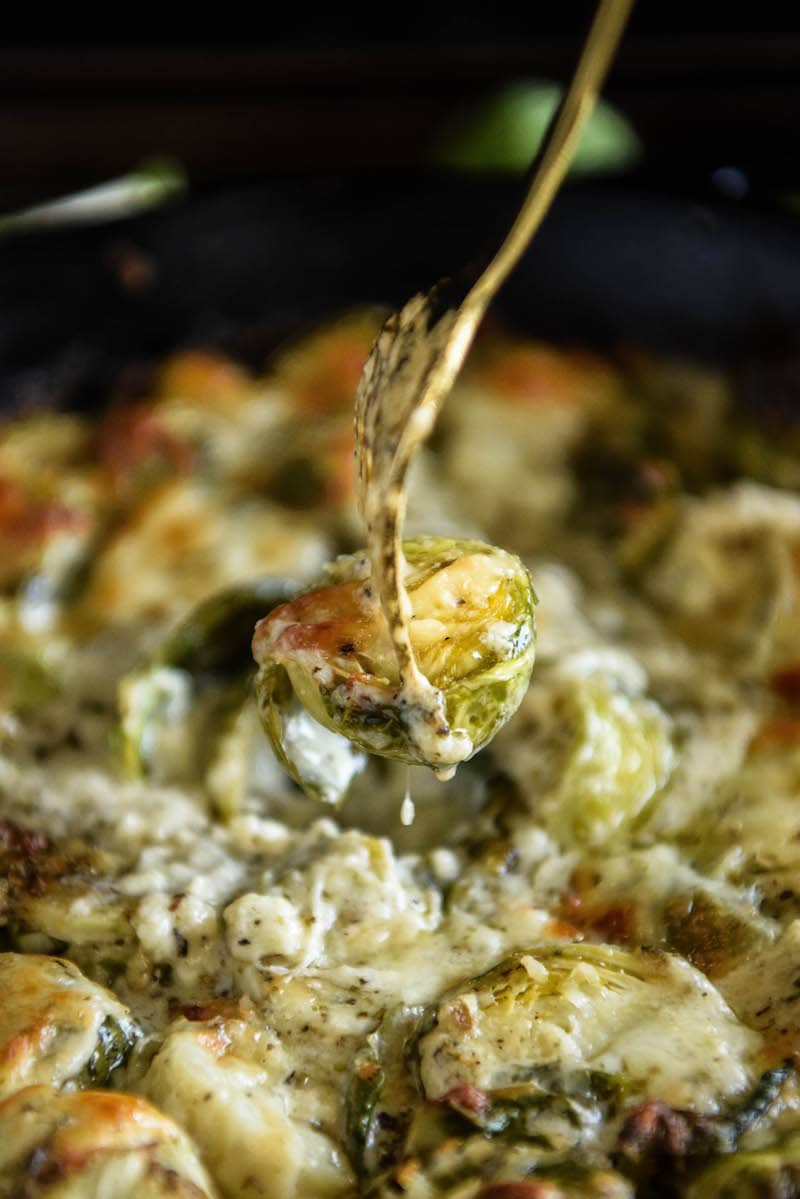 For the cheeses, I use mozzarella and parmesan (or a parmesan & asiago blend). These two cheeses combine to be both creamy AND flavorful.
Plus, we add a very healthy helping of heavy cream. If you happen to not be low carb, you can swap the heavy cream for half and half with no issues.
Check out the video to see just how easy this recipe really is to make. I promise the prep work only takes 5 minutes!
I promise this Creamy Brussels Sprouts Bake is going to be your new all time favorite way to make brussels sprouts!
Creamy Brussels Sprouts Bake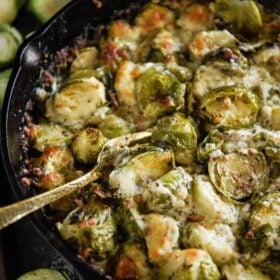 Ingredients:
3 cups Brussels sprouts, bottoms removed and halved
1 cup heavy cream
4 cloves garlic, minced
1 tablespoon Italian seasoning
salt and pepper, to taste
3/4 cup shredded parmesan cheese (or asiago)
1 cup shredded mozzarella cheese
Directions:
Preheat oven to 400 degrees. Butter a cast iron skillet or a small casserole dish (like a 9×9), set aside.
In a large bowl, combine all ingredients. Pour into prepared skillet/casserole dish.
Optional: You can sprinkle a little extra of both cheeses on top if you like it extra, extra cheesy!
Bake for 25-30 minutes, till bubbly and edges are browned.
Let rest for 5 minutes and serve!