The Best Mashed Cauliflower Recipe that's flavorful and creamy, made with just three easy ingredients! This healthy veggie side dish is family approved and only takes minutes to make.
I have been working on perfecting this Mashed Cauliflower recipe for years and years now.
It has become our favorite Low Carb side dish that we make week after week.
I make a big batch on Sunday for us to have throughout the week. Just scoop out a serving and reheat it in the microwave!
My entire family (including two 4 year olds) loves it and gobbles it up. (I promise they aren't super adventurous kids, they just like anything flavorful!)
I shared a version a year ago – Roasted Garlic Cauliflower Mash – that was a little different and included roasted garlic.
It's absolutely delicious, but I feel this recipe is a little more simplistic and perfectly balanced as it is.
This Mashed Cauliflower uses two secret ingredients to keep it epically creamy and I also share how to get the perfect texture below!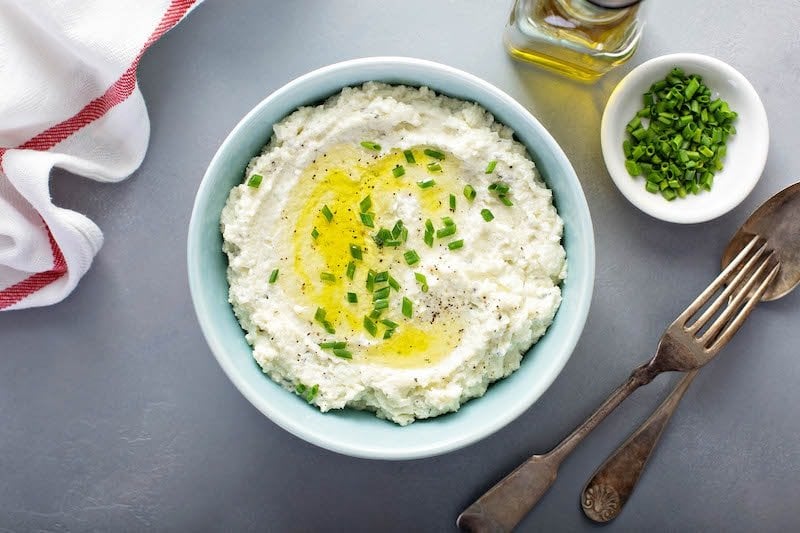 Two Secret Ingredients
There are two ingredients that will give your Mashed Cauliflower the best creamy taste and texture: Cream Cheese and Goat Cheese!
By adding those cheeses verses something like butter and sour cream, it keeps the mashed cauliflower nice and thick.
Before you ask, if you really hate goat cheese, yes you can substitute the goat cheese for additional cream cheese.
However, I really suggest you try it with goat cheese! It adds a slight tang similar to sour cream in mashed potatoes.
Bonus, I use a herbed goat cheese which adds an extra layer of flavor!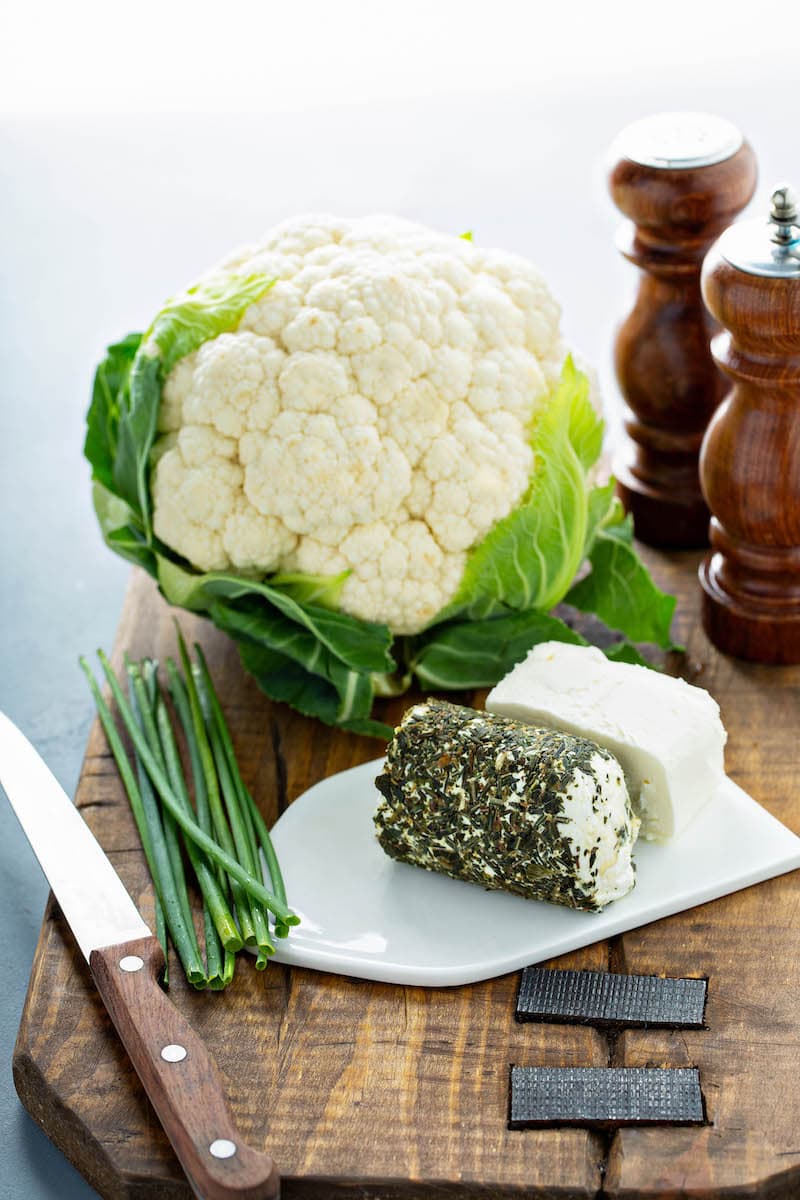 Do not use cauliflower florets for your mashed cauliflower!
I mean it, don't do it! I know it seems a lot easier to grab the bag of florets verses cutting up a head of cauliflower.
However, the cauliflower florets make a looser final product. The mashed cauliflower will be runny and not the correct consistency.
I have been making this mashed cauliflower for about 5 years at this point. I can promise you every time I use cauliflower florets, I regret it immediately.
Use a whole head of cauliflower and cut it up. It makes a WORLD of difference to the final texture of the mashed cauliflower!
I have tried figuring out why this is, but can't find any conclusive answers on google or by asking my friend who's a nutritionist.
I assume when the stalk is intact the cauliflower head itself retains less water, but that is just a guess on my part!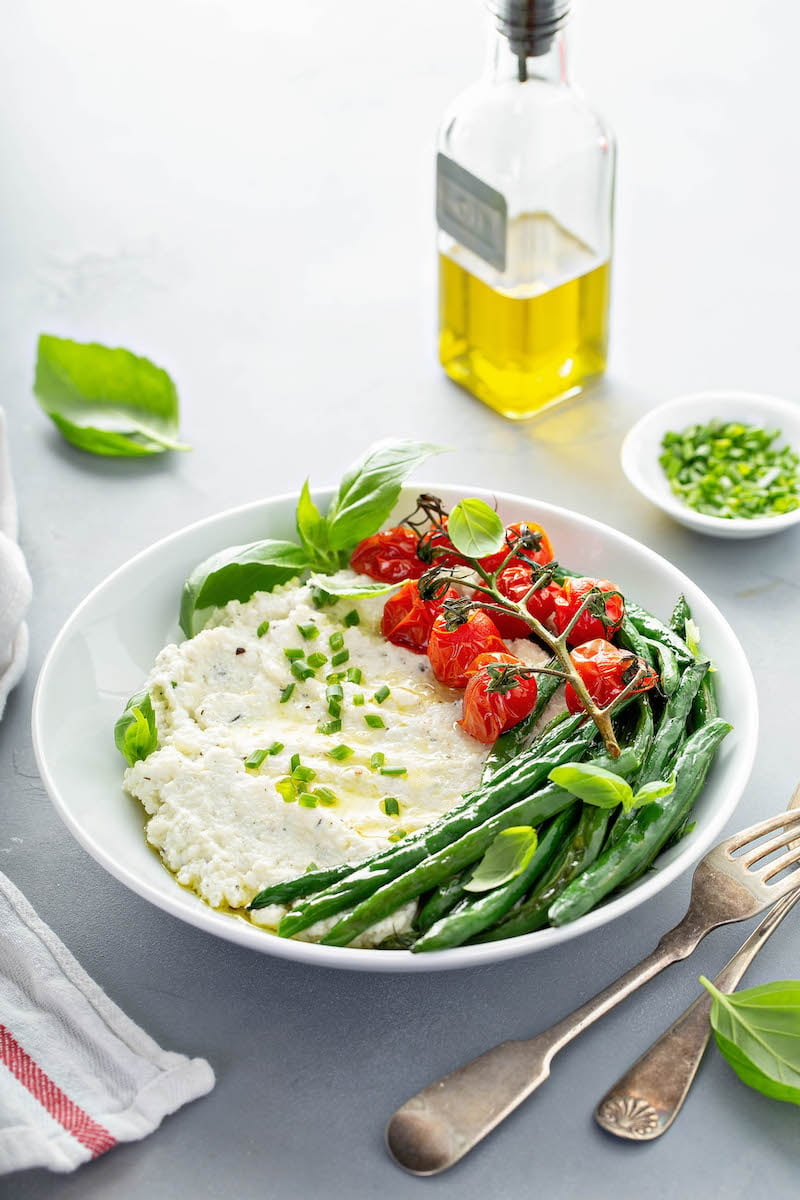 Cauliflower Mashed Potatoes
If this is your first experience with mashed cauliflower, and you are expecting traditional mashed potatoes, you may choose to add a potato.
Mashed Cauliflower is never going to 100% mimic mashed potatoes, however if you add one baking potato to your cauliflower mash, it will be a closer comparison.
To add a potato, just peel the potato, slice it into small chunks and cook it with your cauliflower until fork tender.
Toss it into your food processor (or blender) and puree it along with the cauliflower! Super easy!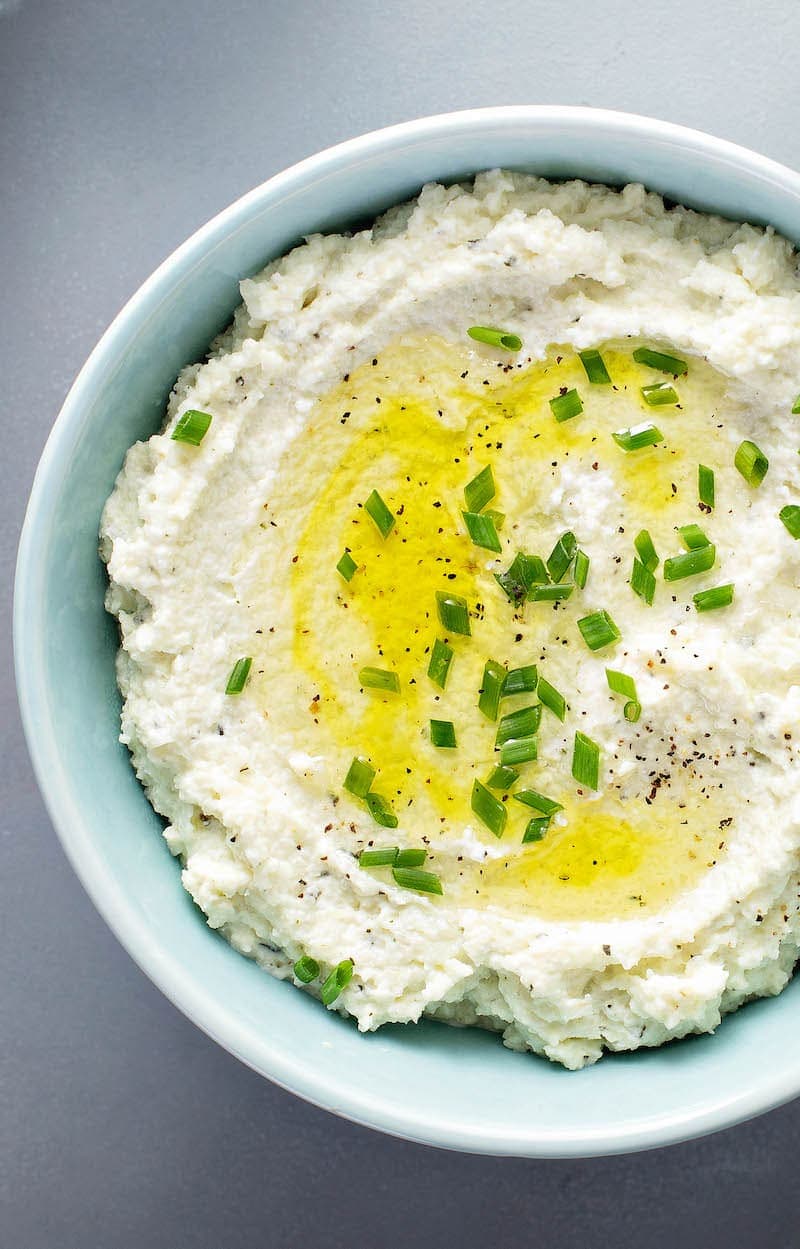 To cook my cauliflower, I prefer to use a microwave safe steamer bowl. Then I puree everything together in my food processor.
However, you can also use a glass baking dish with a lid to cook your cauliflower in the microwave.
If you do not have a food processor, another option is a high powered blender. Both work great. 
This Mashed Cauliflower only takes minutes to make and uses three ingredients (I don't count salt and pepper since everyone has those on hand already!). 
Plus, it's low carb at just 3 net carbs per serving! Great for a keto diet or anyone watching their carbs!
If you are looking for more low carb side dish recipes, check out my favorites: Garlic Roasted Cherry Tomatoes, The Best Creamed Spinach, Creamy Baked Brussel Sprouts, and Caprese Stuffed Avocados.
You can choose to top it with a little melted butter, oil or minced chives, but it is not necessary! It is just perfect as it is!
The Best Mashed Cauliflower Recipe
This flavorful recipe for cauliflower mashed potatoes is thick and creamy, made with just three ingredients! A family-friendly and healthy veggie side dish that's ready in minutes.
Ingredients
* 1 large head of cauliflower

,

cut into florets

* 3 oz herbed goat cheese

* 2 oz cream cheese

* salt & pepper

,

to taste

* fresh chives

,

optional garnish
Instructions
Place cauliflower and a few tablespoons of water in a microwave safe bowl with a lid (I use a microwave steamer container, but you can also use a glass casserole dish if it has a microwave safe lid.)

Cook for 7 to 8 minutes on high, until just fork tender. You do not want to overcook your cauliflower, or your cauli mash will come out runny/soupy. Drain excess water from cauliflower.

Place herbed goat cheese and cream cheese into the food processor. Add cooked hot cauliflower on top. Puree until smooth. Add salt and pepper, to taste.

Serve garnished with chives, if desired.
Notes
Recipe Note: make sure and use a full head of cauliflower, not already cut florets, to get the right texture. Read above in the post to read why!
Nutrition
Serving:
1
serving
,
Calories:
117
kcal
,
Carbohydrates:
8
g
,
Protein:
6
g
,
Fat:
7
g
,
Saturated Fat:
4
g
,
Polyunsaturated Fat:
2
g
,
Cholesterol:
18
mg
,
Sodium:
182
mg
,
Fiber:
5
g
,
Sugar:
3
g
Categories:
This post may contain affiliate links. Read my disclosure policy.