The Best Creamed Spinach
The Best Creamed Spinach: my favorite steakhouse style, extra creamy, creamed spinach takes only 20 minutes to make and is a tried and true family favorite!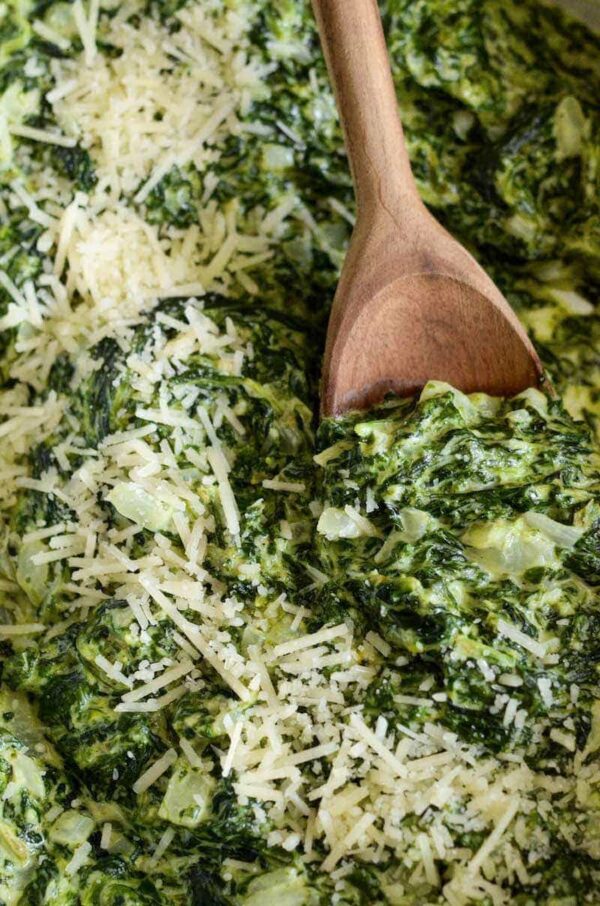 This truly is The Best Creamed Spinach recipe, ever. Seriously, it's been extremely well tested.
I have made this recipe for a group of 100+ people and was begged for the recipe by so many people!
They all swore up and down it was the best one they had ever had and I was honored be handing out the recipe!
I have been making this family recipe for years and am happy to finally have taken photos of it before we dug in so I can share it with all of you.
As a bonus, it's also a low carb side dish, just in case you are watching your carbs.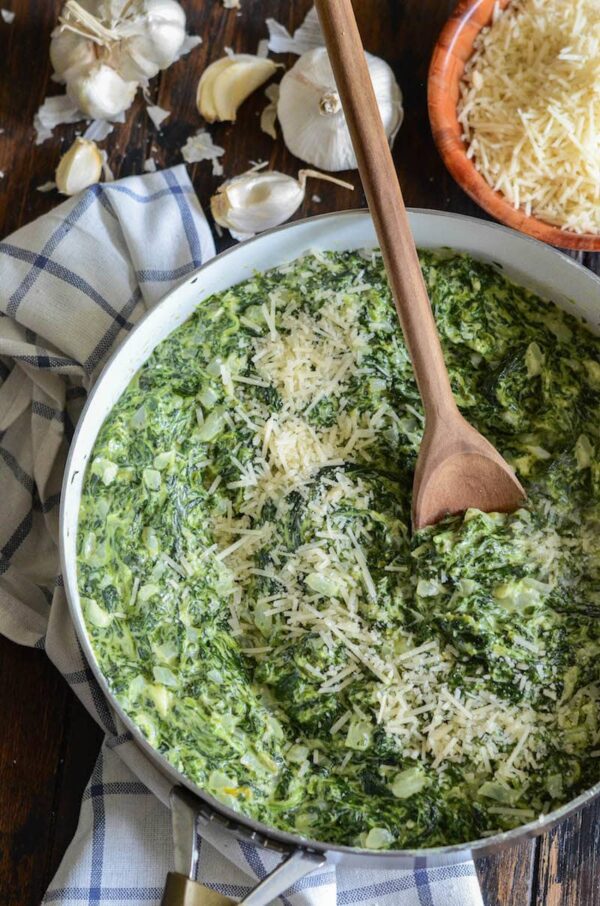 Low Carb Side Dish
This creamed spinach recipe is a great low carb side dish that is also keto approved.
If you are being extra tight with your carbs, you can also cut the chopped onion.
I don't recommend it on flavor basis, but understand it if you are really trying to stick tightly to your diet.
If you are concerned about the carbs in the onions and want to remove the onion, I recommend using dried onion to substitute some of that flavor back in.
Start with 1 tablespoon worth and then taste and add more as needed.
If you are looking for more low carb side dish recipes, check out my favorites: Garlic Roasted Cherry Tomatoes, Creamy Baked Brussel Sprouts, Mashed Cauliflower, and Caprese Stuffed Avocados.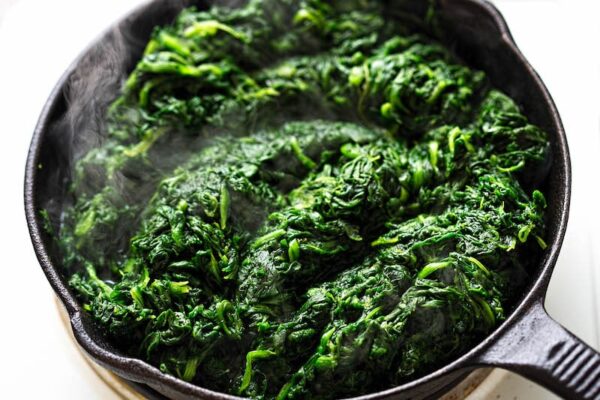 Creamed Spinach with Frozen Spinach
Yes, I recommend frozen spinach over fresh spinach for this creamed spinach recipe!
Do you think I'm crazy? Well, I might be, but I am right about the type of spinach to use. 😉
I prefer to use fresh frozen spinach, that I then cook in the microwave and strain excess water out of it.
If you use fresh spinach, you need to steam it or cook it down until it's the texture of cooked and thawed spinach.
This takes a while and a lot of fresh spinach to get enough spinach to make this creamed spinach recipe.
Fresh frozen spinach is great and works quickly to get this side dish recipe on the table in 20 minutes or less!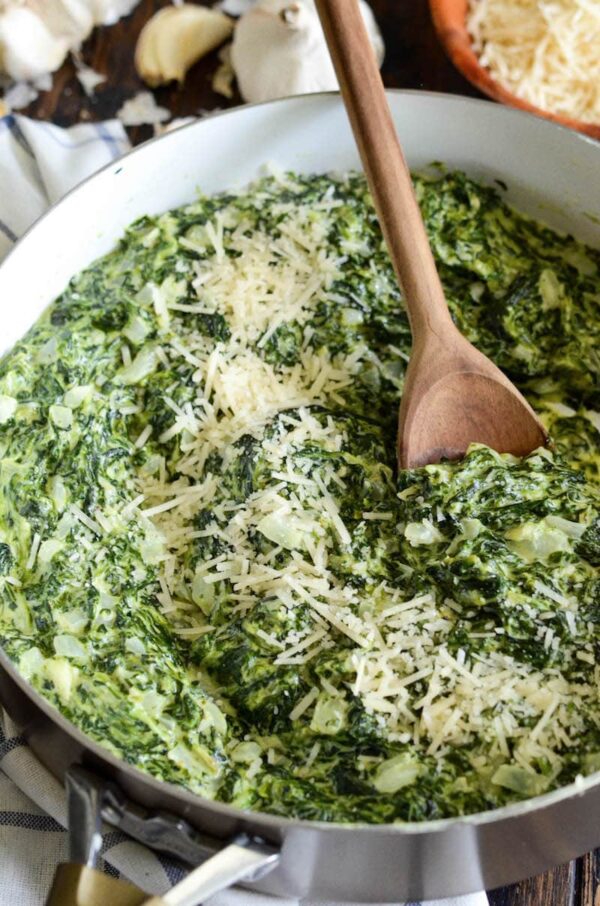 This creamed spinach recipe is extra creamy, full of flavor, and only takes 20 minutes to make. Hallelujah!
It is exactly like the creamed spinach you get at an old school fancy steak house and it's epically delicious.
Bonus, it's low carb, keto diet approved, and naturally
gluten free
!
If you have any leftovers, they reheat great. You can also freeze them with equally great results!
Oh, and you can make a big batch and keep it hot in a crock pot on the warm setting for a party.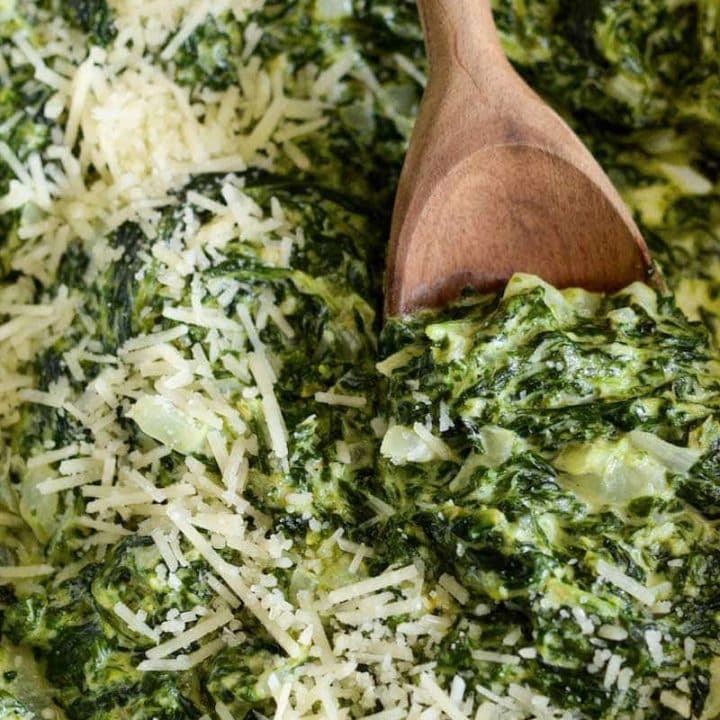 The Best Creamed Spinach Recipe
Yield: 8 servings
Prep Time: 5 minutes
Cook Time: 15 minutes
Total Time: 20 minutes
The Best Creamed Spinach: my favorite steakhouse style, extra creamy, creamed spinach takes only 20 minutes to make and is a tried and true family favorite!
Ingredients
3 (10 oz) bags frozen chopped spinach
2 tablespoons butter
1 medium yellow onion, diced
6 large cloves garlic, minced
4 oz cream cheese
1 cup heavy cream
1 cup shredded mozzarella cheese
1/2 cup grated parmesan cheese
salt and pepper, to taste
Instructions
Cook spinach in microwave according to package directions. Remove excess water (squeeze carefully using cheese cloth, a tea towel, or a colander) and set aside.
In a large skillet over medium high heat, melt butter. Add onion and sauté until translucent.
Add garlic and cook for 30 seconds. Add cream cheese and cook, stirring, until melted.
Add heavy cream and cook for 2 minutes. Add mozzarella cheese, parmesan cheese, salt and pepper. Stir till combined.
Fold in spinach into cream sauce and cook for an additional minute to reheat spinach.
Serve immediately or store in an airtight container in the fridge for up to a week. The leftovers reheat great and you can also freeze it!
Nutrition Information:
Yield: 8 servings
Serving Size: 1 serving
Amount Per Serving:
Calories: 249
Total Fat: 22g
Saturated Fat: 14g
Trans Fat: 1g
Unsaturated Fat: 7g
Cholesterol: 68mg
Sodium: 315mg
Carbohydrates: 5g
Fiber: 1g
Sugar: 2g
Protein: 7g