The ultimate quick and healthy dinner, Air Fryer Salmon takes just minutes to prep and under ten minutes to cook! You'll love the sweet and savory flavor of salmon fillets dressed with honey, mustard, and garlic, cooked to a sizzling golden brown.
Crispy, Seasoned Salmon Fillets, in Under Ten Minutes!
If you're looking for a way to add more seafood to your menu, consider this your sign – because there is nothing easier than cooking up salmon fillets in the air fryer. It's such a quick way to get really crispy salmon with beautiful, golden-browned edges and plenty of savory seasoning.
When it comes to the seasoning you use, anything goes! For this recipe, we'll be going with a sweet and tangy blend of honey, dijon and a mouthwatering spice blend of smoked paprika and garlic. It's a full-flavored mixture that really complements the taste of fresh salmon, and works well with any side dishes you could want!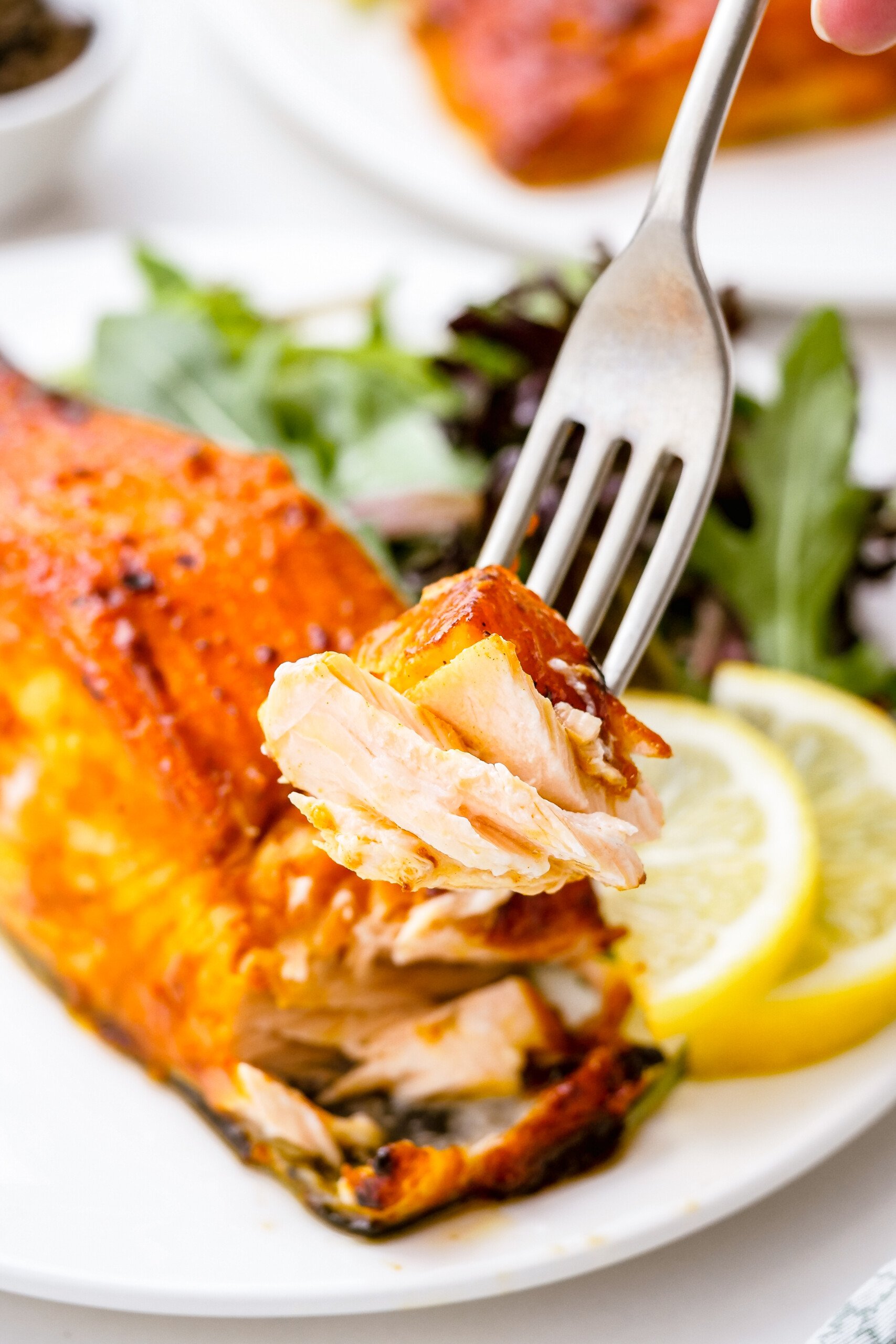 How Does Salmon Come Out in the Air Fryer?
You may be wondering what the benefit is of air frying salmon, instead of just baking it. Well, of course, baking salmon is a great way to prepare this flavorful fish. But I find that air-frying, in addition to being super quick, also creates a crisp, almost seared texture to the outside of each fillet. It's irresistible!
The reason for this is that air fryers work like convection ovens, circulating hot air around the food as it cooks, while a normal oven does not circulate the air. If you rub the fish with a small amount of oil, the hot circulating air causes that tiny amount of oil to sizzle, creating a "fried" effect. Yum!
Why is Salmon So Healthy?
You've probably heard before that salmon is a super-nutritious food, but do you know why? It turns out that not only is salmon a great source of protein (like most fish and seafood) – it's a powerhouse of healthy Omega 3 fatty acids, which are known to lower your risk of cardiovascular disease, some kinds of cancer, Alzheimer's, and inflammatory illnesses. Omega 3's are essential, meaning that your body needs them to work correctly, but doesn't produce them. You have to get your Omega 3's from your diet. And crispy salmon is a perfect way to do just that!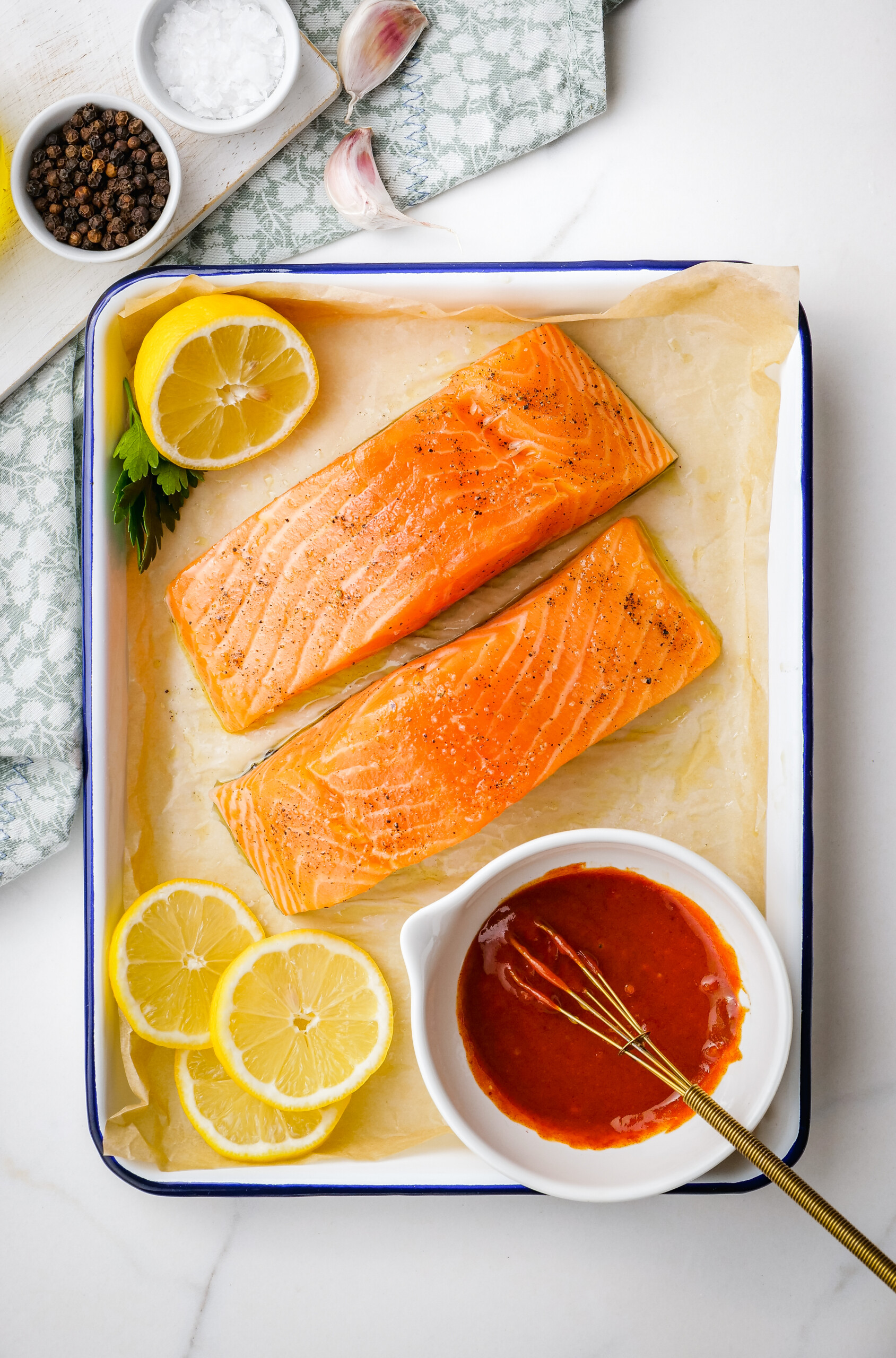 What You'll Need
This recipe calls for salmon fillets – skin on is fine, or you can remove the skin if you like – and a simple "dressing" mixture to season the salmon and bring out its flavor.
Salmon: This recipe is for two salmon fillets, approximately 2 inches thick. You can easily double or even triple the recipe, though, and cook the fillets in batches.
Olive Oil: To rub into the fish and prep it for air-frying.
Salt and Pepper: You'll need a little bit of salt and pepper to sprinkle on the salmon fillets, and a bit more salt to season the mustard dressing.
Dijon: I love dijon mustard in this recipe, but you could substitute coarsely-ground mustard or even spicy deli mustard, if you prefer.
Honey: A little bit of your favorite honey adds a touch of warm sweetness and depth.
Garlic: Mince the garlic, or press it in a garlic press.
Smoked Paprika: The smoky, savory taste of smoked paprika makes this recipe irresistible!
Can I Use Frozen Salmon?
Yes, you can! Frozen salmon is often higher quality than "fresh" salmon at the fish counter. The reason is that frozen salmon is usually frozen shortly after it is caught and processed, locking in that freshness. Fresh salmon, on the other hand, is caught, processed, transported (potentially frozen during transportation), and then displayed for sale. By the time you purchase it, fresh salmon may have "aged" a significant amount!
Does Salmon Need to Be Thawed Before Air Frying?
Technically, you can cook salmon directly from frozen in the air fryer, adding a minute or two more to the cook time. However, I recommend thawing the salmon first, for the best flavor and texture.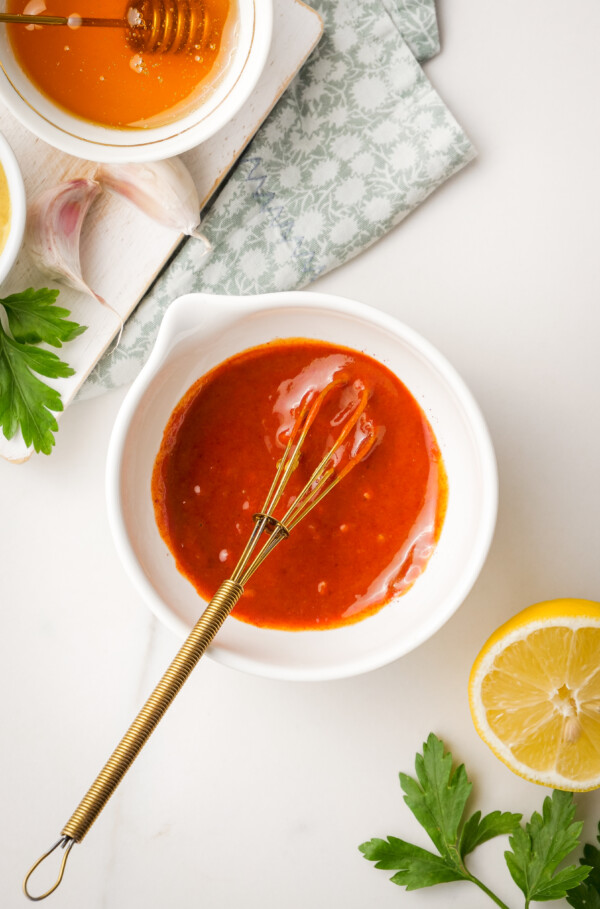 How to Air-Fry Salmon Fillets
If you're not very familiar with air frying salmon, no worries! It is very simple to do. All you really need to do is season the fish, place it in the basket, and set that timer! Here's a quick, easy run-down:
Season the Fish. First, rub the salmon fillets all over with olive oil. Wash your hands, and sprinkle salt and pepper over the fillets. Then combine the dijon mustard, honey, garlic, paprika, and a couple of pinches of salt in a small bowl.
Preheat the Air Fryer and Fry the Fillets. Preheat the air fryer to 400°F. While it preheats, lay the salmon fillets in the air fryer basket, sides not touching. Spread the mustard mixture on top of the fillets.
Air-Fry! Air-fry the salmon fillets for 8 minutes. When the timer goes off, open the air fryer and check the fillets to make sure they're done. You can flake them with a fork, or use an Instant Read thermometer to make sure they are done to your preference. If they aren't quite done, air-fry them for two minutes longer.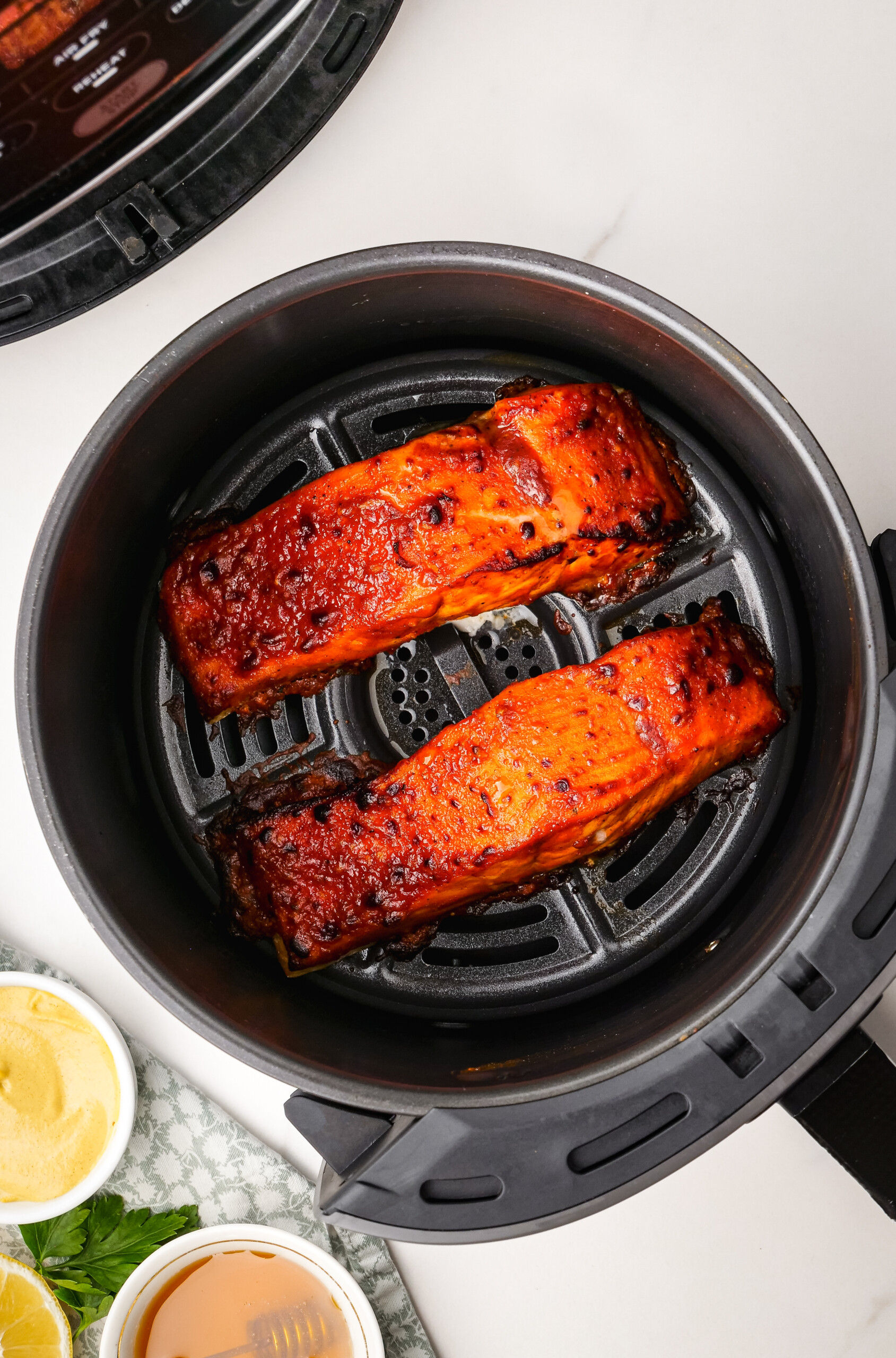 Tips for Success
To make the most of this easy recipe, I'm sharing a few of my top tips for using your air fryer, especially when making fish. Enjoy, and happy cooking!
Use Similar Sized Fillets: When you're cooking fish, especially at high heat for a short time in the air fryer, try to use fillets that are similar in thickness. That way, they will cook evenly. If you use one thick fillet and one thin fillet, the thin one will dry out while the thick one finishes cooking through!
Don't Crowd the Air-Fryer: To get a good crispy result, make sure to leave a little room around the fillets while they cook. Crowding the air-fryer will create steam, which softens the fish instead of crisping it.
Avoid Aerosol: Regular cooking spray may not be a good fit in this recipe – aerosol doesn't always play well with the finish on air fryer baskets. To be on the safe side, check your air fryer before using any aerosol cooking sprays, or just use regular oil in a misting or spritzing bottle.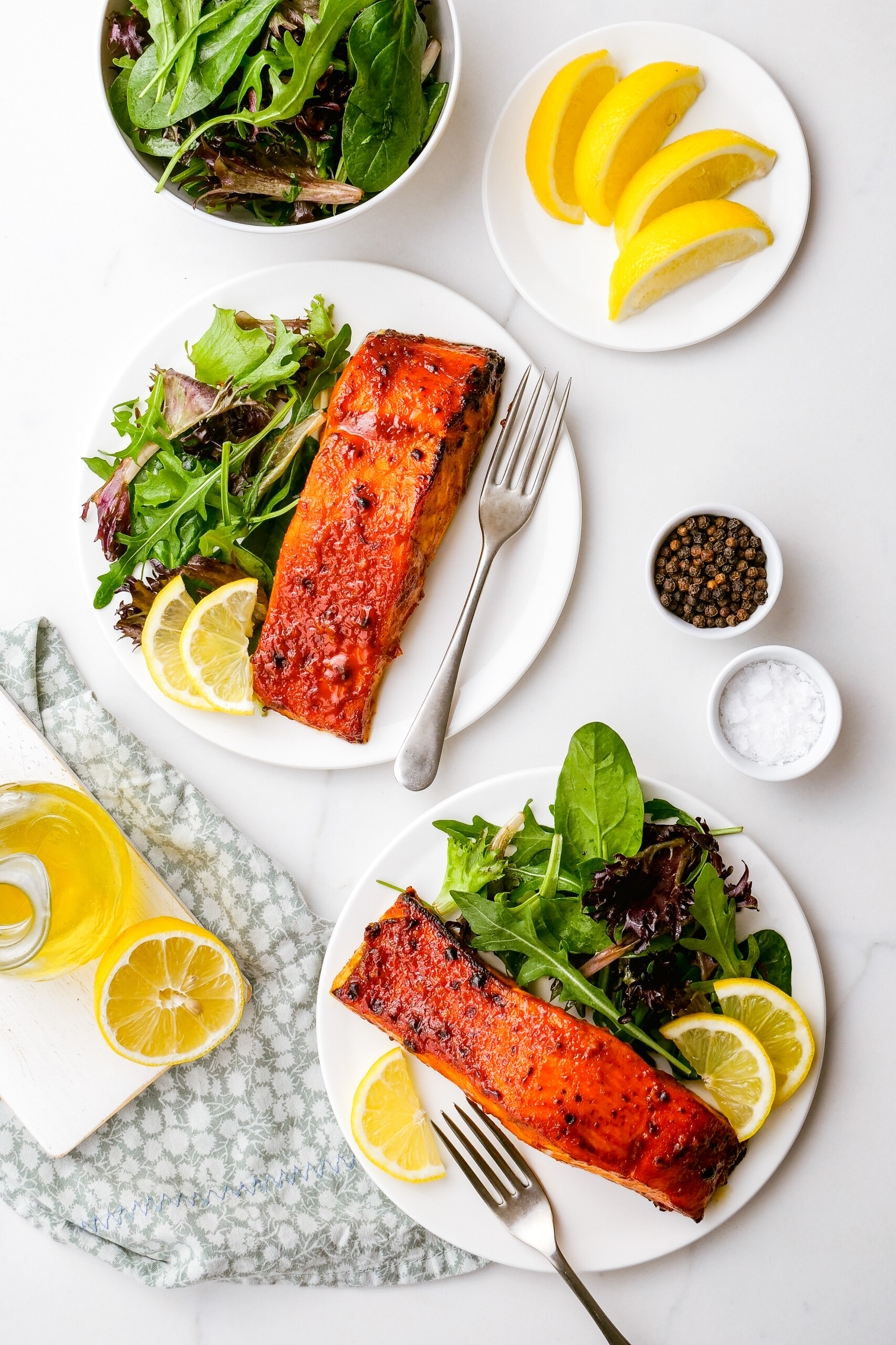 Yummy Serving Suggestions
To serve these fillets, you could go in so many different directions! They'd be perfect on a burger bun with your favorite toppings, or nestled on a bed of greens with some tangy Italian dressing. If you'd like some easy recipe ideas, take a look at these: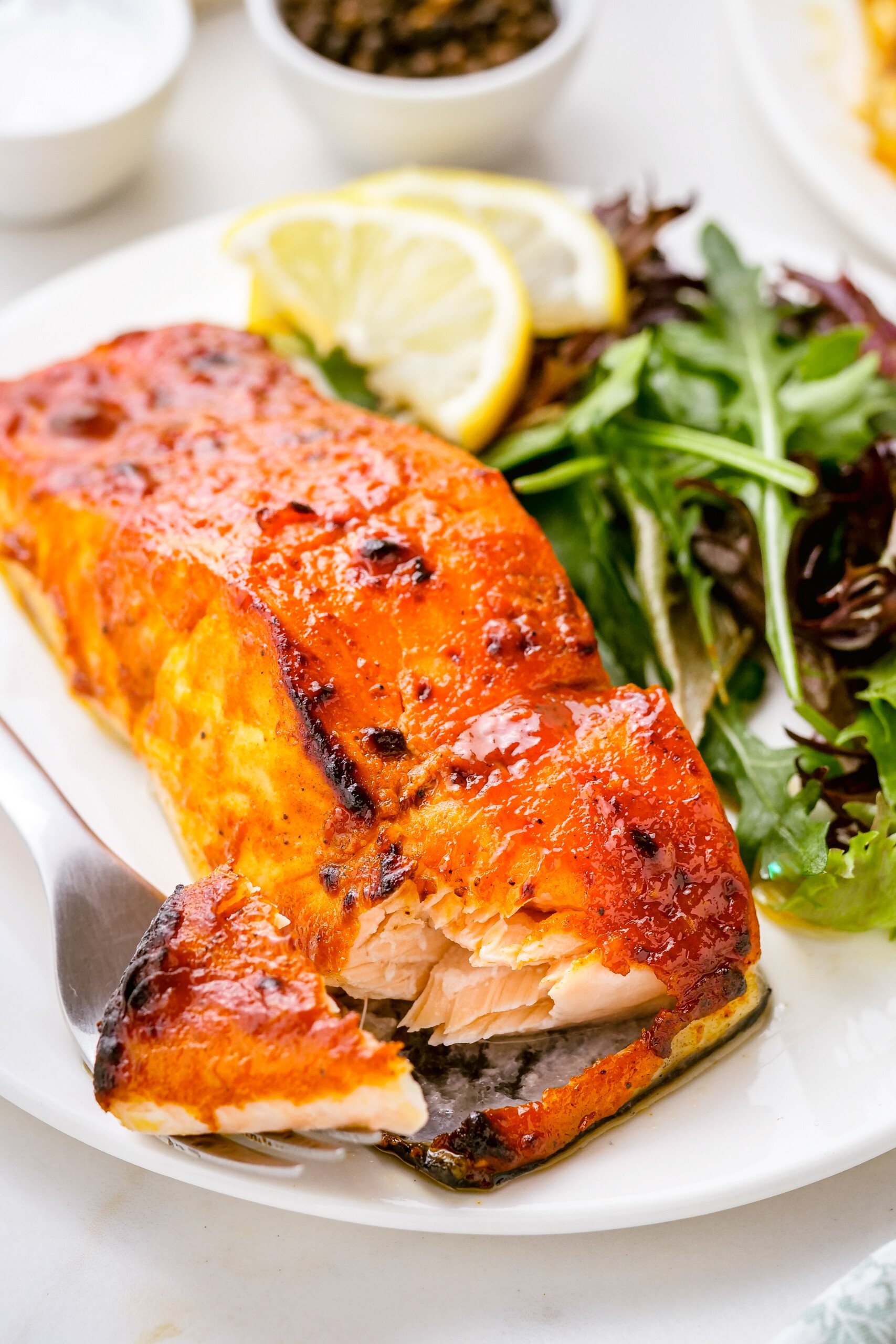 How to Store and Reheat Leftovers
To store your leftover salmon, place it in an airtight container and refrigerate for up to three days.
To reheat, place the salmon in a covered skillet over low heat, adding a splash of water or broth if it seems dry. Allow to heat until the salmon is steaming hot, all the way through, but do not overcook or it will dry out.
Can I Freeze This?
Yes, you can, although the thawed salmon may not have as good a texture once it's thawed! Still, if you'd like to freeze leftover salmon, just wrap it tightly in two layers of plastic wrap and one layer of foil, and place in the freezer. (You can also use freezer bags, pressing out as much air as possible before sealing.)
Frozen salmon will keep for up to three months, and should be thawed in the fridge before reheating.
Air Fryer Salmon (Under 10 Minutes!)
The ultimate quick and healthy dinner, Air Fryer Salmon takes just minutes to prep and under ten minutes to cook! You'll love the sweet and savory flavor of salmon fillets dressed with honey, mustard, and garlic, cooked to a sizzling golden brown.
Ingredients
2

8 ounce salmon fillets, approximately 2 inches thick.

2

teaspoons

olive oil

½

teaspoon

salt

,

divided

½

teaspoon

freshly ground black pepper

2

tablespoons

dijon mustard

1

tablespoon

honey

1

clove

garlic

,

minced

1

teaspoon

smoked paprika
Instructions
Rub salmon fillets with olive oil, and season lightly with salt and pepper.

In a small bowl, whisk to combine dijon mustard, honey, garlic, smoked paprika and ¼ teaspoon salt.

Preheat air fryer to 400°F. Lay salmon fillets in basket, sides not touching, and top fillets with mustard mixture.

Air-fry the salmon for 8 minutes. When the timer goes off, open the basket and check the fillets with a fork to make sure they are done to your preference. If not, cook for an additional 2 minutes.
Nutrition
Serving:
1
,
Calories:
88
kcal
,
Carbohydrates:
11
g
,
Protein:
1
g
,
Fat:
5
g
,
Saturated Fat:
1
g
,
Polyunsaturated Fat:
4
g
,
Sodium:
935
mg
,
Fiber:
1
g
,
Sugar:
9
g
Categories:
More Easy Seafood Recipes
Looking for more quick and easy seafood recipes? Here are a few of my favorites:
This post may contain affiliate links. Read my disclosure policy.