This is the best simple and creamy Homemade Alfredo Sauce Recipe that you will ever make! This is a tried and true family recipe that we have been making for years and years and everyone agrees it is the BEST Alfredo Sauce!
Creamy Homemade Alfredo Sauce
Go-to comfort food dishes, anyone? I've got a number of them to choose from on any given night, but Homemade Alfredo Sauce served over a bowl of pasta is always a front-runner in this family! (This Homemade Bolognese Sauce is another comfort food classic to keep in mind too, though!)
This creamy sauce may sound like quite a bit of work, but it actually only takes about 15 minutes to make, tops. After that, all you have to do is toss it with some pasta, and dinner is served!
To say this easy pasta dish is a crowd-pleaser would be a massive understatement – just in case you were mulling over what to make for dinner tonight. ;)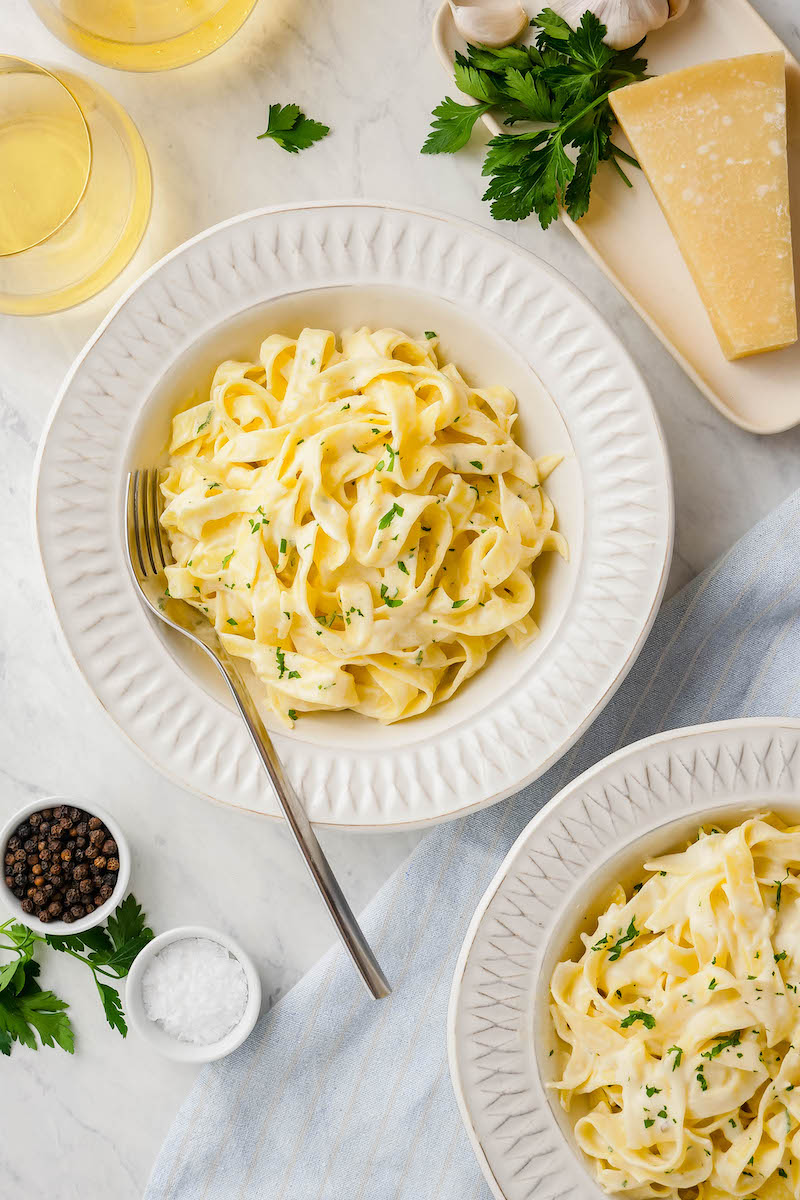 What is Alfredo Sauce?
Alfredo sauce is a simple Italian pasta sauce, traditionally made with just parmesan cheese, butter, salt and pepper.
American-style Alfredo sauce is a richer sauce because it has a little heavy cream thrown in and some people add cream cheese, too. Serve it over pasta or chicken – or both – and enjoy a deliciously creamy pasta dinner!
Recipe Ingredients
What exactly goes into this Alfredo sauce? Just six ingredients – make sure you've got some parmesan cheese and heavy cream, and let's get started!
Butter: If you use salted butter, consider reducing the amount of salt you add as seasoning at the end.
Heavy Cream: If you don't want to use all heavy cream, you could use a mixture of milk and heavy cream. You could also use half and half for a lighter sauce.
Garlic: Fresh garlic, minced. You want to use fresh garlic, not jarred garlic. Fresh garlic is more fragrant and pungent — in a good way!
Parmesan Cheese: Freshly grated cheese works best!
Seasoning: You'll need salt and freshly cracked pepper, to taste.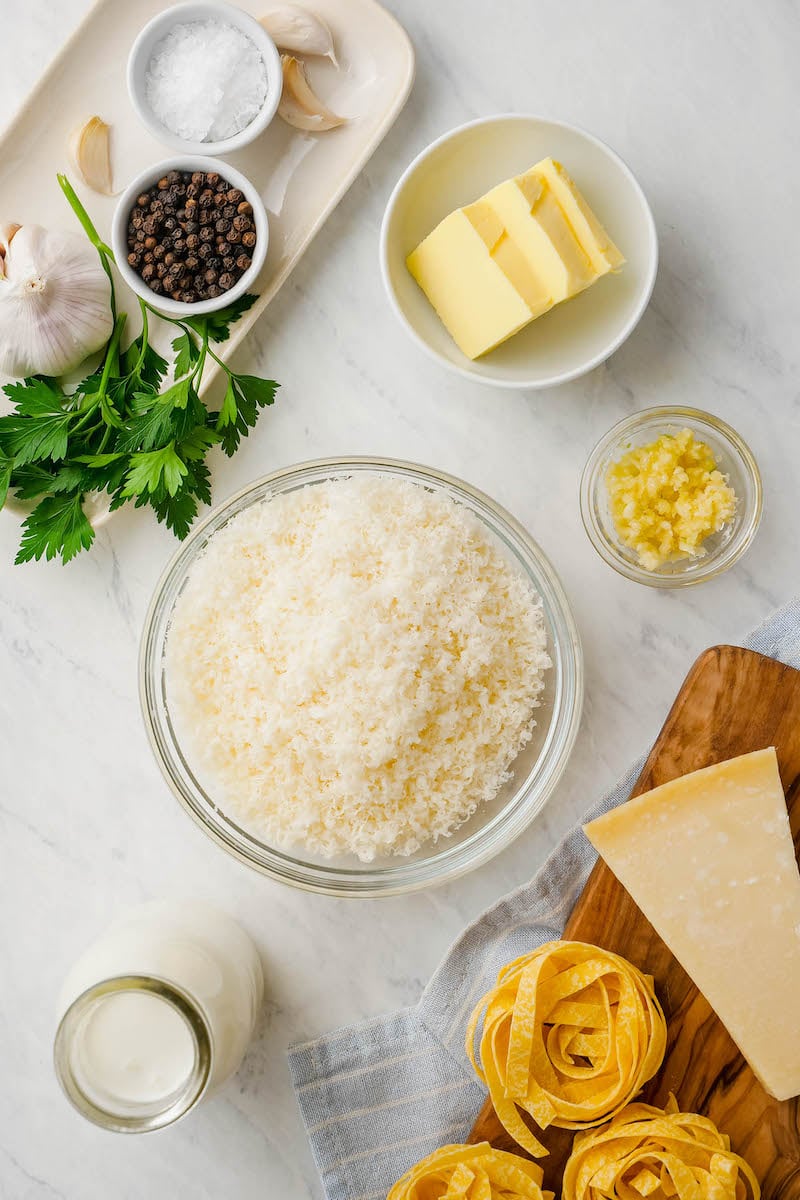 How to Make Alfredo Sauce
You can mix together this homemade Alfredo sauce in just a few easy steps! Remember, it only takes 10 minutes to whip together!
Cook Butter & Cream: Melt butter in a medium saucepan over medium heat. Add cream and bring to a simmer. Cook, whisking often, for 5 minutes.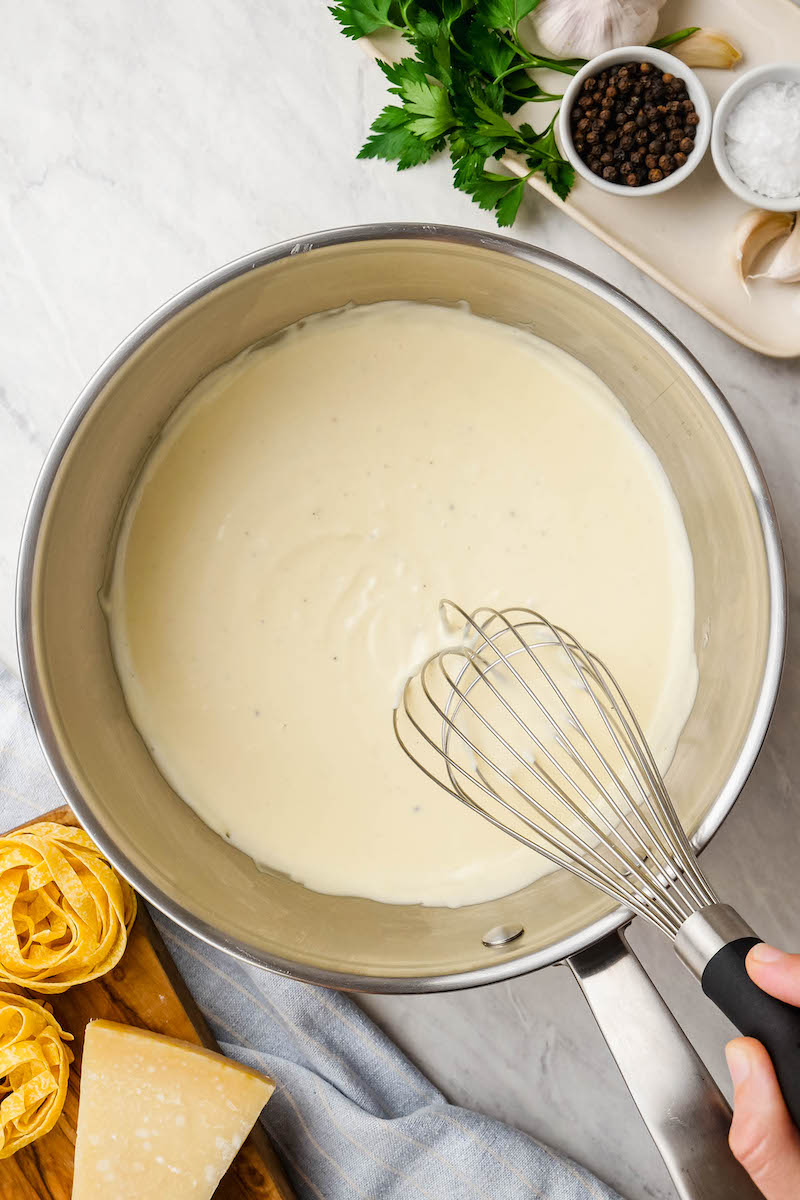 Mix in Garlic & Cheese: Then add garlic, cook for 60 seconds. Add cheese and whisk until melted. When you add the Parmesan cheese, it will thicken this Alfredo Sauce up. If it isn't quite thick enough, allow the sauce to stand for 2-3 minutes before serving to continue thickening.
Season: Add salt and pepper, to taste.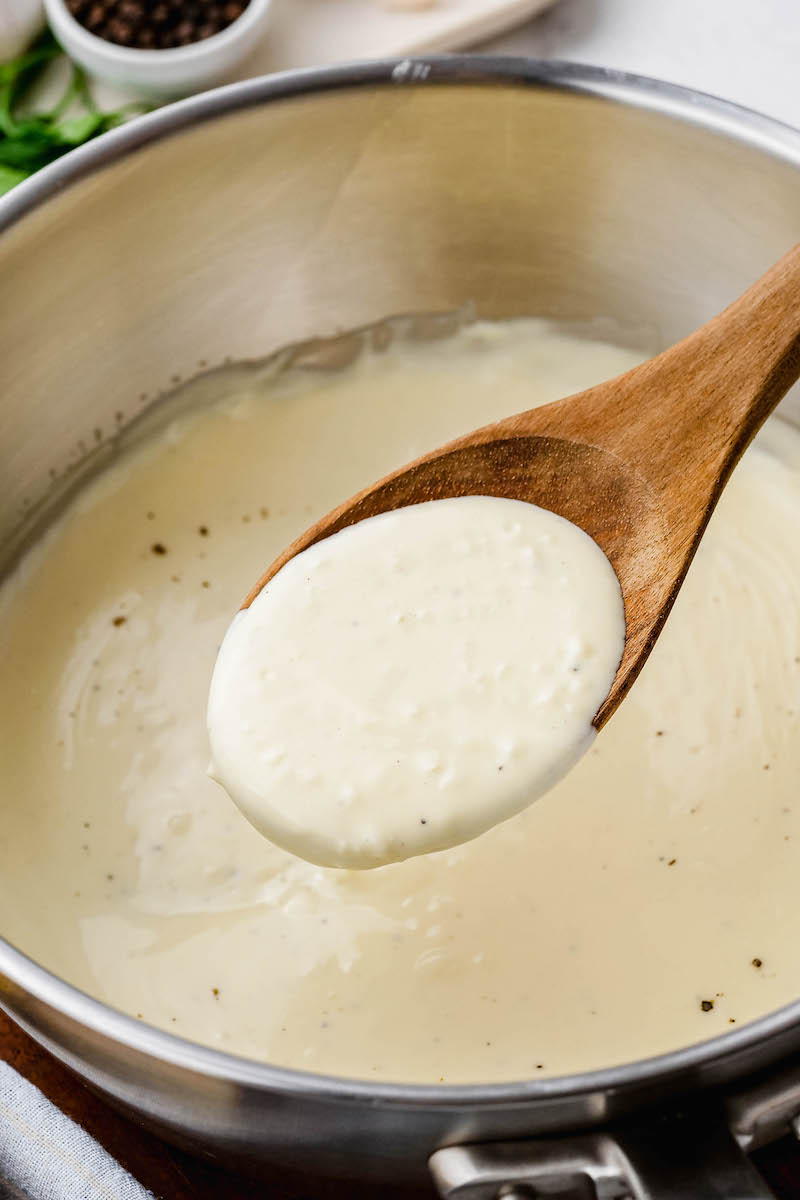 Serve and Enjoy: Toss in your favorite pasta and dinner is served! It really is that easy to make and tastes SO much better than the stuff you can get in a jar.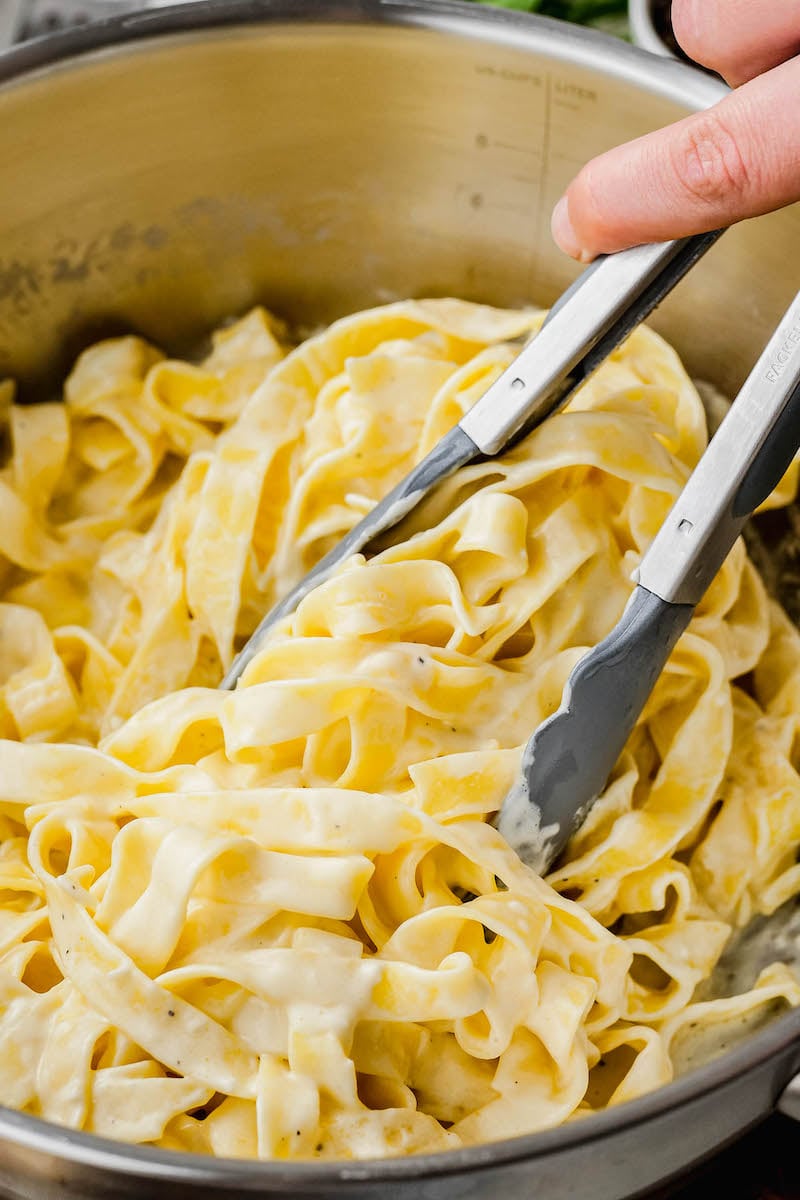 Variation Ideas
The recipe above is a very traditional and classic American Alfredo sauce recipe. Below are alternatives for different style Alfredos depending on your tastes:
Thick, American-Style: For a thicker sauce, add 1 tablespoon of flour to your melted butter and cook, stirring for 30 seconds. Then add cream and continue with the rest of the recipe. This is a very American version of an Alfredo sauce!
Lemon: For a creamy lemon Alfredo sauce, squeeze in the fresh lemon juice when you add the cream. For a slight lemon flavor to give brightness and add a little acid to cut the thick cream, add juice from half of a lemon. For a very lemon-flavored Alfredo, add juice from an entire lemon.
Cream Cheese: Cream cheese is another common swap made in many American home kitchens. It helps to thicken the sauce as well and gives your Alfredo a little more of a tangy flavor. Add 2 oz of cream cheese to the above recipe when you add the heavy cream.
Asiago or Romano Cheese: you can switch up the cheese in your Alfredo Sauce for another hard cheese like Asiago or Romano for a slightly different flavor than traditional parmesan cheese.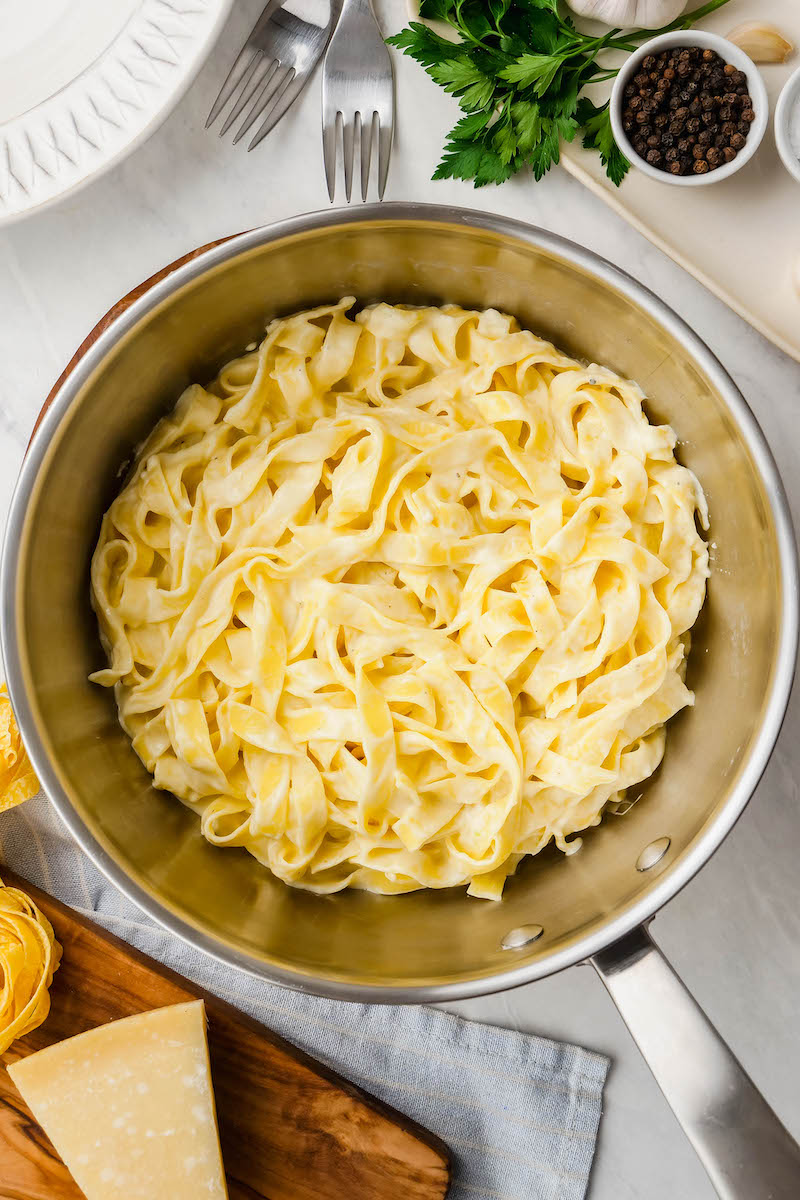 Tips for the Best Alfredo Sauce
If you're having a bad day, this elegant sauce will definitely make it better. It's totally comfort food! Here are some tips on how to get the best results with your Alfredo sauce so you don't stress while making this easy sauce:
To Double the Recipe: This sauce will make enough to throughly coat 8 oz of fettuccine. Double recipe if you are making 16 oz (1 pound) of pasta!
Don't Overheat the Saucepan: Too much heat can burn the butter/garlic and make the cheese clump, so try to keep your heat low and steady as you make this sauce.
Parmesan Cheese: You want to use freshly grated or fresh parmesan cheese, not the kind in the shaker can.
Let the Cheese Come to Room Temp: It will melt faster if it comes to room temperature first, which will ensure that your sauce is relatively smooth.
Use a Whisk: You don't want your sauce to separate, so use a whisk and stir often. This will keep your Alfredo Sauce from separating and stirring it often will keep it from burning.
Taste It! Make sure you taste it before coating your pasta with the sauce. Make sure it has enough salt and pepper for your liking.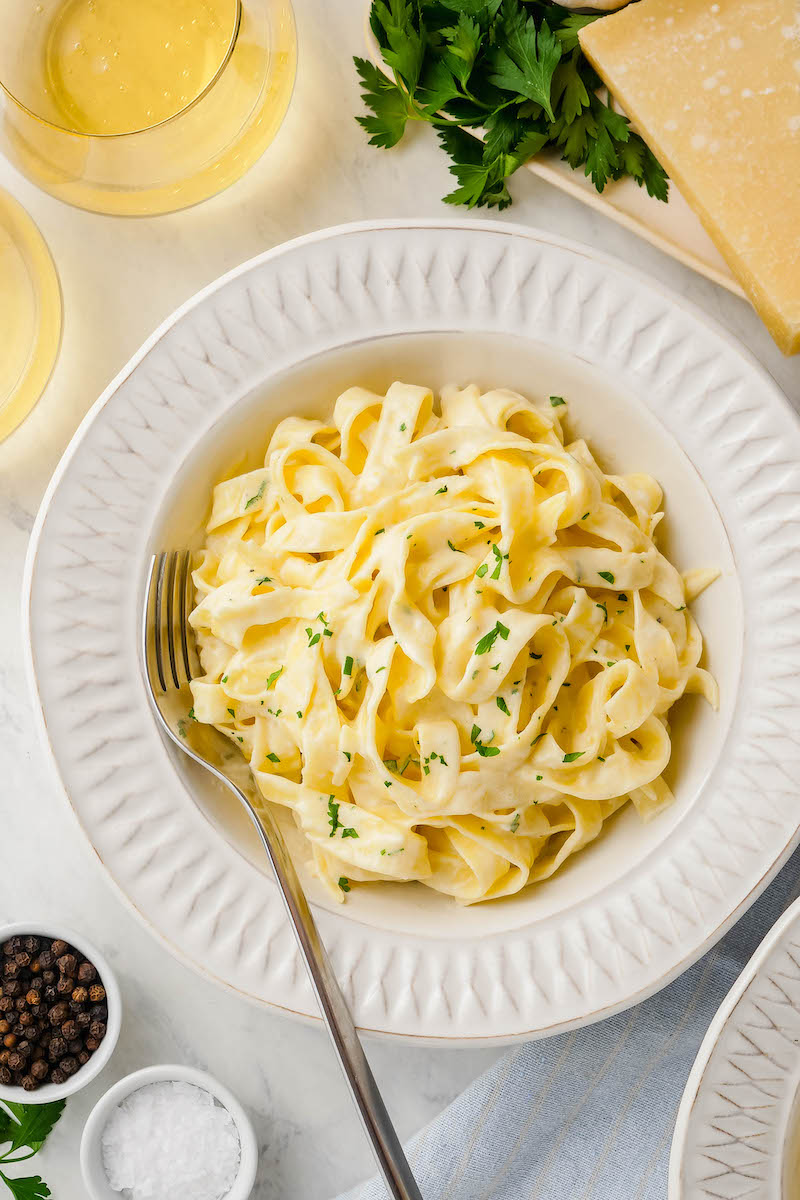 Serving Suggestions
Once you have the sauce, what should you do with it? Here are some ideas to inspire you:
On Pasta: Duh, right? Just pick your favorite: fettuccine, penne, ziti, spaghetti, etc. It's also amazing over stuffed ravioli, of course.
With Meatballs: Here's a recipe for Old School Italian Meatballs that you're sure to love!
Over Chicken: If you've got a pack of chicken thighs or chicken breasts just sitting in your fridge, consider drizzling some of this sauce over them, once cooked!
On Pizza: Alfredo Sauce makes a perfect White Pizza – especially if you top it with some chicken, bacon, or mushrooms.
Is Alfredo Sauce Keto?
YES! Alfredo Sauce is a fully keto approved sauce. You can use it over zooodles (zucchini noodles), spaghetti squash or even drizzled over roasted or steamed vegetables.
Can I Make this Pasta Sauce in Advance?
Absolutely. Make the sauce, let it cool, and then refrigerate it in a jar for a couple of days before enjoying it. I think it's best used on the day it's made, or on the day after, but that's just me!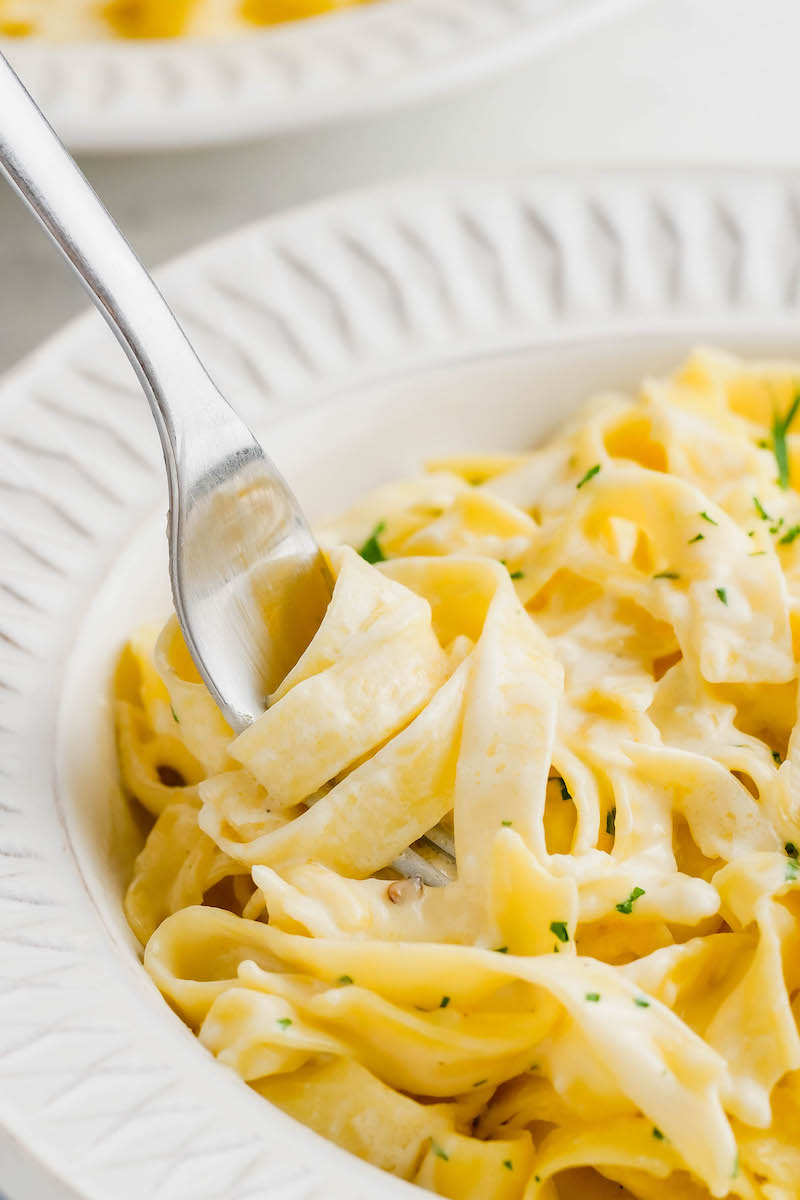 This Homemade Alfredo Sauce recipe is certainly easy, quick and simple to make, but I promise you it is loaded with flavor and is truly the BEST Alfredo Sauce you will ever make!
We have been making it this way for years and love how delicious and versatile it is to what I have in the kitchen already. Just add some pasta of any kind, or even vegetable noodles, and watch how quickly it will disappear off everyone's plates.
Want to make your pasta and Alfredo Sauce all in one pot? I have a great recipe for Instant Pot Chicken Fettuccine Alfredo! It's less traditional, but still delicious!
Yield: Enough to coat 8 oz fettuccine
Homemade Alfredo Sauce Recipe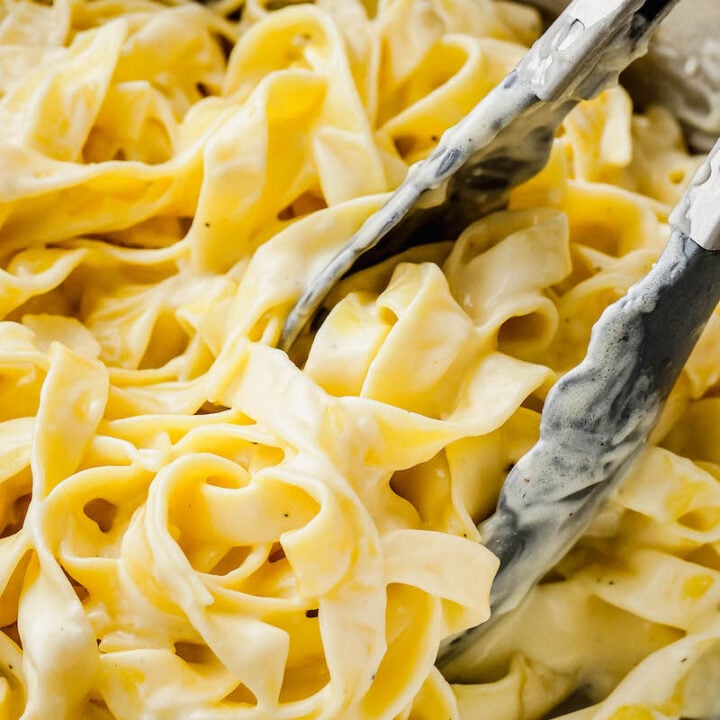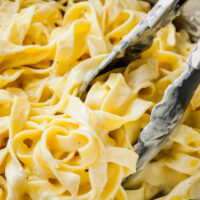 If you're a big fan of classic Italian comfort food, you'll love this Homemade Alfredo Sauce recipe! It uses only 6 ingredients and takes 10 minutes to make and is perfect on anything from fettuccine to chicken to shrimp.
Ingredients
3 tablespoons butter
1 cup heavy cream
4 cloves garlic, minced
1 ½ cups freshly grated Parmesan cheese
Salt and freshly cracked pepper, to taste
Instructions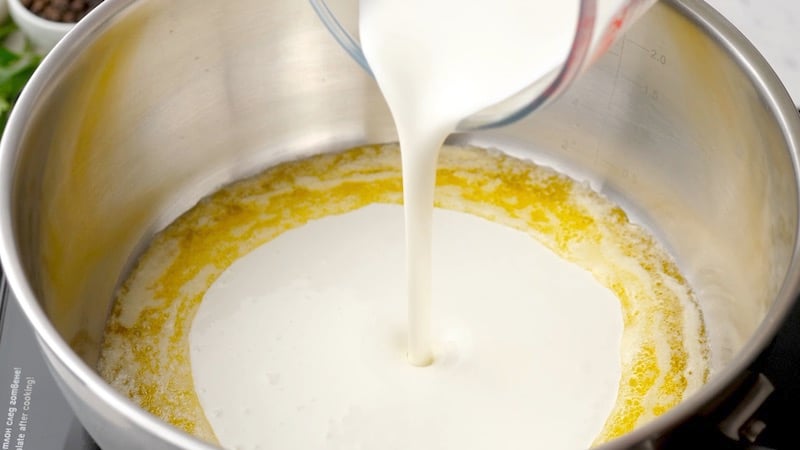 1. Melt butter in a medium saucepan over medium heat. Add cream and bring to a simmer. Cook, whisking often, for 5 minutes.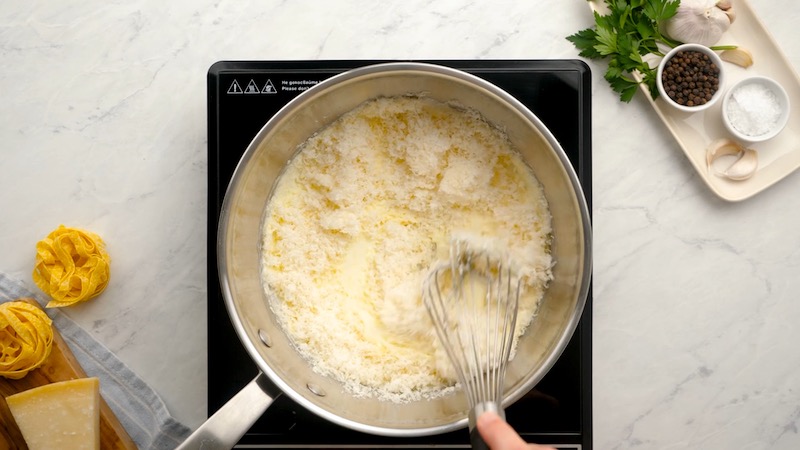 2. Then add garlic, cook for 60 seconds. Add cheese slowly (I recommend doing it in two batches) and whisk until melted. Add salt and pepper, to taste.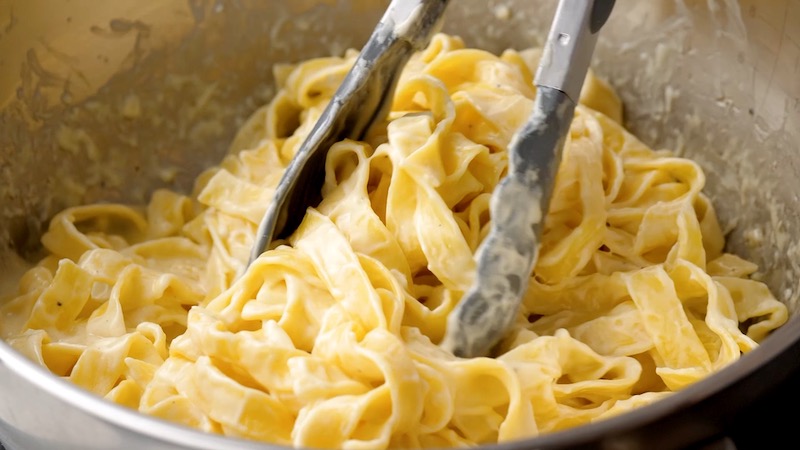 3. Toss in your favorite pasta and dinner is served!
Notes
This sauce will make enough to throughly coat 8 oz of fettuccine. Double the recipe if you are making 16 oz (1 pound) of pasta!
Nutrition Information:
Yield:
4
Serving Size:
1
Amount Per Serving:
Calories:

442
Total Fat:

41g
Saturated Fat:

25g
Trans Fat:

1g
Unsaturated Fat:

12g
Cholesterol:

122mg
Sodium:

907mg
Carbohydrates:

8g
Fiber:

0g
Sugar:

2g
Protein:

13g
Categories
More classic pastas to try
Looking for more easy pasta dinners? Check out some of these:
This post may contain affiliate links. Read my disclosure policy.