Ultra rich and creamy, this irresistible Chicken Broccoli Alfredo Bake is the effortless dinner your meal rotation was missing. Prepared with homemade alfredo sauce, it'll be the only dish on your table for a while.
Why You'll Love This Easy Chicken Broccoli Alfredo Bake
Here are all the reasons why this dish deserves a spot in your meal rotation:
Kids love it. My kids LOVE this dinner and I love that they will all three happily eat it!
Freezer-friendly. Prepped ahead and frozen for a later time, this recipe will save you on a hectic weeknight when you have no time to cook but still need to put something on the table.
Easy clean-up. Made in an oven-safe skillet, this dish goes from straight stove to oven. With pretty much one pan to clean, can you really complain about anything?
Creamy. It's got lots of cream and butter for an absolutely velvety sauce that everyone will love.
Healthy. With lots of broccoli and grilled chicken, this is an easy, healthy weeknight dinner that'll hit all the right spots.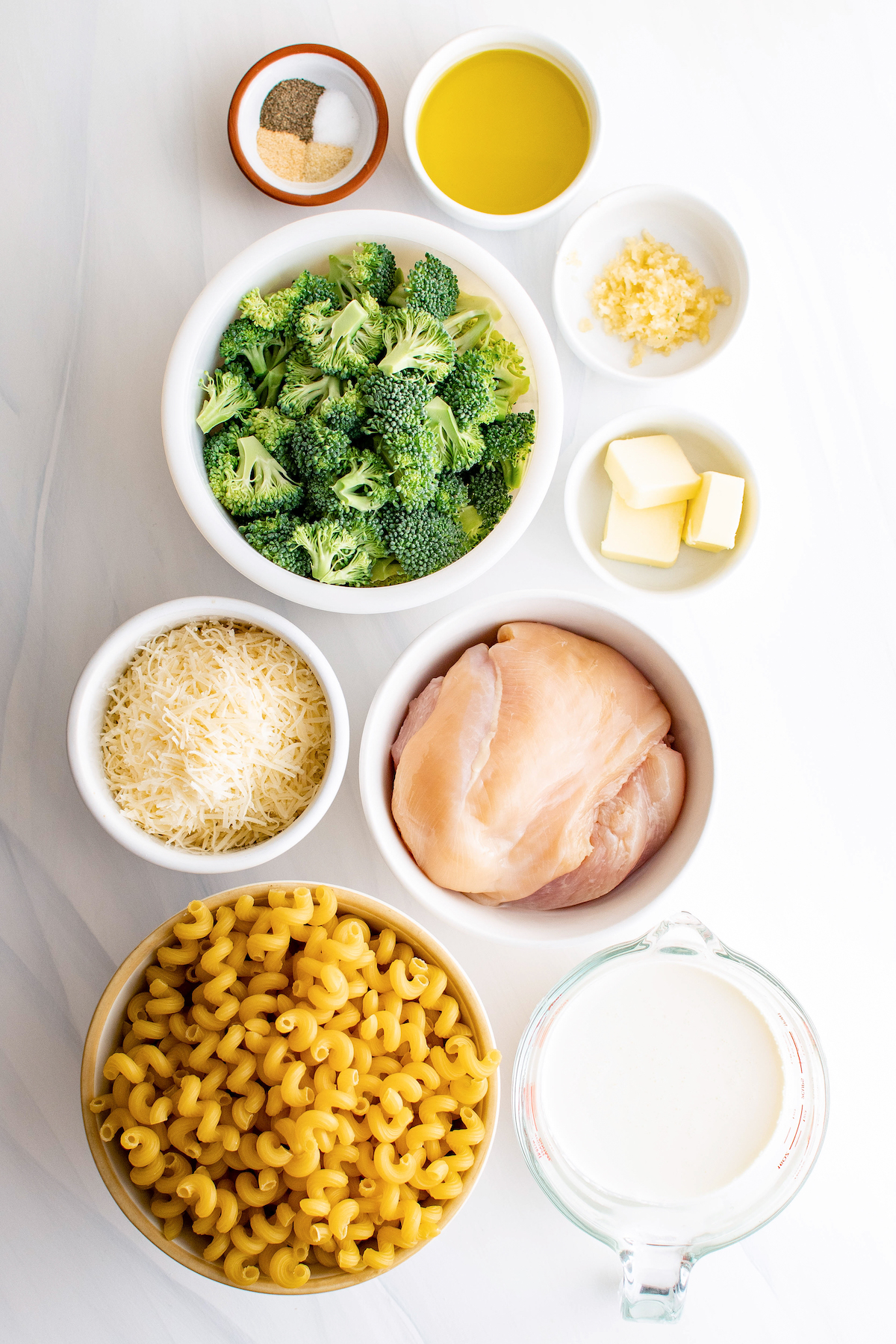 What You'll Need
If you've got chicken, pasta, broccoli, and heavy cream, you're ready to get started. Check the recipe card at the bottom of the post for full ingredient amounts.
For the Chicken and Pasta
Chicken Breasts – Chicken thighs work too, just make sure they are boneless.
Seasonings – The only seasonings you'll need for this dish are salt, pepper, garlic powder, and onion powder.
Olive Oil – Any neutral oil will work!
Butter – If you use salted butter, reduce the salt in the rest of the recipe.
Cavatappi Pasta – I like to use Cavatappi Pasta, but you can use any similar-sized noodle. Penne or ziti are both good substitutes!
Broccoli Florets – I prefer to use fresh broccoli, but frozen will work well in a pinch too.
Parmesan Cheese
Parsley – Feel free to use basil.
For the Sauce
We are going to use the recipe for my very favorite Homemade Alfredo Sauce, but you can also use a store-bought jarred alfredo if you prefer.
Butter
Heavy cream – You can use half & half instead. No sour cream, please.
Garlic – Freshly minced garlic will give you the most flavor. Try not to use garlic that is in oil.
Parmesan Cheese – Using freshly grated parmesan cheese is important! You don't have to grate it yourself, but make sure to buy the kind in the refrigerated section of the grocery store. The grated parmesan cheese in the green can (that is not refrigerated) has preservatives that will thicken your Alfredo sauce too much.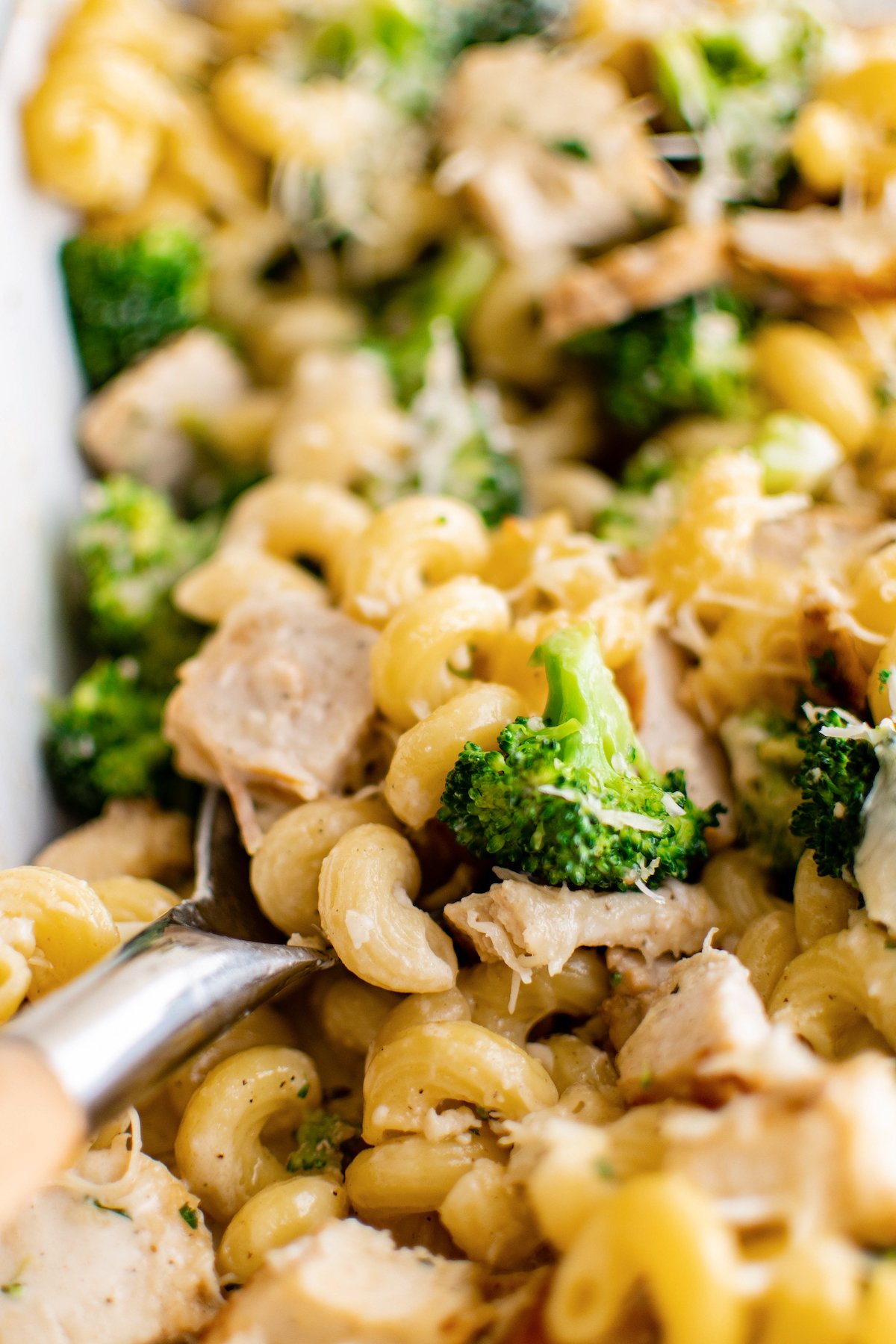 How to Make Chicken Broccoli Alfredo
Once you've tossed everything with the sauce, the oven does the rest of the work for you.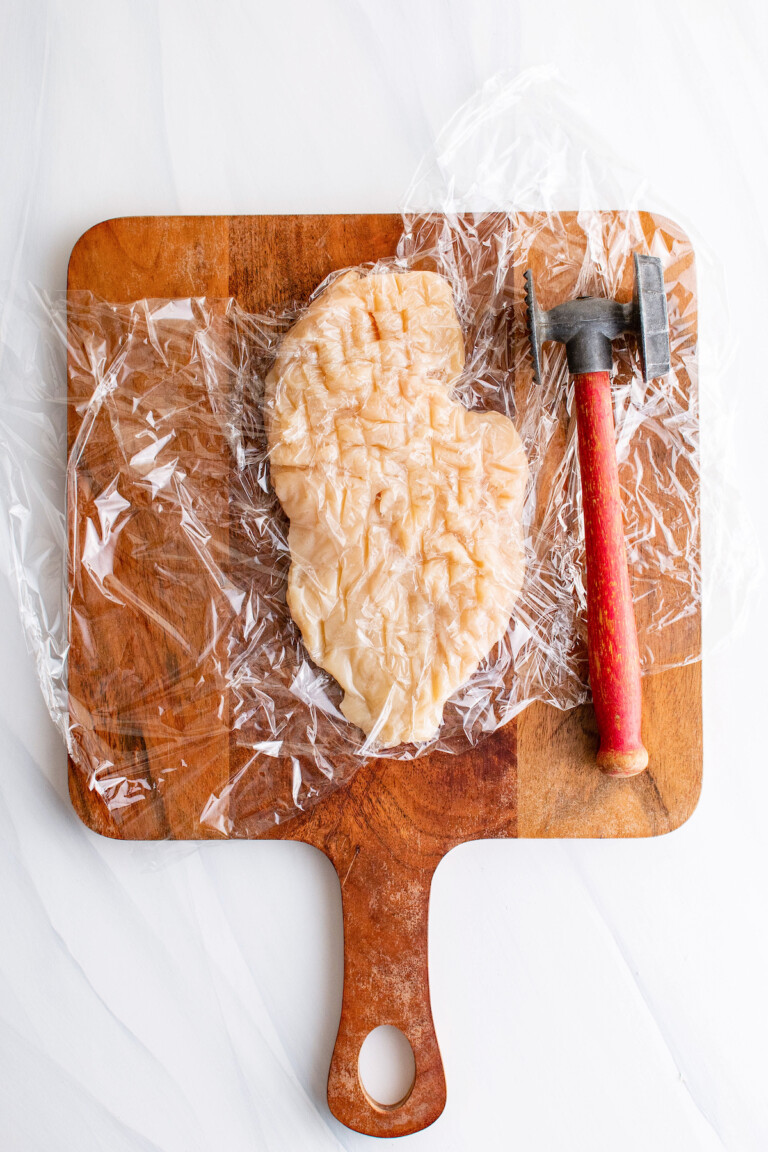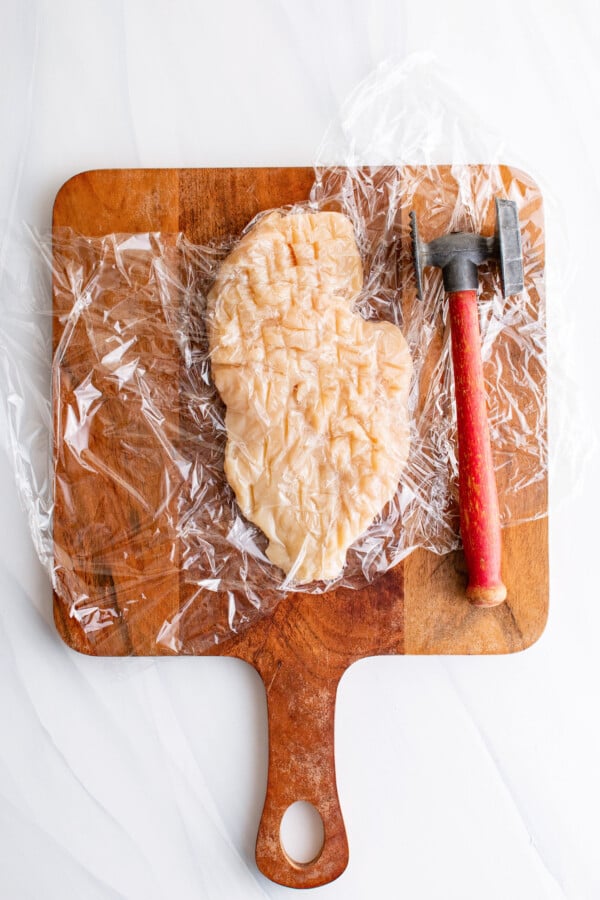 Cook the chicken. Flatten the chicken by beating it with a meat mallet to 1/2″ thick. Season both sides with salt, pepper, garlic powder, and onion powder. Cook in butter and olive oil over medium-high heater for 6-8 minutes per side. Set aside.
Make the alfredo sauce. Melt the butter in the pan and add the heavy cream. Simmer for 3 minutes. Add the garlic, parmesan, salt, and pepper. Cook for 5 minutes until thickened.
Cook the pasta. Cook for pasta for 6 minutes in salted water. Add the broccoli florets and cook for an additional 3 minutes.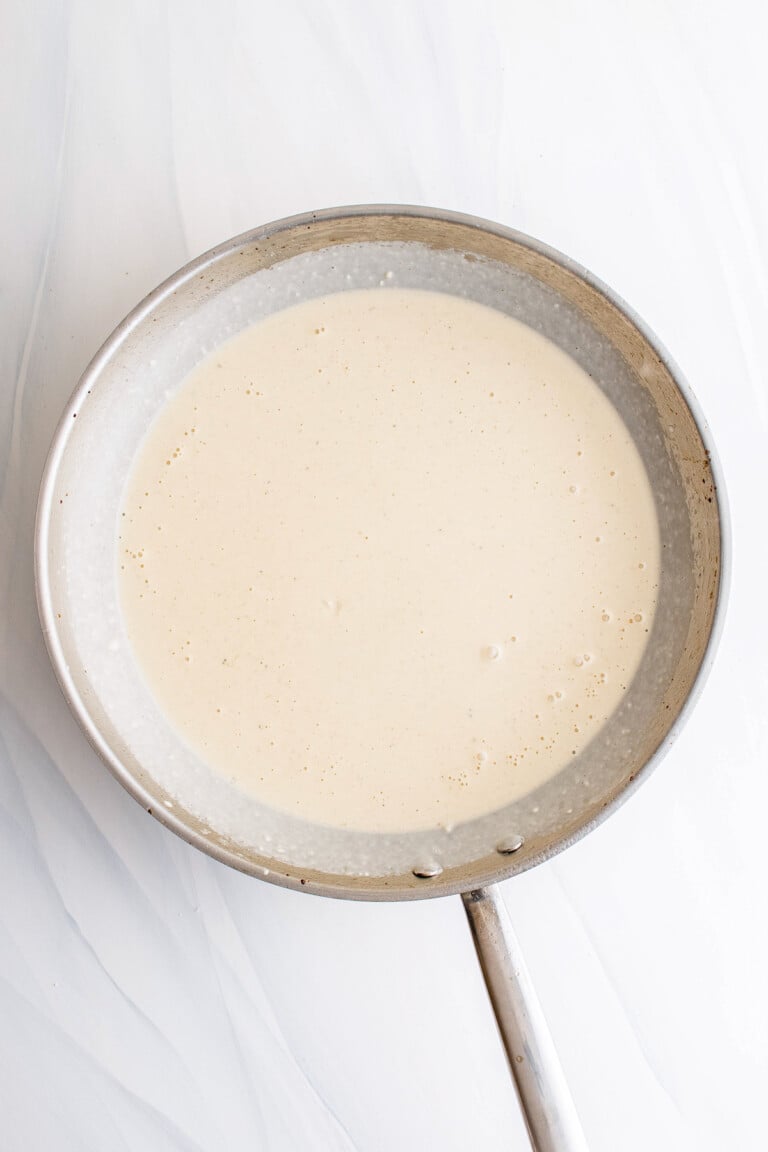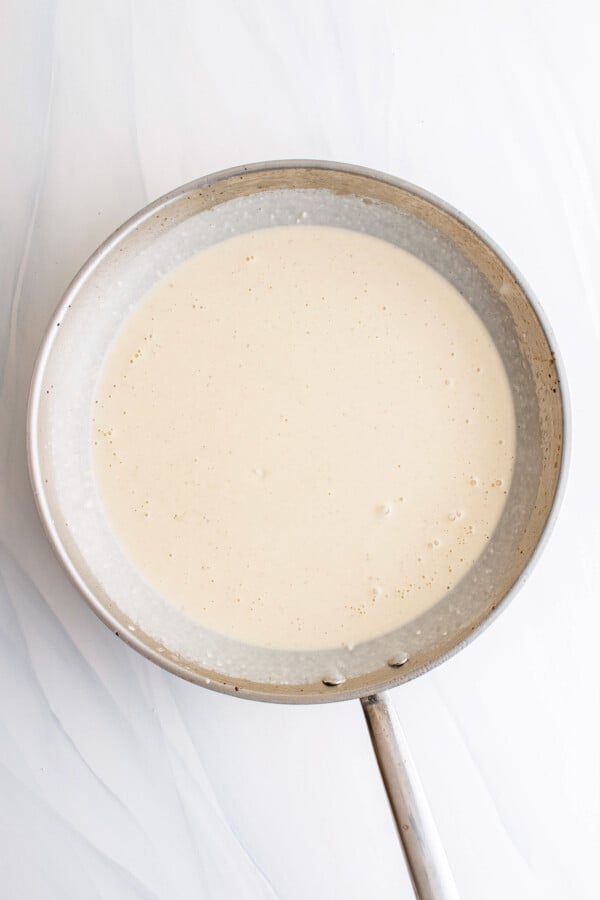 Combine the ingredients. Drain the pasta and broccoli and chop the chicken. Add everything to the saucepan and toss to coat.
Bake. Transfer the mixture to a baking pan, top with parmesan cheese, and bake for 20 minutes. Garnish with parsley and enjoy!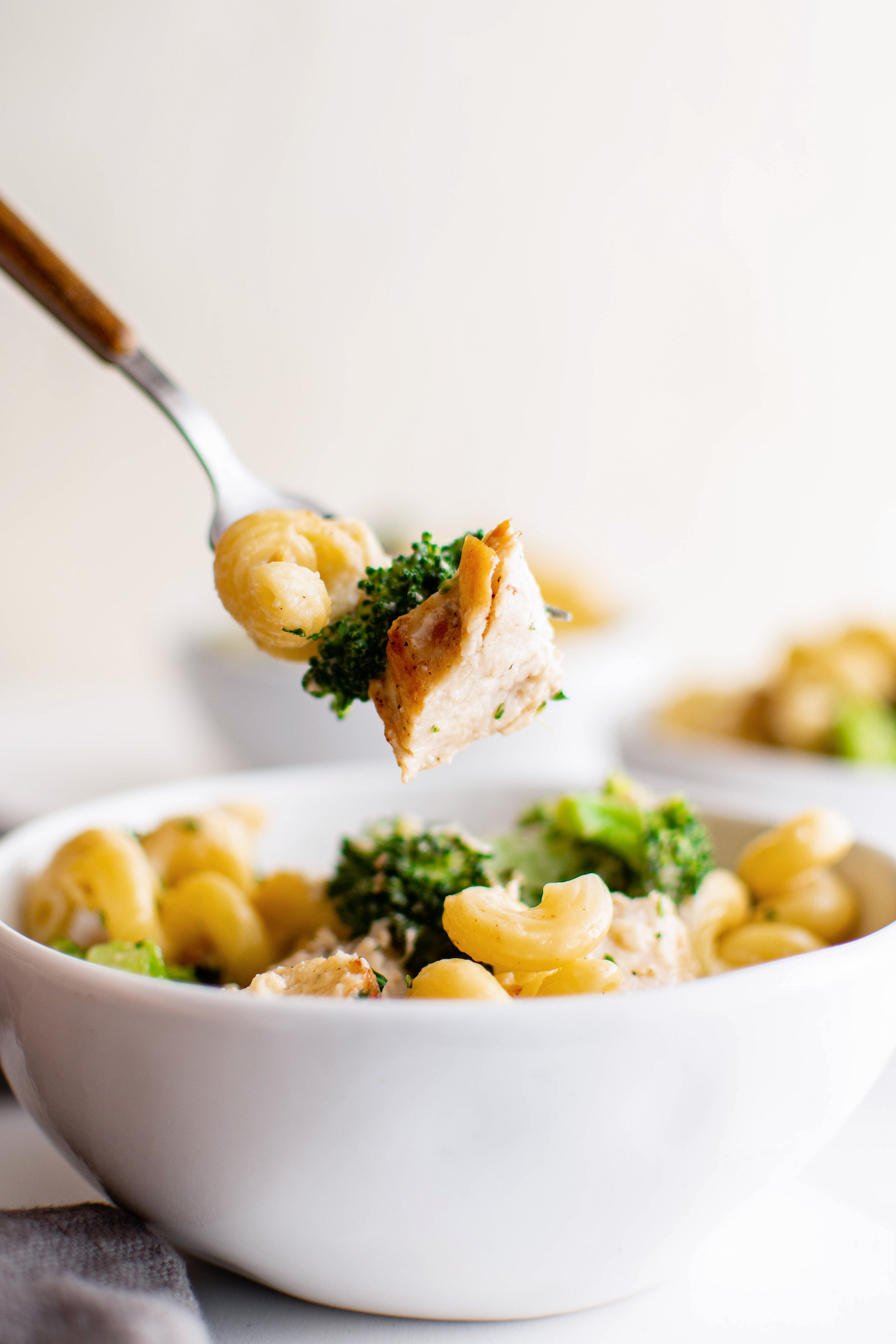 Tips & Variations
This chicken broccoli alfredo bake recipe is so versatile it lets you use turkey and green-bottle parmesan cheese if that's all you've got on hand.
Make it spicy. Adding red pepper flakes or cayenne pepper to taste over the pasta or into the sauce will give this dish some heat.
Use turkey. Grilled turkey is a great alternative to the chicken in this recipe.
Use fresh parmesan. The kind that comes in a green bottle has lots of preservatives and will thicken the sauce too much. If possible, try to use fresh parmesan for best results. If you can't, then adjust the sauce's consistency with more heavy cream.
Use an oven-safe skillet. This will allow you to move the pan from the stove and straight into the oven without needing to use any more dishes or pans.
Swap the pasta. Use whatever short pasta type you have on hand. Penne, ziti, and fusilli are all great options.
Alfredo sauce. If you prefer a creamier sauce, you can do this same recipe with my Alfredo Sauce with Cream Cheese.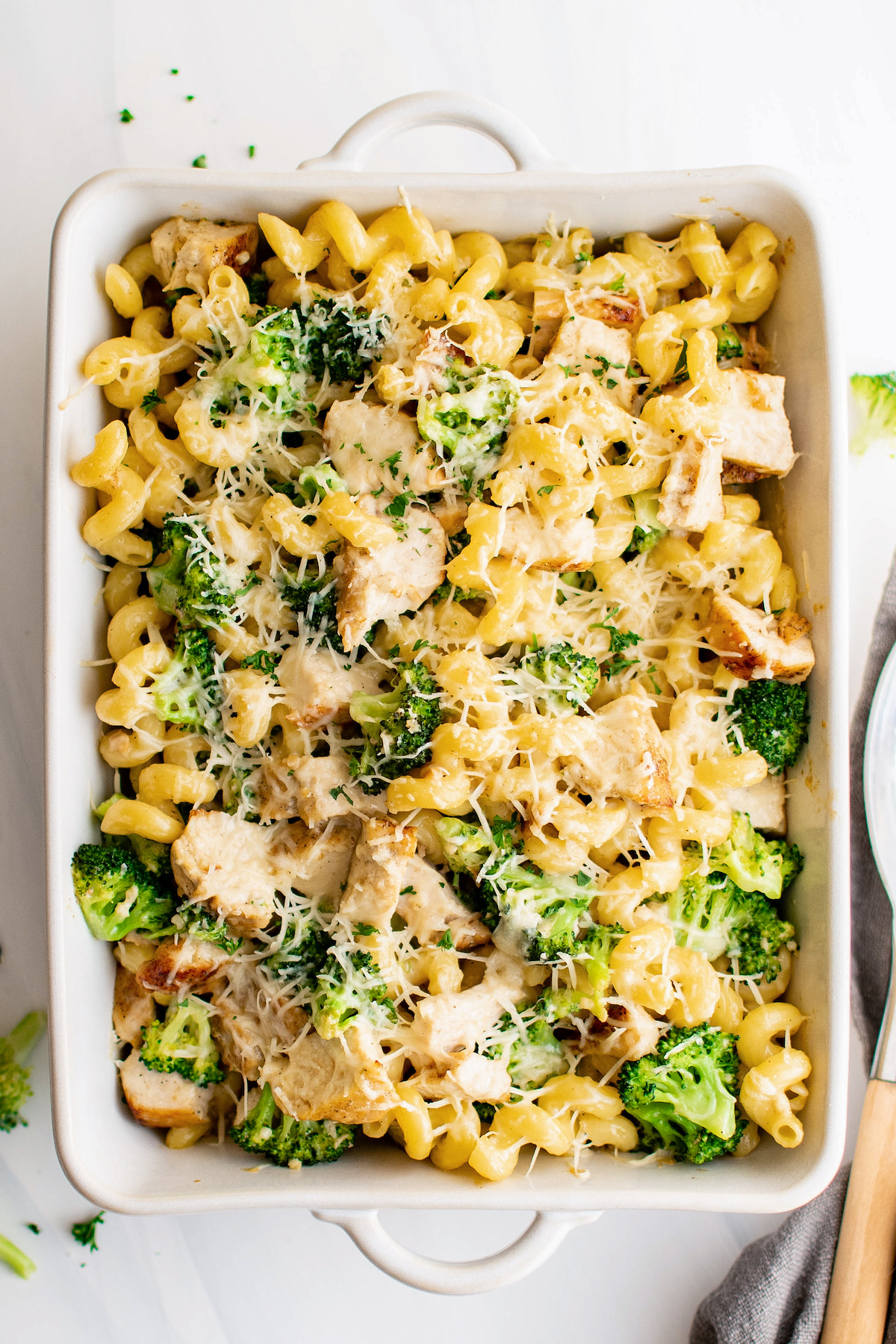 In A Rush?
Looking to save time? Here are a few tips to make this chicken broccoli alfredo bake in half the time:
Rotisserie Chicken: Instead of cooking your own chicken, you can use already cooked chicken and just chop it up into bite-size pieces. You can use a rotisserie chicken or any leftover shredded chicken you have on hand!
Store-Bought Alfredo: Instead of making your own homemade alfredo sauce, you can use a jar of store-bought alfredo sauce. I am an alfredo snob and have tried many store-bought alfredo sauces. While homemade is still my favorite, if I am in a rush, Rao's Alfredo is my favorite version you can buy.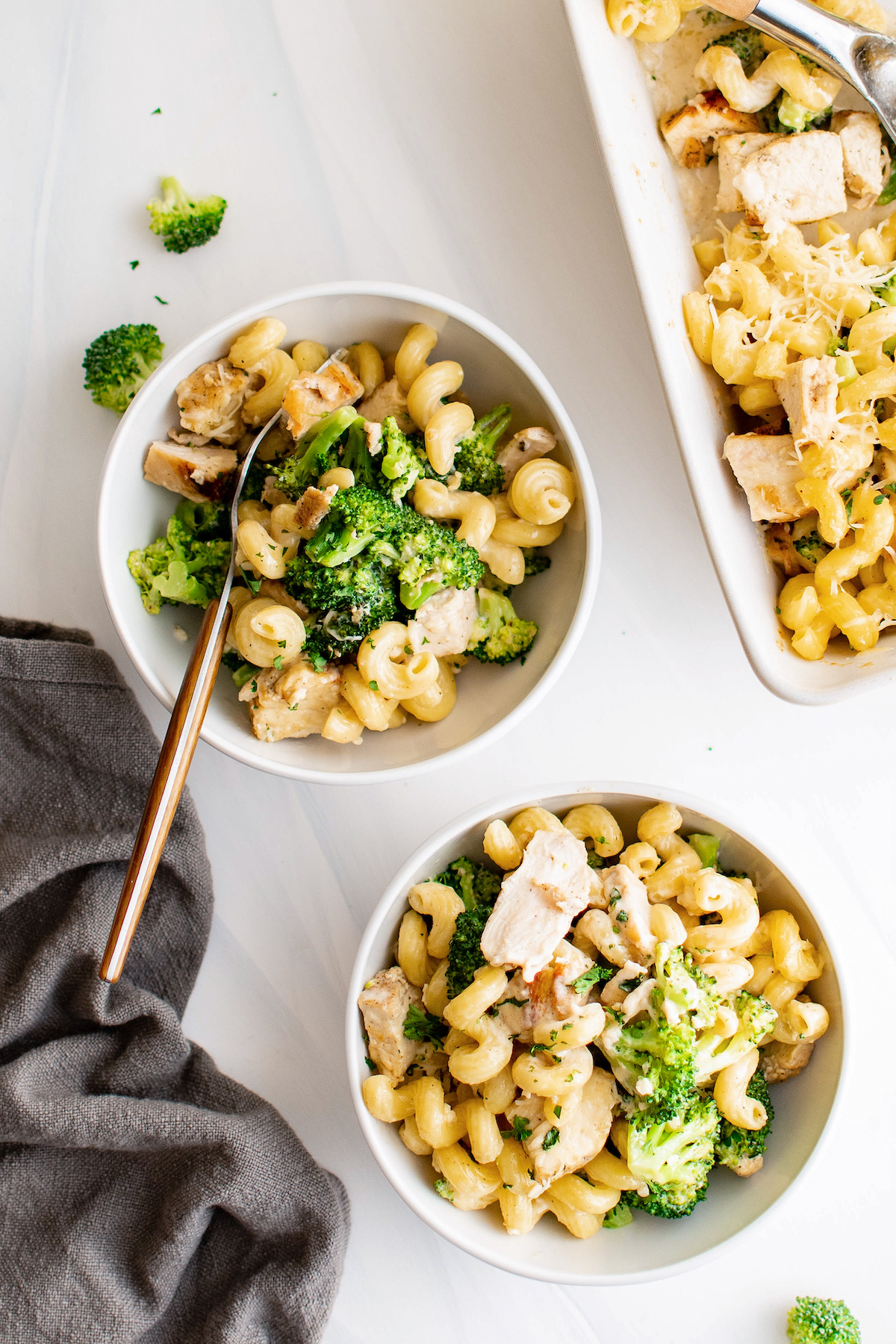 What to Serve With This Chicken and Broccoli Alfredo Bake
Already loaded with pasta and chicken, I like to keep the rest of the meal simple whenever I make this dish. That means no more carbs (except for occasional Dinner Rolls as a special treat) and no more chicken.
For veggie sides, I love my Brussels Sprouts with Balsamic Glaze, Air Fryer Green Beans, and Roasted Mushrooms.
For soup ideas, try my Rosemary Ham and Bean Soup and Vegetable Soup. My Sausage and Kale Soup with White Beans is also a family favorite.
How to Store & Reheat Leftovers
Fridge. Once fully cooled, refrigerate any leftovers in an airtight container for up to 3 days. Keep it away from the heat and sunlight when it's on the counter because chicken and creamy dishes spoil very easily.
Reheat. To reheat it, sprinkle it with 1-2 teaspoons of milk and microwave it for 1-2 minutes or until warm. You can also heat it in a pan over medium heat for 4-5 minutes, stirring occasionally. For larger portions, pop it into the oven at 320 F for 12-15 minutes or until warm.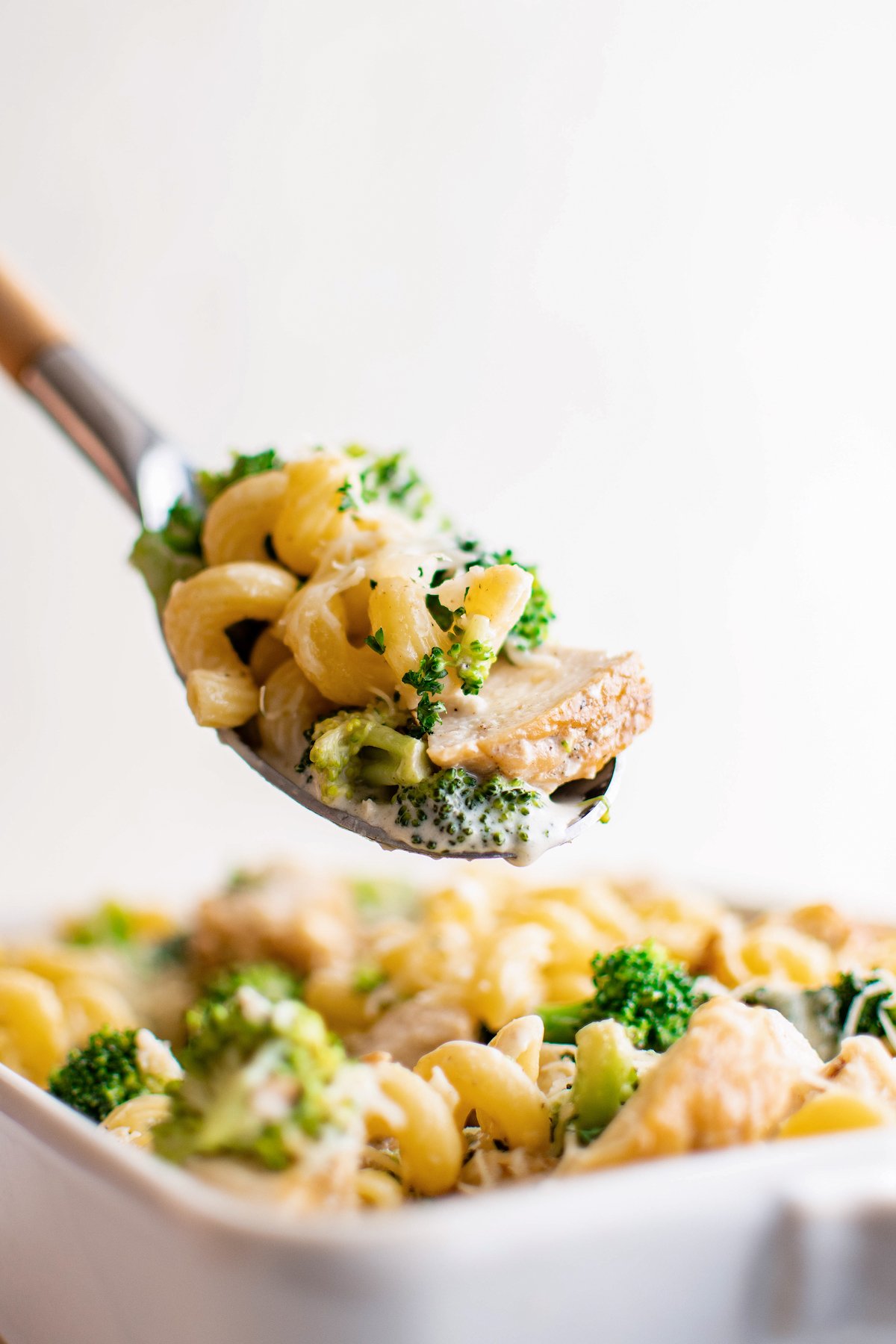 Can I Freeze This?
Absolutely! Assemble the chicken broccoli alfredo bake as usual but don't bake it. Let everything come down to room temperature and then transfer it to a baking dish. Wrap it with foil once and then in plastic wrap twice. Place it inside a freezer-friendly bag too to help prevent freezer burn.
Freeze it for up to 6 months. Move it into the fridge a night before serving so it has enough time to thaw. Bake it as usual and enjoy.
More Easy Pasta Recipes
Chicken Broccoli Alfredo Bake
Ultra rich and creamy, this irresistible Chicken Broccoli Alfredo Bake is the effortless dinner your meal rotation was missing. Prepared with homemade alfredo sauce, it'll be the only dish on your table for a while.
Ingredients
For the Pasta
2

pounds

boneless skinless thinly sliced chicken breasts

½

teaspoon

salt

½

teaspoon

ground black pepper

½

teaspoon

garlic powder

½

teaspoon

onion powder

2

tablespoons

olive oil

2

tablespoons

butter

8

oz

cavatappi pasta,

ziti or penne also work

3

cups

broccoli florets

1

cup

freshly grated parmesan cheese

Parsley

,

optional garnish
For the Alfredo Sauce
3

tablespoons

butter

1

cup

heavy cream

4

cloves

garlic

,

minced

2

cups

freshly grated parmesan cheese
Instructions
Preheat your oven to 350°F.

Place the chicken between 2 sheets of plastic wrap on a cutting board, smooth side down, then pound the thick side of each chicken breast with a meat mallet until the chicken is 1/2" thick.

Season both sides of the chicken breasts with salt, pepper, garlic powder, and onion powder.

In a large skillet, heat the butter and olive oil over medium-high heat, add the seasoned chicken breast and cook for 6-8 minutes on each side, or until the internal temperature reaches 165°F. Remove the chicken from the pan and set it aside to rest.

In the same pan, melt the butter, add the heavy cream and bring to a simmer for 3 minutes, stirring occasionally.

Next add in the garlic, 1 1/2 cups parmesan cheese, salt, and pepper to taste and cook for an additional 5 minutes or until the sauce is thick and has reduced.

Bring a large pot of salted water to a boil and cook the pasta for 6 minutes, then add the broccoli florets to the pot and simmer for 3 more minutes.

Drain the pasta and broccoli and add them to the sauce pan. Chop the chicken and add to the skillet and toss to coat all the ingredients in the sauce.

Transfer the chicken broccoli alfredo to a 9×13" baking pan and sprinkle 1 cup of parmesan cheese on top.

Bake for 20 minutes, or until the cheese is golden and bubbly, then garnish with freshly chopped parsley and serve.
Nutrition
Serving:
1
,
Calories:
1030
kcal
,
Carbohydrates:
40
g
,
Protein:
65
g
,
Fat:
69
g
,
Saturated Fat:
37
g
,
Polyunsaturated Fat:
25
g
,
Trans Fat:
2
g
,
Cholesterol:
266
mg
,
Sodium:
1882
mg
,
Fiber:
5
g
,
Sugar:
4
g
Categories:
This post may contain affiliate links. Read my disclosure policy.