The Best Green Bean Casserole Ever: this winning recipe is made from scratch with fresh green beans, mushrooms, heavy cream and no cans of cream of anything!
This is THE BEST GREEN BEAN CASSEROLE. Ever. I promise, I don't say that lightly. Just read the reviews below — so many people have made and loved this recipe. So many readers have loved it so much, that it now shows up yearly on their Thanksgiving table!
Every Thanksgiving, since I became a teenager, I was in charge of two things: Green Bean Casserole and putting the marshmallows on top of the loaded sweet potatoes.
Sometimes my cousins would help with the marshmallows — half of them would make it in our bellies and the other half would make it onto the sweet potatoes. But the Green Bean Casserole was somehow all my responsibility.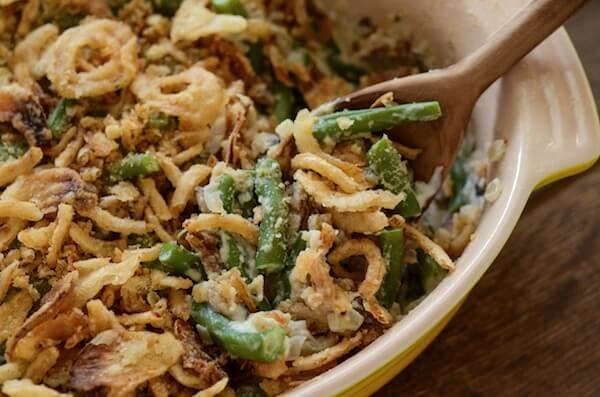 I don't know why it happened or how, but one year it just became my thing. It wasn't a special recipe we made…just a few can of green beans, can of cream of mushroom and those delicious crispy fried onions. Yet each year my Mom called me to come make it.
I didn't actually get into cooking until I moved out of my parents house and had to fend for myself. Then I got married and, as you all know, the rest is history. As the years have gone by, this Green Bean Casserole changed a lot. I experimented with different ingredients and different styles of making it.
This is now the best ever green bean casserole recipe and it is the ONLY recipe we have made it since 2010! It is tried and true and always perfection!