Sweet creme brulee meets creamy cheesecake in this easy recipe for Creme Brulee Cheesecake. It's made with a 3-ingredient raspberry sauce that you'll want to eat by the spoonful!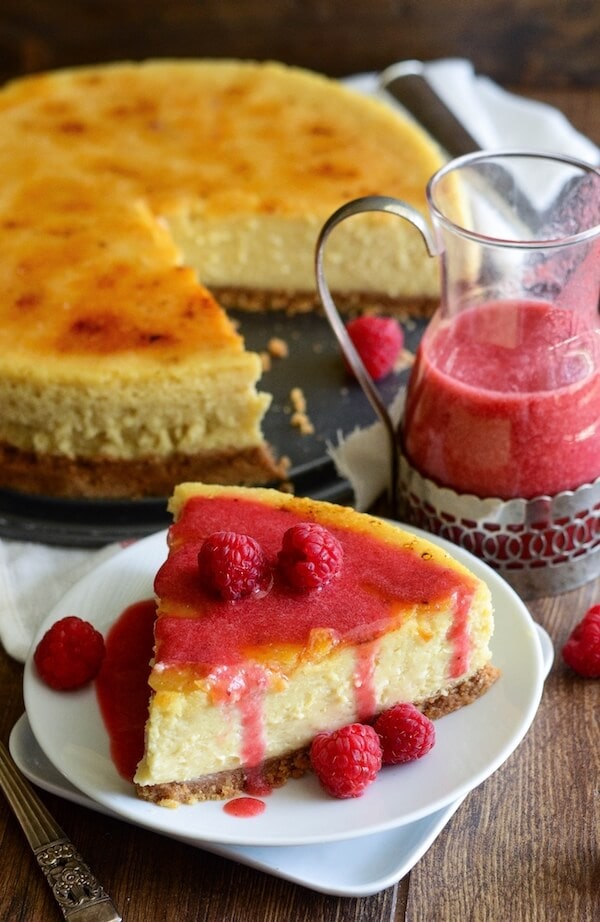 Creme Brulee Cheesecake with Homemade Raspberry Sauce
Y'all. LOOK AT THIS CHEESECAKE. Isn't it glorious? Well, guess what? I didn't make it! That's right, my friend Kerri made this glorious Crème Brûlée Cheesecake. It was so amazing, that I convinced her to make it again, let me take pictures of it and share the recipe with all of you!
Y'all are probably wondering why I didn't make it again myself to take pictures…well, confession time…I hate making true cheesecakes. I absolutely love eating them, but I do not like making them. I just don't have the patience for it…I only make no-bake cheesecakes! And I am so thankful to Kerri because otherwise this cheesecake would only live in my memories!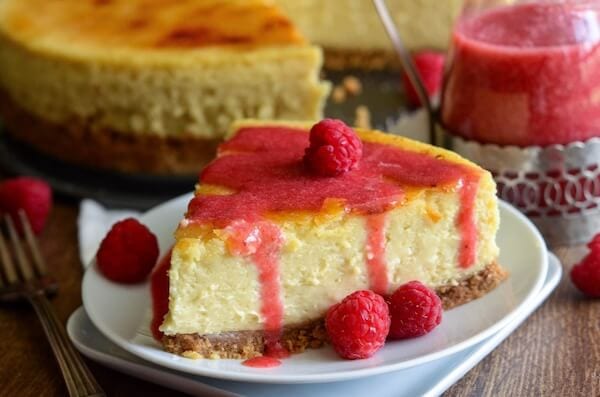 This cheesecake was so good I am convinced she filled it with crack. Then she told me it had caramel extract and 10 egg yolks and I started to understand my obsession. It's so dang creamy and full of my favorite crème brûlée and caramel flavors.
It has a classic graham cracker crust with a caramel crème brûlée cheesecake. You then top it with sugar that you torch until it is perfectly crisped on top just like a classic crème brûlée. To finish it off, you top it with a drizzle of raspberry sauce!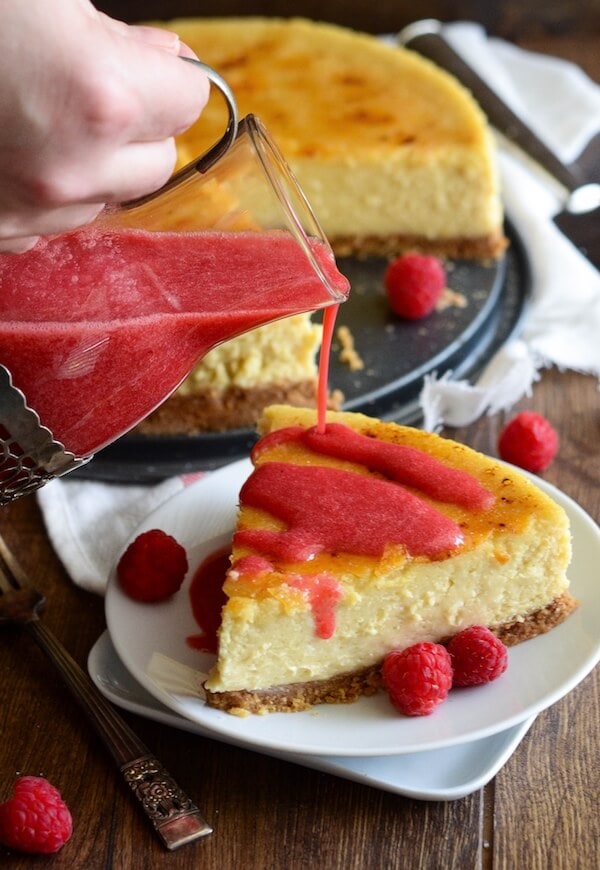 The hardest part about this cheesecake is the overnight wait, but you truly have to wait for it to set up completely, which takes 12 hours. So make sure if you are planning this for a party, you give yourself plenty of time between when you make it and when you plan on serving it. I promise you are going to love it!
Recipe Note: You absolutely need a kitchen torch to brûlée the sugar on top of the cheesecake. Do not put this cheesecake under the broiler in place of a kitchen torch — the cheesecake will melt! You will also need a springform pan to bake the cheesecake in and a roasting pan to create the water bath.
Crème Brûlée Cheesecake
Sweet creme brulee meets creamy cheesecake in this easy recipe for Creme Brulee Cheesecake. It's made with a 3-ingredient raspberry sauce that you'll want to eat by the spoonful!
Ingredients
For the Graham Cracker Crust
14

honey graham crackers

2

tablespoons

granulated sugar

¼

teaspoon

salt

6

tablespoons

butter

,

melted
For the Creme Brulee Cheesecake
3

8 oz packages cream cheese, room temperature

1 ⅓

cup

granulated sugar

2

teaspoons

caramel extract

1

teaspoon

vanilla extract

¼

teaspoon

salt

1 ½

cups

heavy cream

10

large egg yolks

,

yes, 10!

granulated sugar

,

for the topping
For the Raspberry Sauce
10

ounces

fresh raspberries

,

frozen will work too

2

tablespoons

sugar

1

teaspoon

lemon juice
Instructions
Make the Crust

Preheat the oven to 350°F. Prepare a 9-inch springform pan by layering outside bottom of pan with several squares of aluminum foil. The foil will help prevent water from breaching the springform pan during the water bath process. Place the springform pan into a deep roasting pan. Set aside.

Using a food processor, crush graham crackers into fine crumbs. Add sugar, salt, and melted butter. Mix to combine. Transfer crust mixture into bottom of the springform pan and press into an even layer. I used the bottom of a glass to help achieve an even well-compacted layer.

Bake for 10 minutes. Remove and let cool. Once crust is removed from oven, lower the temperature to 325°F.

Make the Cheesecake

In a large bowl or stand mixer, add the cream cheese and mix for several minutes until smooth and no chunks remain, scraping sides and bottom of bowl several times. Add sugar, caramel extract, vanilla extract, and salt. Mix for another 2-3 minutes until fully incorporated.

Next, add the heavy cream to a small pot. Heat over medium-low heat until cream is steaming, making sure not to let it boil. Meanwhile, add egg yolks into separate mixing bowl. Whisk yolks for about 2 minutes or until pale in color.

Strain the heated cream to remove impurities. Slowly add 1/4 cup of the heated cream to your yolk mixture, whisking constantly. Whisk until completely incorporated. This step is extremely important to help ensure that the eggs are properly tempered.

Next, once the cream has been incorporated with the egg yolks, slowly drizzle the egg/cream mixture into cream cheese and mix by hand to prevent mixture from overflowing the bowl. Since this is a crème brûlée based cheesecake, the mixture will be runny.

Pour the batter into the prepared crust. Next, add hot water to the roasting pan until roughly half way up the springform pan. Be careful while transferring the roasting pan to the oven that you don't splash water into the cheesecake.

Bake for 1 hour and 30 minutes — until the center barely jiggles. It will continue to set as it cools. If the cheesecake begins to brown at the end, turn off the oven.

Next, remove the roasting pan from the oven and let the cheesecake sit in the water bath until it cools to room temperature. This should help prevent the cheesecake from cracking. Once the cheesecake has cooled, cover with plastic wrap and refrigerate overnight.

Make the Sauce

Next, add raspberries, sugar and lemon juice into food processor or blender. Puree until well combined, this will take 1-2 minutes. Once smooth, run the mixture through a fine mesh strainer to remove most of the seeds. The mixture will be slightly thick, to help it strain quicker, I place the strainer over a medium bowl and stir to help push it through.

If you prefer the sauce thinner, you can add water to thin it out until you reach your desired consistency. No more than 1-2 tablespoons at a time.

Assemble & Serve

When ready to serve, carefully unlock the springform pan and sprinkle sugar all over the top of each piece. The brûléed topping will not stay hard in the fridge, so it's easier just to brûlée one piece at a time….unless you are serving the entire cake, then go ahead and do the entire cake at once.

Use your torch to brûlée the sugar you added to the top, being careful not to burn it. DO NOT PLACE UNDER BROILER – this will melt the cheesecake, you must use a kitchen torch!

Keeping the torch constantly moving will help prevent the sugar from scorching. Let the cheesecake sit for a minute while the sugar hardens then top with raspberry sauce and enjoy!
Nutrition
Serving:
1
,
Calories:
628
kcal
,
Carbohydrates:
68
g
,
Protein:
12
g
,
Fat:
35
g
,
Saturated Fat:
19
g
,
Polyunsaturated Fat:
14
g
,
Trans Fat:
1
g
,
Cholesterol:
333
mg
,
Sodium:
441
mg
,
Fiber:
3
g
,
Sugar:
51
g
Categories:

This post may contain affiliate links. Read my disclosure policy.