I want this cheesecake. I want this cheesecake BAD. I don't mean in that "I have a craving" way, I mean this in the "do I have enough coconut in my pantry to make this right now?!" kinda way. I could go on and on and on about my girl crush on Jaclyn (of Food Plus Words) again, but I figured you have probably already heard enough of my gushing. It's all still true, but this time Jaclyn is here to show you how amazing she is. I am so excited she joined us for the Foodie Block Party! She is awesome, this cheesecake is phenomenal, and these dark moody cheesecake photos are gorgeous. So please, take it away Jaclyn!
P.S. While I still love you, the fact that you don't love cheese is making me question our friendship.
P.S.S. Meet me back here on Wednesday. I am bringing pancakes. :-D
_ _ _ _ _ _ _ _ _ _ _ _ _ _ _ _ _ _ _ _ _ _ _ _ _ _ _ _ _ _ _ _ _ _ _ _ _ _ _ _ _ _ _ _ _ _ _ _ _ _ _ _ _ _ _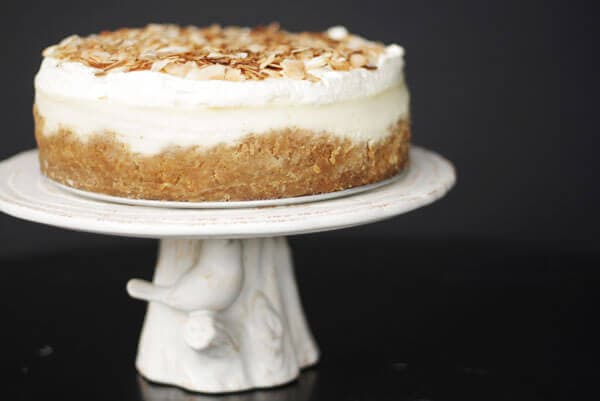 Happy Tuesday, Novice Chef readers!
Jaclyn from food + words here! When Jessica asked for guest posters on her blog, I jumped at the chance to get in on the Foodie Block Party. I'm so excited to share one of my recipes here with you all today!
I first met Jessica this past April at Food Blog Forum Orlando, and we hit it off right away. We got to chatting at the pre-conference mixer when I noticed that she was wearing a dress that I also own, so right off the bat I knew she had great style! We also happen to have the same style of side-swept bangs (though mine are a bit less cooperative and unruly than hers!), our websites were both designed by the same fabulous lady, and we both love to laugh and be totally random.
Needless to say, Jessica and I became fast friends. We spent loads of time together at BlogHer Food in Atlanta in May, and just a couple of weekends ago we frolicked around Disney with a couple other wonderful food bloggers on a cupcake crawl. I think we make a pretty good team, like a dynamic duo or something equally magical.
Enough waxing poetic about my undying love for Jessica, let's talk about cheesecake!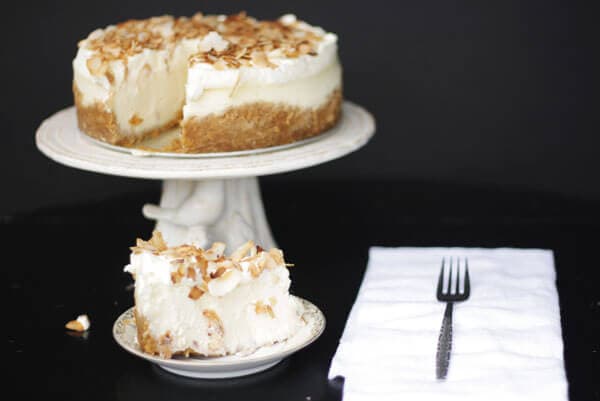 Funny story: I don't like cheese, at all. I know, I'm a total weirdo. The way I see it, I'm actually doing the rest of the world a favor by disliking cheese; there's more for everyone else to eat! You're welcome, America.
Funnier story: I may not like cheese, but I absolutely love making cheesecake! Again, I'm aware how much of a weirdo I am.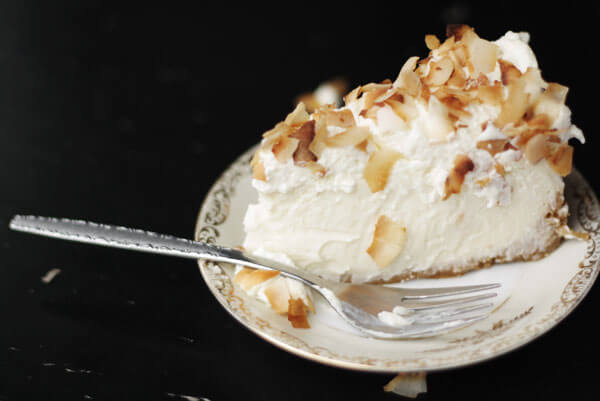 Maybe it's the fact that cheesecake is endlessly versatile, able to take on millions of different flavors. Perhaps I'm fond of whipping up cream cheese and sugar, transforming it into an ultra-smooth, luxurious custard-like filling. Maybe I just like baking things in a water bath. We'll never know.
A lot of people are intimidated to make cheesecake at home. They're afraid of burnt tops and cracked surfaces; runny fillings and soggy crusts. But fear not, friends! Making a perfect cheesecake is a lot easier than you might think, and once you've made one yourself, you'll never want to fork over a bunch of cash for a store-bought one again!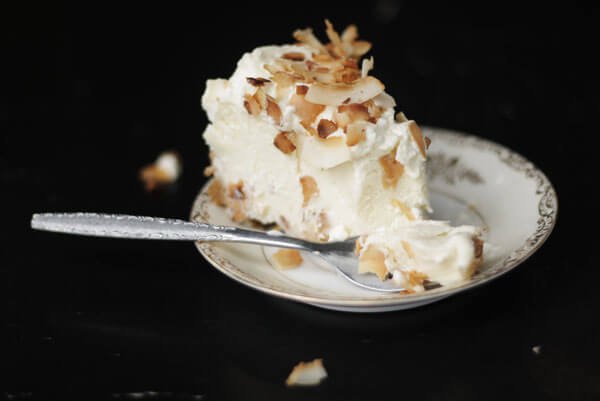 If summer had a flavor, it would probably taste a lot like this triple coconut cheesecake. There's shredded coconut in the crust, coconut milk and extract in the cheesecake and whipped cream, and its topped off with large flakes of toasted coconut. This cheesecake is essentially a coconut lover's dream!
Want to know a secret? Cheesecake freezes beautifully, and tastes amazing right out of the freezer! If you're looking for a delicious way to beat the summer heat, insert popsicle sticks into cheesecake slices, freeze, and serve. If you're the sharing type, this move will make you a very popular person.
This triple coconut cheesecake is pretty much amazing in every way possible, and I know you're going to love it. In fact, I think you'll go coconuts for it! Get it? Coconuts? Nuts? Bueller?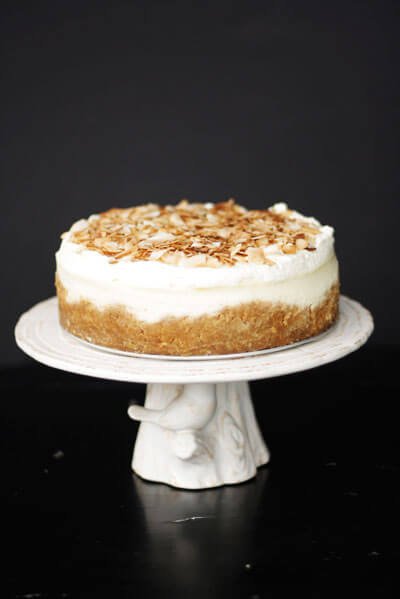 Terrible puns aside, this cheesecake is totally delish! One of our friends actually devoured an entire quarter of it! And that, my friends is some serious cheesecake love.
Yield: one 10" cheesecake
Triple Coconut Cheesecake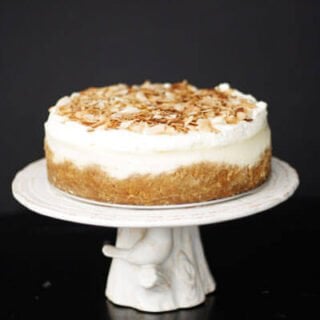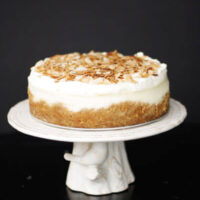 Triple Coconut Cheesecake is made with a homemade graham cracker crust, and shredded coconut. You will not believe your tastebuds when you get a bite of this creamy cheesecake!
Total Time
1 hour
20 minutes
Ingredients
For the Crust:
1 1/4 cups graham cracker crumbs
5 tablespoons granulated sugar
heaping 1/2 cup shredded sweetened coconut
5 tablespoons unsalted butter, melted
For the Filling:
1 1/2 pounds (3 packages) cream cheese, softened (I leave mine out overnight!)
1 cup granulated sugar
0.50 ounces cornstarch
1 teaspoon vanilla bean paste (use the same amount of pure vanilla extract if you don't have vanilla bean paste!)
1/4 teaspoon kosher salt
3 large eggs, lightly beaten
7 ounces coconut milk (about half a can's worth; you can also substitute coconut cream if you have it!)
1/2 teaspoon coconut extract (optional)
For the Topping:
1 cup heavy whipping cream
3 tablespoons confectioners' sugar
2 tablespoons coconut milk
1/4 teaspoon coconut extract (optional)
1/2 cup toasted coconut, for topping
Instructions
for the crust:
Preheat the oven to 350 degrees F.
If you are worried that your springform pan may not be completely watertight, place a layer of aluminum foil on the outside of the pan bottom and up the sides. Set aside.
In a medium bowl, combine the graham cracker crumbs, granulated sugar and shredded coconut. Stir to combine.
Add the melted butter, and mix together until well blended.
Pour the graham cracker mixture into the springform pan, and using your hands, press into the pan and up the sides.
Bake crust at 350 degrees F for 10-12 minutes, or until light golden brown.
Remove from oven and allow to cool.
for the filling:
Preheat the oven to 325 degrees F.
Place the cream cheese in a large bowl, and beat with a rubber spatula until smooth. You can also use a stand mixer with the paddle attachment on, or a hand mixer.
Add the granulated sugar, cornstarch, vanilla bean paste (or extract, if using) and salt. Beat until smooth and combined.
Slowly add the beaten eggs to the bowl, adding about a tablespoon or so at a time and mixing well between each addition.
Add the coconut milk and extract, if using, and beat until combined.
Place the springform pan with the cooled coconut crust into a large roasting pan.
Pour the cheesecake filling into the springform pan.
Place the roasting pan on the center rack of the oven, and add hot water to the roasting pan until it reaches about halfway up the sides of the springform pan.
Bake the cheesecake at 325 degrees F for 60-70 minutes, or until the filling is set and only slightly jiggly in the center.
Carefully remove the roasting pan from the oven (I make my fiance do this because he's stronger than me!), and remove the springform pan.
Allow the cheesecake to cool to room temperature, then refrigerate overnight, or at least 8 hours before removing from the springform pan.
for the toasted coconut:
You can toast the coconut in the oven or in a skillet!
If toasting in the oven, preheat the oven to 350 degrees F.
Spread the coconut in an even layer on a baking sheet, and toast for 5-7 minutes, or until light golden brown.
If toasting in a skillet, place the coconut in an even layer in the skillet and place over medium heat.
Using a spatula, gently move the coconut around in the pan every so often, allowing it to get golden brown.
Remove from the heat and cool completely before using.
for the coconut whipped cream:
In the bowl of a stand mixer, combine the heavy whipping cream and confectioners' sugar.
Using the whisk attachment, mix on high for 1-2 minutes, or until soft peaks have formed.
Add the coconut milk and coconut extract, if using, and beat for about a minute longer, or until stiff peaks have formed.
Spread a thick layer of whipped cream on top of the cheesecake, and top with the toasted coconut flakes.
Return the cheesecake to the fridge, and allow to chill for at least 3 hours before slicing and serving.
Nutrition Information:
Yield:
10
Serving Size:
1
Amount Per Serving:
Calories:

416
Total Fat:

26g
Saturated Fat:

17g
Trans Fat:

0g
Unsaturated Fat:

7g
Cholesterol:

102mg
Sodium:

185mg
Carbohydrates:

44g
Fiber:

1g
Sugar:

35g
Protein:

5g
Categories
This post may contain affiliate links. Read my disclosure policy.