This Chocolate Milk Bundt Cake is a sweet, moist homemade chocolate cake that is loaded with chocolate milk and chocolate chips to create the best bundt cake ever!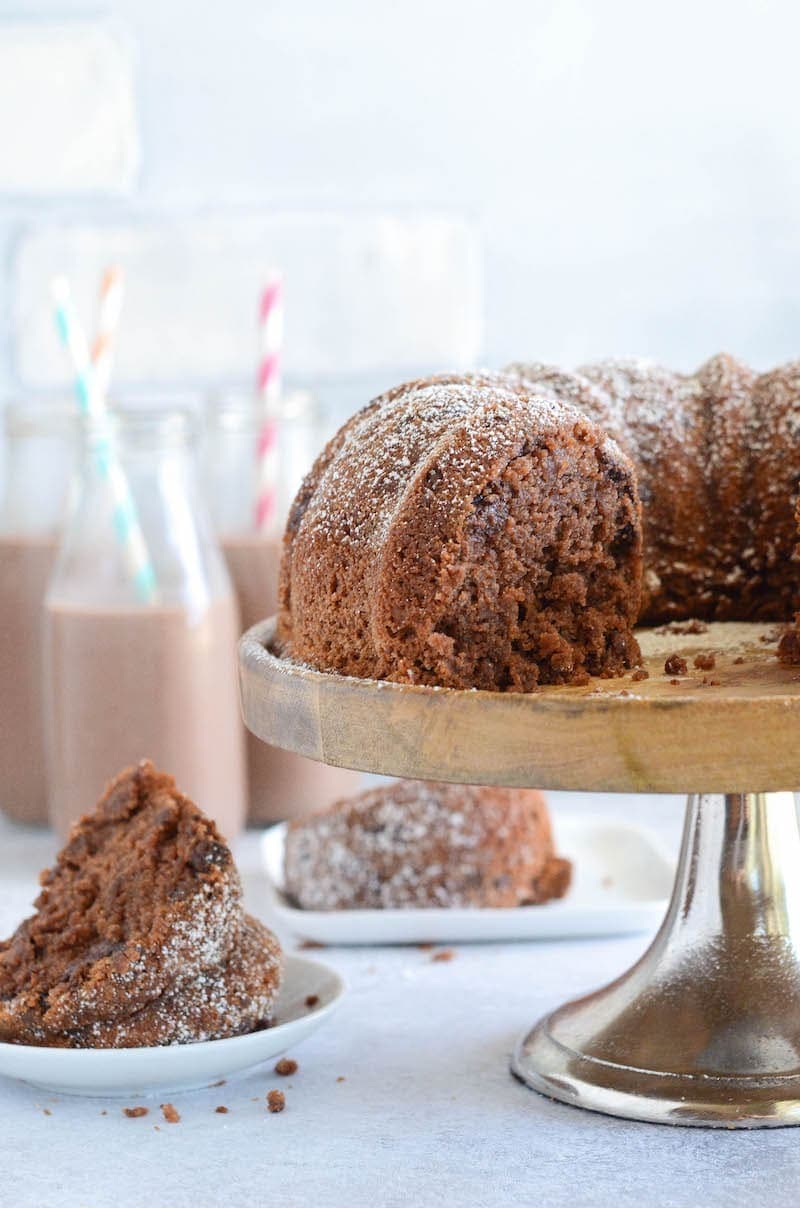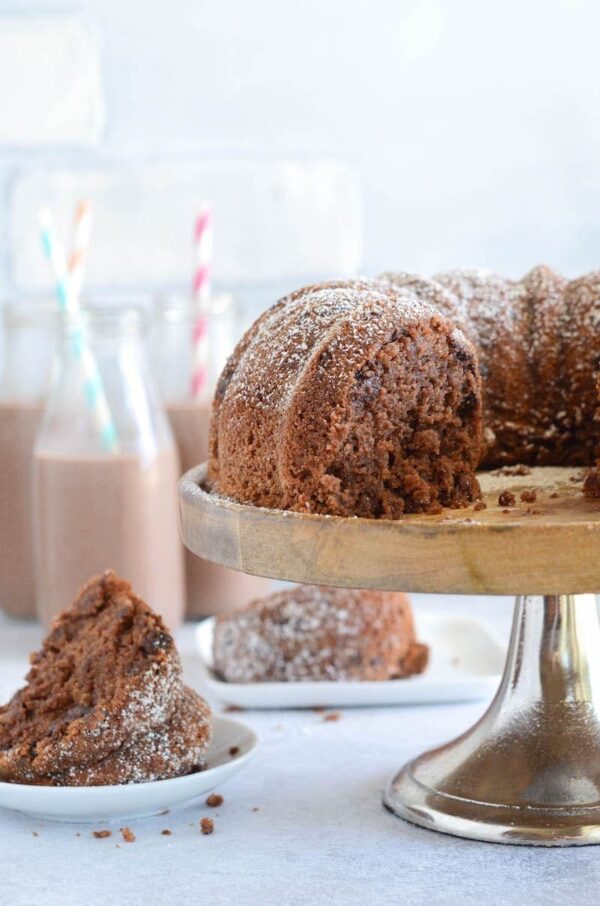 This Chocolate Milk Bundt Cake? Y'all, it's seriously life changing. I know, I know, that's crazy talk, but it truly is one shockingly good cake.
I had the idea for this cake, but didn't have too high of hopes. The idea sounds perfect, but I thought it would taste like every other chocolate cake…not like chocolate milk. Then I took my first bite and guess what?
IT TASTES JUST LIKE CHOCOLATE MILK!!!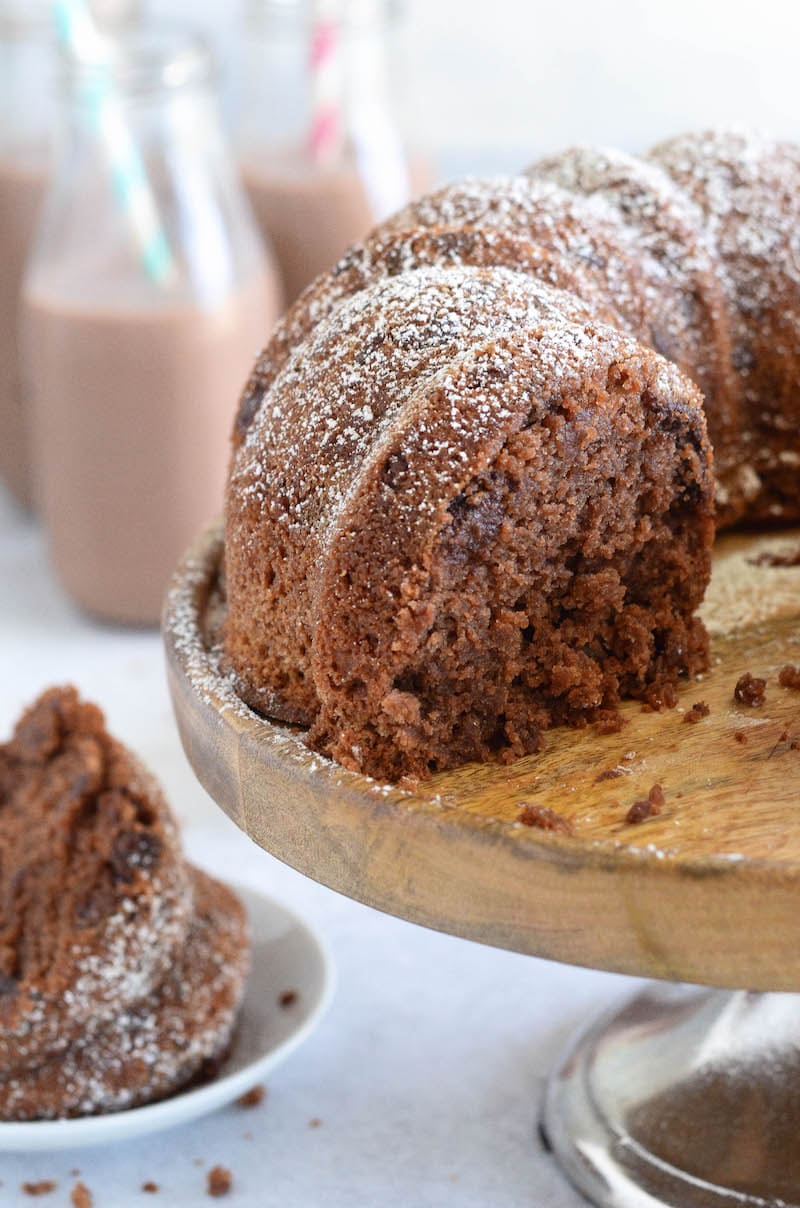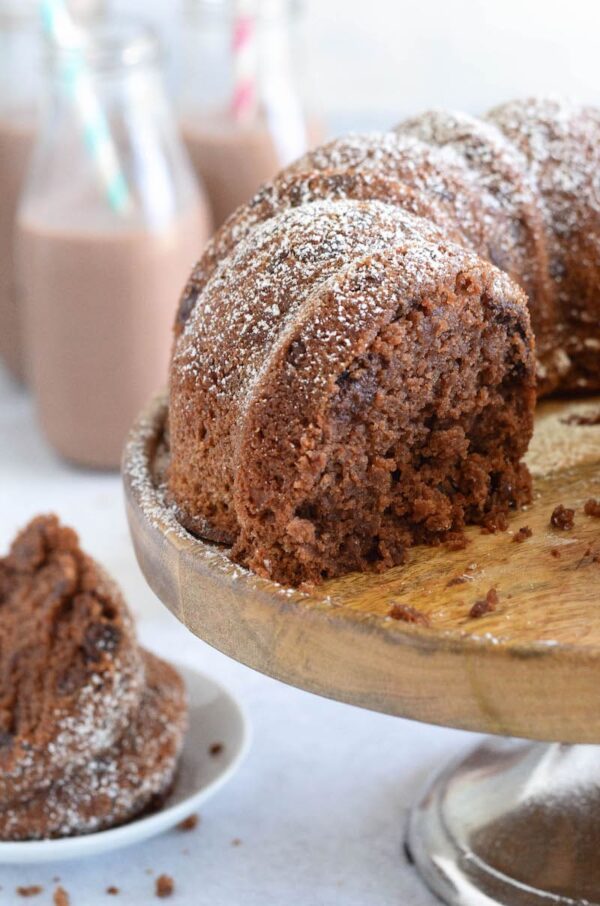 I quickly sliced up this Chocolate Milk Bundt Cake and started giving it out to all the neighbors who were coming home from work. After my first bite, I absolutely could not be trusted alone with this cake in my house.
Without me even saying a word, two people guessed that the cake had chocolate milk in it! Everyone was begging for the recipe and couldn't believe how easy it was to make.
I promise, this is going to be your new favorite chocolate cake recipe!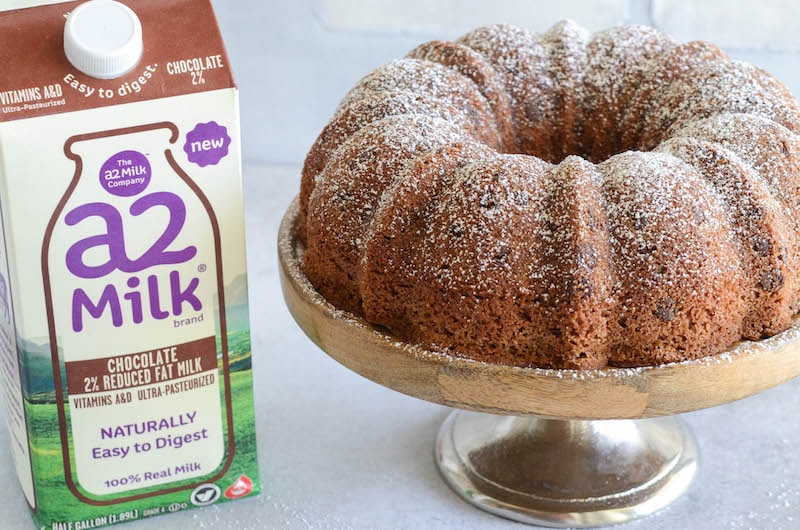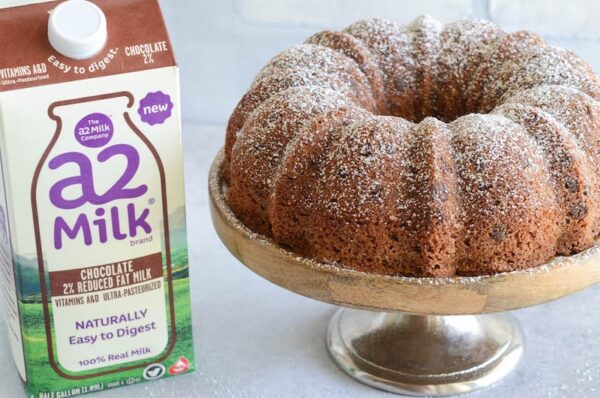 The Best Chocolate Bundt Cake
I used our new favorite, a2 Milk® Chocolate 2% Reduced Fat Milk, to make this Chocolate Milk Bundt Cake. In case you haven't heard of it, a2 Milk® is a complete line of 100% real, naturally easy to digest milk including Whole, 2%, 1% and Chocolate Milk that even those with milk sensitivities can enjoy!
Conventional cows' milk, and majority of the milk consumed in the U.S., contains both A1 and A2 proteins. Research suggests that the A1 protein is the culprit of causing digestive discomfort. The girls sometimes suffer from upset stomachs after having milk, but since switching we thankfully haven't been having any more issues.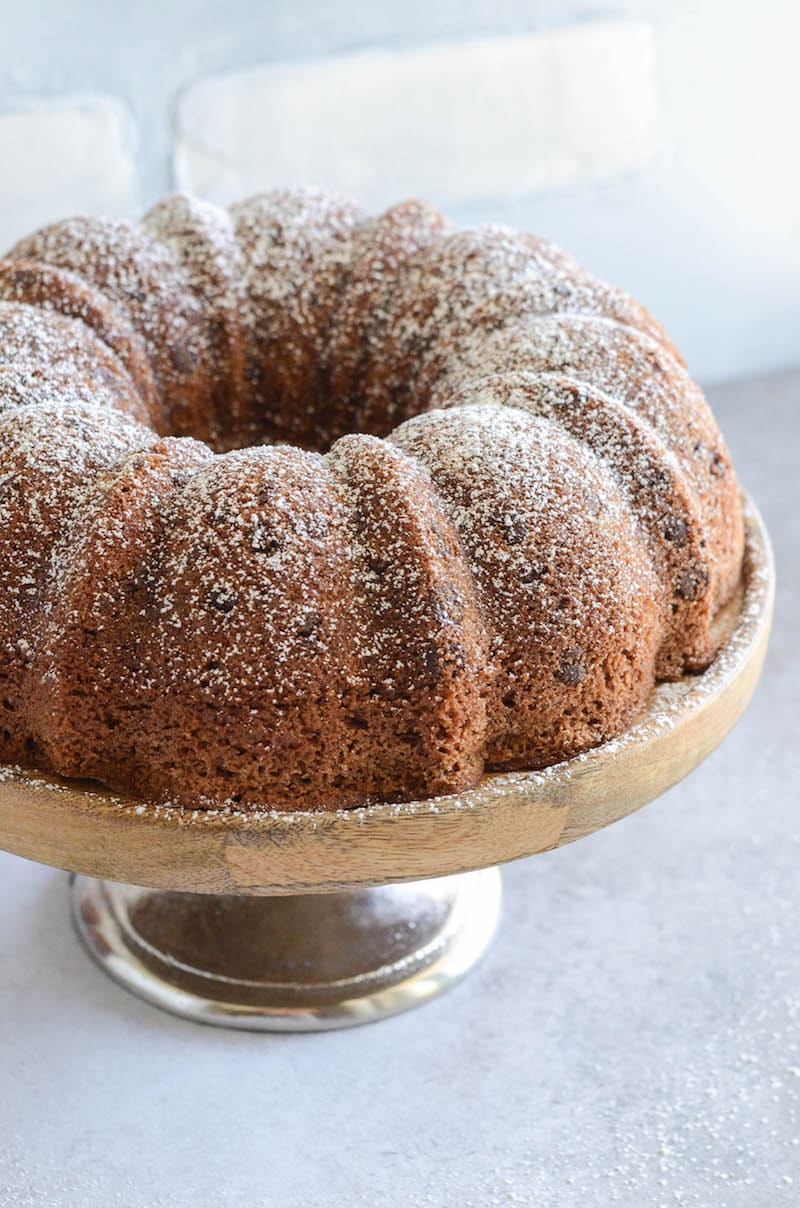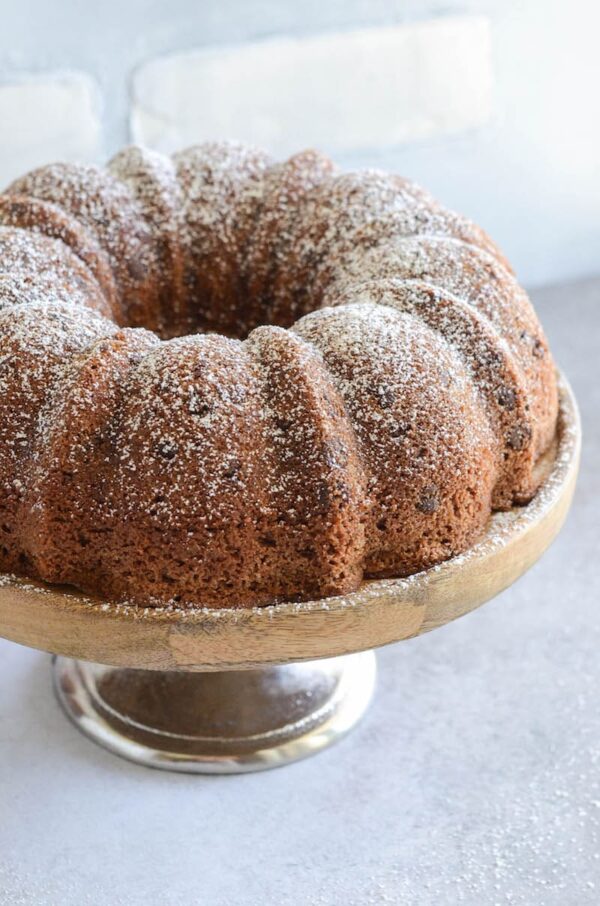 Luckily, a2 Milk® comes from identified cows that naturally only produce the A2 protein (and none of the A1 protein). Thanks to The a2 Milk Company™, people with milk sensitivities, including perceived lactose intolerance, can now enjoy the taste and nutritional benefits of real dairy milk!
They are the leading milk brand in Australia and recently launched in Florida in Publix stores, which is where I found it. Additionally, a2 Milk® is completely free of any added hormones, rBST and antibiotics so you can feel good about giving it to your family.
This Chocolate Milk Bundt Cake is really quick and easy to whip up and then into the oven it goes. Give it a few minutes to cool, invert it onto a cake plate, and try to keep yourself from inhaling it!
I promise you are going to LOVE this chocolate cake!
Yield: 8 servings
Chocolate Milk Bundt Cake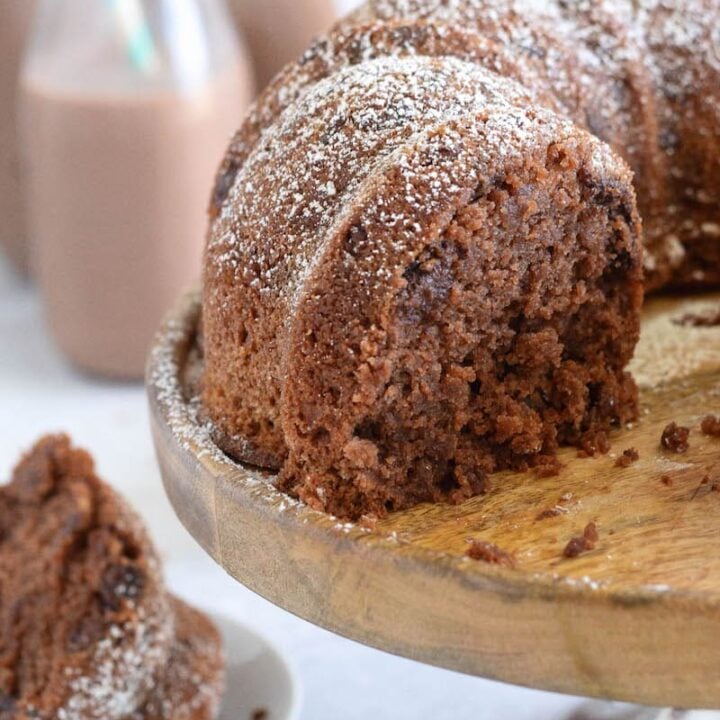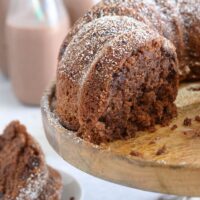 This Chocolate Milk Bundt Cake is a sweet, moist homemade chocolate cake that is loaded with chocolate milk and chocolate chips to create the best bundt cake ever!
Total Time
1 hour
5 minutes
Ingredients
1 3/4 cups all purpose flour
1/4 cup cocoa powder
2 teaspoons baking powder
1 teaspoon salt
1/2 cup (1 stick) butter, melted
2 teaspoons vanilla extract
4 large eggs
2 cups granulated sugar
1 cup semi sweet chocolate chips
powdered sugar, for dusting
Instructions
Preheat the oven to 325°F. Adjust an oven rack to the middle position. Grease and flour a 12-cup Bundt cake pan.
In a small bowl, whisk together flour, cocoa powder, baking powder and salt until smooth.
In an electric mixer fitted with the whisk attachment, combine eggs and sugar on medium-high speed for 3 minutes, until the mixture triples in size. Add the melted butter and vanilla extract, whisking until well combined.
Add the dry ingredients and start mixing. Slowly add the a2 Milk® Chocolate 2% Reduced Fat Milk, whisking until smooth. Fold in chocolate chips.
Pour the batter into the prepared pan and bake for 50 to 60 minutes. Cake is done when a toothpick inserted in the center should come out clean, with a few crumbs attached.
Cool in the pan for 10 minutes before inverting onto a cooling rack or serving plate to cool completely. Dust cake with powdered sugar and serve!
Nutrition Information:
Yield:
8
Serving Size:
1
Amount Per Serving:
Calories:

618
Total Fat:

16g
Saturated Fat:

9g
Trans Fat:

0g
Unsaturated Fat:

6g
Cholesterol:

98mg
Sodium:

442mg
Carbohydrates:

114g
Fiber:

3g
Sugar:

88g
Protein:

9g
This post is sponsored by a2 Milk®. All opinions are, as always, 100% my own. Thank you for supporting the brands that I love!

This post may contain affiliate links. Read my disclosure policy.