Pineapple Coconut Bundt Cake is an easy dessert that has a delicious blend of tropical flavors. This bundt cake is perfect for summer nights BBQs!
Looking for more easy bundt cake recipes? Try my Loaded Carrot Bundt Cake or this fun Chocolate Milk Bundt Cake recipe!
This Easy Pineapple Coconut Bundt Cake Is Perfect For Summer
I am partnering up with Land O'Lakes again to bring you this awesome cake.
With these incredibly hot summer months upon us in Florida, I have been craving delicious frozen cocktails like crazy. Too bad I have to wait until August to drink one again!
While I may not be able to drink a Piña Colada just yet, I am totally within my pregnant rights to crank up the air conditioning and bake a cake. My electric bill is going to be through the roof! ;-)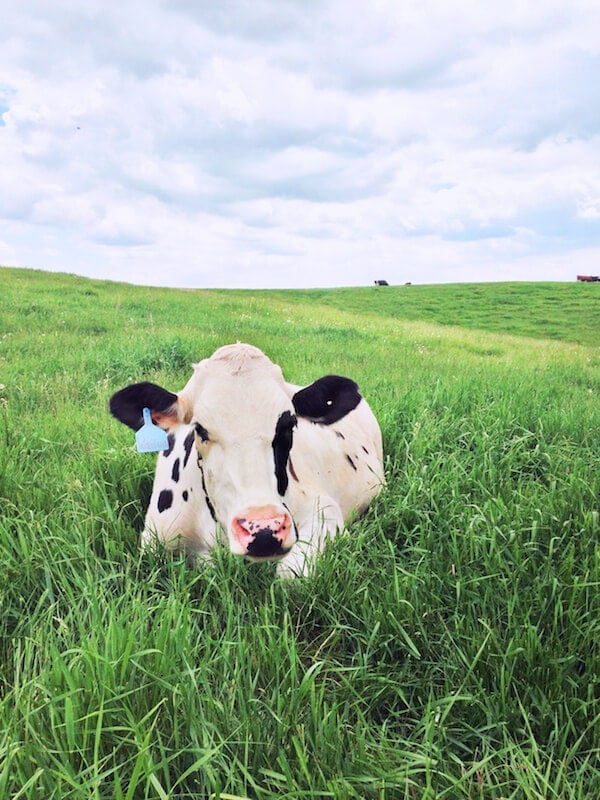 Luckily, I finally got a nice break from the heat last week on a fun visit to Minnesota. Land O'Lakes took all of us Kitchen Conversation bloggers out to one of their dairy farms to really see what the day to day life is like on a dairy farm. Sadie Frericks (who also blogs at Dairy Good Life) graciously let all 9 of us come visit her farm for the day and ask her a billion questions.
Sadie's farm has approximately 75 cows and it takes 3 hours for each milking…and they have to be milked twice a day. Whoa. I was so interested in the process, but I was even more interested in meeting all the adorable cows. Each of their cows has a name her and her family have picked out, but as she showed us, they also each have their very own personalities! It was a blast getting to see behind the scenes of where some of Land O'Lakes milk comes from!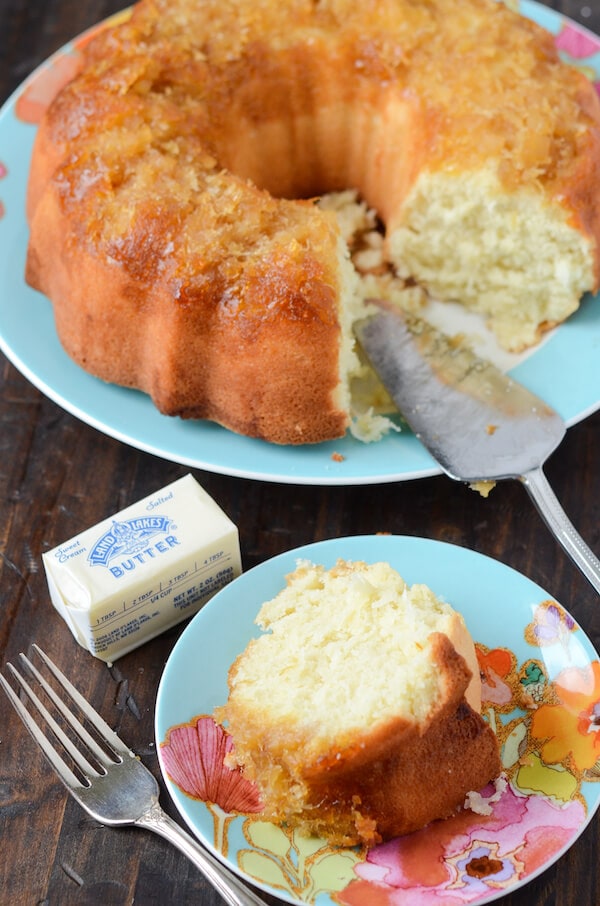 I Love The Tropical Flavors In This Cake Recipe
But let's get back to what is important…this cake! I just love how the tropical flavors come together in this dessert. The light, moist Bundt® cake makes a perfect dessert for steamy summer nights. Even better, I love how this recipe calls for four perfectly sized Land O Lakes® Butter Half Sticks. It makes measuring so easy—with no leftover portions hanging out in your fridge.
Yield: 1 cake
Pineapple Coconut Bundt Cake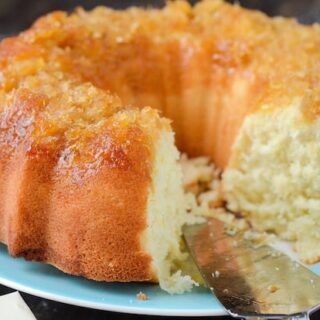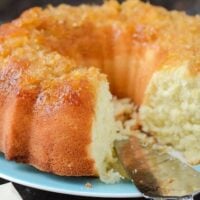 Pineapple Coconut Bundt Cake is an easy cake recipe that has a delicious blend of tropical flavors. This bundt cake is perfect for summer nights BBQs!
Cook Time
1 hour
10 minutes
Additional Time
15 minutes
Total Time
1 hour
35 minutes
Ingredients
1 (20 ounce) can crushed pineapple, drained
2 tablespoons Land O Lakes® unsalted butter, melted
1/2 cup brown sugar
2 2/3 cup all purpose flour
1/3 cup corn starch
1 teaspoon baking powder
1/2 teaspoon salt
4 Half Sticks (1 cup) Land O Lakes® unsalted butter, softened
2 1/2 cups granulated sugar
6 large eggs
2 teaspoons vanilla extract
1 teaspoon coconut extract
1 1/3 cup unsweetened coconut milk
2 cups shredded coconut
Instructions
Preheat oven to 350°F. Grease a 12 cup Bundt® pan.
In a small bowl, combine pineapple, 2 tablespoons melted Land O Lakes® butter and brown sugar. Evenly spread mixture in the bottom of the Bundt® pan, set aside.
In a medium bowl, sift flour, cornstarch, baking powder and salt together. Set aside.
In a large bowl, beat butter and sugar until fluffy. Add the eggs one at a time until well mixed. Add vanilla extract and coconut extract.
Mix flour mixture into the batter alternating with the coconut milk. Gently fold in shredded coconut.
Transfer batter to the prepared Bundt® pan and bake until cooked through and the top is golden brown, about 1 hour and ten minutes.
Cool in cake pan for about 15 minutes then invert onto a cake plate. Serve warm or store in an airtight container until ready to serve.
Nutrition Information:
Yield:
7
Serving Size:
1 slice
Amount Per Serving:
Calories:

758
Total Fat:

16g
Saturated Fat:

11g
Trans Fat:

0g
Unsaturated Fat:

4g
Cholesterol:

168mg
Sodium:

360mg
Carbohydrates:

145g
Fiber:

4g
Sugar:

99g
Protein:

11g
The Novice Chef has partnered with Land O'Lakes for an exclusive endorsement of Land O Lakes® Butter for the Kitchen Converstaions blogger program. This blog post is sponsored by Land O'Lakes.
SaveSave
This post may contain affiliate links. Read my disclosure policy.