This Orange Rum Bundt Cake is a sweet, moist, dense homemade pound cake, flavored with dark spiced rum and bright, fresh orange zest. Dust the top with powdered sugar and it's the perfect cake recipe for holidays and sharing with friends!
Orange Rum Bundt Cake
Instead of whipping up the usual pie for Christmas dessert, spice things up this year with an Orange Rum Bundt Cake! It's a dense, delicious dessert that your whole family will love.
It's so good, my kids ask me to make it year round! Luckily, this cake is versatile. While it's a wonderful holiday dessert, it's also delicious at a summertime pool party!
No matter when you choose to make this cake, you're going to love it. This mouthwatering bundt cake recipe is a tried and true one for me.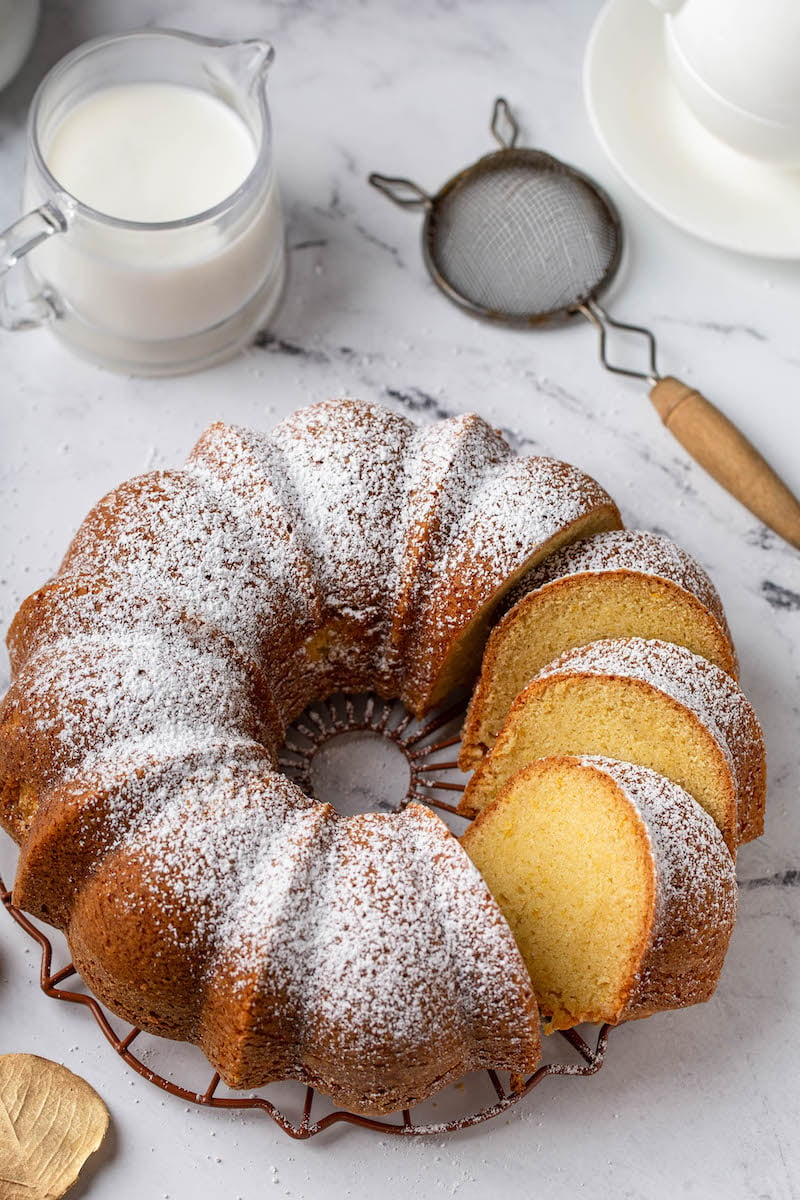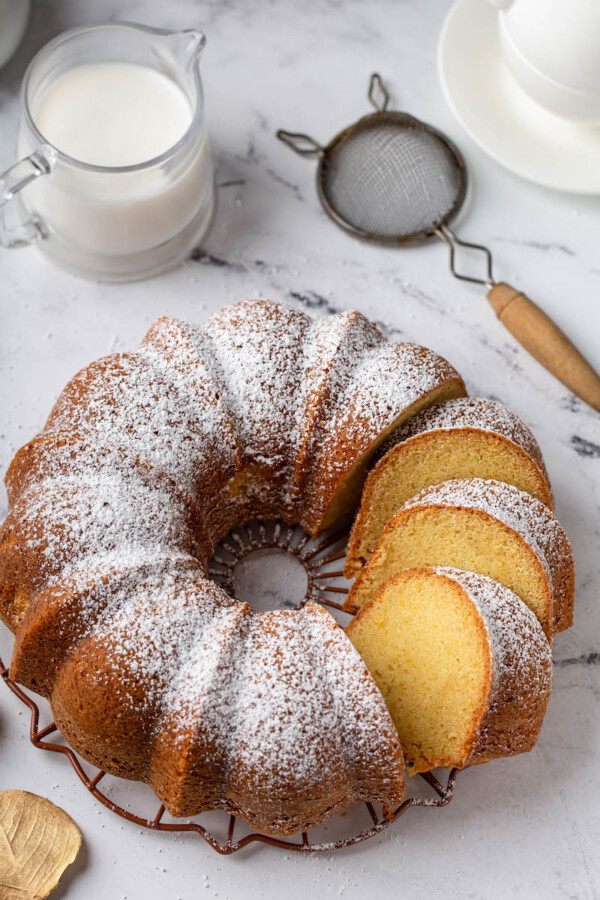 What is bundt cake?
You've almost certainly had bundt cake before in your life, and loved it! But have you ever wondered, what exactly is it? How is it different from your average sheet cake?
The shape is the most recognizable part of the cake, for starters. Bundt cakes are made in bundt pans, giving it its distinct, gorgeous shape. The texture of a bundt cake is usually much richer and more dense than a sheet cake as well.
There are SO many different delectable recipes for bundt cakes, and this one happens to be one of my all time faves!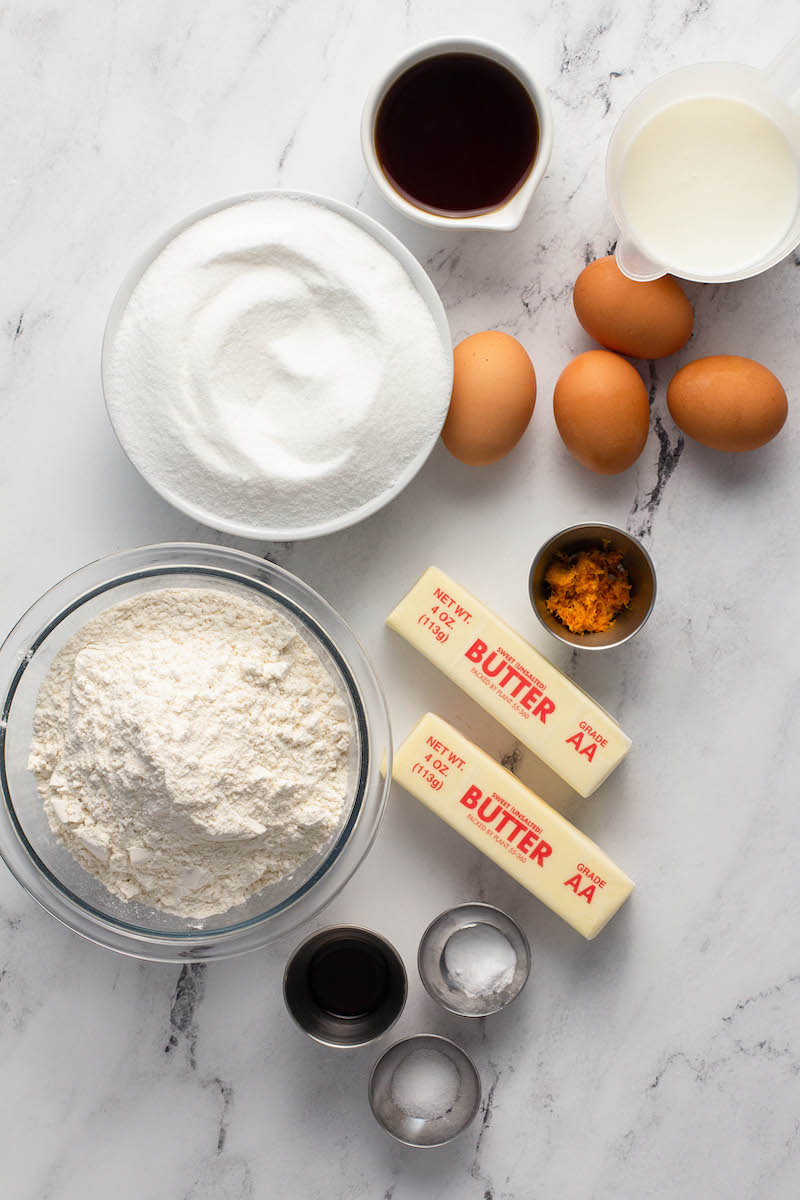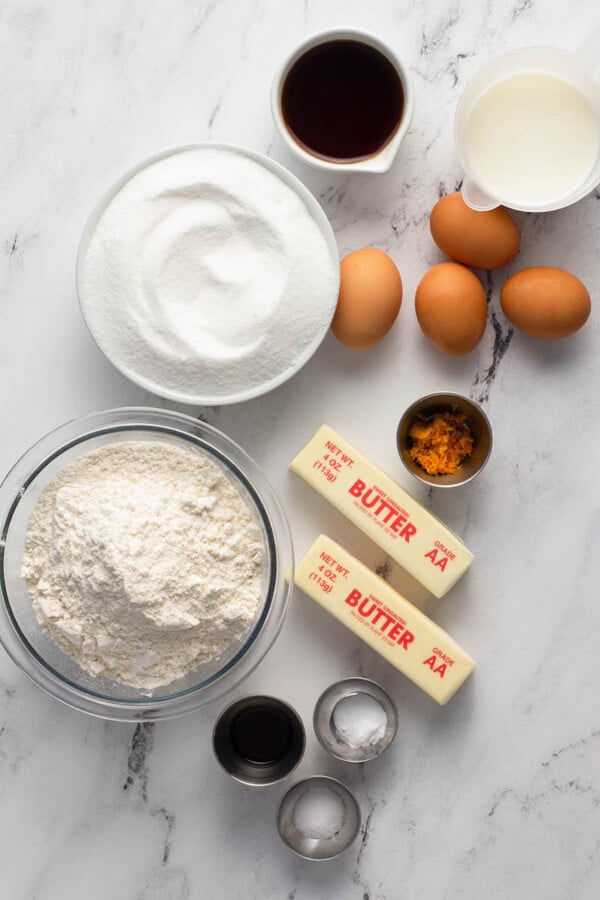 Ingredients
All Purpose Flour
Baking Soda
Salt
Unsalted Butter
Granulated Sugar
Eggs
Vanilla Extract
Orange Zest
Buttermilk
Dark Spiced Rum
Powdered Sugar
The powdered sugar is an optional ingredient. I personally love my bundt cakes to have powdered sugar sprinkled all over the top, but if that's not quite your taste, you can skip it.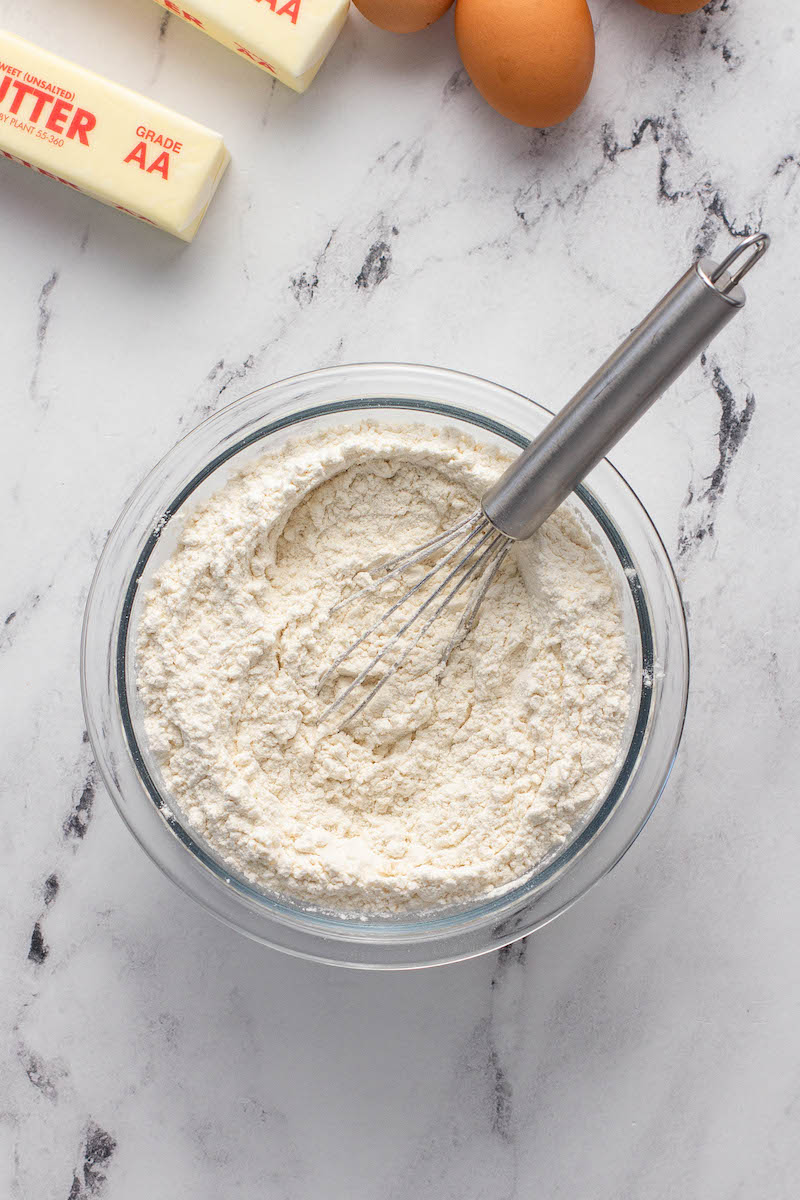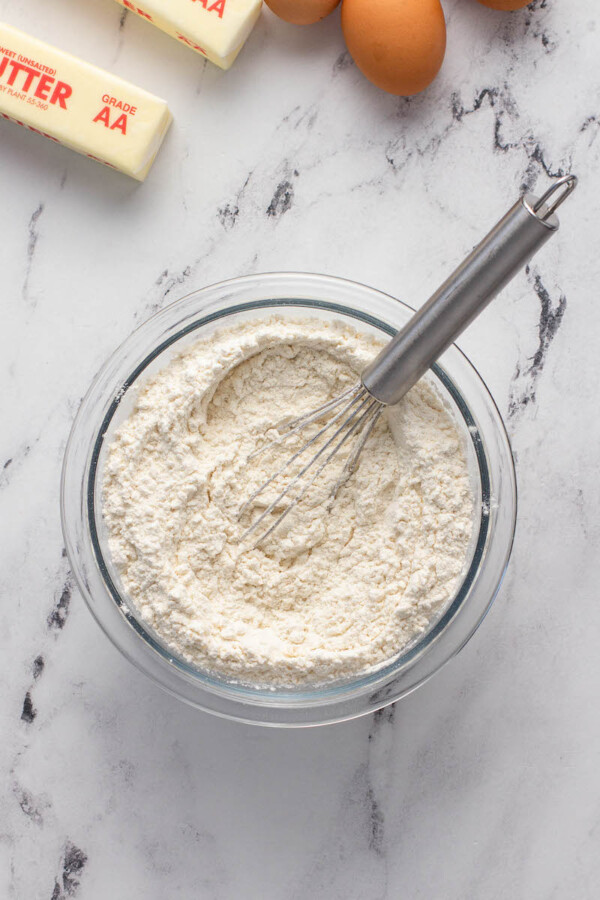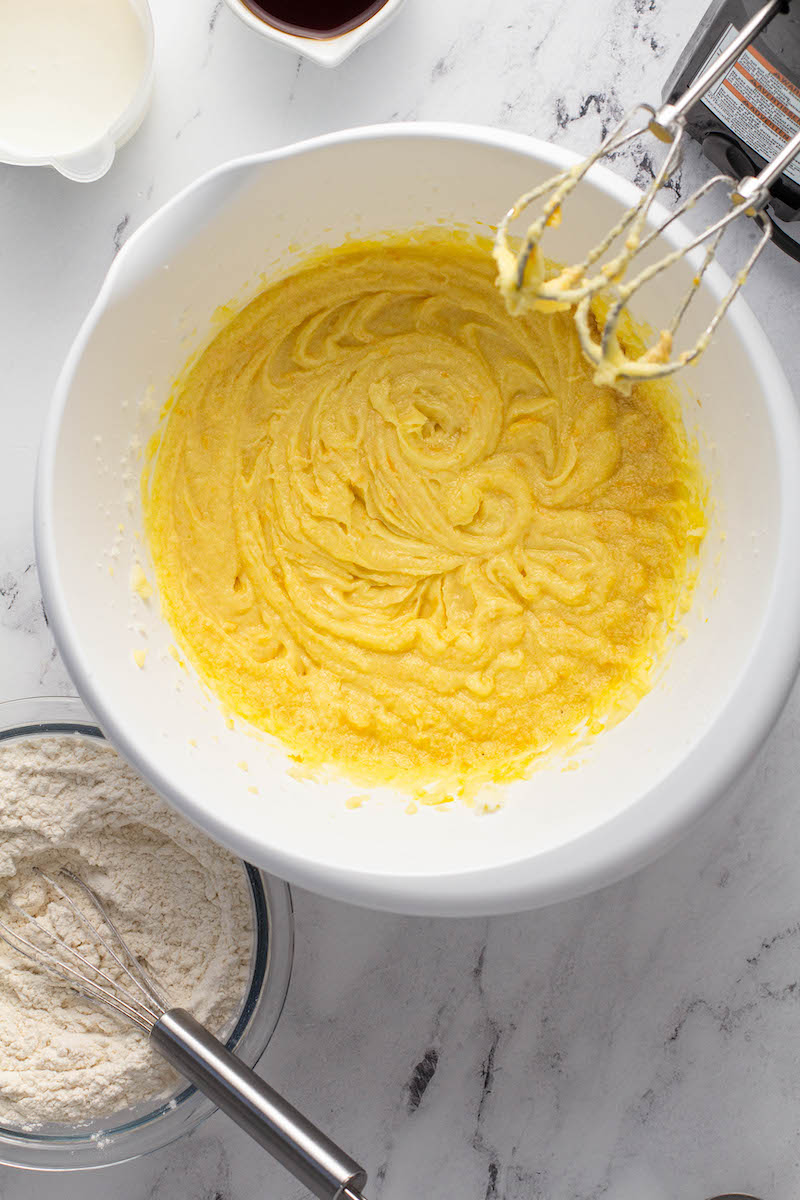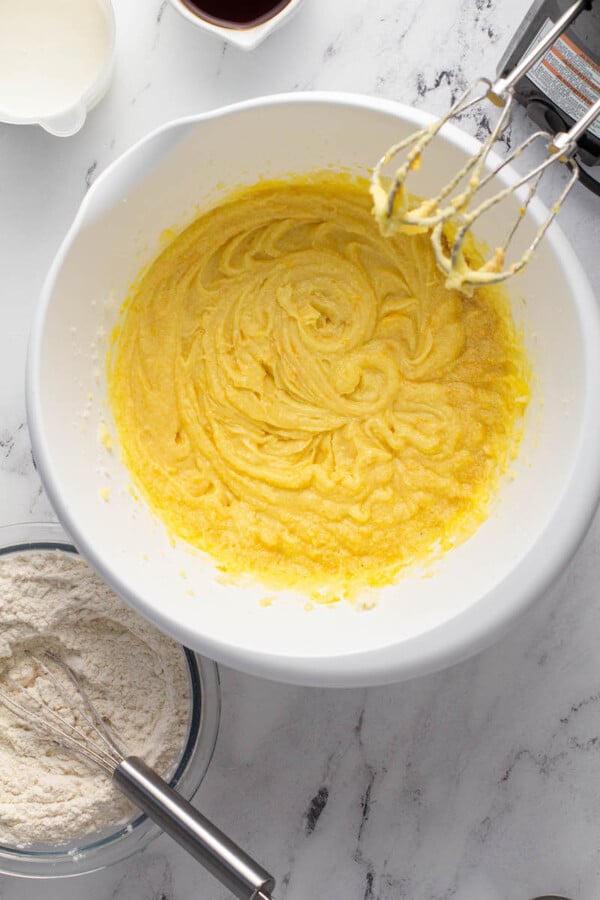 How to Make Orange Rum Bundt Cake
For being so fabulous, this cake is surprisingly so easy to make!
Preheat and prepare. Preheat the oven to 325 degrees. Grease a 10 inch bundt cake pan with baking spray or butter and flour it. Set aside.
Whisk the dry ingredients. In a medium bowl, whisk together the flour, baking soda and salt.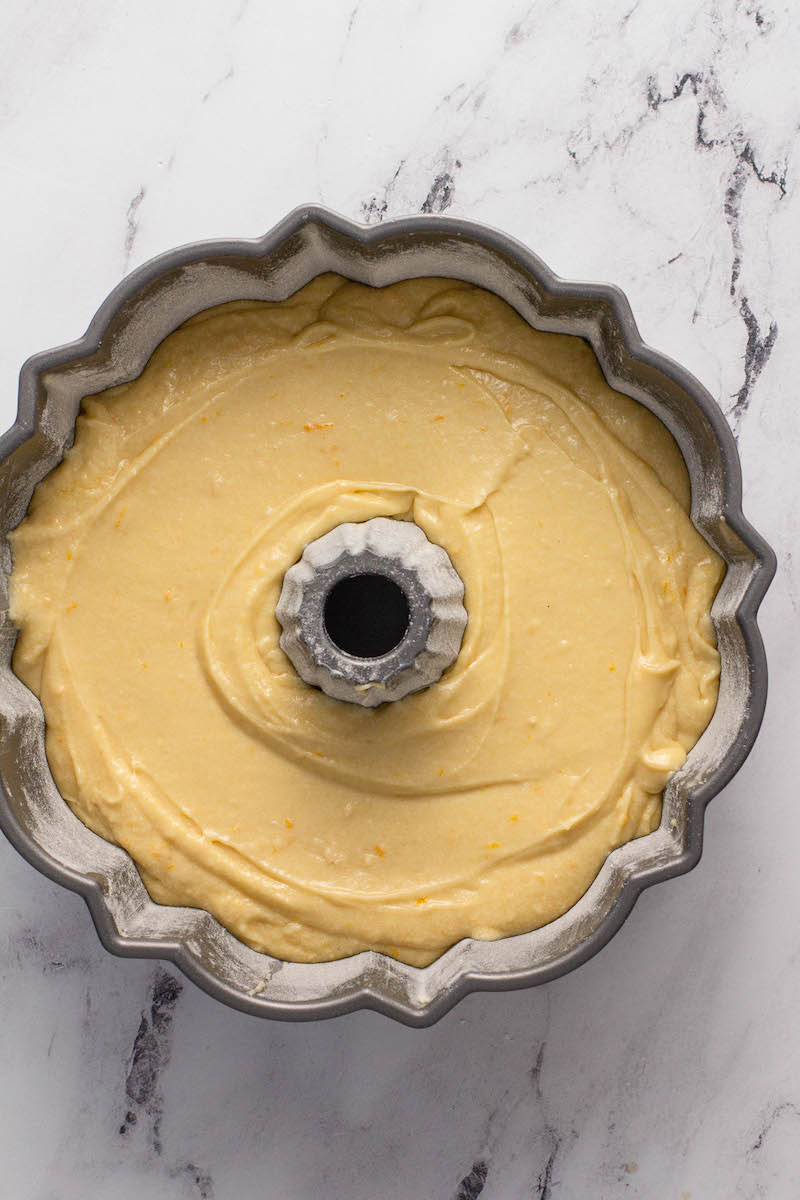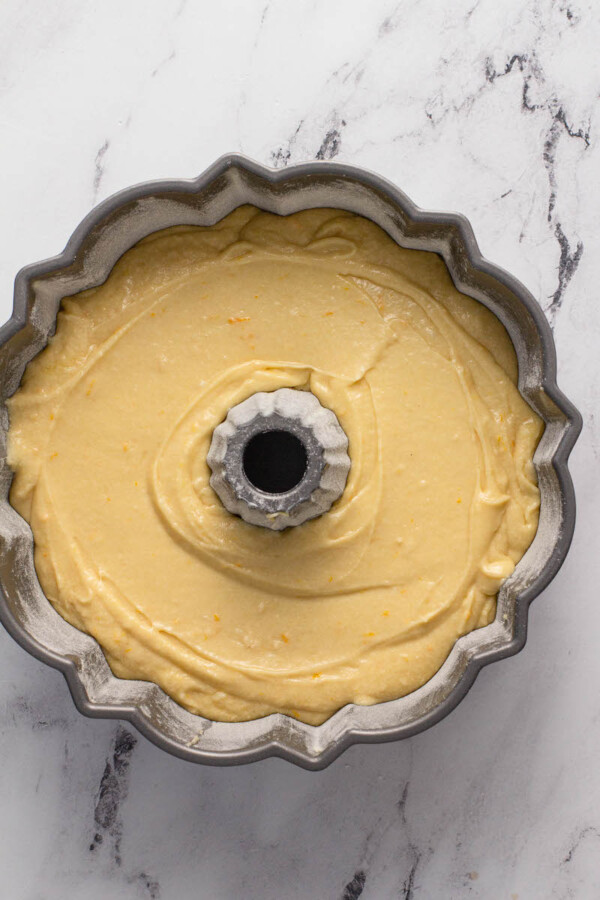 Beat the ingredients. In a large bowl of a stand mixer, cream the butter and sugar until the mixture is light and fluffy. Then, beat in one egg at a time and stir in the vanilla extract and orange zest until well combined. Next, beat in the flour mixture while alternating with buttermilk and rum.
Pour and bake. Pour the batter into your favorite prepared bundt pan. Bake for 55-65 minutes, until the center is set and a toothpick inserted comes out clean.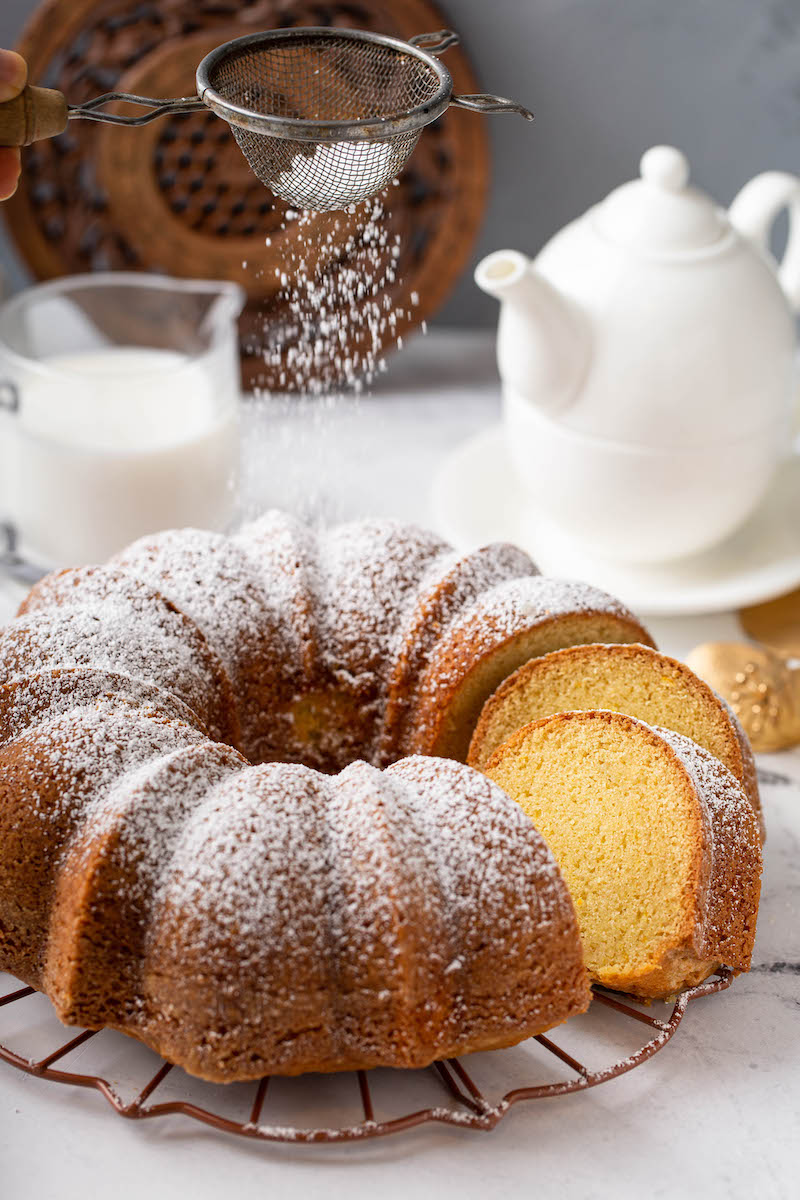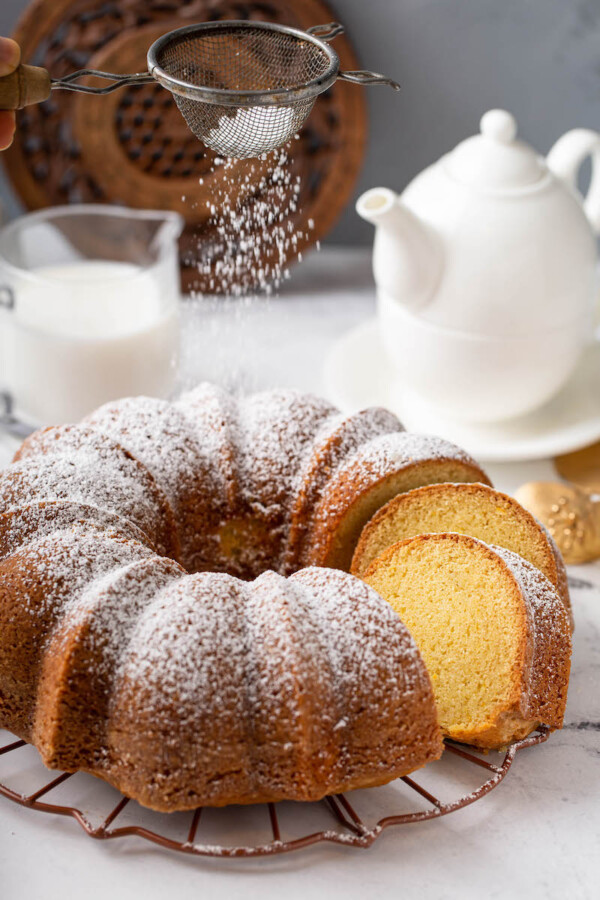 Serve. Allow the cake to cool completely in the bundt pan before you invert it onto a cake plate. Dust it with powdered sugar before serving. Whether you decide to serve it warm or at room temperature, it's going to be divine!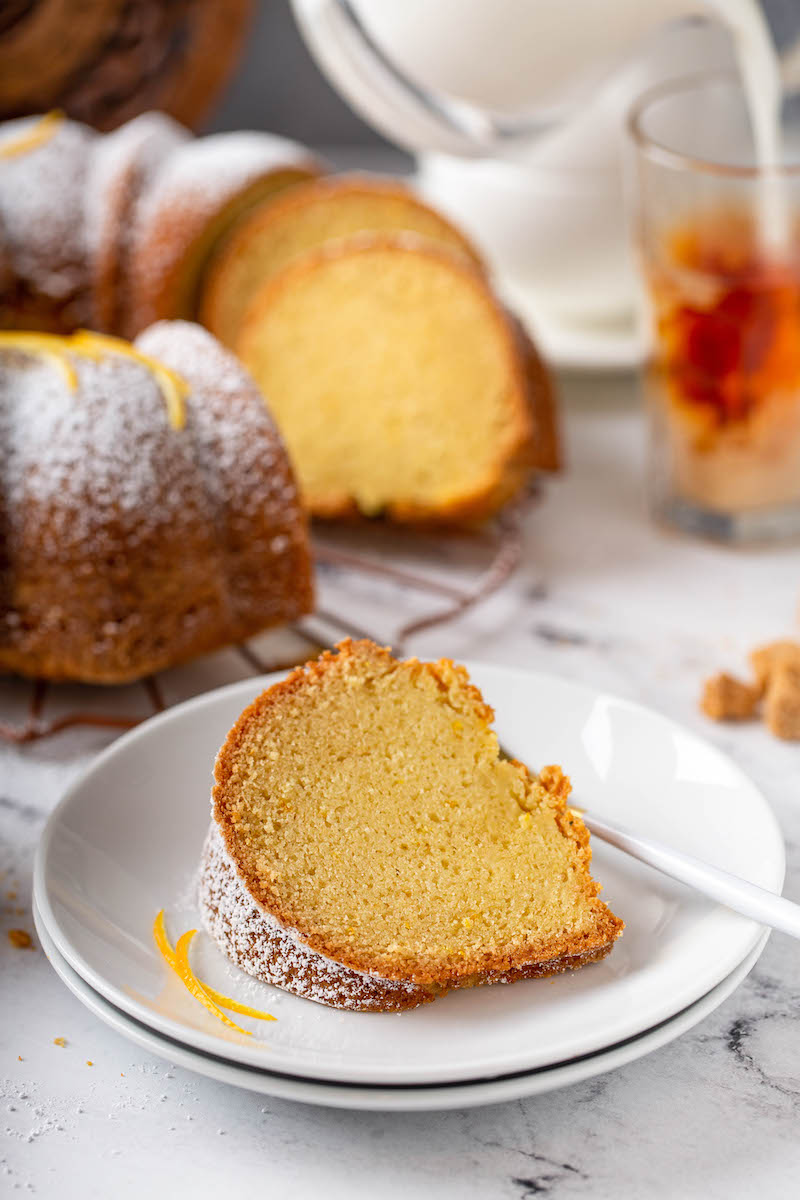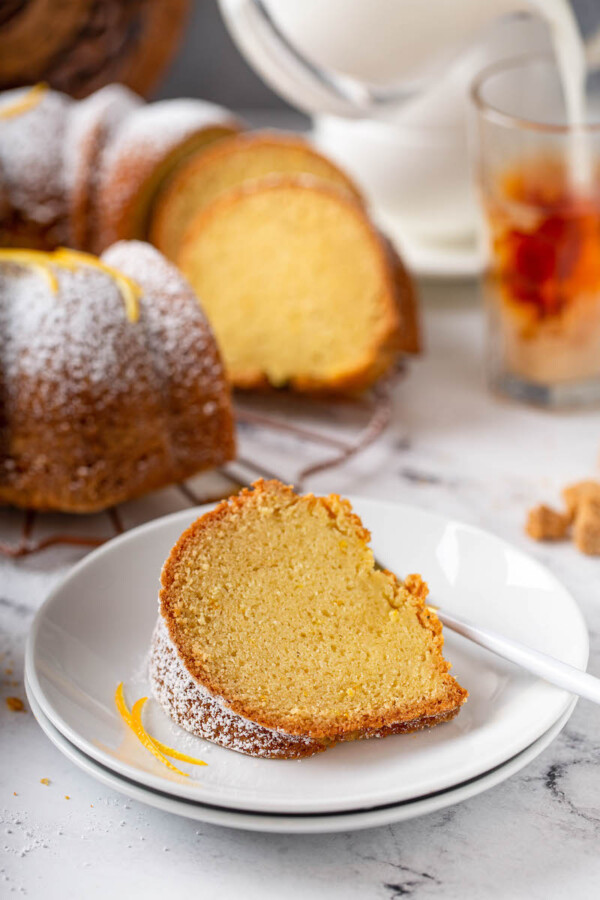 How long will it stay fresh?
In an airtight container in the refrigerator, this zesty bundt cake will stay fresh for up to 5 days. Whenever I have some left over, I enjoy a piece with my coffee in the morning. It's the best way to wake up!
What kind of rum should I buy?
The brand itself isn't too important, but when you're at the store, reach for something of quality.
A bottom shelf rum might not give you the flavor you're looking for. As long as it's a dark spiced and good quality rum, you'll have the perfect cake!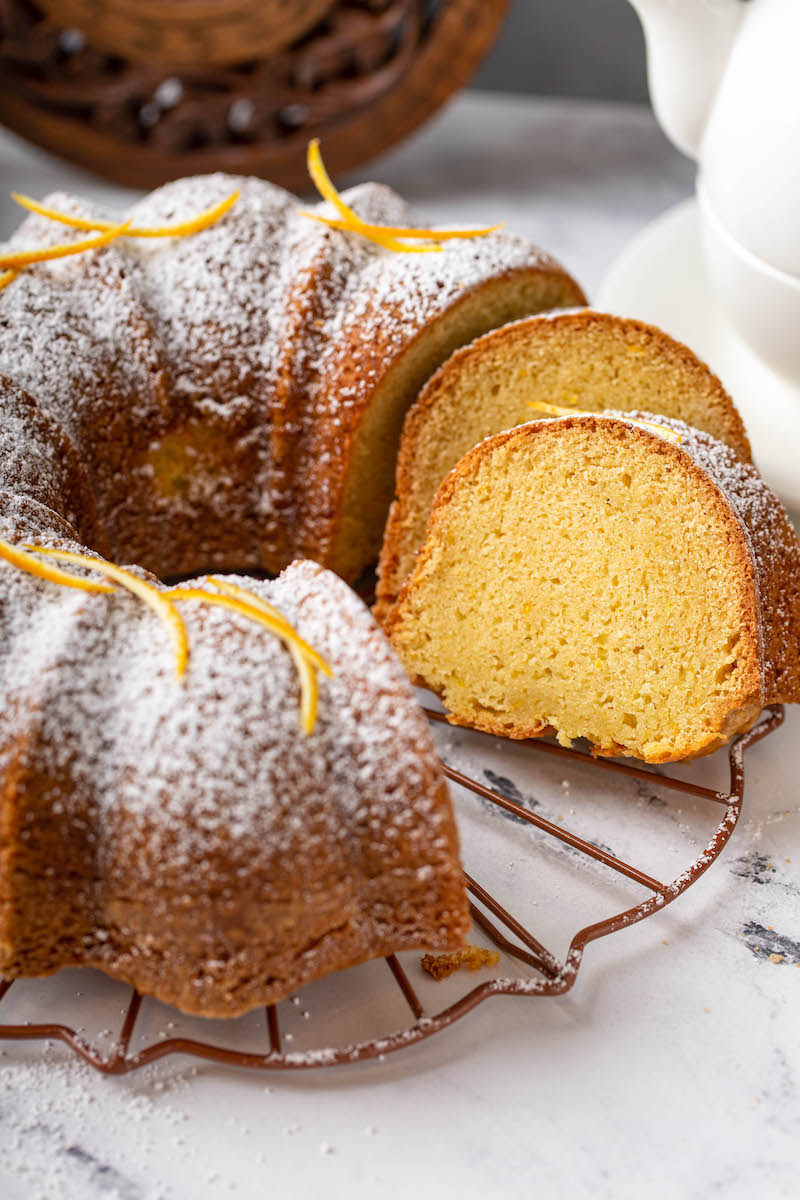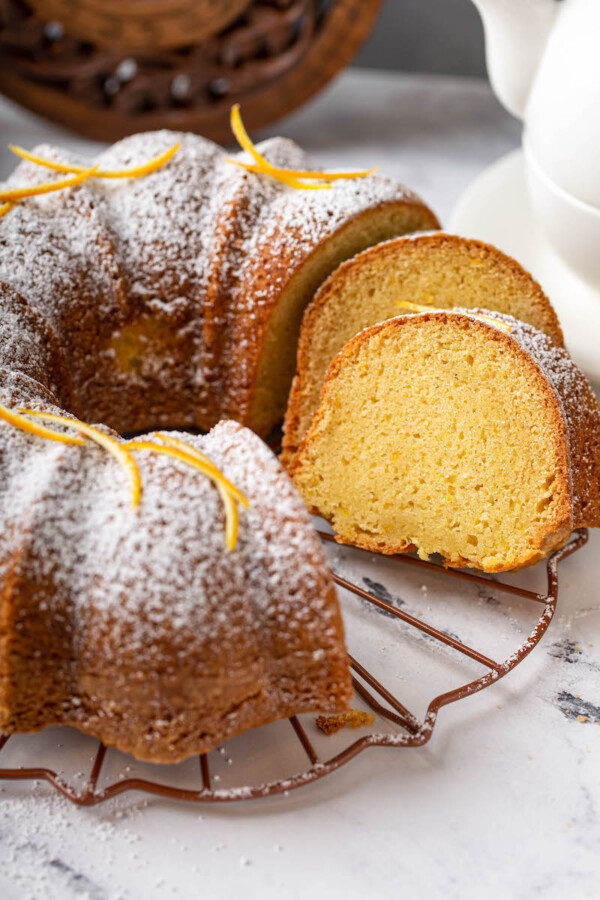 This amazing Orange Rum Bundt Cake is dense, moist and a big crowd pleaser. This cake is the perfect make ahead dessert, it's just as good the next day! Serve it with a dusting of powdered sugar and watch it disappear.
Looking for more bundt cakes featuring rum? Check out these favorites: Almond Amaretto Pound Cake, Butterbeer Pound Cake and Walnut Rum Pound Cake!
Head on over to Dixie Crystals to get the full recipe I developed for them by clicking the button below:
This post may contain affiliate links. Read my disclosure policy.