Walnut Rum Cake is a sweet, moist homemade cake flavored with dark spiced rum and crunchy walnuts and then generously topped with a warm buttery rum sauce! It's the perfect cake recipe for holidays and sharing with friends!
Also perfect for the holidays: Red Velvet Cream Cheese Bunt Cake and this Caramel Apple Toffee Cake. You've absolutely got to try these desserts!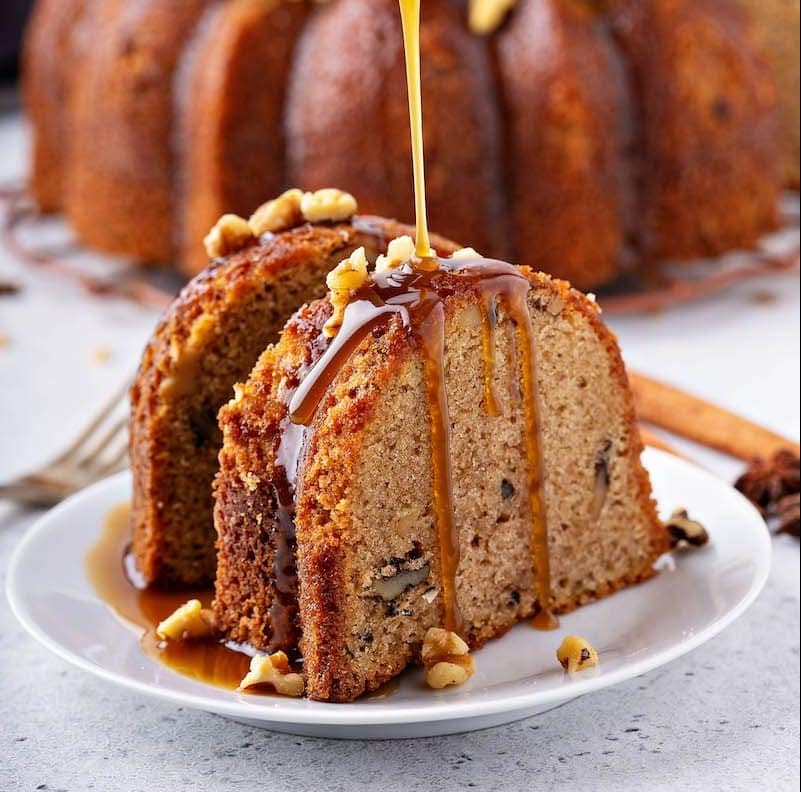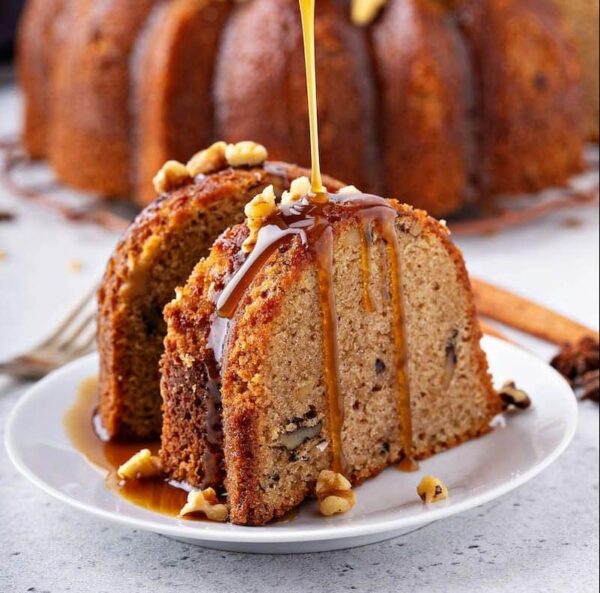 This Is The Most Moist Rum Cake You'll Ever Try!
If you are looking for the perfect moist rum cake, look no further, this one is absolutely divine.
It all starts with a moist buttery dense cake that is loaded with dark spiced rum and walnuts.
Then we take it to the next level with a sweet warm buttery rum sauce poured on top.
You can pour it onto each slice before serving or you can poke holes in the rum cake and saturate it in the sauce.
It's seriously plate licking good — always a big crowd pleaser!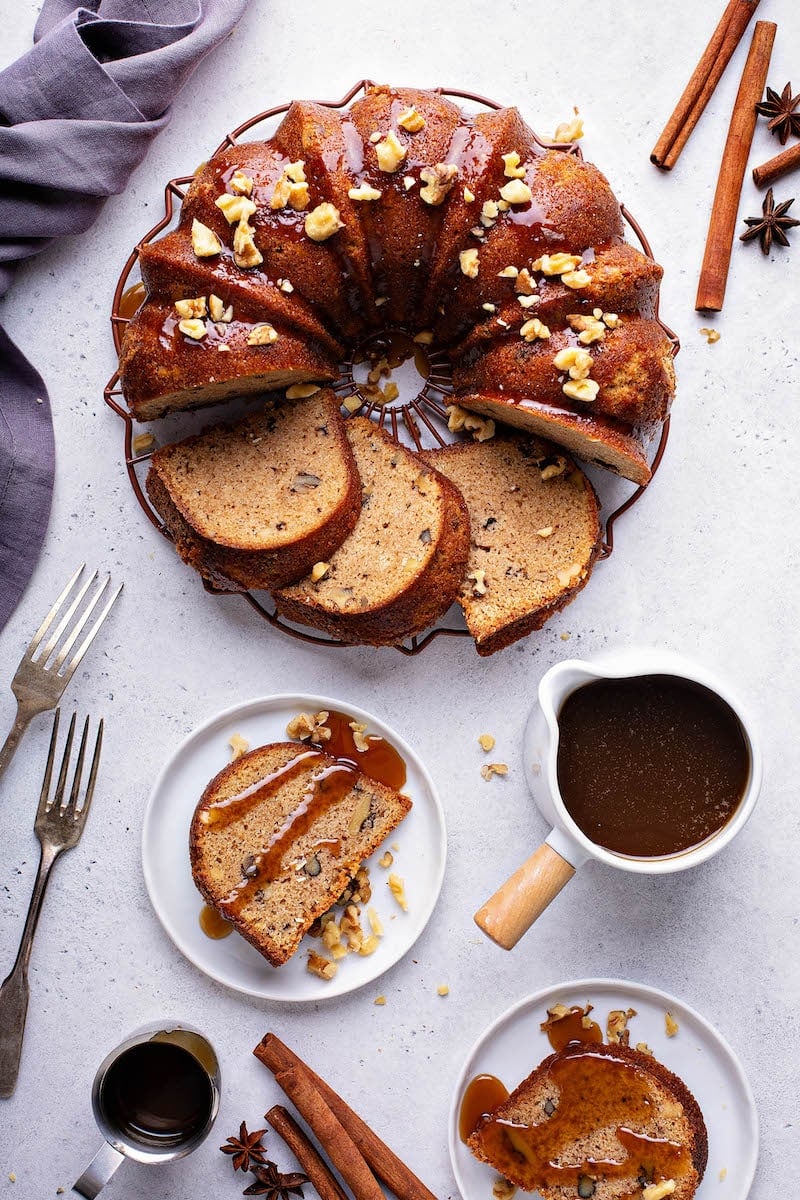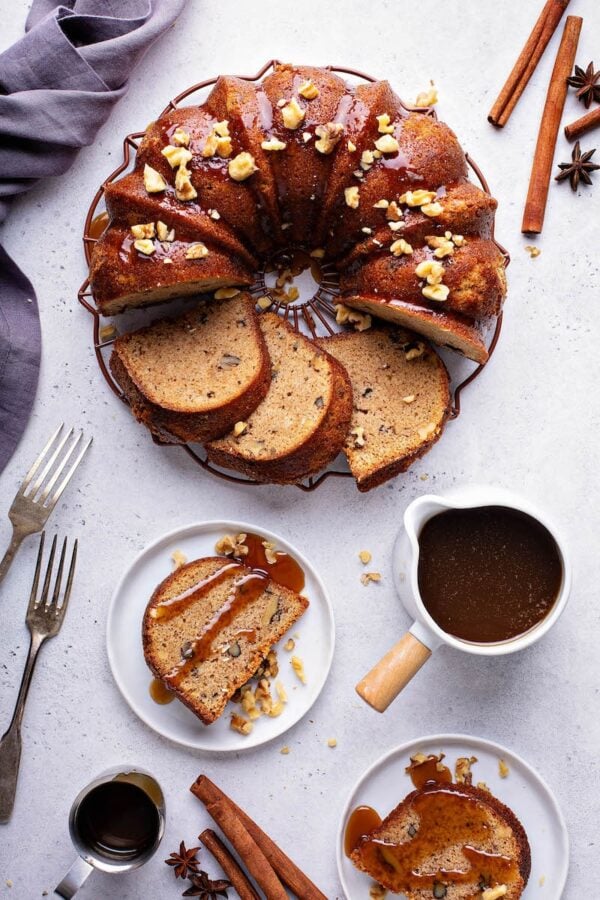 Rum Cake Is One Of My Favorite Holiday Dessert Recipes
I didn't grow up with rum cake being a holiday staple. In Texas, we focused much more on pies and cookies.
Then when I moved to Florida right after I graduated, I started finding rum cakes on just about every holiday buffet table.
My love for them grew instantly and I found myself becoming quite picky in what I wanted in my rum cake.
Personally, I am not a huge fan of raisins in my rum cake, but I always have to add extra walnuts (or pecans)!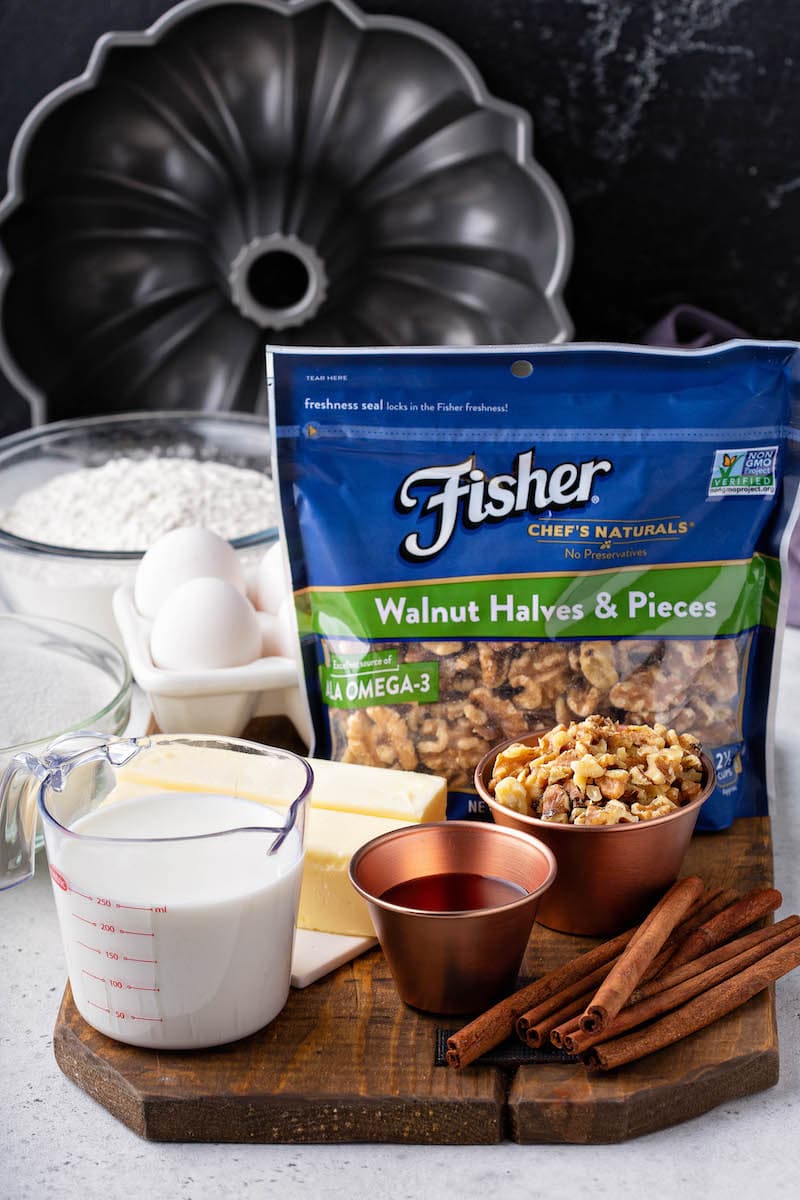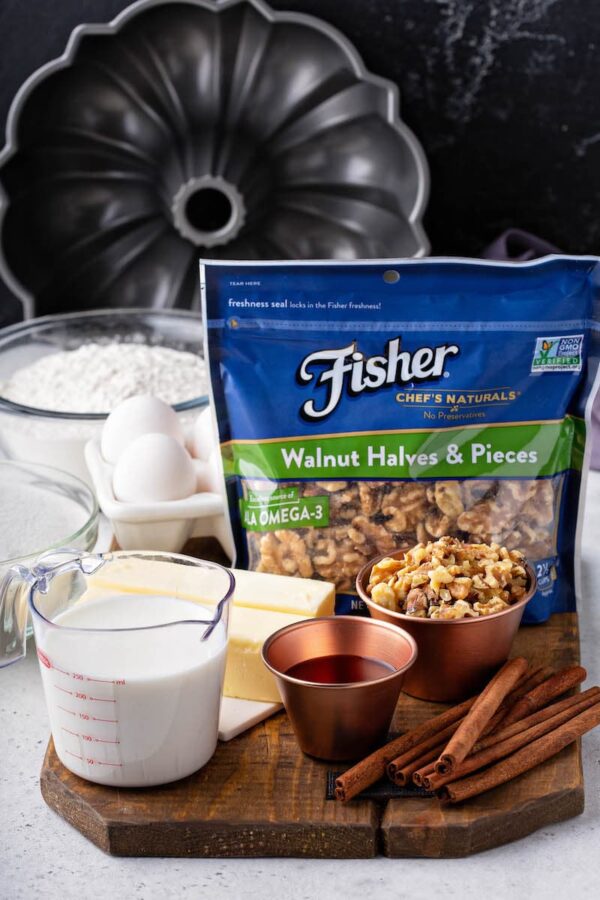 What Type Of Nuts Should You Use In Rum Cake?
Thankfully, I keep a fully stocked pantry for all the baking projects I am constantly dreaming up and that always includes Fisher Nuts.
Fisher nuts are always fresh right out of their shells, have no preservatives and are non-GMO Project Verified.
And the super handy stand-up bag is also resealable and keeps the nuts fresh for longer. That way, you can use them all throughout the holiday season!
Walnuts and pecans are both perfect additions to any holiday dish or dessert. They help bring new flavor and texture!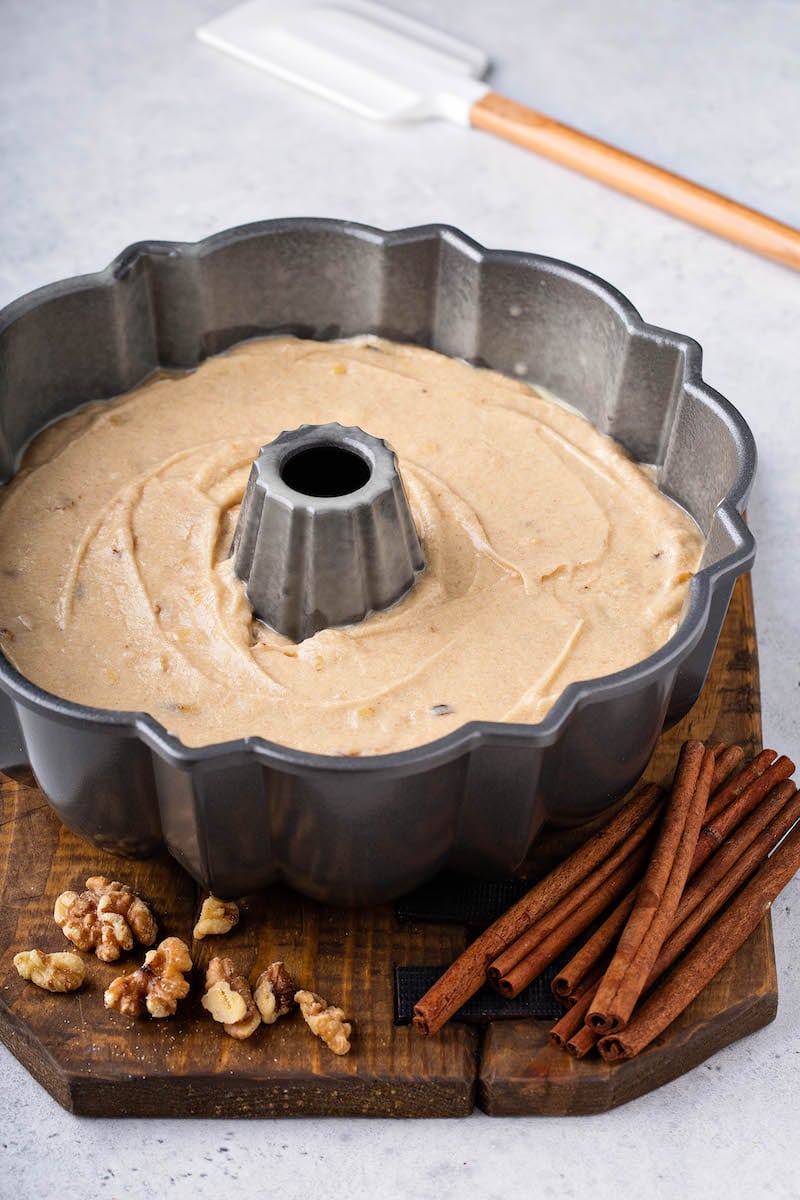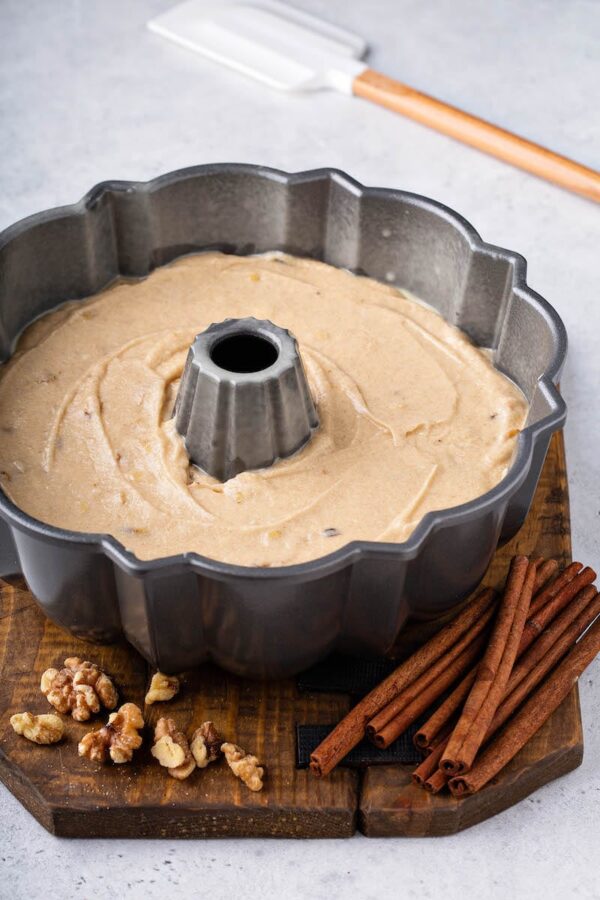 In this Walnut Rum Cake, I add 3/4 cup of Fisher's Walnut Halves & Pieces.
You could also use pecans if you already have those in your pantry, but in my rum cake recipe I personally love the flavor the walnuts add.
Like I said earlier, I do not like to add raisins to my rum cake, but I did include directions for you to include them if you wish!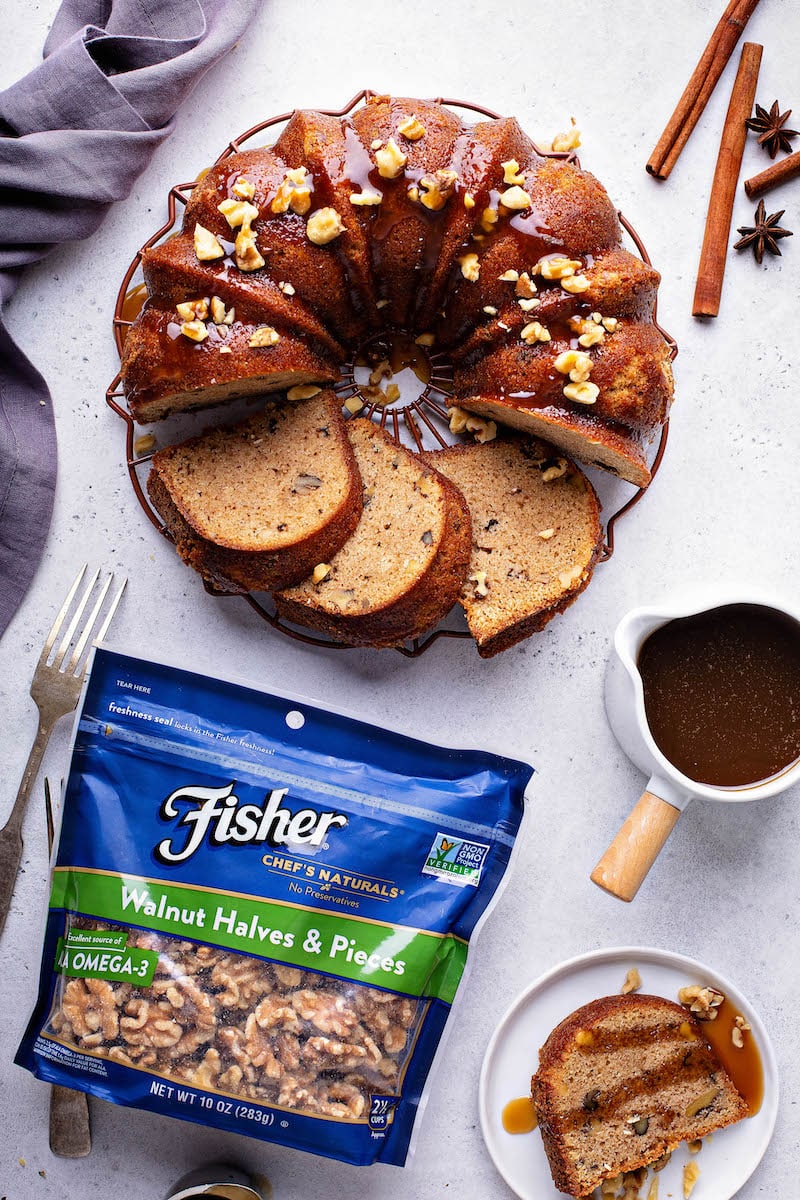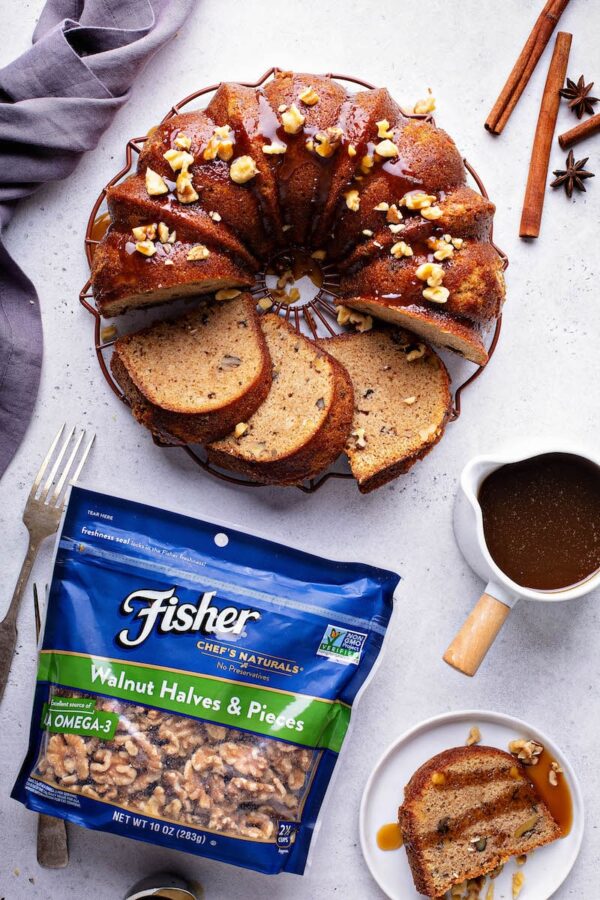 Why You Should Add Cinnamon To This Cake Recipe
I also add one other secret ingredient…a pinch of cinnamon! Are you surprised?
I know it's unusual for a rum cake recipe, but I find just 1/2 teaspoon of cinnamon brings all the flavors together and really plays well off the walnuts and rum!
You wouldn't even know it's there unless I told you. It just adds a little hint of warmth to the rum cake.
And of course, we add a hearty splash of spiced rum to the batter as well as the sauce that goes on top!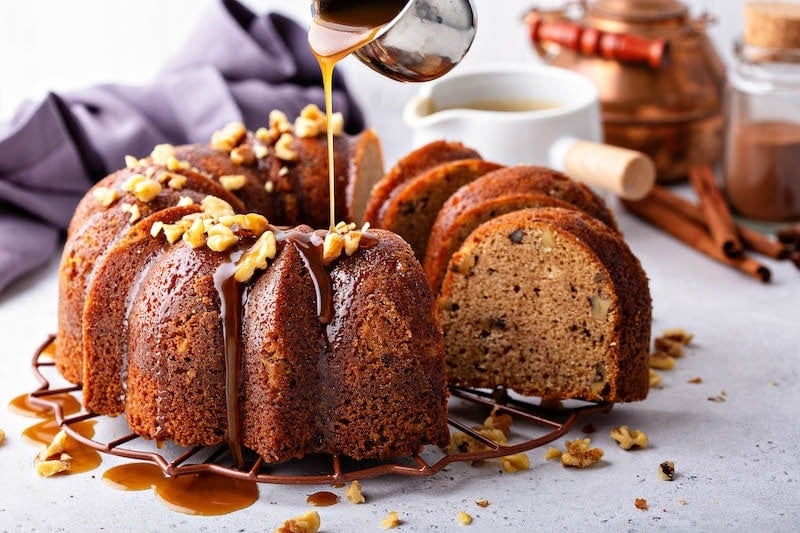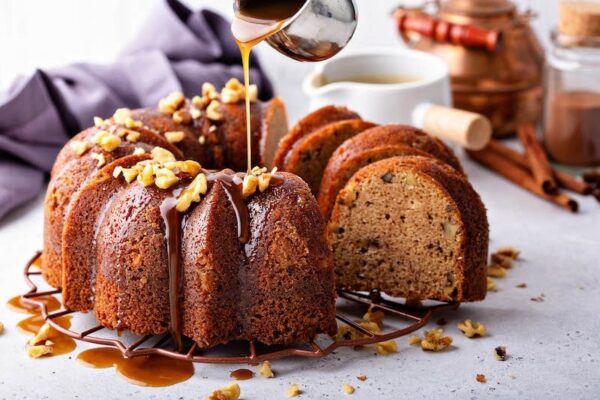 This Homemade Buttery Rum Sauce Is The Best Topping
Speaking of the buttery rum sauce, it is a true can't miss! You have to make it!
You have two options when it comes to your rum cake and the buttery rum sauce combo.
My favorite way is to serve each slice warm with a fresh drizzle of buttery rum sauce.
Can This Cake Be Made Ahead Of Time?
Don't worry, you can still make the cake ahead of time. Just microwave each slice for 10 seconds before serving.
OR the other fun option, you can soak you rum cake in the sauce. Use a toothpick or fork and poke holes into the cake and pour the sauce on topped let it soak into it.
Both ways are absolutely delicious, it's all about personal preference!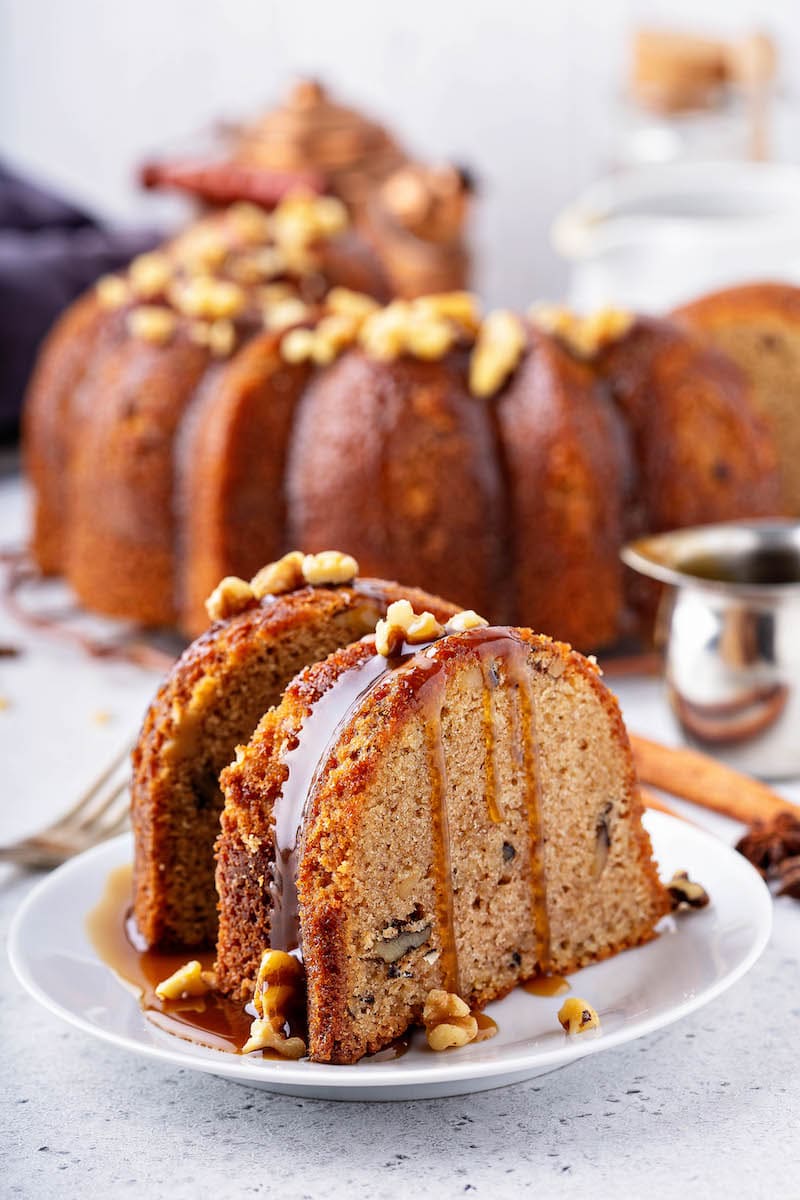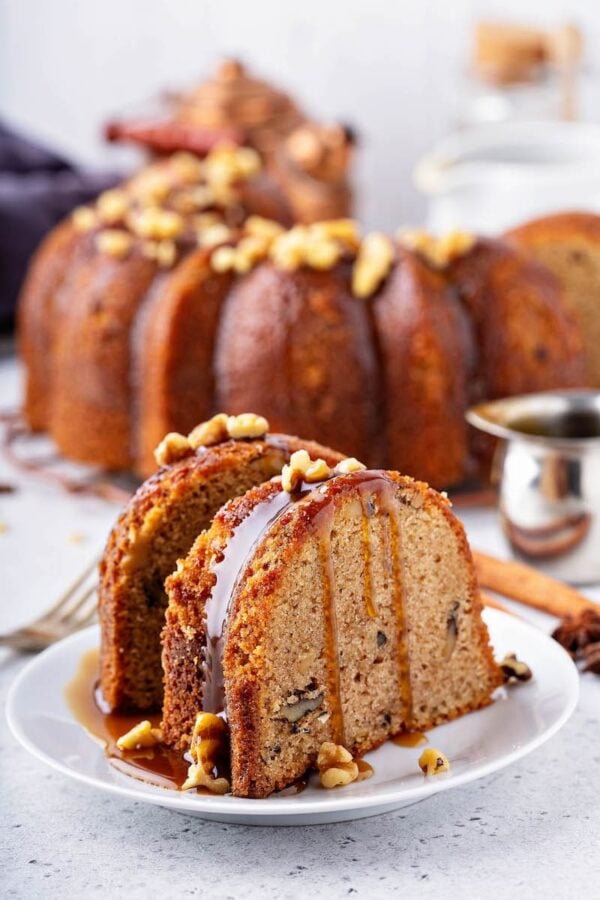 I know you are going to love this Walnut Rum Cake recipe just as much as we do!
If you bring it to a party, be prepared for everyone to beg you to share the recipe!
It's very easy to make, has a wonderful rich texture, and is loaded with rum flavor. What more could you ask for?!
Just make sure and don't forget a good heaping handful of Fisher walnuts or pecans!
Yield: 1 Cake
Walnut Rum Cake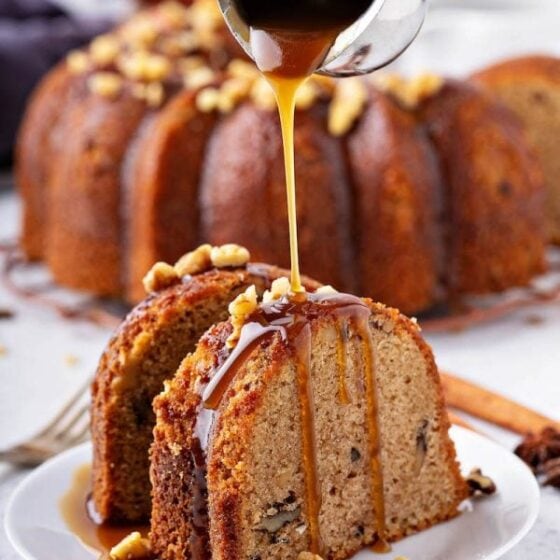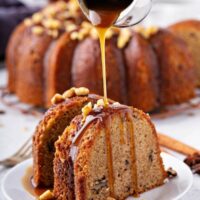 Walnut Rum Cake is a sweet, moist homemade cake flavored with dark spiced rum and crunchy walnuts and then generously topped with a warm buttery rum sauce! It's the perfect cake recipe for holidays and sharing with friends!
Total Time
1 hour
20 minutes
Ingredients
WALNUT RUM CAKE:
1 cup whole milk
1 tablespoon white vinegar
3 cups all-purpose flour
1/2 teaspoon cinnamon
1/2 teaspoon baking soda
1/2 teaspoon salt
1 cup (2 sticks) unsalted butter, softened
2 3/4 cup granulated sugar
4 large eggs
1 tablespoon vanilla extract
1/4 cup spiced rum
3/4 cup chopped Fisher Walnuts
1/2 cup raisins, optional
BUTTERY RM SAUCE:
1/2 cup (1 stick) unsalted butter
1/2 cup packed brown sugar
1/2 cup granulated sugar
1/3 cup half & half (or heavy cream)
3 tablespoons spiced rum
Instructions
Preheat oven to 325°F. Grease a 10-inch bundt pan with baking spray or butter and flour it. Set aside.
In small bowl, whisk together milk and vinegar. Set aside. In a medium bowl, whisk together flour, cinnamon, baking soda and salt. Set aside.
In large bowl of stand mixer, cream butter and sugar until light and fluffy. Beat in eggs one at a time, then stir in vanilla until well combined. Beat in flour mixture alternating with milk and rum. Fold in walnuts and optional raisins if desired.
Pour batter into prepared bundt pan. Bake for 55 to 65 minutes, until center is set and a toothpick inserted comes out clean. Allow cake to cool completely (in bundt pan) before inverting onto cake plate.
Buttery Rum Sauce: Combine the butter, brown sugar and granulated sugar in a small saucepan. Heat over medium heat, stirring often, until smooth. Add the cream and rum and bring to a simmer. Simmer for 5 minutes, stirring often. Remove from heat and let cool for 10 minutes.
Serve rum cake warm (just microwave a slice for 10 seconds in the microwave when ready to serve) and drizzle heavily with buttery rum sauce.
Notes
SOAKED RUM CAKE: If you like your cake to be fully drenched in the rum sauce, while the cake is still warm in the bundt cake pan, you can use a toothpick or fork and poke holes into the cake. Then pour the sauce on top of cake and let the sauce soak into it completely.
MAKE AHEAD BUTTERY RUM SAUCE: If you want to make your sauce ahead of time, store it in the refrigerator and reheat it in the microwave in 30 second increments, stirring each time, until hot.
Nutrition Information:
Yield:
12 pieces
Serving Size:
1 piece
Amount Per Serving:
Calories:

503
Total Fat:

9g
Saturated Fat:

3g
Trans Fat:

0g
Unsaturated Fat:

6g
Cholesterol:

70mg
Sodium:

193mg
Carbohydrates:

93g
Fiber:

2g
Sugar:

67g
Protein:

7g
Want to Save This Recipe?
This post is sponsored by Fisher Nuts. All opinions are, as always, 100% my own. Thank you for supporting the brands that I love!
This post may contain affiliate links. Read my disclosure policy.