Walnut Rum Cake is a tender, golden cake filled with dark spiced rum, loaded with crunchy walnuts, and topped with a generous drizzle of buttery rum sauce. It's the perfect dessert for sharing with friends this holiday season.
Looking for more holiday dessert ideas? Try my Red Velvet Cream Cheese Bunt Cake and this Caramel Apple Toffee Cake.
Golden Walnut Rum Cake
If you are looking for the perfect rum cake, look no further: this Walnut Rum Cake could very well be the moistest and boldly flavored cake that I've ever had. Thanks to a healthy splash of dark spiced rum in the batter as well as the sauce, this easy cake practically oozes rich and spicy flavors!
Rum cakes were a staple at just about every Christmas or Thanksgiving table I came across after I moved to Florida. My love for them grew instantly! This is by far the best recipe for a buttery, moist holiday cake loaded with spice and walnuts, then saturated with an unbelievable sweet and silky, warm rum glaze. I make my rum cake without raisins, and rich flavors and moist texture combined with the crushed nuts is absolutely divine! This cake also pairs wonderfully with coffee or tea.
With or without raisins, made the morning of or a day or two ahead of time, this is my all-time favorite homemade rum cake recipe for festivities and sharing. It's honestly plate-licking good – and the perfect holiday dessert recipe too, as it never fails to please a crowd.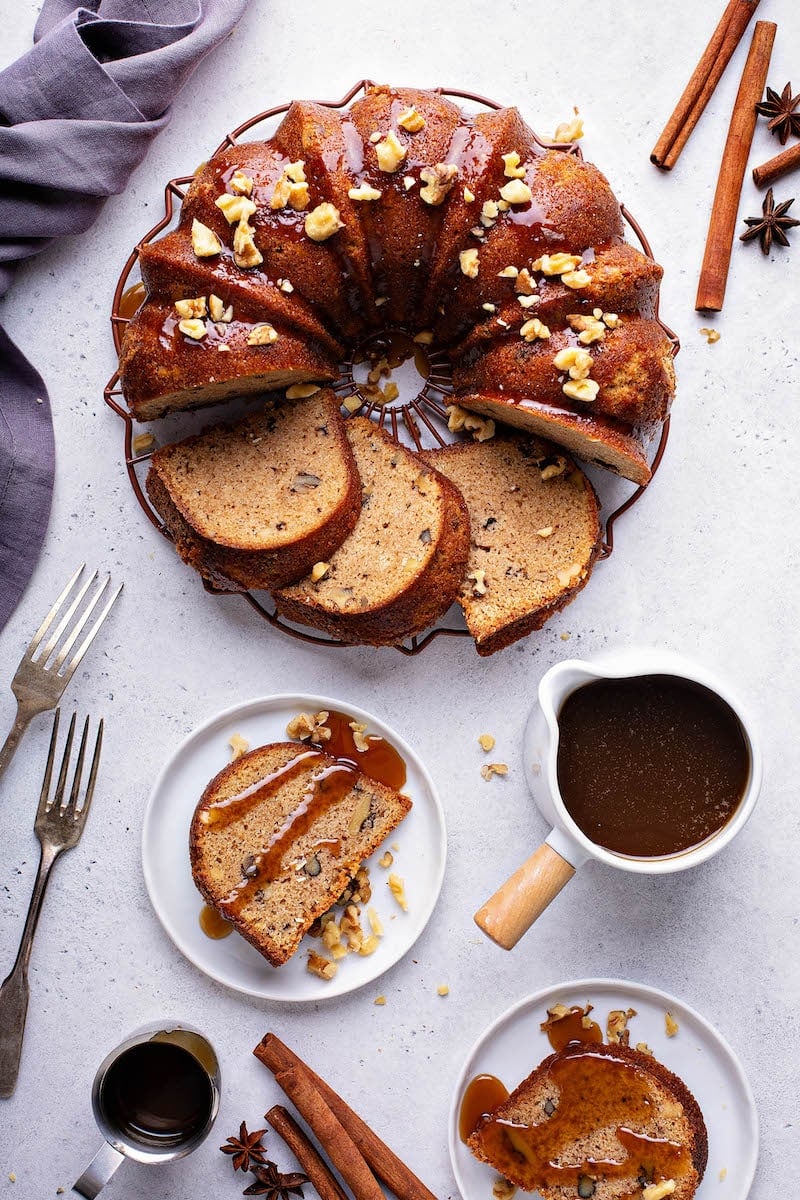 What You'll Need
The good news is, your baking pantry is likely already stocked with most of the ingredients needed for this easy rum cake recipe! The even better news is, while you have your rum of choice, you can get into the festive spirit and enjoy a holiday tipple while you gather the remaining ingredients and get started!
For the Rum Cake
Spiced Rum: Dark Rum offers a bold, rich, slightly sweet, classic flavor of a rum cake.
Walnuts: Or pecans, but I personally love the flavor that walnuts bring to this cake.
Cinnamon: Maybe unusual for a rum cake recipe, but a pinch of cinnamon adds a hint of warmth that goes deliciously with walnuts and rum!
Butter: Unsalted and softened.
Eggs: 4 large eggs for a rich and densely textured cake.
Vanilla: Pure vanilla extract will give the most natural flavor.
White Vinegar: Alternatively, apple cider vinegar. Adding a tablespoon of vinegar helps to kickstart a chemical reaction with the baking soda, for extra lift in the cake!
Flour: All-Purpose Flour is my go-to, as it yields the most consistent results when baking.
Sugar: Granulated sugar, or brown sugar for an even more dense cake and caramelized flavor.
Optional: Raisins, because even though I leave them out, I know they're classic to many rum cake recipes!
Whole Milk
Baking Soda
Salt
For the Rum Sauce
Sugar: Both granulated and brown sugars
Half-and-Half: Or heavy cream.
Spiced Rum
Unsalted Butter
What Type of Rum Should I Use?
For the richest and bold flavor that still holds a bit of sweetness, I like to use a dark spiced rum like Captain Morgan. Any dark rum will do though; the flavor is better when compared to a white or clear rum like Bacardi.
Does Rum Cake Get You Drunk?
In theory, yes. In practice, rarely. Some of the alcohol in the batter will cook off in the heat of the oven, and any alcohol remaining in a baked rum cake is likely too little to get a person drunk. Even after a few slices!
However, eating an excessive amount of traditional rum cake can result in a buzz depending on the (sometimes unpredictable) level of alcohol in the cake. It's also always courteous to let guests know when a recipe contains alcohol, just in case!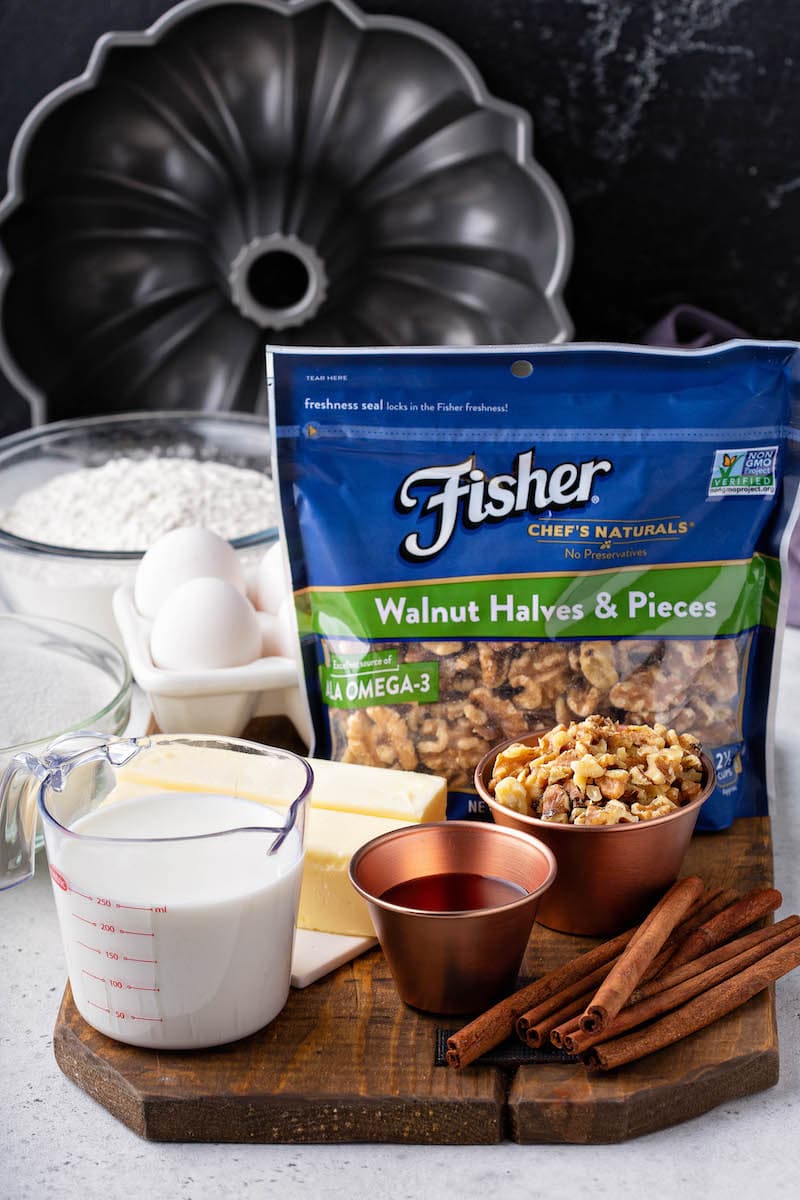 How to Make Walnut Rum Cake
This incredible Walnut Rum Cake brings together so much flavor in so little time! Mixing the ingredients separately is the key to a perfectly textured, dense rum cake. Everything comes together so easily, you'll see why this is a favorite dessert for busy holiday periods!
Prep and Preheat: While preheating the oven to 325°F, grease a bundt pan with baking spray or butter. Coat it lightly with flour and then set aside.
Mix Wet and Dry Ingredients Separately: In one bowl, whisk together the milk and vinegar; in another, separate bowl, mix the flour, cinnamon, baking soda and salt, and then leave both bowls aside.
Beat Together the Other Ingredients & Combine: Cream together the butter and sugar. Next beat in the eggs (one at a time), and lastly the vanilla. Next add in the flour mixture, alternating with the milk mixture and the spiced rum. Fold the walnuts into the batter after everything is mixed.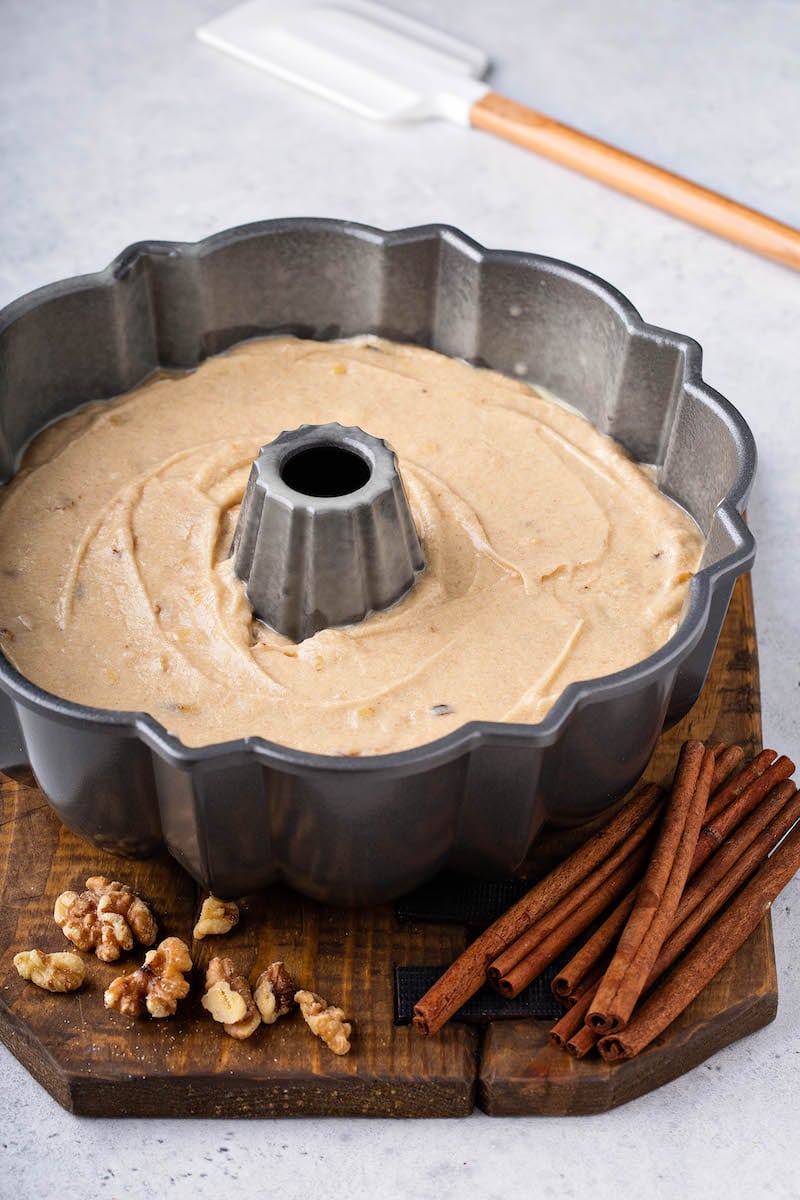 Fill the Bundt Pan & Bake: Pour your cake batter into the prepared bundt pan. Bake in the oven until the cake is set in the center and golden on the outside, about an hour. Let your rum cake cool completely in the pan before carefully inverting the cake onto a plate.
Make the Buttery Rum Sauce: In a small saucepan, stir together the butter, brown sugar and granulated sugar over the heat until smooth. Next, add the cream and rum and then bring to a simmer while stirring often. Finally, remove the sauce from heat and allow it to cool before serving.
Serve your rum cake slices warm from the oven, topped with a generous drizzle of buttery rum sauce and a sprinkle of crushed walnuts!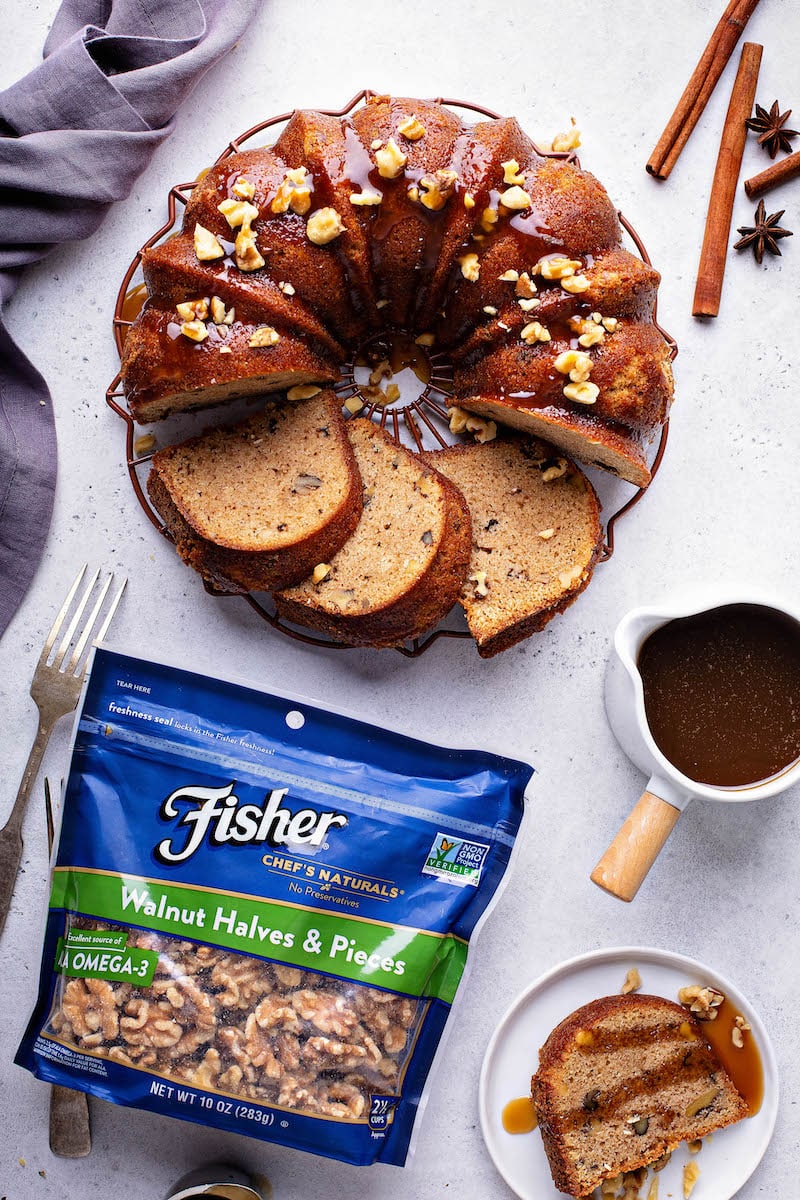 Tips for Success
Soak the Rum Cake: For a cake that's fully drenched in rum sauce and all the added flavor that comes with it, use a toothpick or fork and poke holes in the cake while it's still warm in the pan. Pour the rum sauce over top of the cake and let it soak in completely.
Make the Rum Sauce Ahead of Time: If you want to make your sauce ahead of time, store it in the refrigerator and reheat it in the microwave in 30 second increments, stirring each time, until hot.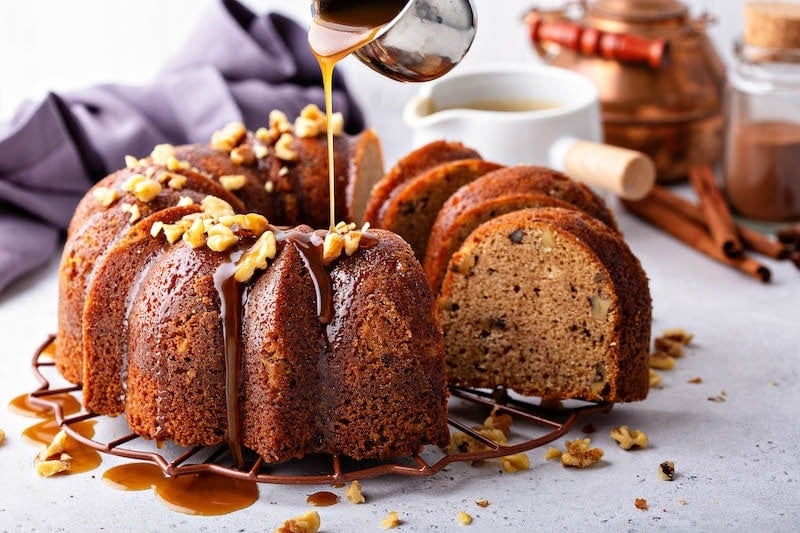 How to Store Rum Cake
Store rum cake in the fridge for up to 5 days. Enjoy cold or warmed in the microwave for a few seconds when serving.
Can I Freeze Extra Slices?
Leftover slices of rum cake can be frozen before they're topped with rum sauce. Let the cake slices cool off completely and then freeze them in a freezer-safe container, with parchment separating the layers, for up to 3 months. Thaw the cake in the fridge before serving cold or reheated in the microwave, drizzled with a fresh coating of rum sauce!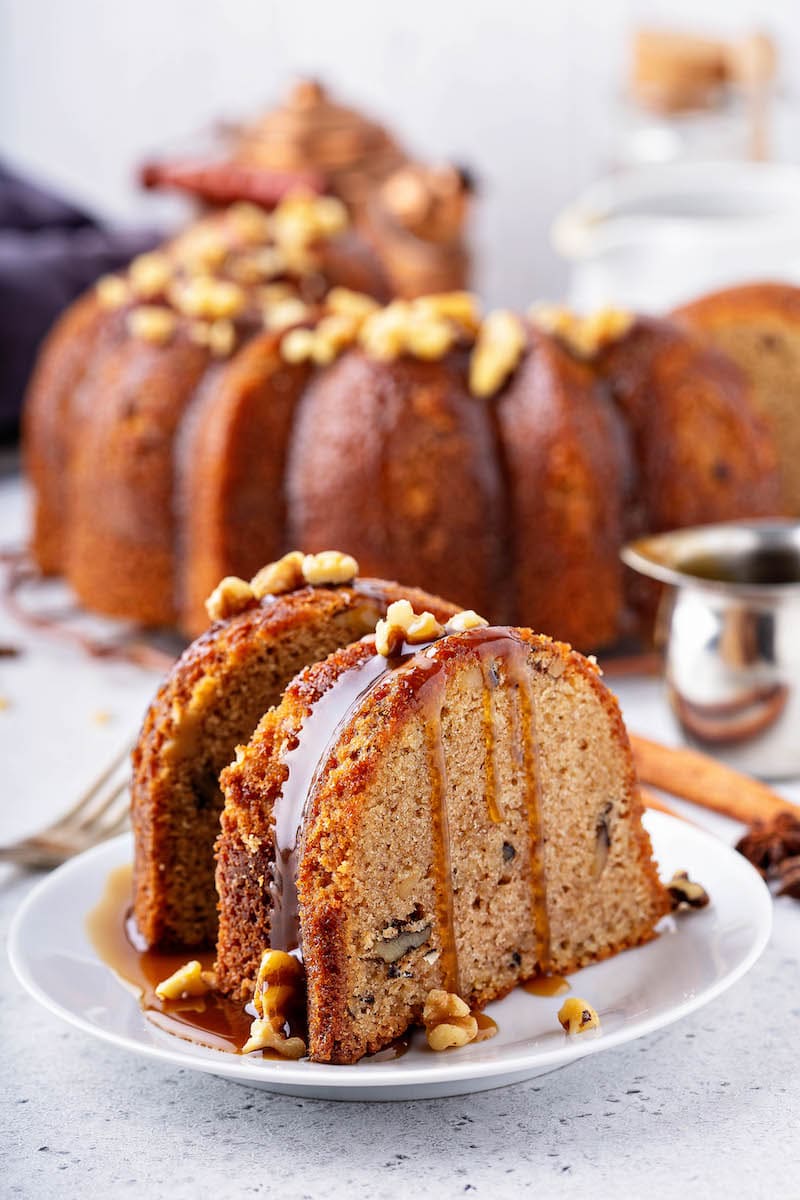 More Holiday Dessert Ideas
From family gatherings to holiday parties, here are more easy and delicious desserts that are perfect to ring in the festive season:
Walnut Rum Cake
The best Walnut Rum Cake flavored with spiced rum, filled with crunchy walnuts, and drizzled with a warm and buttery rum sauce. The perfect homemade cake recipe to please a crowd this holiday season!
Ingredients
WALNUT RUM CAKE:
1

cup

whole milk

1

tablespoon

white vinegar

3

cups

all-purpose flour

½

teaspoon

cinnamon

½

teaspoon

baking soda

½

teaspoon

salt

1

cup

2 sticks unsalted butter, softened

2 ¾

cup

granulated sugar

4

large eggs

1

tablespoon

vanilla extract

¼

cup

spiced rum

¾

cup

chopped Fisher Walnuts

½

cup

raisins

,

optional
BUTTERY RUM SAUCE:
½

cup

1 stick unsalted butter

½

cup

packed brown sugar

½

cup

granulated sugar

⅓

cup

half & half

,

or heavy cream

3

tablespoons

spiced rum
Instructions
Preheat oven to 325°F. Grease a 10-inch bundt pan with baking spray or butter and flour it. Set aside.

In small bowl, whisk together milk and vinegar. Set aside. In a medium bowl, whisk together flour, cinnamon, baking soda and salt. Set aside.

In large bowl of stand mixer, cream butter and sugar until light and fluffy. Beat in eggs one at a time, then stir in vanilla until well combined. Beat in flour mixture alternating with milk and rum. Fold in walnuts and optional raisins if desired.

Pour batter into prepared bundt pan. Bake for 55 to 65 minutes, until center is set and a toothpick inserted comes out clean. Allow cake to cool completely (in bundt pan) before inverting onto cake plate.

Buttery Rum Sauce: Combine the butter, brown sugar and granulated sugar in a small saucepan. Heat over medium heat, stirring often, until smooth. Add the cream and rum and bring to a simmer. Simmer for 5 minutes, stirring often. Remove from heat and let cool for 10 minutes.

Serve rum cake warm (just microwave a slice for 10 seconds in the microwave when ready to serve) and drizzle heavily with buttery rum sauce.
Notes
SOAKED RUM CAKE: If you like your cake to be fully drenched in the rum sauce, while the cake is still warm in the bundt cake pan, you can use a toothpick or fork and poke holes into the cake. Then pour the sauce on top of cake and let the sauce soak into it completely. MAKE AHEAD BUTTERY RUM SAUCE: If you want to make your sauce ahead of time, store it in the refrigerator and reheat it in the microwave in 30 second increments, stirring each time, until hot.
Nutrition
Serving:
1
piece
,
Calories:
503
kcal
,
Carbohydrates:
93
g
,
Protein:
7
g
,
Fat:
9
g
,
Saturated Fat:
3
g
,
Polyunsaturated Fat:
6
g
,
Cholesterol:
70
mg
,
Sodium:
193
mg
,
Fiber:
2
g
,
Sugar:
67
g
This post may contain affiliate links. Read my disclosure policy.