This Caramel Apple Toffee Cake is a homemade – from scratch – poke cake is filled with bites of apple, toffee, caramel sauce and topped with sweet whipped cream!
Caramel Apple Toffee Cake
Are you looking at this Caramel Apple Toffee Cake? It is the perfect make ahead Fall dessert. You can easily take it to a party, a potluck or make it a day ahead for Thanksgiving!
I wish I could give you each a big bite through the screen, I promise you would be in your kitchen immediately making this cake. It's so ridiculously and perfectly over the top, but also still SUPER easy to make. You can also make it with a boxed cake mix!
I started with cinnamon cake that is from scratch, but also really simple to make. It doesn't require any beaters or anything crazy – just two bowls and whisk. I used melted butter and oil to make sure it stays super moist.
In the center of the cake, is a thick layer of apple pie filling and little toffee bits all mixed together. The toffee bits and apple bites bake right into the cake and creates the perfect texture throughout.
As soon as the cake comes out of the oven, you poke it with a bunch of little holes and drizzle it with caramel sauce. You can make your own homemade caramel sauce or use store bought — either way is delicious and no one will know. The warm apple spice cake soaks up all that caramel sauce as it cools. This is the hardest part – waiting!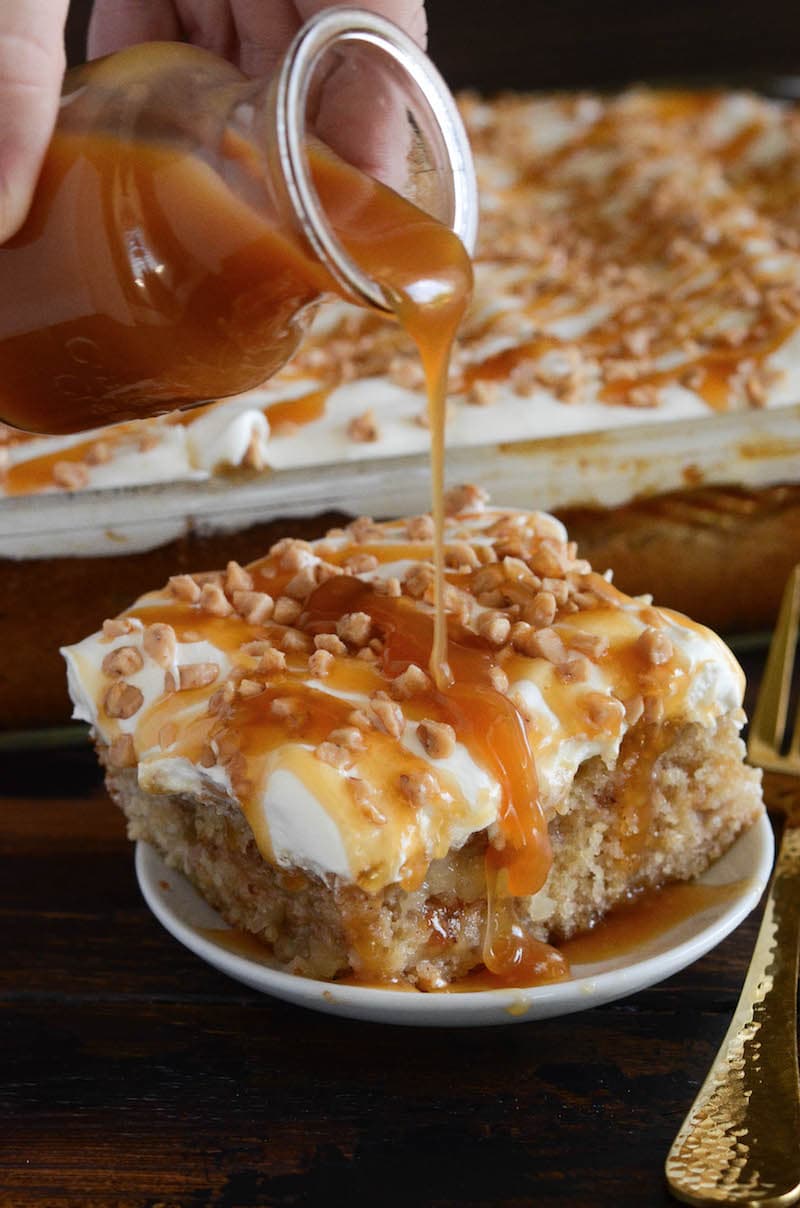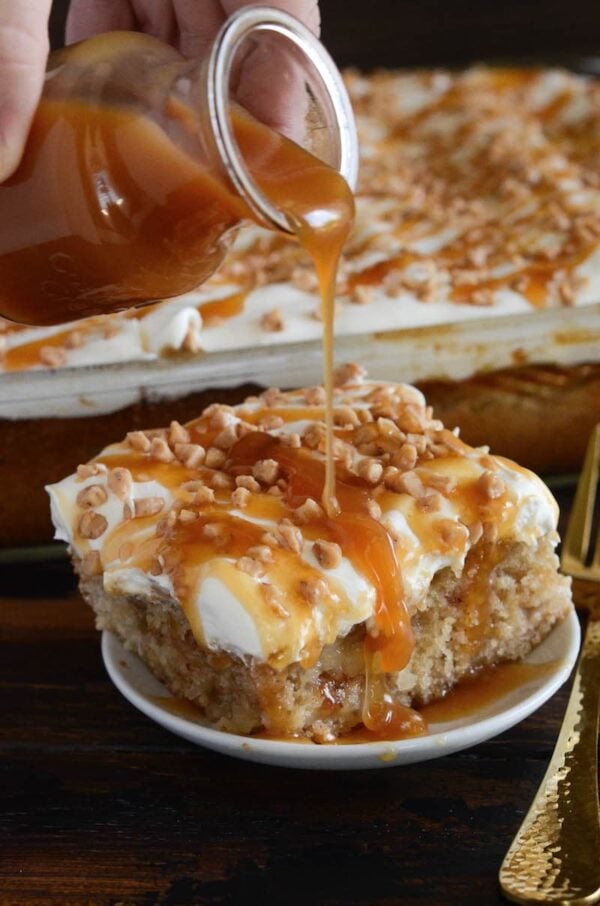 Ingredients Needed
This is a homemade poke cake, from scratch, so there are a few more ingredients required than if we used a cake mix. However, I promise you it is all worth it in the end for the flavor and perfect texture. You can't get this cake with a cake mix!
Here are the ingredients needed to make this Caramel Apple Toffee Cake:
All Purpose Flour
Baking Powder
Cinnamon: or you can also use apple pie spice seasoning.
Salt
Granulated Sugar and Brown Sugar
Butter
Vegetable Oil
Eggs
Sour Cream: or plain/vanilla yogurt can be used in place of sour cream.
Vanilla Extract
Whole Milk
Apple Pie Filling
Toffee Chips: sold in the baking aisle by the chocolate chips.
Caramel Sauce: homemade or store bought!
Whipped Topping: You can use cool whip or homemade whipped cream.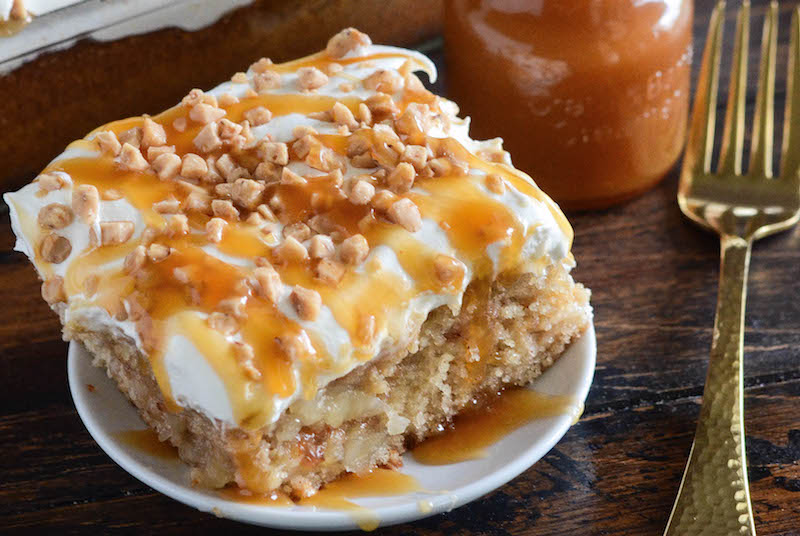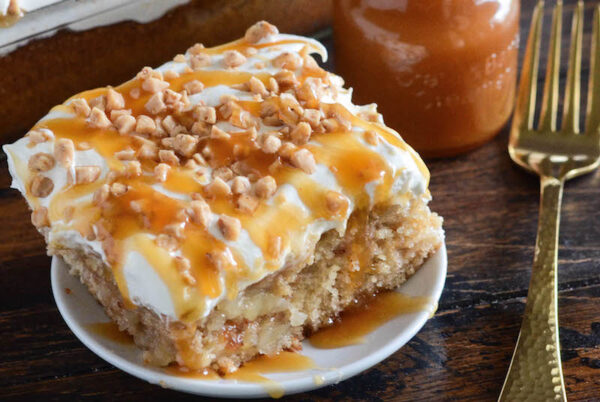 Cool Whip Vs Homemade Whipped Cream
You can use either one that your heart desires, there is no wrong choice! I will warn you though, homemade whipped cream does not hold up half as long as cool whip does.
So, if you want to use homemade whipped cream, frost the cake right before you are ready to serve. If you are using cool whip, you can top it up to a day before and store it in the fridge!
More Delicious Apple Recipes
If you have a bunch of apples to use up, here are a few other apple recipes that are reader favorites! The apple dumplings are a personal favorite of mine!
Apple Pie French Toast Casserole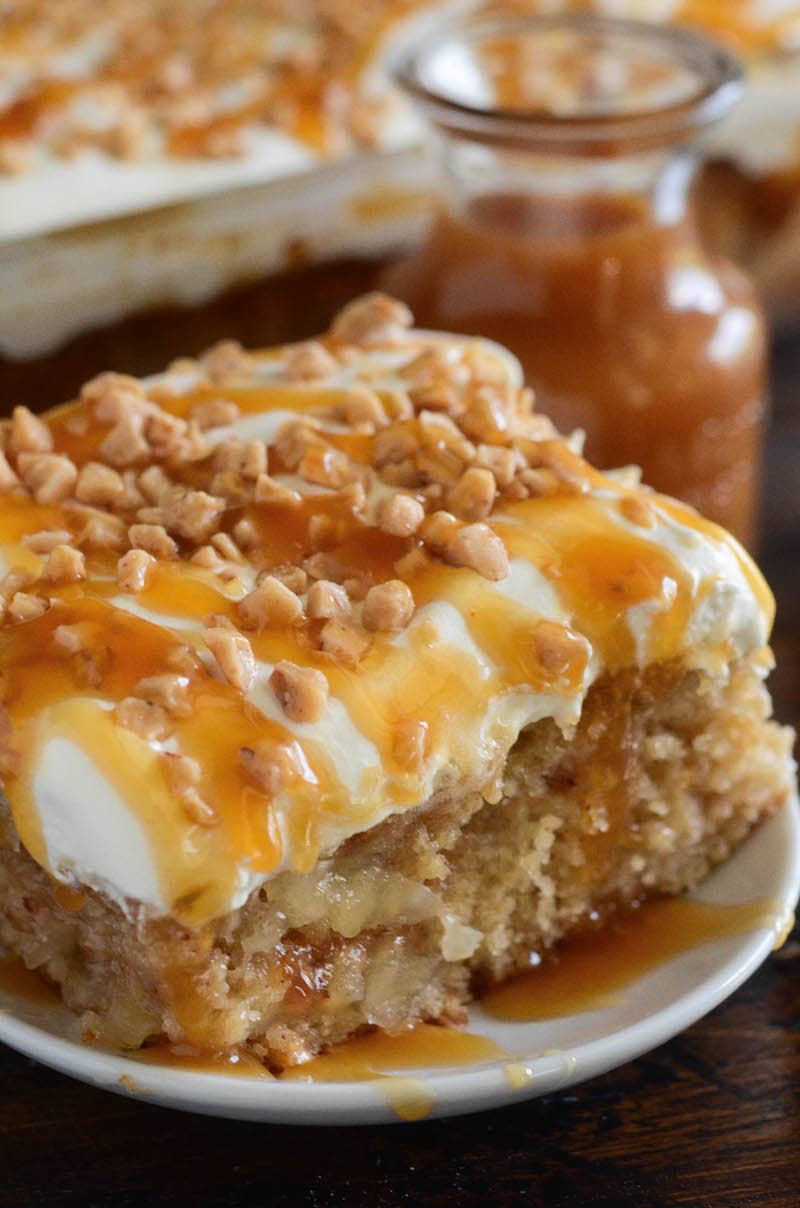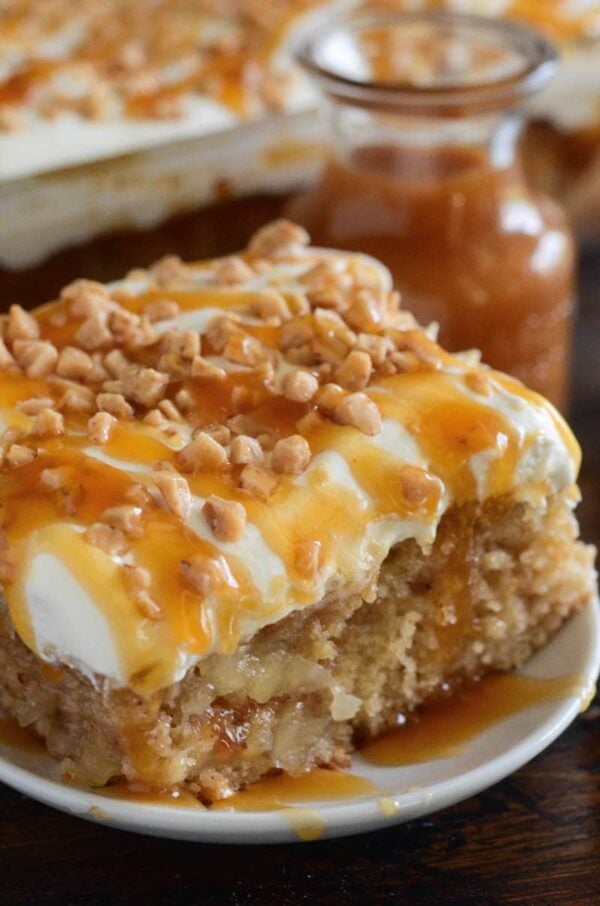 Then we finish off this Caramel Apple Toffee Cake with an extra healthy drizzle of caramel and toffee bites. The little toffee bites on top add a little crunch to each soft cake filled bite. Watch this video below, at least for the first 10 seconds, and try to tell me you aren't drooling!
Head on over to Dixie Crystals to get the full recipe I developed for them by clicking the button below:
SaveSave
This post may contain affiliate links. Read my disclosure policy.