Mountain Dew Apple Dumplings: crisp green apples are wrapped in soft dumplings and baked in a sweet cinnamon sauce made of brown sugar, butter and mountain dew!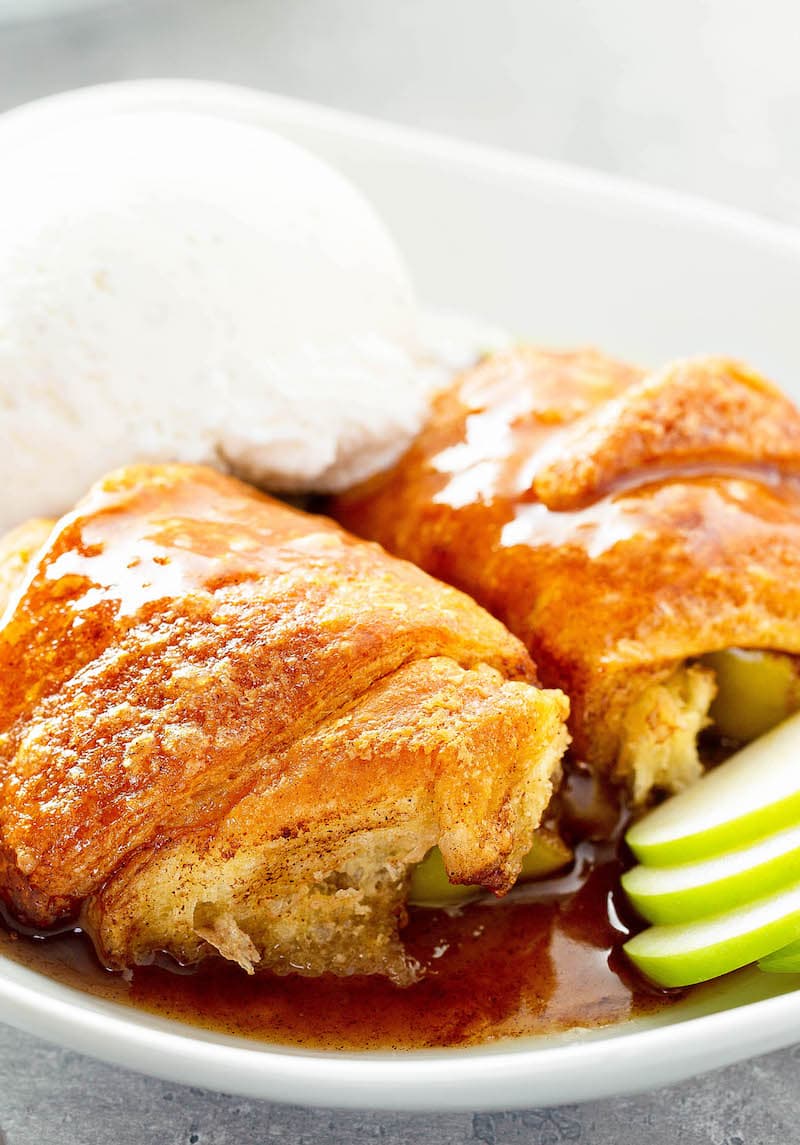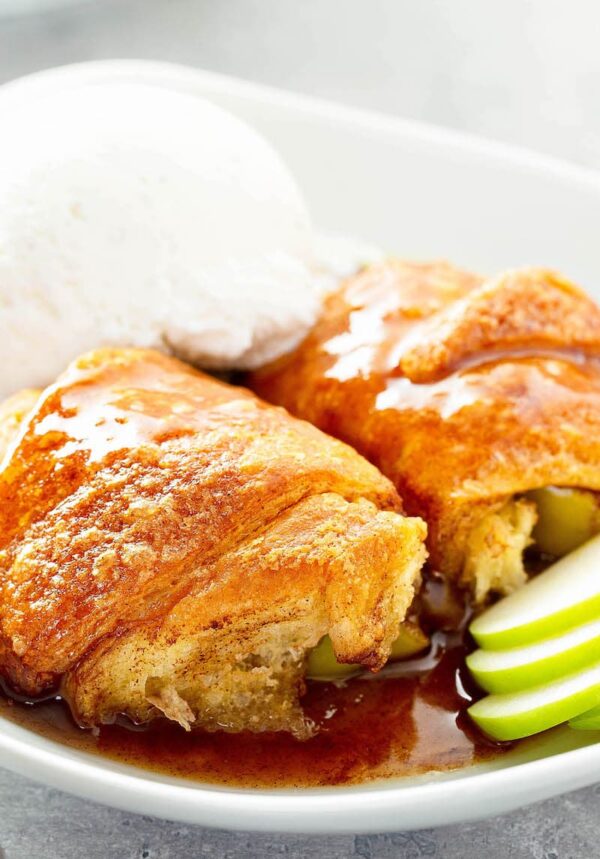 This is one throwback of an apple dumpling recipe – all the way back to the 2000's!
I remember the first time I tried apple dumplings made with Mountain Dew.
I had no idea before eating them what they were made with and once my Mom told me, I was shocked!
You would never guess that these tender dumplings with a delicious sauce were made with Mountain Dew of all ingredients!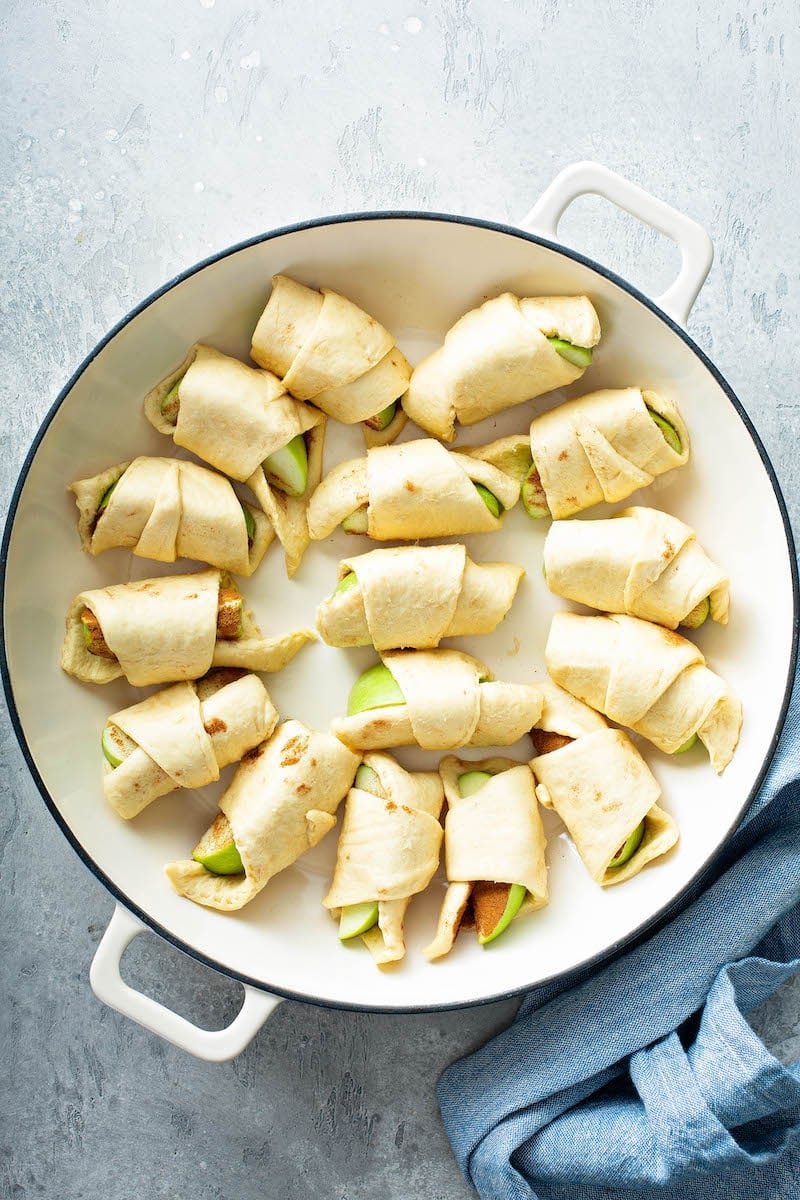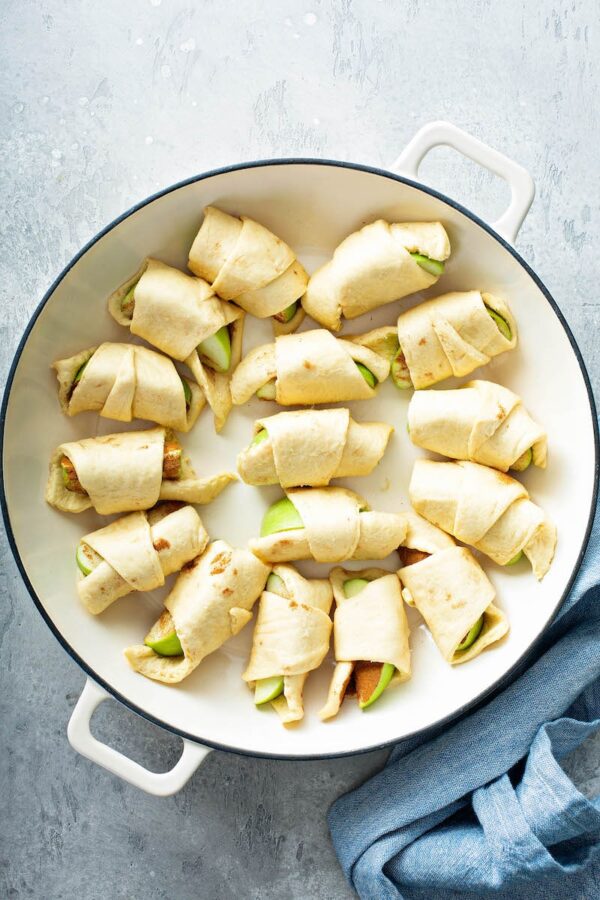 I remember begging her for this Mountain Dew Apple Dumpling recipe and her sitting down to write it down.
This was way before the days of when you could just text each other the recipe and instead all family recipes were written down on recipe note cards.
I was so excited to make it for Jorge, that I made it the very next night and we played guess the ingredient.
He guessed all kinds of crazy things, but he was never guessed these apple dumplings were made with Mountain Dew!
He was just as shocked as I was and then proceeded to eat 3 more and ask me to make them for his friends asap.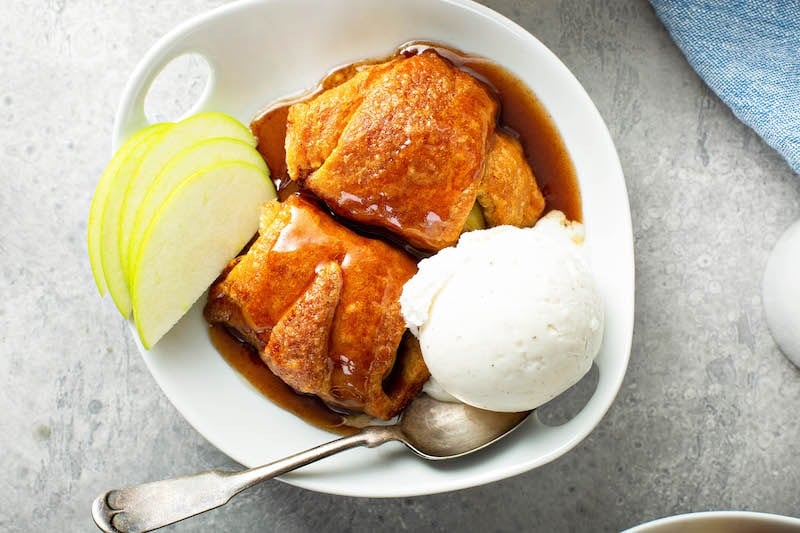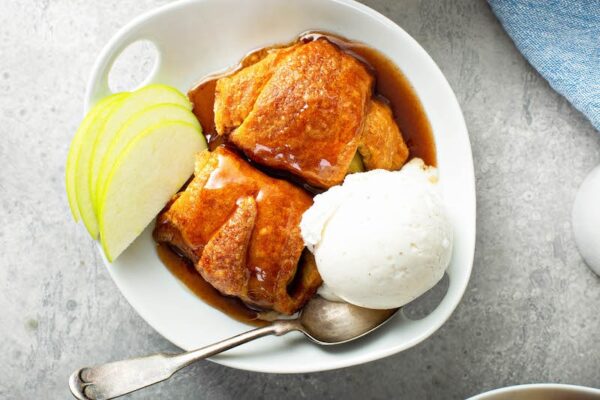 Dumplings
For the dumpling dough, I use crescent dough, just like the original recipe my mom wrote down for me.
In the years passed, I have tried making my own dumpling dough from scratch, but it just never tasted as good.
I see no point in going through all that work for subpar dumplings, when you can use crescent dough for excellent dumplings!
However, if you don't have access to canned crescent dough, the next best thing would be trying a buttery pie dough.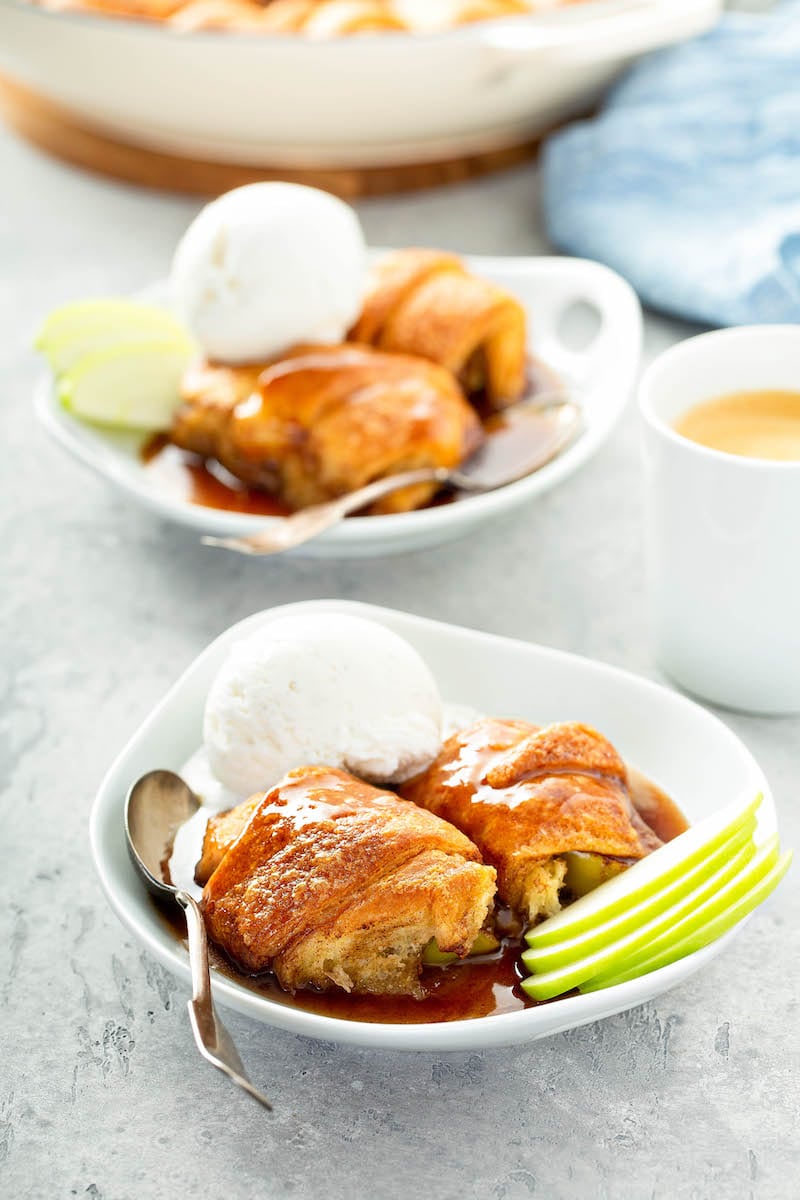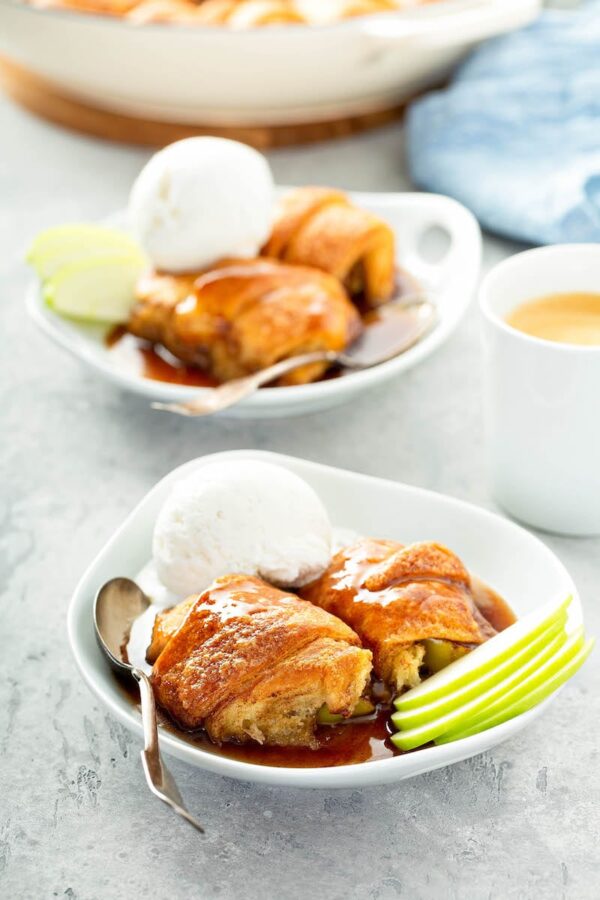 Mountain Dew
I know you are going to ask, so YES, you can use sprite or ginger ale in place of the Mountain Dew. Any light colored mild soda should do just fine in its place.
Honestly, you can skip the soda completely like I do in the updated version of this recipe for Rum Apple Dumplings.
You can substitute the mountain dew with apple cider, sparkling apple cider, apple juice, or also rum (or another type of alcohol you think will pair well with the apple dumplings).
It's easy to make this apple dumpling recipe your own, just make sure you don't stray too far from the original. It's already pretty perfect just as it is!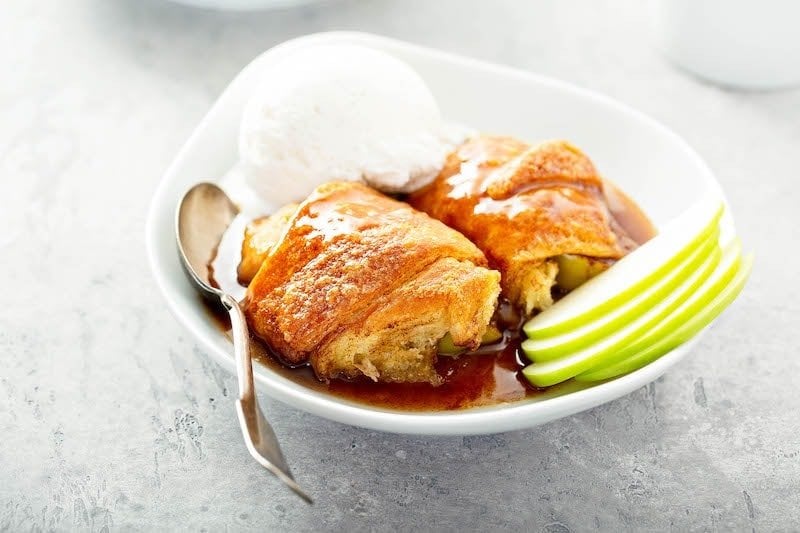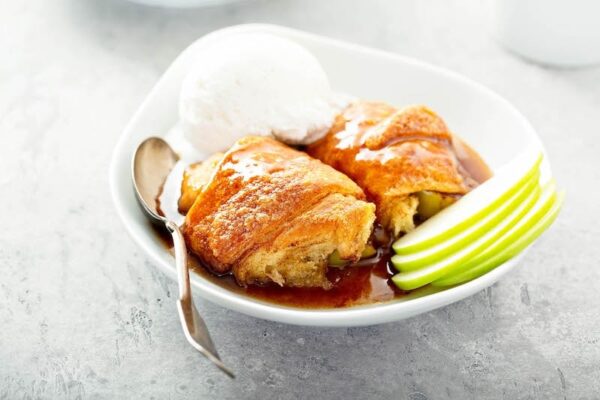 This Mountain Dew Apple Dumpling recipe has been around for a couple of decades for one reason, it's so dang good.
If you think the mountain dew addition to apple dumplings is crazy, trust me, I know it is!
However, I can promise you that it doesn't taste like mountain dew once it's baked and everyone is going to be begging you for the recipe.
Serve these dumplings with vanilla ice cream and a healthy drizzle of the sauce from the apple dumplings and watch it disappear!
And don't miss all my other dumpling recipes – both savory and sweet!
Yield: 16 Dumplings
Mountain Dew Apple Dumplings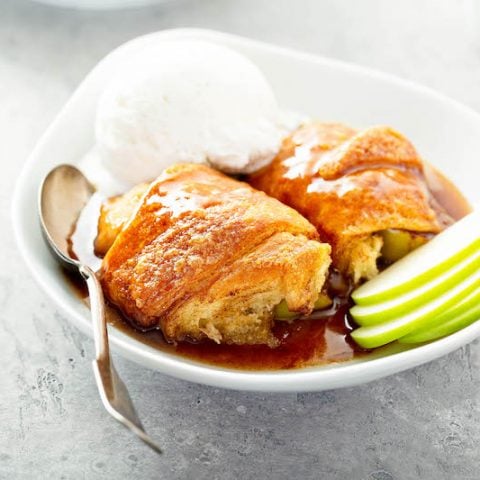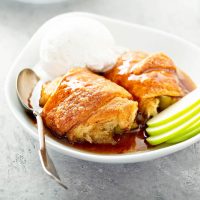 Mountain Dew Apple Dumplings: crisp green apples are wrapped in soft dumplings and baked in a sweet cinnamon sauce made of brown sugar, butter and mountain dew!
Ingredients
2 large green apples
2 tablespoons ground cinnamon, divided
2 (8 oz) cans crescent rolls
1 cup (2 sticks) unsalted butter
1 cup granulated sugar
1 cup packed brown sugar
1 cup mountain dew
Instructions
Preheat oven to 350°F. Grease a 9x13 baking pan (or extra large cast iron skillet) set aside.
Core and slice apples into 8 even slices (16 slices total) and then peel the skin off the apples.
Sprinkle cinnamon (about 1 tablespoon) on top of all of the apples. Then roll one apple slice inside of each crescent roll piece.
Place in prepared pan, in two rows, leaving a little room between each dumpling.
Then in a small pot bring the butter, remaining 1 tablespoon cinnamon, granulated sugar and brown sugar to a boil. Once boiling, evenly pour over the crescent rolls.
Finally pour the mountain dew around just the edges of the pan.
Bake for 40 to 45 minutes, until bubbling and the dumplings are browned on top.
Serve hot with vanilla ice cream and pour the extra sauce form the pan on top!
Nutrition Information:
Yield:
16 Dumplings
Serving Size:
1 Dumpling
Amount Per Serving:
Calories:

318
Total Fat:

17g
Saturated Fat:

10g
Trans Fat:

0g
Unsaturated Fat:

5g
Cholesterol:

47mg
Sodium:

124mg
Carbohydrates:

42g
Fiber:

2g
Sugar:

31g
Protein:

2g
Want to Save This Recipe?
This post may contain affiliate links. Read my disclosure policy.