This chewy Apple Blondie recipe is loaded with fresh apples, cinnamon and nutmeg in each bite. Serve these blondies warm with a scoop of vanilla ice cream and caramel sauce!
Looking for more blondie recipes? If you are a blondie lover, make sure and check out my Butterscotch Blondies, Cinnamon Roll Blondies and Coconut Blondies.
A Classic Blondie Recipe with Apples
These chewy apple blondies with gorgeous crackly tops are what Fall dreams are made of!
They are quick to whip up, using melted butter and fresh apples, and will fill your house with the most amazing smell as they bake.
Each chewy bite is loaded with tender apple pieces, cinnamon and nutmeg. You can also use apple pie spice!
Serve these Apple Blondies warm with a scoop of vanilla ice cream and caramel sauce to really take them over the top.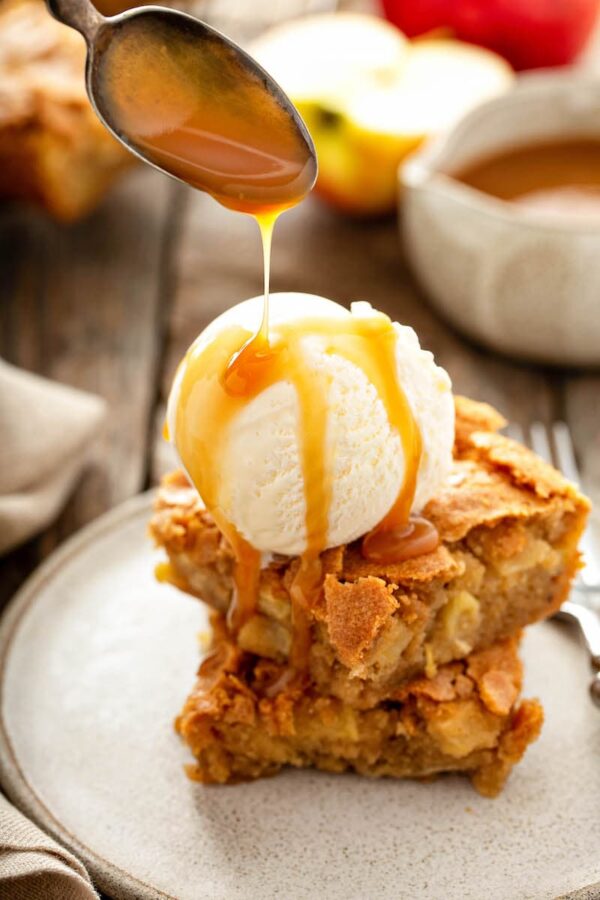 How to Serve Apple Blondies
Well, the most outrageous and impressive way is to serve your Apple Blondies warm with a big scoop of cold vanilla ice cream and a heavy drizzle of rich caramel sauce.
However, they are also absolutely delicious served just as they are at room temperature!
I have made triple batches of these Apple Blondies to hand out to guests as they leave a dinner party.
And I always get rave reviews back saying the Apple Blondies were all gone before they got home!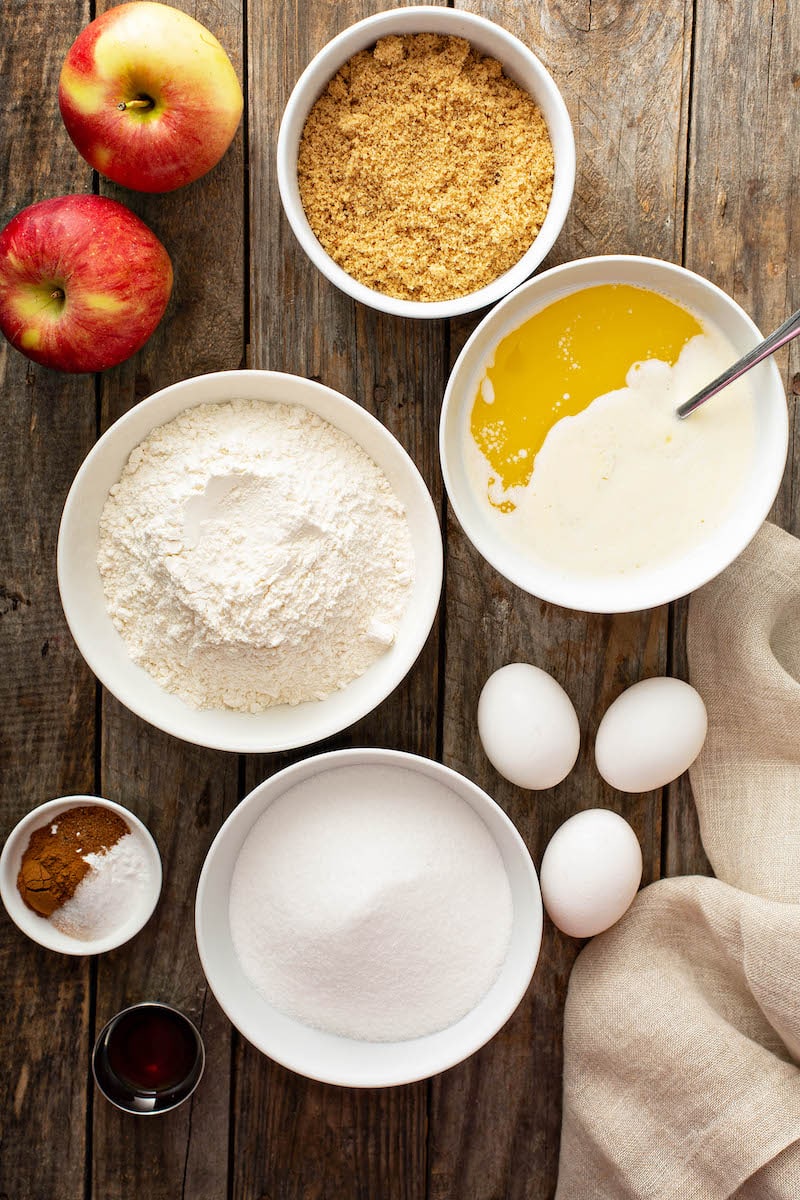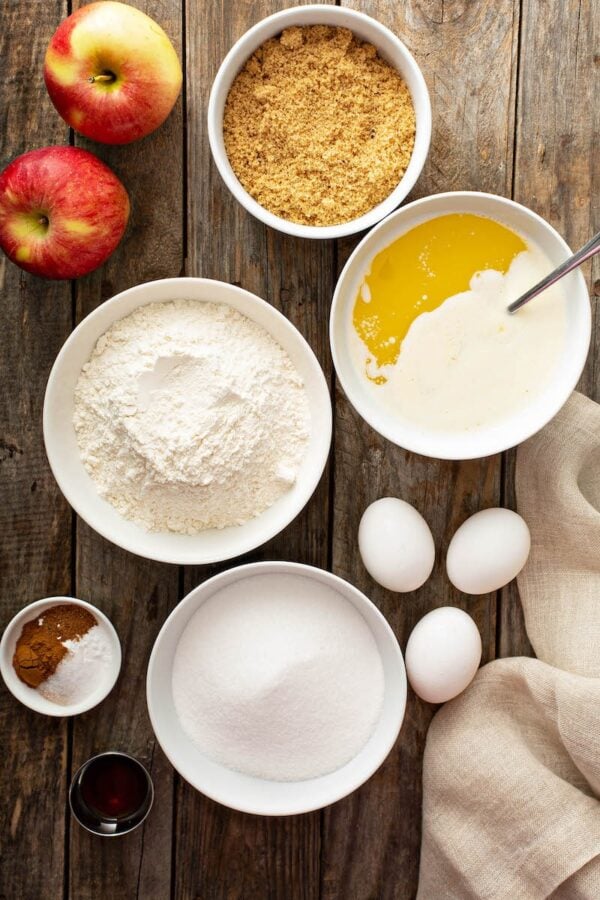 Apple Blondie Ingredients
Fresh apples are cored, peeled and cut into chunks to fill each bite with apple-y goodness.
If you need to chop the apples ahead of time, coat them in a tablespoon of fresh lemon juice to keep them from oxidizing and turning brown.
I use a combination of nutmeg and cinnamon to spice my Apple Blondies, however you can use 1.5 teaspoons of apple pie spice instead if you have it already on hand.
Lastly, this recipe uses melted butter. This keeps the blondie recipe super fast and easy to make, but also helps us achieve those perfect crackly blondie tops.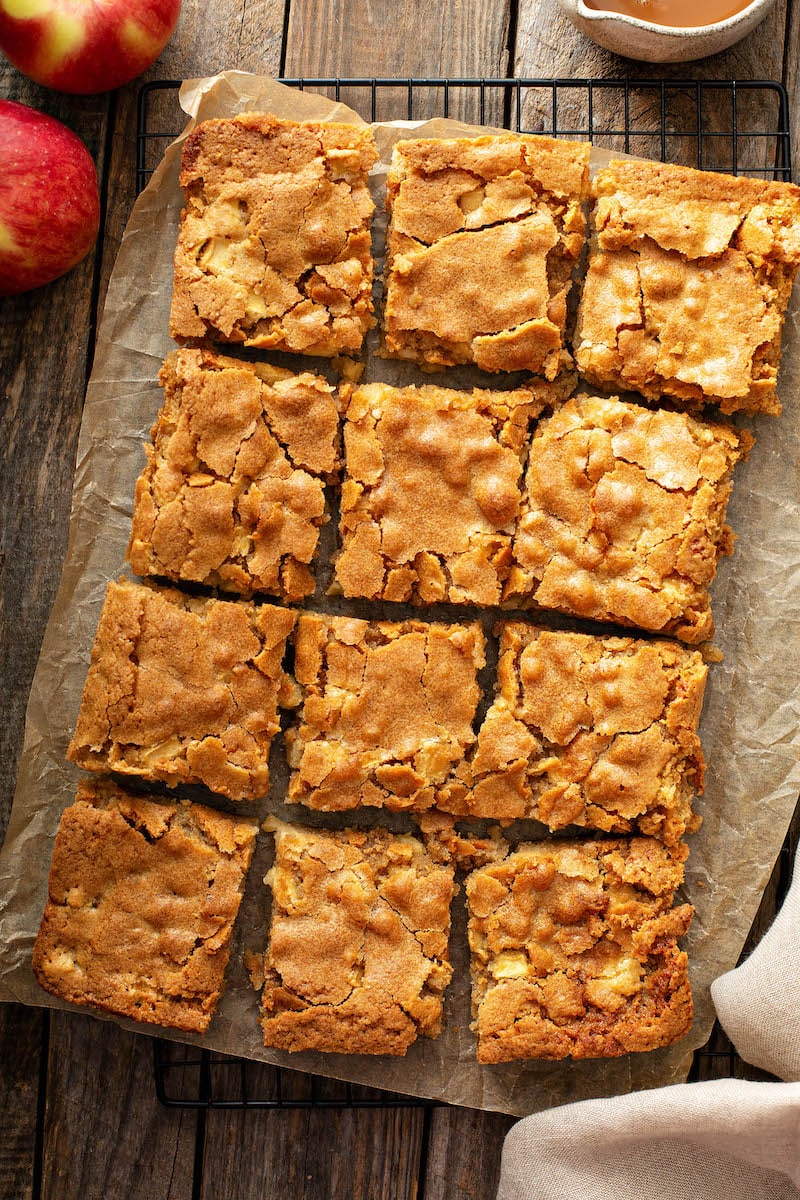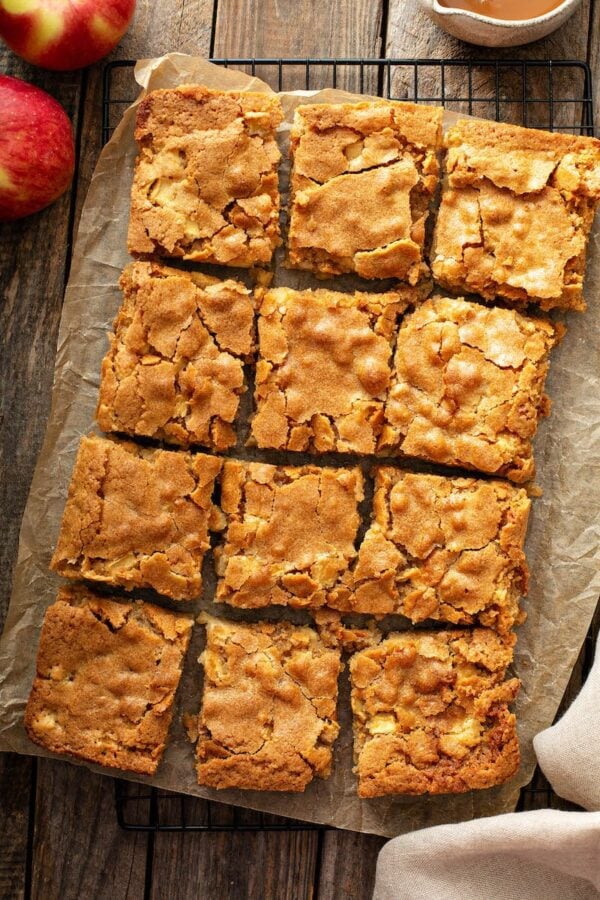 Can I add caramels to the blondies?
Yes! However, you will need to use the small caramel bits, not full size caramels.
Caramel bits are a little dryer than traditional caramel squares and they tend to do better in this type of dessert.
They are also the perfect size and do not sink as badly as regular caramels.
However, if you do not have caramel bits, I recommend cutting the standard square caramels into fourths.
Then stirring them in right at the end with the apple pieces.
Be aware they may make your Apple Blondies a little messy and difficult to cut, but will still be delicious!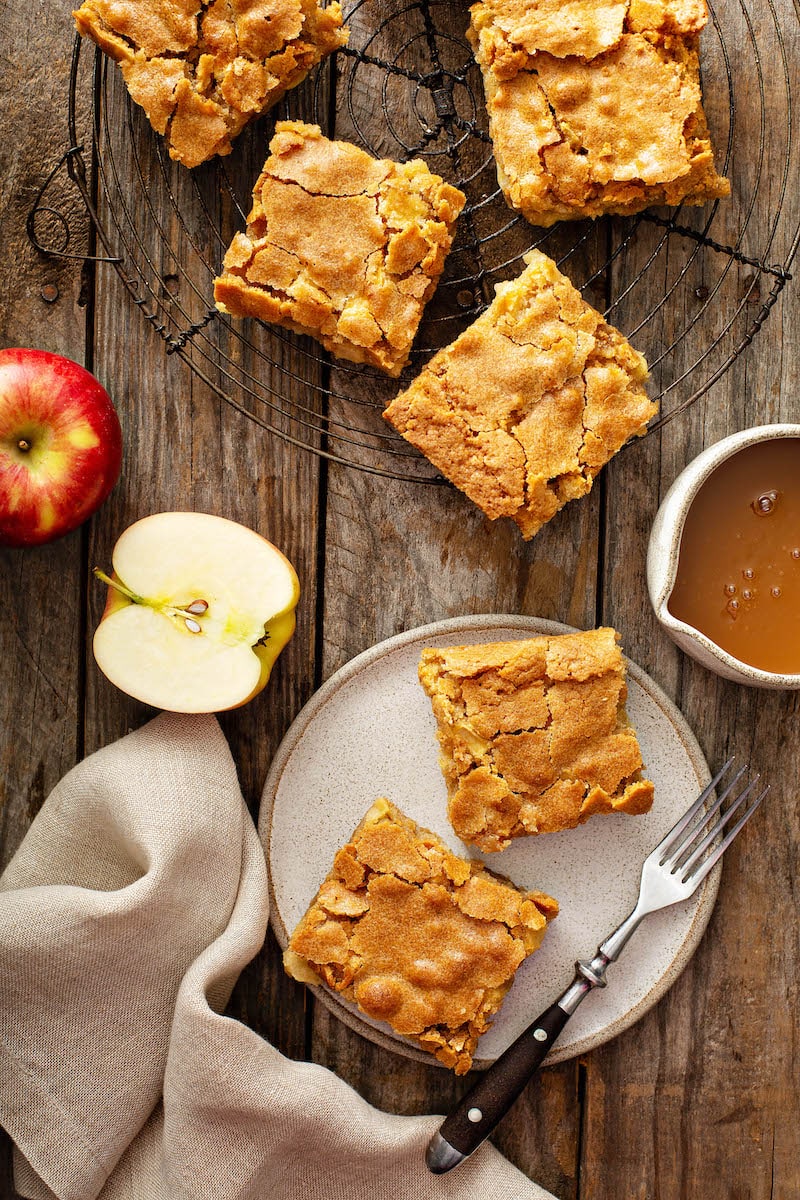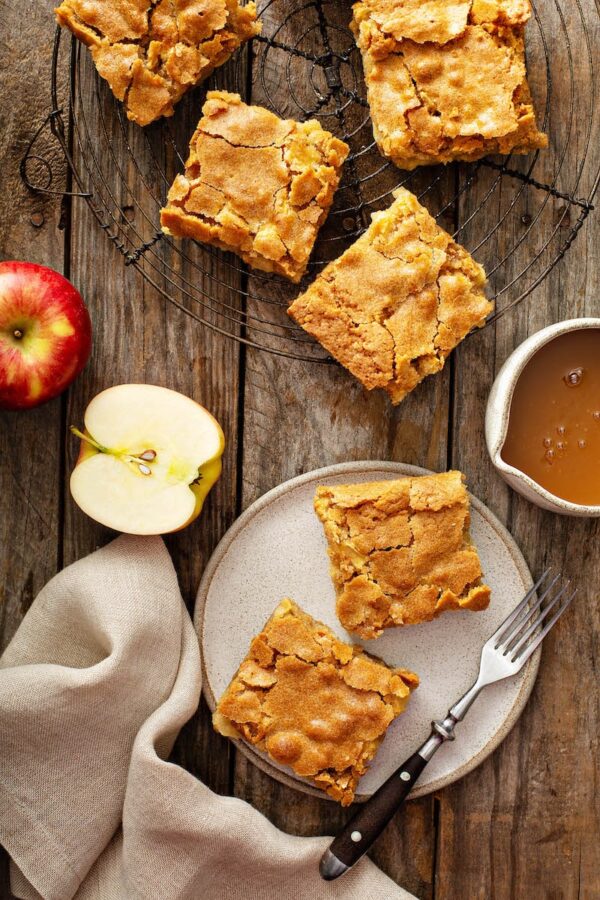 Can I make Apple Blondies ahead of time?
Yes, but only a couple of days ahead.
Because we are using fresh apples, they add a bit more moistness to the blondies and the apple bites themselves stay very moist.
So, if given 4-5 days sitting on the counter, the blondies can begin to go bad and possibly mold.
These Apple Blondies are best served within 2 to 3 days of baking and stored on the counter in an airtight container.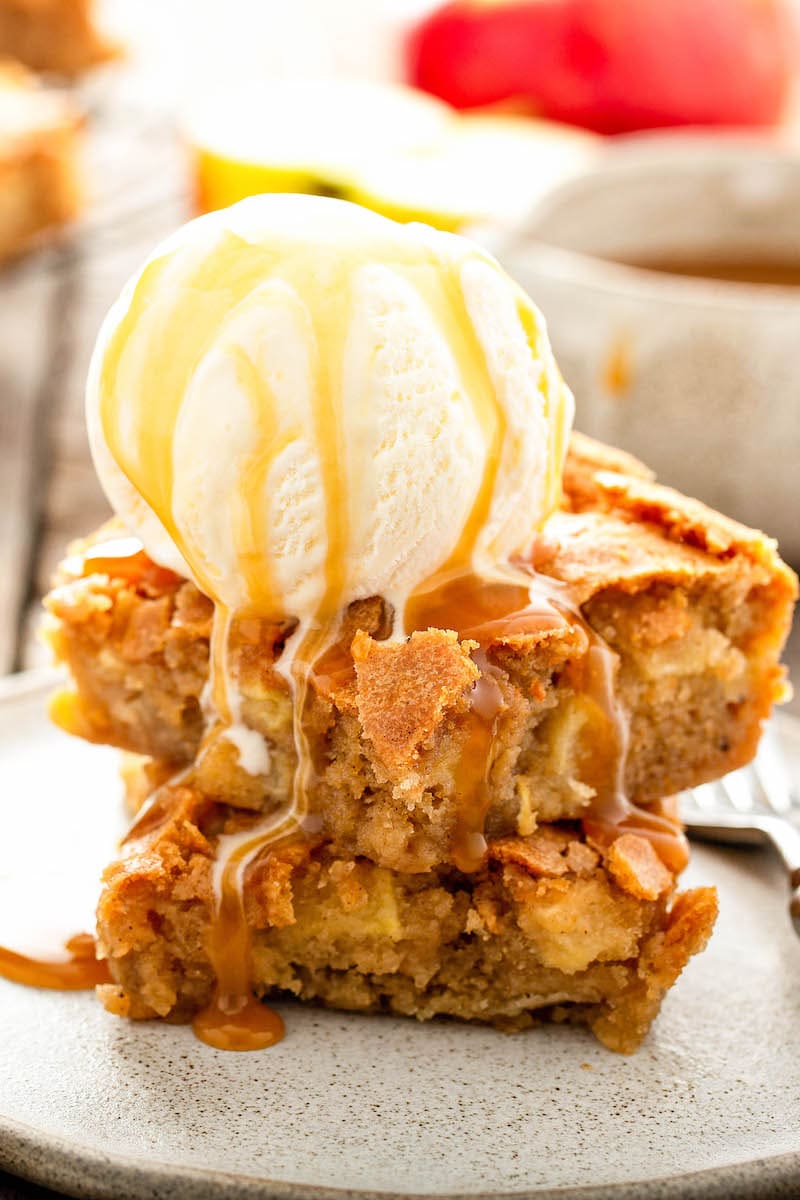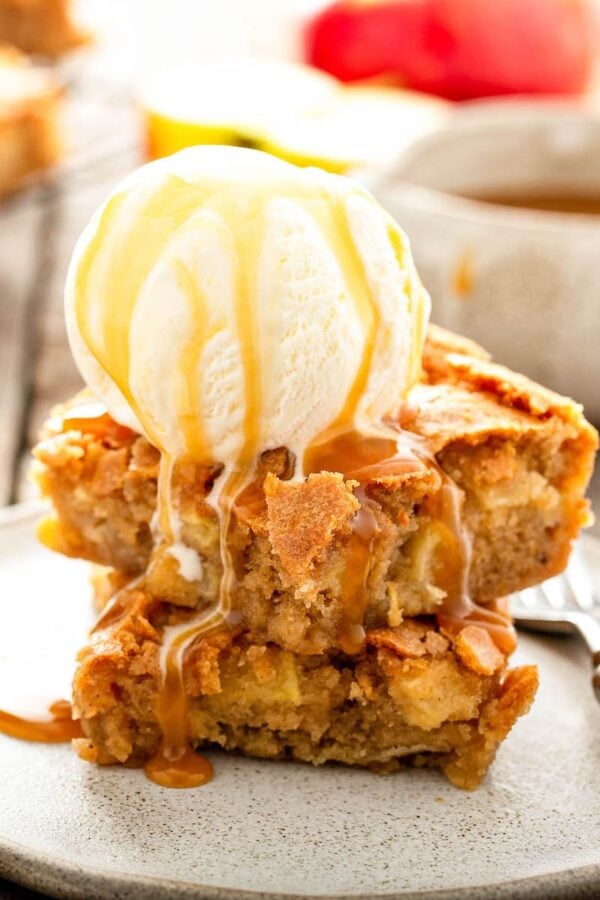 These Apple Blondies bars are epic and I can't wait for you and your families to try them!
Make sure and leave a comment below letting me know how they turn out for you!
Head over to Dixie Crystals for the full recipe that I developed for them!
RECIPE: Apple Blondies
This post may contain affiliate links. Read my disclosure policy.