Cinnamon Roll Blondies: super soft, dense blondies are swirled with a sweet cinnamon brown sugar filling and served warm with a drizzle of cream cheese icing!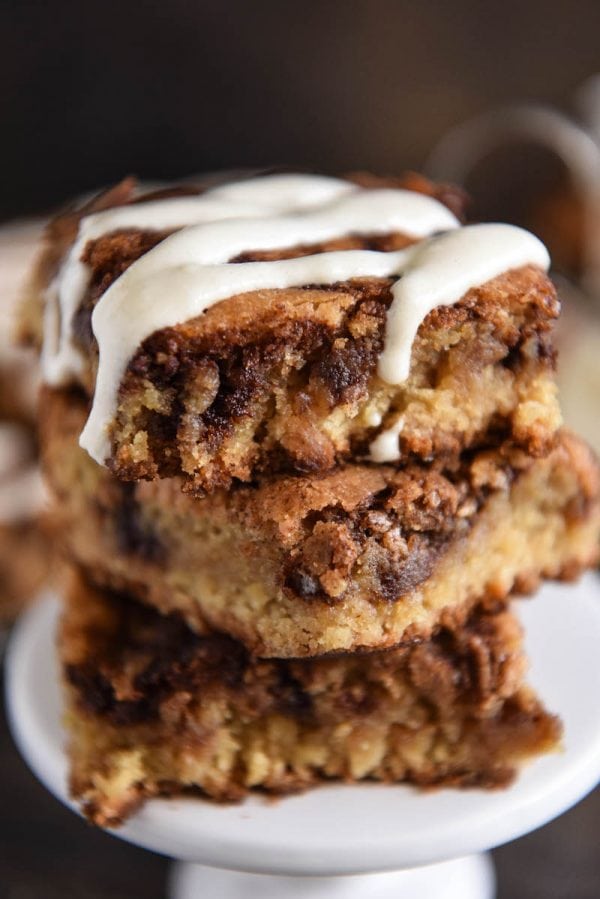 Ok, I'm just going to cut to the chase with you. These Cinnamon Roll Blondies are ridiculously amazing.
Warm, soft cinnamon roll blondies, that are super easy to make, because they use melted butter.
Then, when they are still warm, we drizzle them with some vanilla cream cheese icing.
Next step: inhale them. I dare you to try not to. ;-)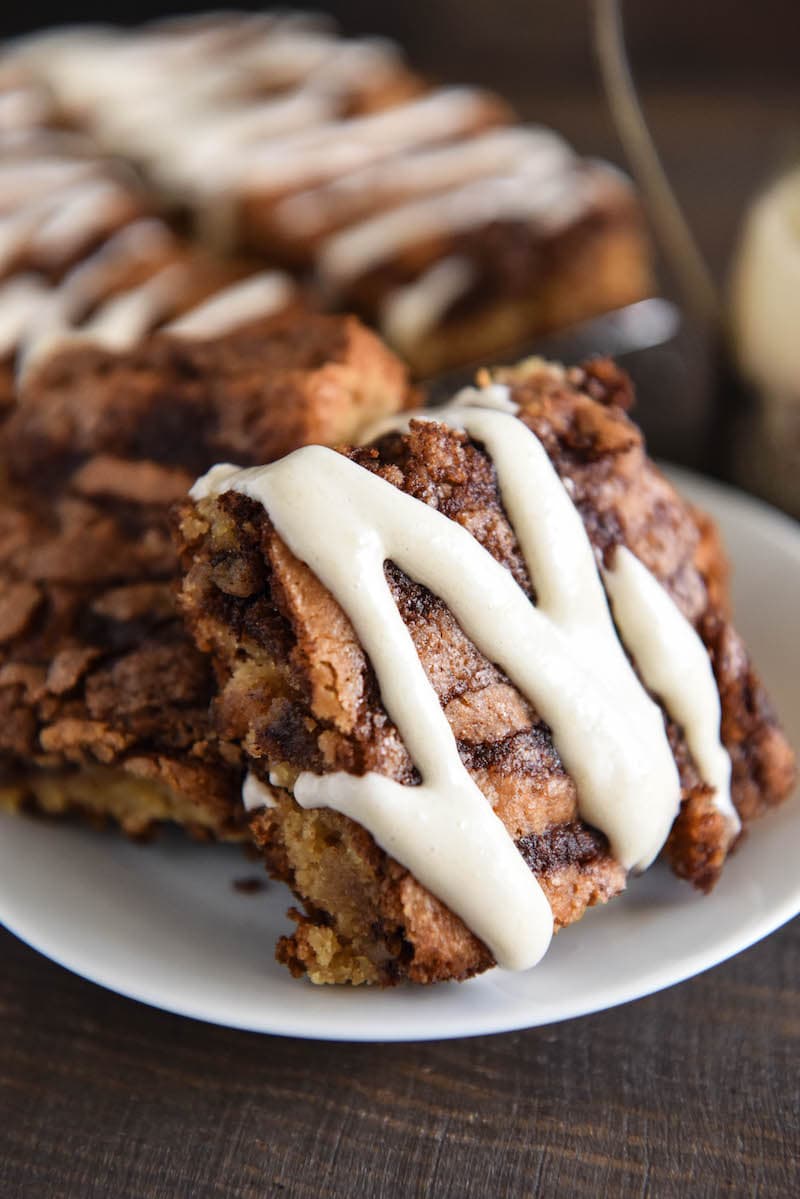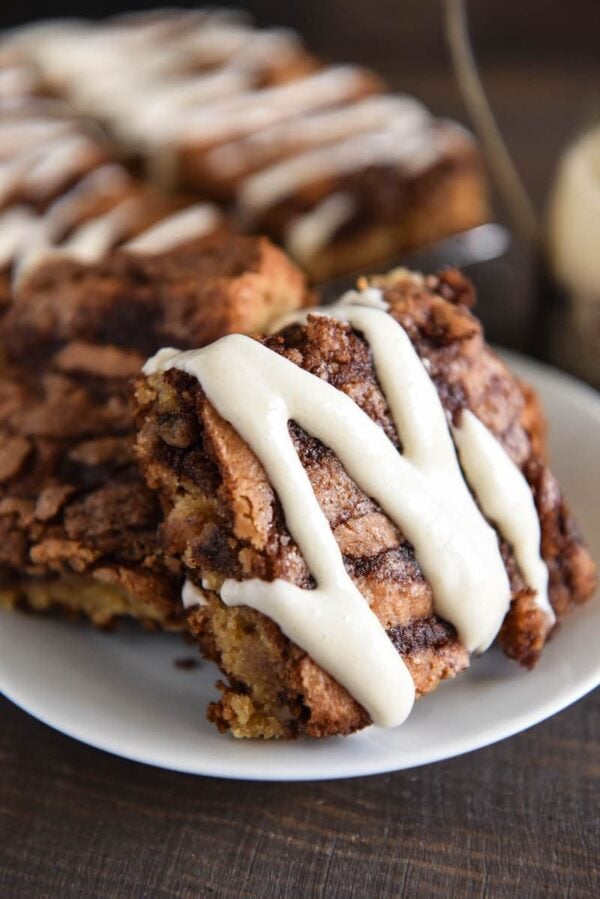 You can easily cut the recipe in half if you are feeding less people…but when I make these I leave it as the full recipe.
A full recipe makes a 9×13 tray of blondies, but trust me they won't go to waste.
They truly are best served warm, in my opinion, but you can just microwave the leftovers for 10 seconds!
Or, you can eat them room temp like Jorge does. He loves them that way.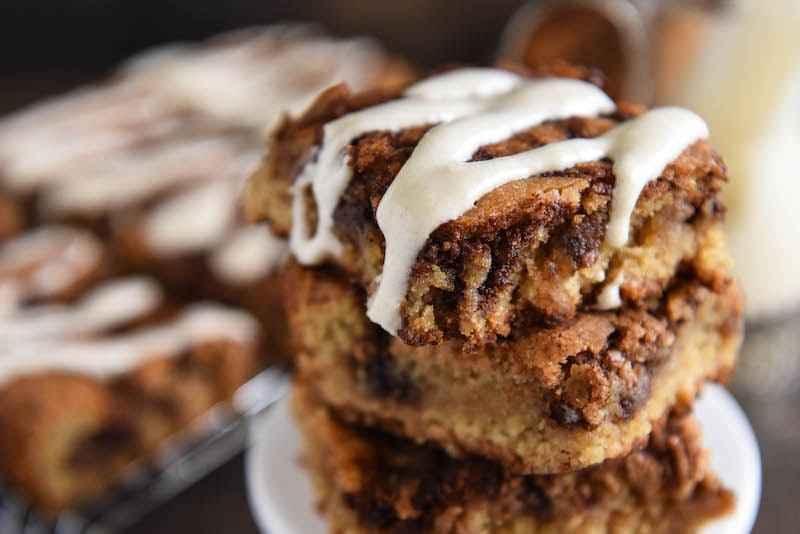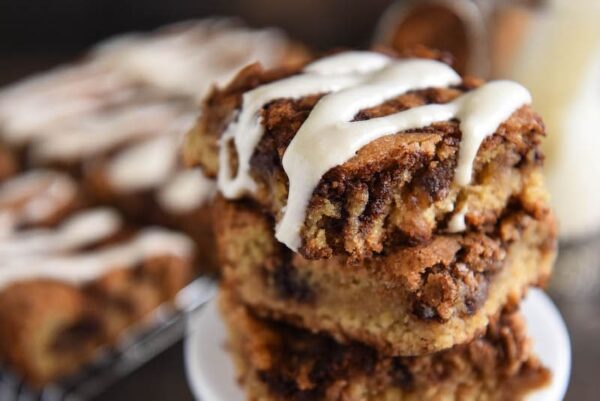 For me, they are just extra magical when served warm with that sweet, slightly chilly, cream cheese drizzle.
I really think it's because serving them warm reminds me even more of a cinnamon roll.
Or maybe it's because the blondies stay so dang soft and chewy when they are warm.
Can you tell how much I am in love with these Cinnamon Roll Blondies yet??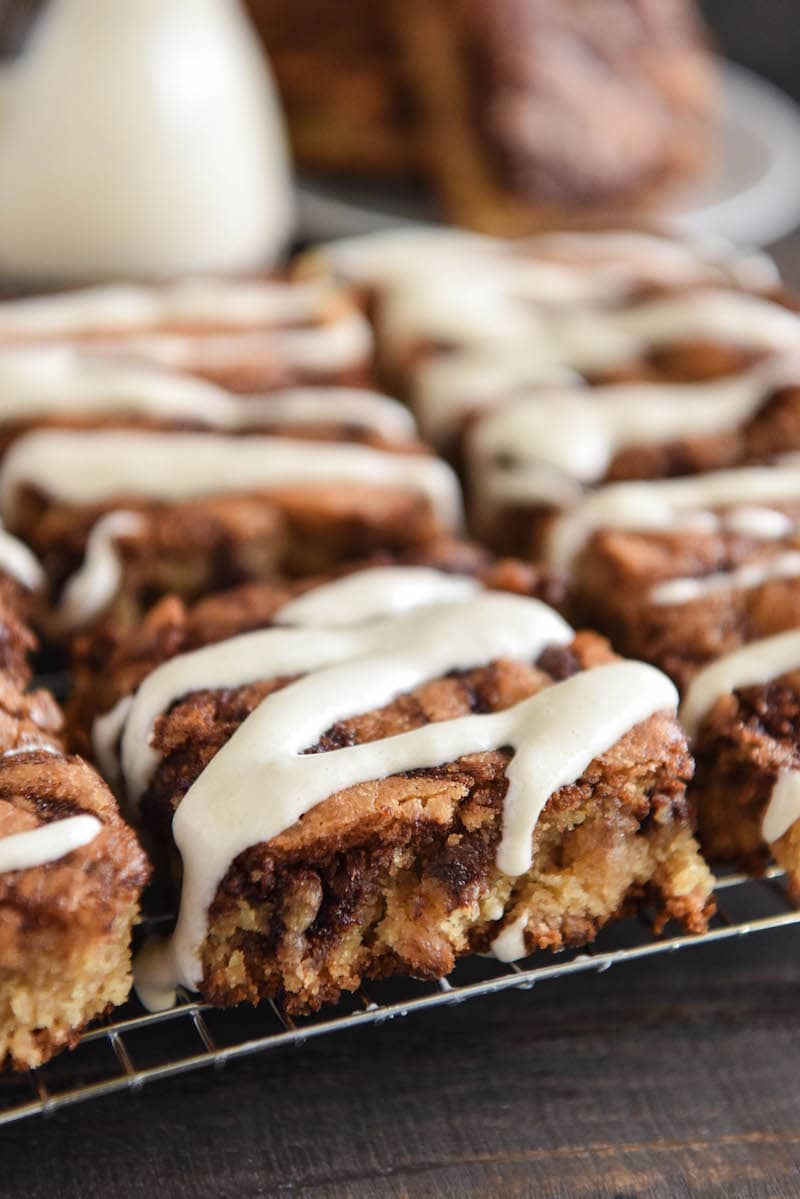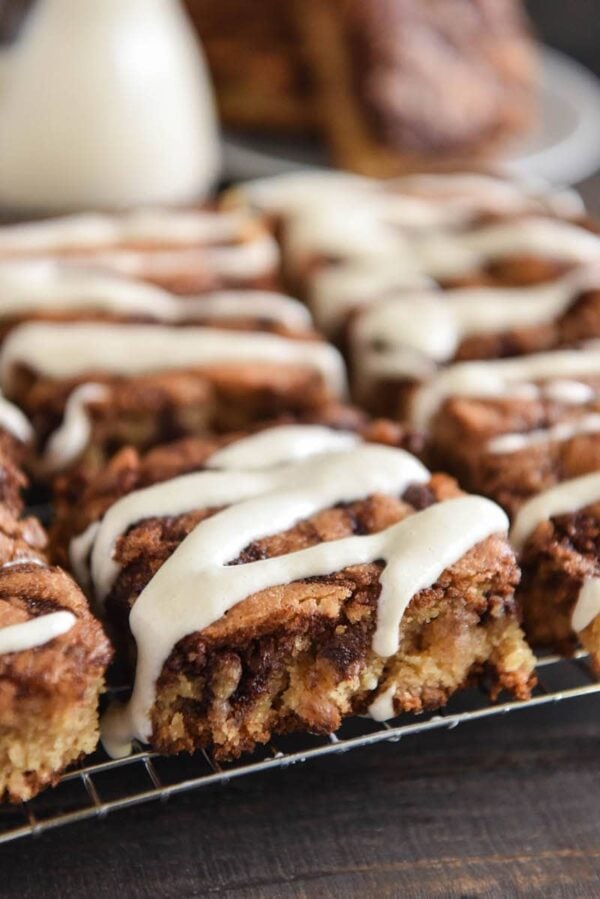 The cinnamon roll filling is very simple and made with brown sugar, butter and cinnamon.
But that simplicity, is what makes it perfect, just like a real cinnamon roll.
If you are a fan of nuts in your cinnamon roll, you can also add nuts to the batter! Or sprinkled on top.
I would stick with the classic pecans or walnuts if you do add nuts.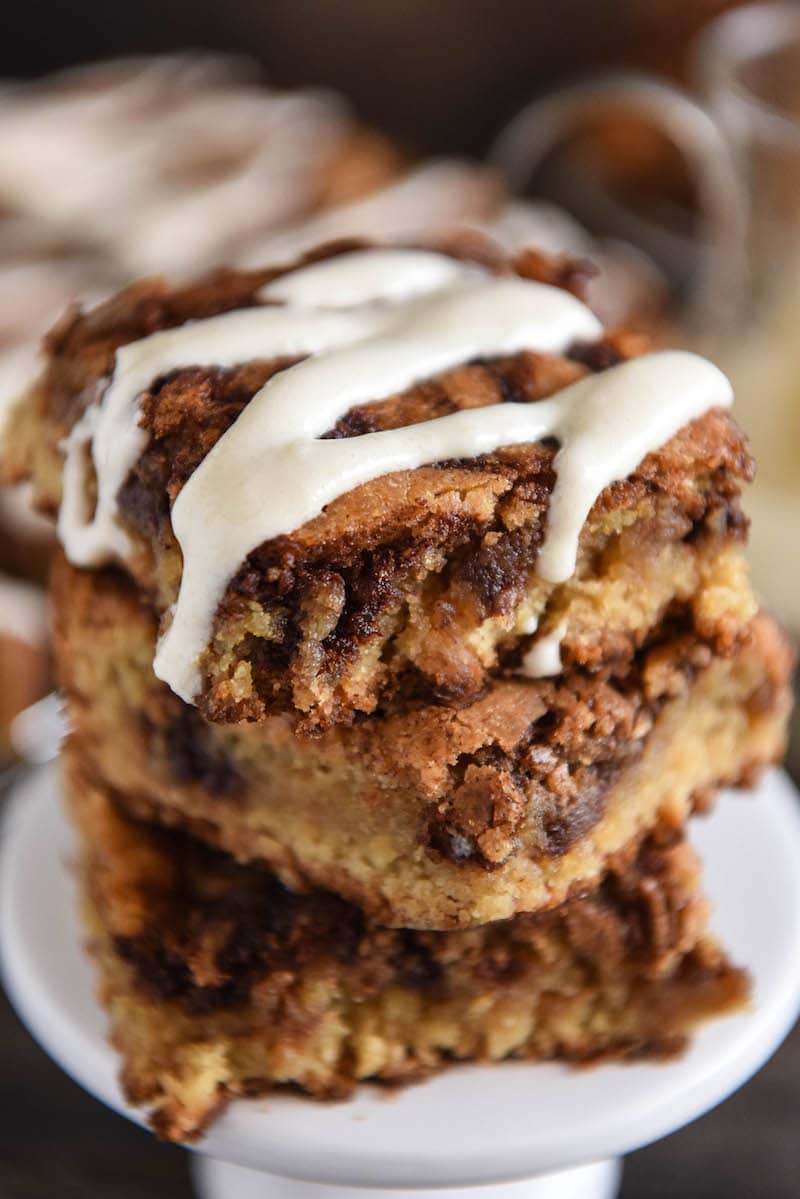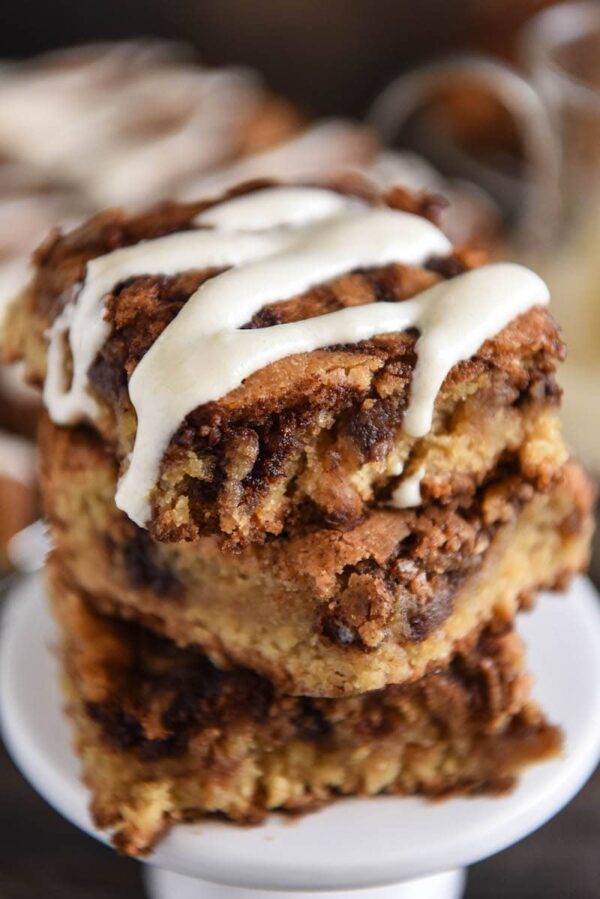 The one warning I will give you, make sure you do not over bake these Cinnamon Roll Blondies.
If you do, they will be dry dry dry. Imagine over cooked brownies — these do the same thing.
So make sure and keep an eye on them and check them as soon as you think they are ready!
Head on over to Dixie Crystals for the full recipe I developed for them.
RECIPE: Cinnamon Roll Blondies
This post may contain affiliate links. Read my disclosure policy.