These sweet, Southern-style Fried Apples are just like the ones you get at Cracker Barrel, but even more delicious when homemade! They make a festive side dish, and a fabulous dessert.
An Old-Fashioned Fried Apples Recipe
Fried apples are an old-school Southern recipe that has been around forever. Once you try them, you'll see why! Juicy, sweet, and comforting, fried apples are made in a skillet and taste somewhat like your favorite apple pie filling. They are a mouthwatering side for any chicken or pork dish. If you'd like to serve them as a dessert instead, just top with a splash of cream or a scoop of ice cream – so good.
I won't pretend that this is a low-carb dish or anything – it's definitely a comfort-food kind of dish, perfect for a special meal or a holiday. It's also a great way to use up a few apples that might be a little past their prime, so you have a box of apples to use up, try this recipe!
(Looking for more simple apple recipes? Try this Homemade Apple Pie Filling, my favorite Dutch Apple Pie, and don't forget the Apple Pie Spice!)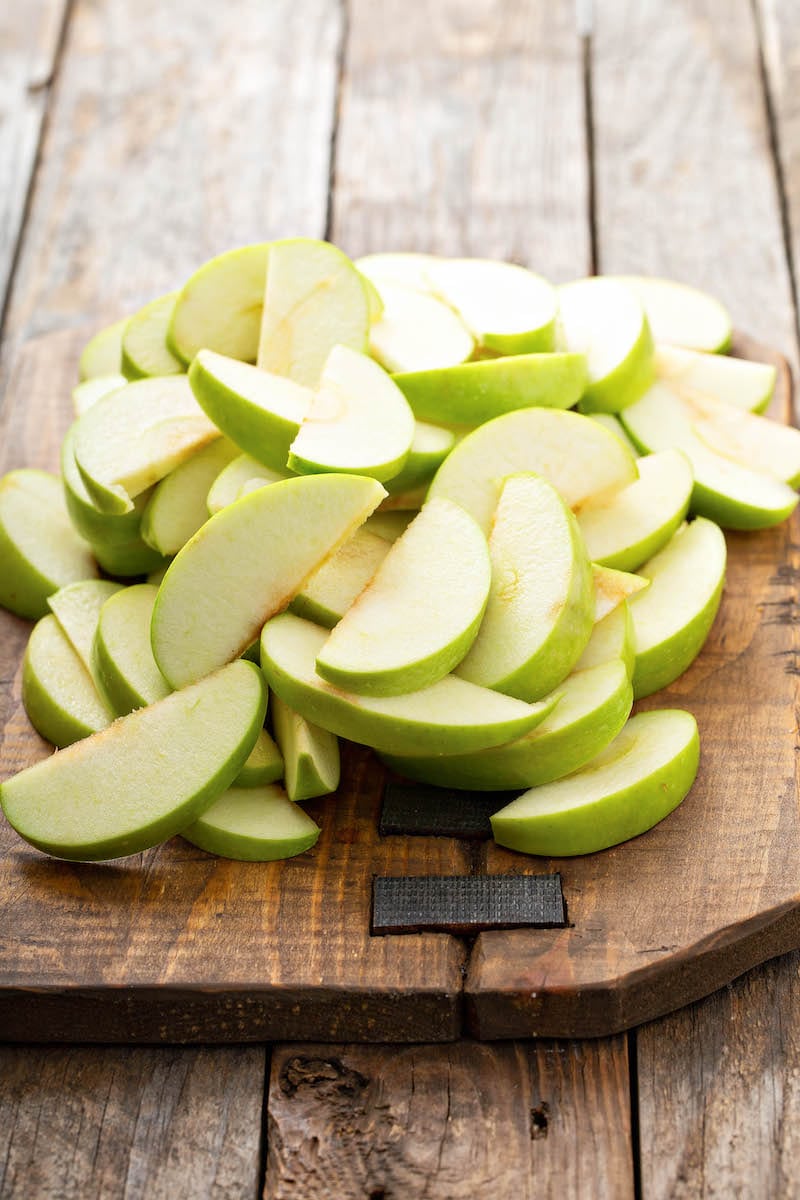 The List of Ingredients
It doesn't get much easier than this homespun little recipe. You probably already have everything that you need! Here's that list:
Apples: Cored and sliced. You can peel them or leave them unpeeled – whichever you like.
Butter: I usually use unsalted butter, and then add salt to my taste. However, you could definitely use salted butter and reduce the amount of added salt as needed.
Sugar: Half regular sugar and half brown sugar.
Cinnamon: Using just cinnamon is delicious, but feel free to add a pinch of nutmeg, a bit of ginger, etc.
Salt
Which Apples Are Best for Frying?
You can use any type of apple you have on hand – practically any apple variety will make great fried apples. However, if you're buying apples specifically to make this fried apples recipe, I highly recommend a crisp, tart apple like Granny Smith. They are not too sweet, and they hold their texture perfectly when fried. Other good options include Pink Lady, Honeycrisp, and Jonathan apples.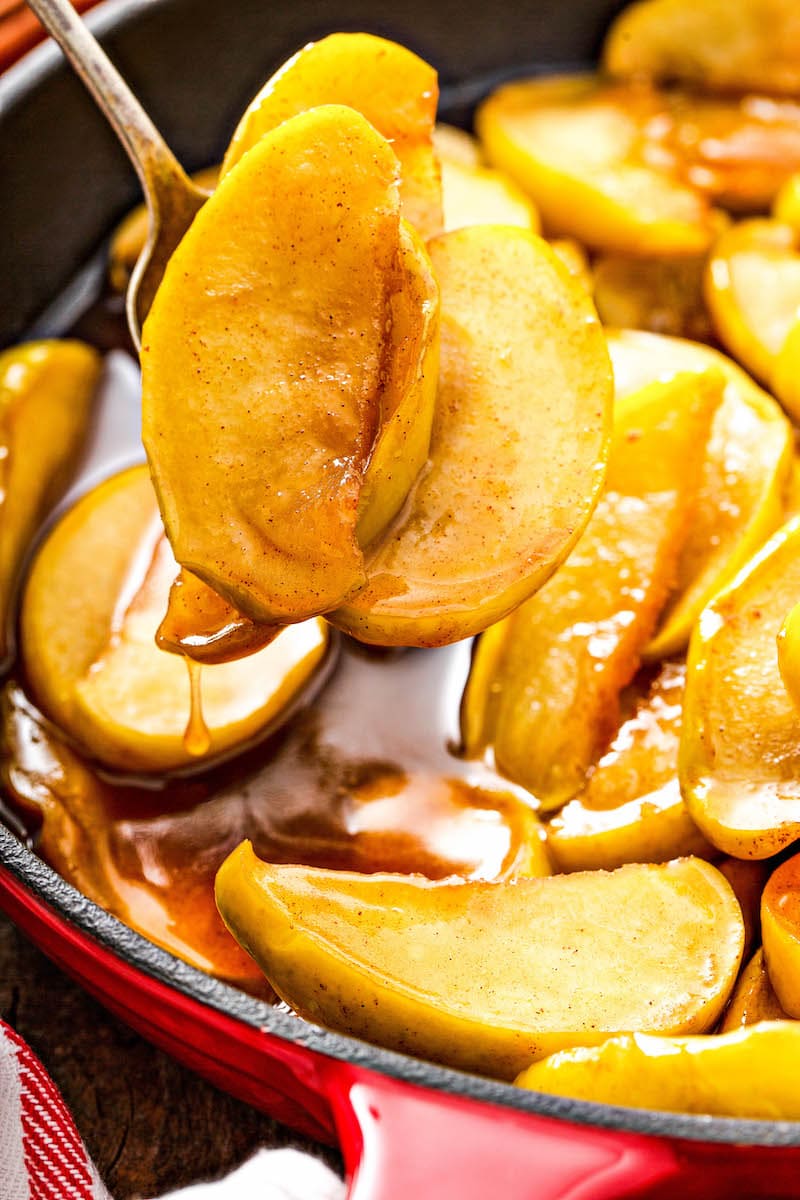 Let's Make Some Fried Apples!
There are just a few very easy steps to make fried apples – seriously, anyone can make this warm and scrumptious side dish. Here's how to do it:
Prep the Apples. To get started, core and slice your apples. Make sure to slice them into evenly-thick pieces so they finish cooking at the same time.
Make the Butter-Sugar Mixture. Next, melt the butter in a cast iron skillet (or any large, heavy-bottomed skillet) over medium-high heat. Add the granulated sugar, brown sugar, cinnamon, and salt. Stir these ingredients to combine.
Add the Apples and Cook. Stir the apples into the mixture, cover, and cook over low heat for 20 minutes, or until the apples are tender. Stir them frequently so that they cook evenly and don't scorch.
Thicken the Sauce. Finally, remove the lid from the skillet, and turn up the heat to medium-high. Stir and cook the apples for 5 to 10 minutes more, until the sauce thickens slightly.
Enjoy! Serve warm, with or without cream, ice cream, etc.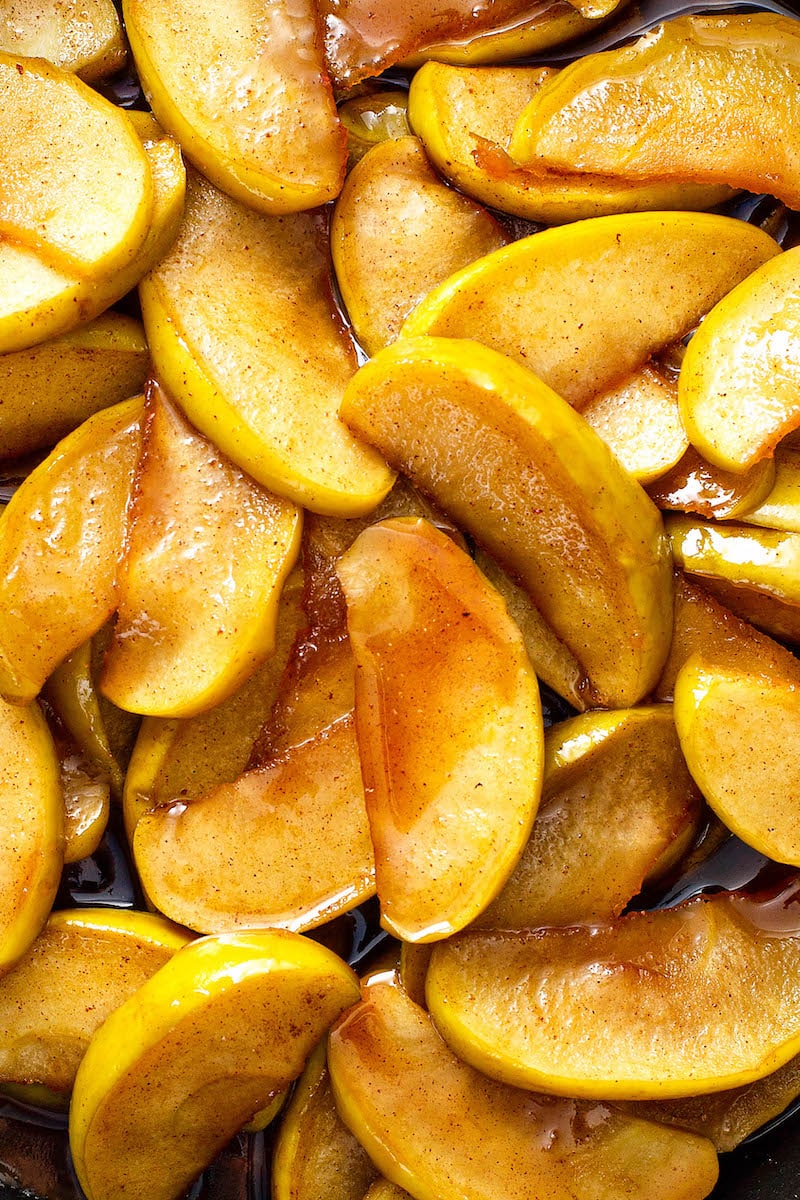 Should I Peel My Apples?
This is one of those times when it's totally up to you and your personal tastes. I often leave the apple peel on, because I'm lazy and the peels soften up as they cook anyway. Also, like many fruits and veggies, apples have a lot of nutrition and fiber in the peel.
However, if you want a smoother-texture dish without the peel, that's totally fine too! This is also a good option if the apples are waxed, and you want to quickly remove the wax without soaking or scrubbing.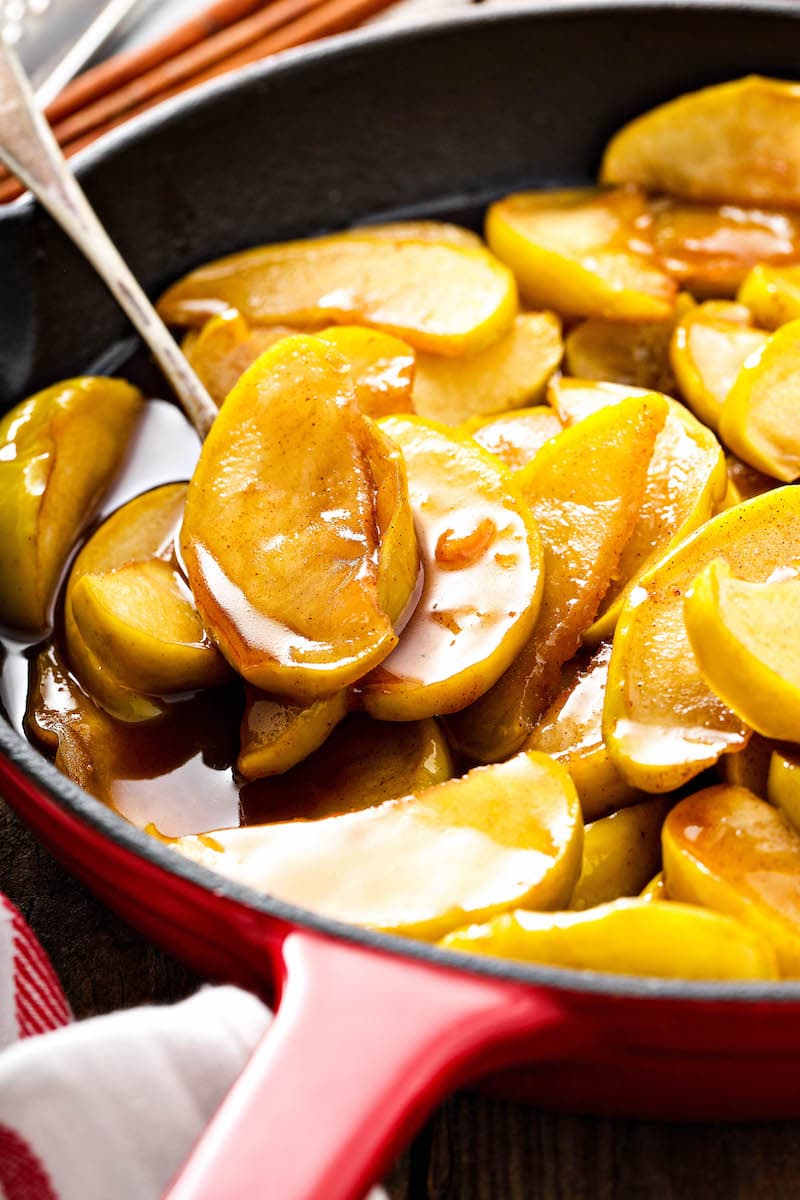 Tips for Success
What else should you know about making Southern-style fried apples? The following helpful tips will get you up to speed. Enjoy!
30 Minutes: Start to finish, this fried apple recipe takes about 30 minutes. Some people will tell you that you can make fried apples in just 15 minutes, but those won't be as meltingly good as 30-minute fried apples! Sure, you can rush them, but if you give your apples time, they will become perfectly tender and caramelized with a thick, sweet sauce.
Double Up: Fried apples tend to disappear quickly – every time I make them, everyone gobbles them up. That being the case, you may want to make a double batch! Plus, they store pretty well (see the Storing and Reheating guidelines below for more info).
Lemon Juice: If you are using a sweet or bland variety of apples, such as Red Delicious or Golden Delicious, then you can enhance the flavor just by squeezing in a bit of lemon juice. This will brighten up the taste of your fried apples by mimicking the taste of tart apples.
Cut Even Slices: Make sure to cut the apple slices to about the same thickness. If you have a mixture of thin and thick slices, they will not cook evenly – the thin ones may overcook, while the thick ones may not cook through.
Yummy Ideas for Serving
There are so many ways you can enjoy a side of fried apples! These are just a few of the recipes that go perfectly with this cozy dish.
Storing, Reheating, and Freezing
You can store any leftover fried apples in an airtight container in the fridge, for up to a week. (Which means that this recipe is great for making ahead!)
To reheat, just pop the desired portion in a saucepan or skillet, cover, and heat on medium-low until warmed through.
While you can freeze fried apples, they tend to be much softer after freezing and thawing. Still, if you want to freeze them, just cool them down first. Then spoon them into a freezer container or freezer bag, seal, and mark the container with the date. Freeze for up to six months.
Southern Fried Apples Recipe
These sweet Southern style Fried Apples are just like the ones you get at Cracker Barrel, but even more delicious when homemade! Great side dish or for dessert!
Ingredients
4

large green granny smith apples

,

cored and sliced (peeled or unpeeled)

½

cup

butter

¼

cup

granulated sugar

¼

cup

packed brown sugar

1

tablespoon

cinnamon

½

teaspoon

salt
Instructions
Melt butter in a cast iron skillet (or large heavy bottomed skillet) over medium high heat.

Add granulated sugar, brown sugar, cinnamon and salt. Stir to combine and fold in apple slices. 

Cover and cook over low heat for 20 minutes or until apples are tender, stirring frequently.

Remove cover and raise heat to medium-high. Cook, stirring often, for 5 to 10 minutes more until the sauce thickens slightly. 

Serve warm! Store leftovers in an airtight container in a fridge for up to a week.
Nutrition
Serving:
1
,
Calories:
280
kcal
,
Carbohydrates:
36
g
,
Protein:
1
g
,
Fat:
16
g
,
Saturated Fat:
10
g
,
Polyunsaturated Fat:
5
g
,
Trans Fat:
1
g
,
Cholesterol:
41
mg
,
Sodium:
302
mg
,
Fiber:
5
g
,
Sugar:
29
g
Categories:
More Indulgent Apple Recipes
This post may contain affiliate links. Read my disclosure policy.