These sweet Southern Style Fried Apples are just like the ones you eat at Cracker Barrel, but even more delicious when homemade! Great side dish or dessert!
Fried Apples Recipe
These Fried Apples are a Southern classic comfort food that have been finding their ways onto plates for decades.
Granny smith apples are cored and sliced and then pan fried in butter, cinnamon and brown sugar until tender.
These Fried Apples are delicious served warm all by themselves, as a side dish or even on top of vanilla ice cream as dessert!
If you love these Fried Apples, make sure and check out these other amazing apple recipes: Apple Dumplings, Caramel Apple Dump Cake and Apple Pie Bombs.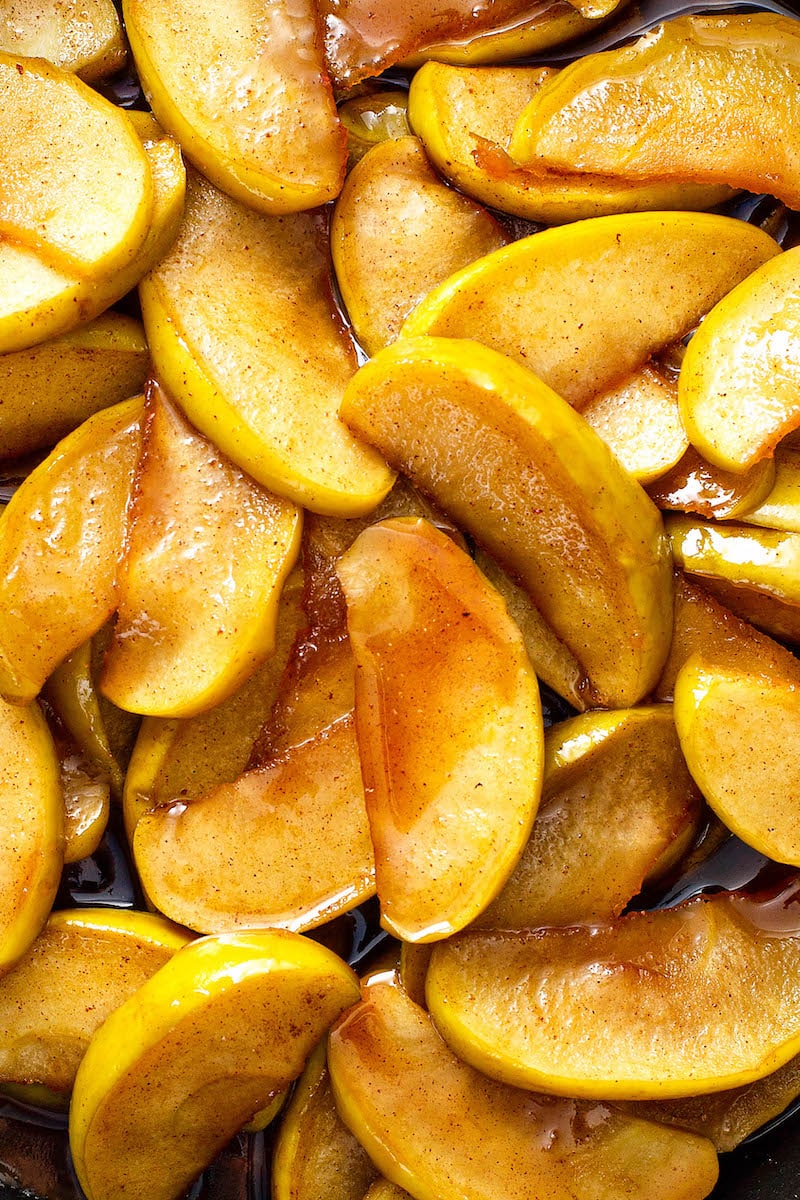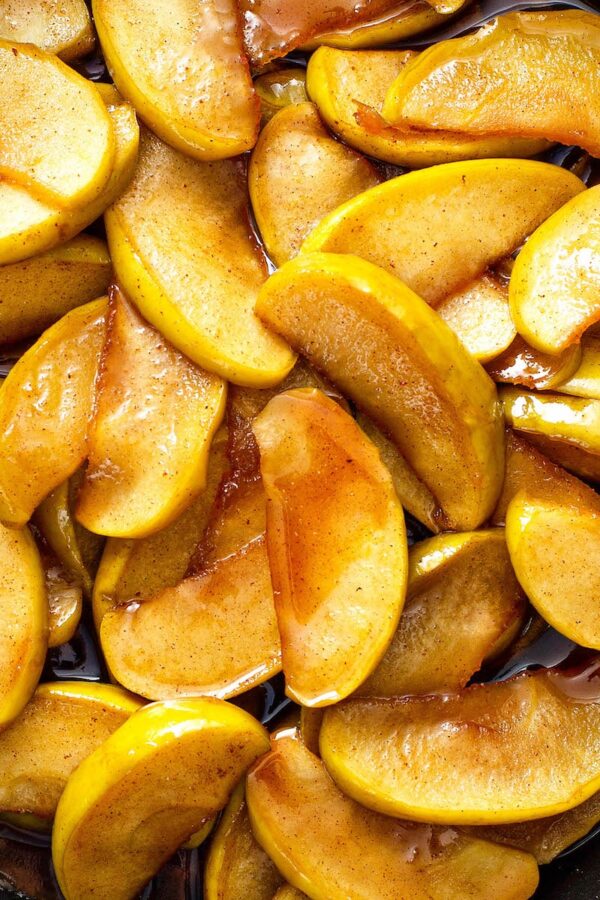 How to serve Fried Apples?
There are so many ways you can enjoy Fried Apples:
As their own as a side dish (just like the Cracker Barrel Fried Apples)
On top of ice cream, pancakes or french toast!
Apple Turnovers: wrap fried apples in puff pastry and bake according to package directions.
On top of pork chops for a classic savory/sweet pairing!
When I have too many apples, I even make double batches to package in mason jars for neighbors!
These Fried Apples are always a hit and are a must make in my family at the holidays. They make wonderful side dishes for Thanksgiving and Christmas.
If you are looking for more holiday recipes, here are my favorites:
Best Thanksgiving Turkey Recipe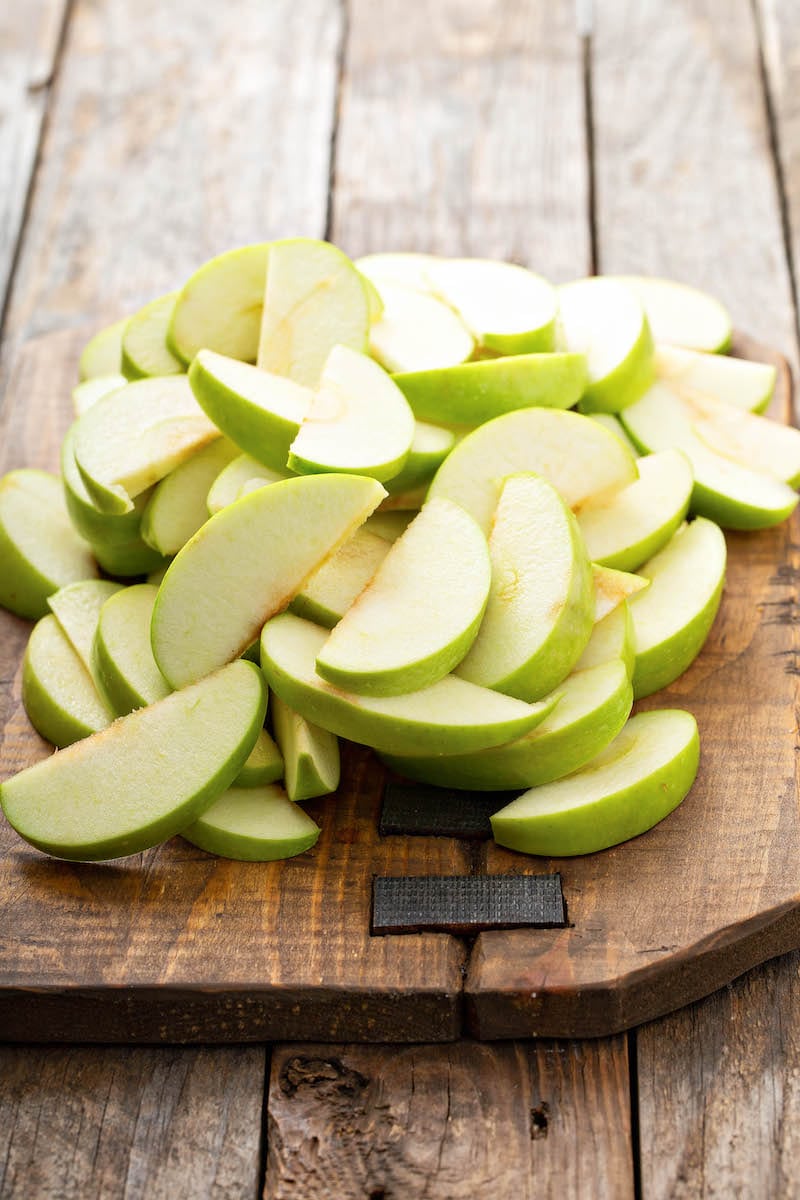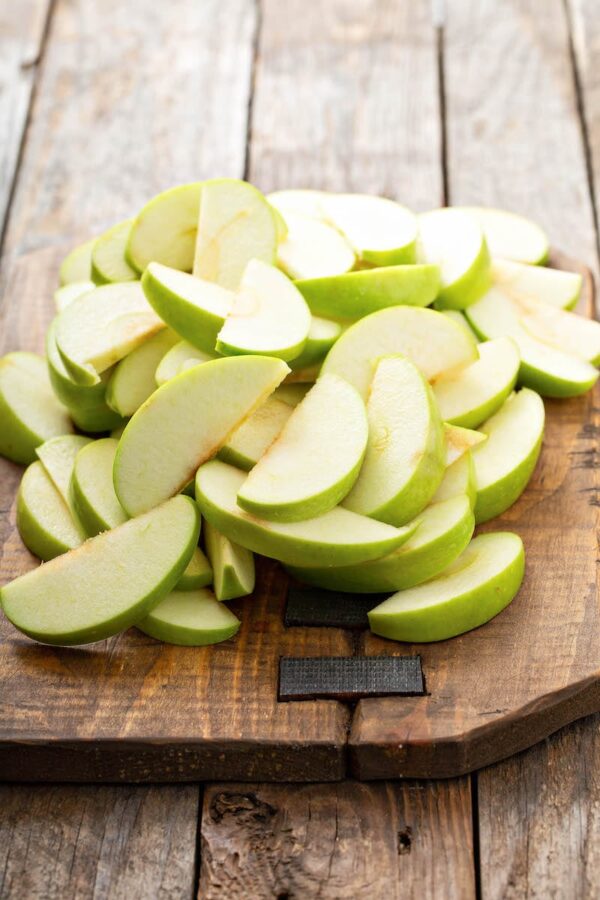 Should I peel my apples?
This is one of those times where it's totally up to you and your personal tastes.
I tend to not peel my apples, because I am lazy, and the peels soften while they cook.
However, if you hate to eat the peel on an apple, then by all means get to peeling!
While it isn't important to peel your apples for Fried Apples, it is important to remove the core and slice them evenly so they cook at the same rate.
What type of apples should I use for Fried Apples?
You can use any type of apple you have on hand, they will all work to make delicious fried apples.
However, if you are buying apples specifically to make this fried apples recipe, I highly recommend a crisp, tart green apple like a Granny Smith.
Just like in apple pie, green apples are not too sweet and they hold their texture perfectly when fried.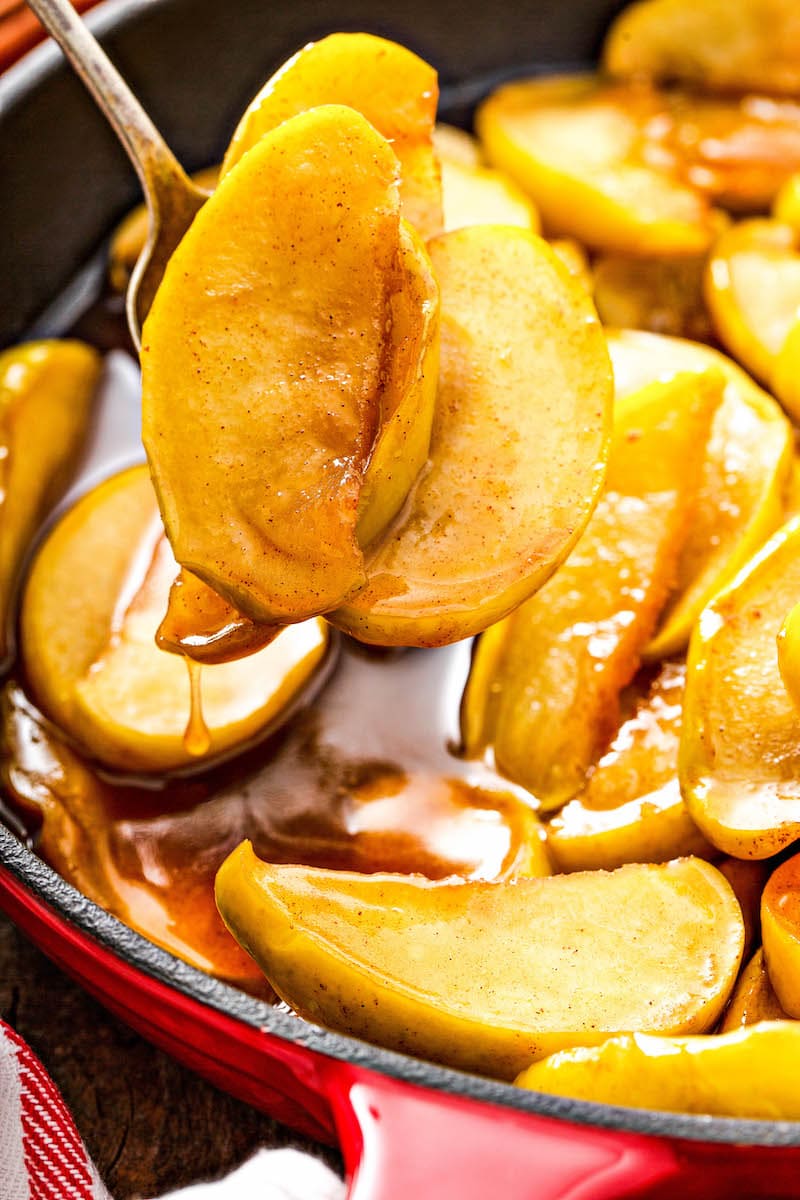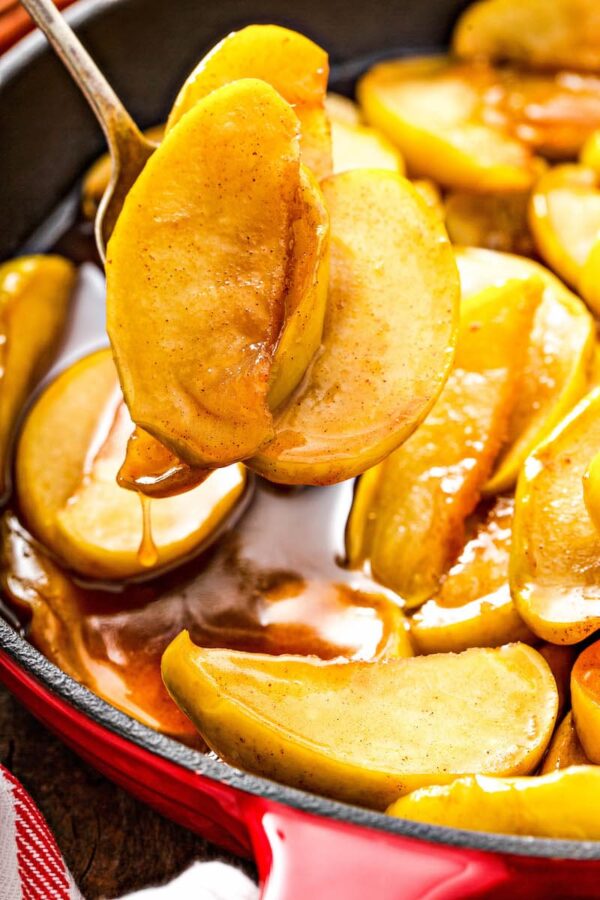 How to make fried apples
There are just a few very easy steps to make fried apples:
Core/Slice apples.
Fry with butter, brown sugar, granulated sugar, cinnamon and salt in a cast iron skillet.
Once tender, up the heat to thicken the sweet sauce.
Serve and watch them disappear!
Start to finish, this fried apple recipe takes about 30 minutes.
Some people will tell you that you can make fried apples in just 15 minutes, but those won't be as delicious as 30 minute fried apples!
Sure you can rush them, but if you give your apples time, they will become perfectly tender and caramelized with a thick, sweet sauce.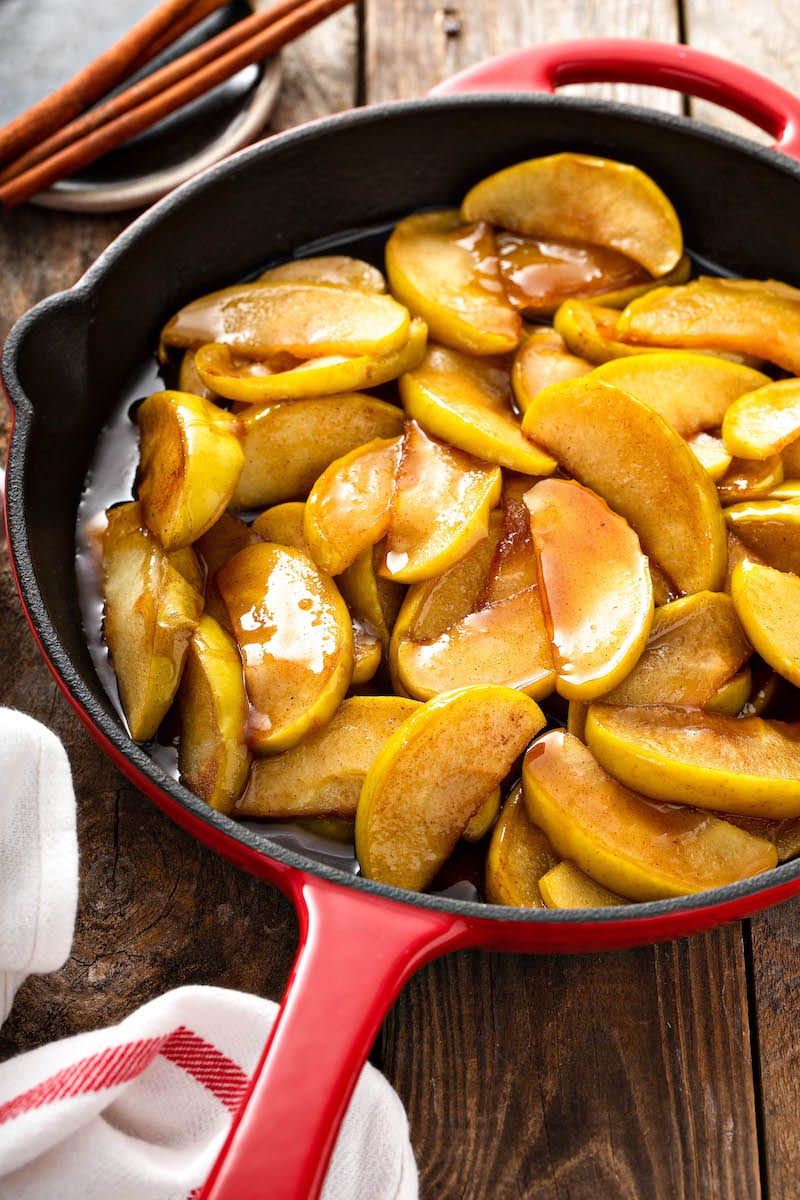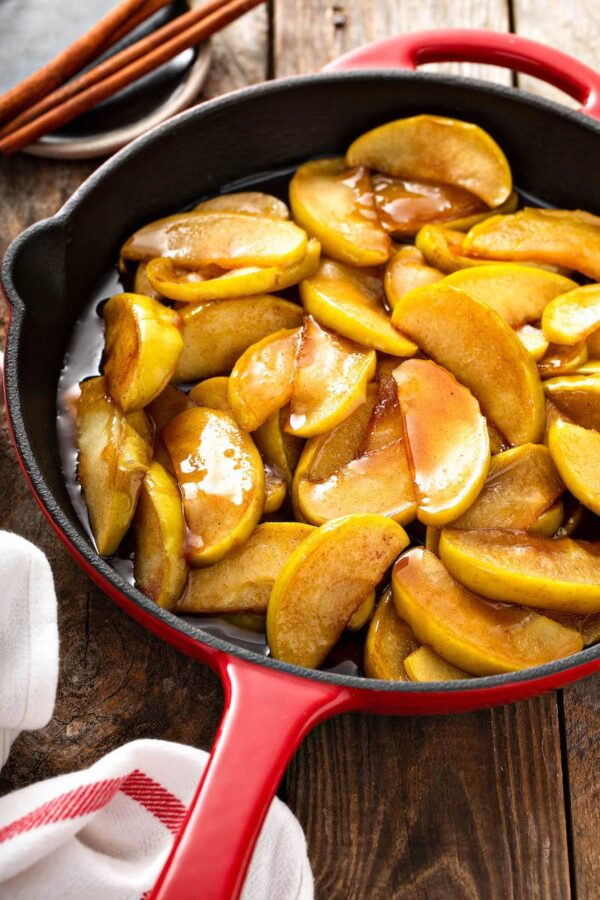 These easy Fried Apples are tender, sweet and have the perfect amount of cinnamon to warm them up.
They make the perfect sweet compliment to just about any dish! You may want to make a double batch — I promise they will disappear quickly!
You can make even make them a few days ahead and then reheat them right before serving. Gotta love an easy make-ahead side dish!
Please leave a comment/review below letting me know how these Fried Apples turn out for you!
Yield: 6 servings
Fried Apples Recipe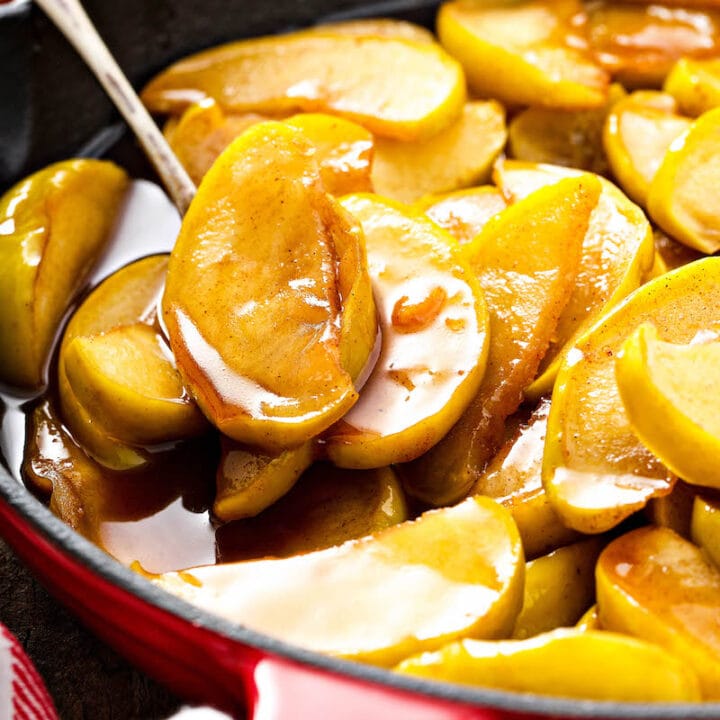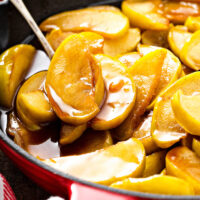 These sweet Southern style Fried Apples are just like the ones you eat at Cracker Barrel, but even more delicious when homemade! Great side dish or for dessert!
Ingredients
4 large green granny smith apples, cored and sliced (peeled or unpeeled)
1/2 cup butter
1/4 cup granulated sugar
1/4 cup packed brown sugar
1 tablespoon cinnamon
1/2 teaspoon salt
Instructions
Melt butter in a cast iron skillet (or large heavy bottomed skillet) over medium high heat.
Add granulated sugar, brown sugar, cinnamon and salt. Stir to combine and fold in apple slices.
Cover and cook over low heat for 20 minutes or until apples are tender, stirring frequently.
Remove cover and raise heat to medium-high. Cook, stirring often, for 5 to 10 minutes more until the sauce thickens slightly.
Serve warm! Store leftovers in an airtight container in a fridge for up to a week.
Nutrition Information:
Yield:
6 servings
Serving Size:
1
Amount Per Serving:
Calories:

280
Total Fat:

16g
Saturated Fat:

10g
Trans Fat:

1g
Unsaturated Fat:

5g
Cholesterol:

41mg
Sodium:

302mg
Carbohydrates:

36g
Fiber:

5g
Sugar:

29g
Protein:

1g
Categories
This post may contain affiliate links. Read my disclosure policy.