Chuleta Frita, crispy pan fried Puerto Rican fried pork chops, are juicy and oozing with flavor. This recipe only uses a few ingredients and is very easy to make, but it will melt in your mouth!
Juicy Puerto Rican Fried Pork Chops
Pork chops don't always have the best reputation, because a lot of people grow up eating bland and dry ones. These chuleta frita could not be further from that. This easy recipe has so much flavor from the marinade, and it's both tender and juicy.
These pork chops are marinated for hours, and develop a crispy skin (called "cuerito") from being pan fried. They have an intense flavor from adobo and oregano, which is balanced by the fat from the pork, and some acid from vinegar.
What's better than a perfectly cooked piece of meat for dinner? I can only think of one thing: a perfectly cooked piece of meat that's easy to make! And this recipe is exactly that. Serve it alongside arroz blanco (Puerto Rican white rice), black beans, and some tostones, and you have a perfect meal.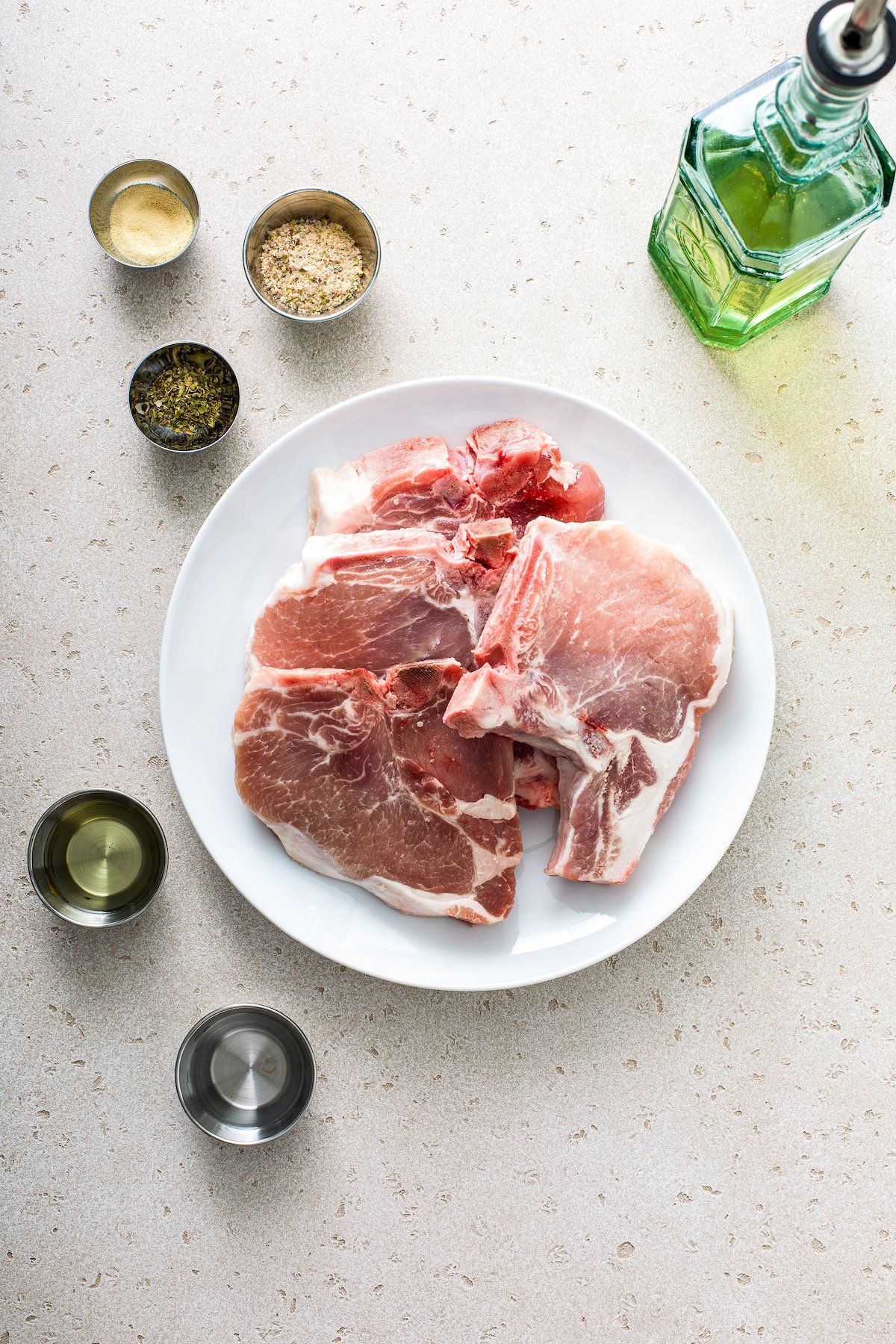 The Ingredients You'll Need
This recipe only calls for a handful of ingredients. Make sure to scroll to the recipe card at the end of the page to see the exact quantities.
Adobo Seasoning: There are lots of different styles of adobo seasoning. You can use whichever you like best.
Garlic Powder
Ground Oregano
Olive Oil
White Vinegar
Pork Chops: Try to buy pork chops that have a good amount of fat.
Oil for frying: You can use any oil that has a high smoking point.
What Kind of Pork Chops Should You Use?
The traditional way to cook chuleta frita is with bone-in pork chops. In Puerto Rico they call the bone "el huesito," and it's common to suck on it after eating the meal.
There's a lot of flavor in the bone! In the United States it can sometimes be hard to find bone-in pork chops, but using boneless chops works just fine. However, bone-in pork chops will make the best and most authentic chuleta frita. As for the cut, I prefer to use the ribeye chop or rib end.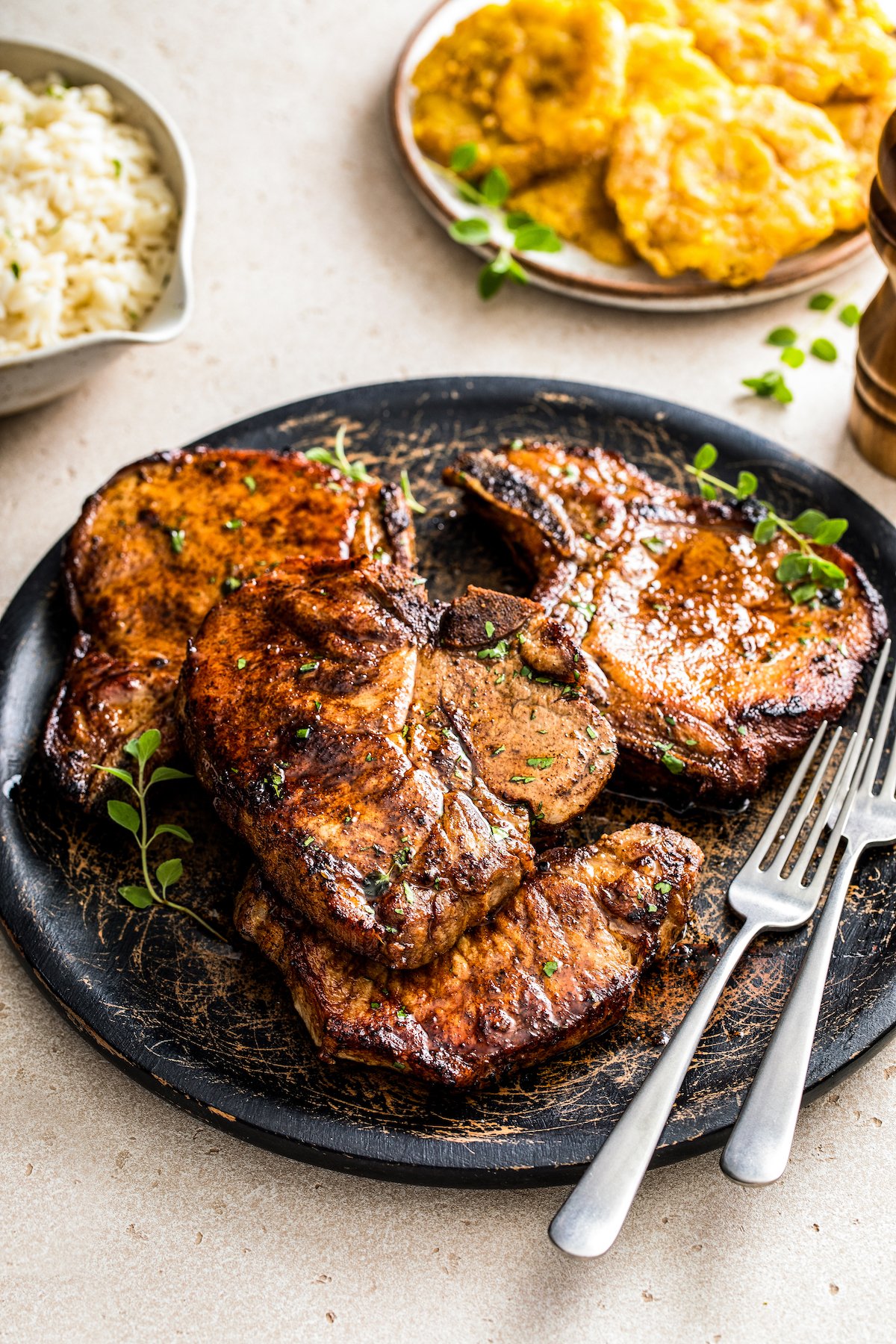 Time to Make Chuleta Frita!
This recipe is pretty straightforward. You only need to follow a few steps to end up with perfect pork chops.
Mix the seasonings. Combine the adobo, garlic powder, and oregano in a bowl. Then add the olive oil and vinegar, and whisk until everything it is combined.
Marinate the pork. Rub the marinade on the pork chops and place them in an air-tight bag or a bowl with plastic wrap. Put them in the fridge for at least 4 hours, and up to 24.
Heat the oil. When the pork chops have marinated, heat the oil in a pan on medium heat. You should use enough oil to go halfway up the chops.
Fry the chops. Put the pork chops in the oil and sear on each side. Continue cooking on both sides until the center of the chops has reached 145F.
Rest the chops. Remove the pork chops from the pan, and let them rest for 5 minutes before serving.
Recipe Notes
Here are some helpful notes for cooking your chuleta frita, so that you can end up with the juiciest, tastiest pork chops ever.
Don't trim the fat: As you cook the pork chops, the fat will start to fry up and get crispy. This is what really makes the chuleta frita, so make sure you don't trim any of that delicious fat off.
Use a meat thermometer: It's pretty easy to overcook pork, and when it's overcooked it becomes very dry and tough. It's important to not overcook these chuleta frita, so I recommend using a meat thermometer. With a thermometer you can stop cooking the pork chops as soon as they reach an internal temperature of 145F.
Let it rest: Once the chuleta frita come out of the oven, you'll be tempted to eat them immediately. That's how good they smell! It's important that you let them rest before diving in, though. When you let the pork rest, the juices get evenly dispersed throughout the meat, and you'll lose less juice when you cut into it.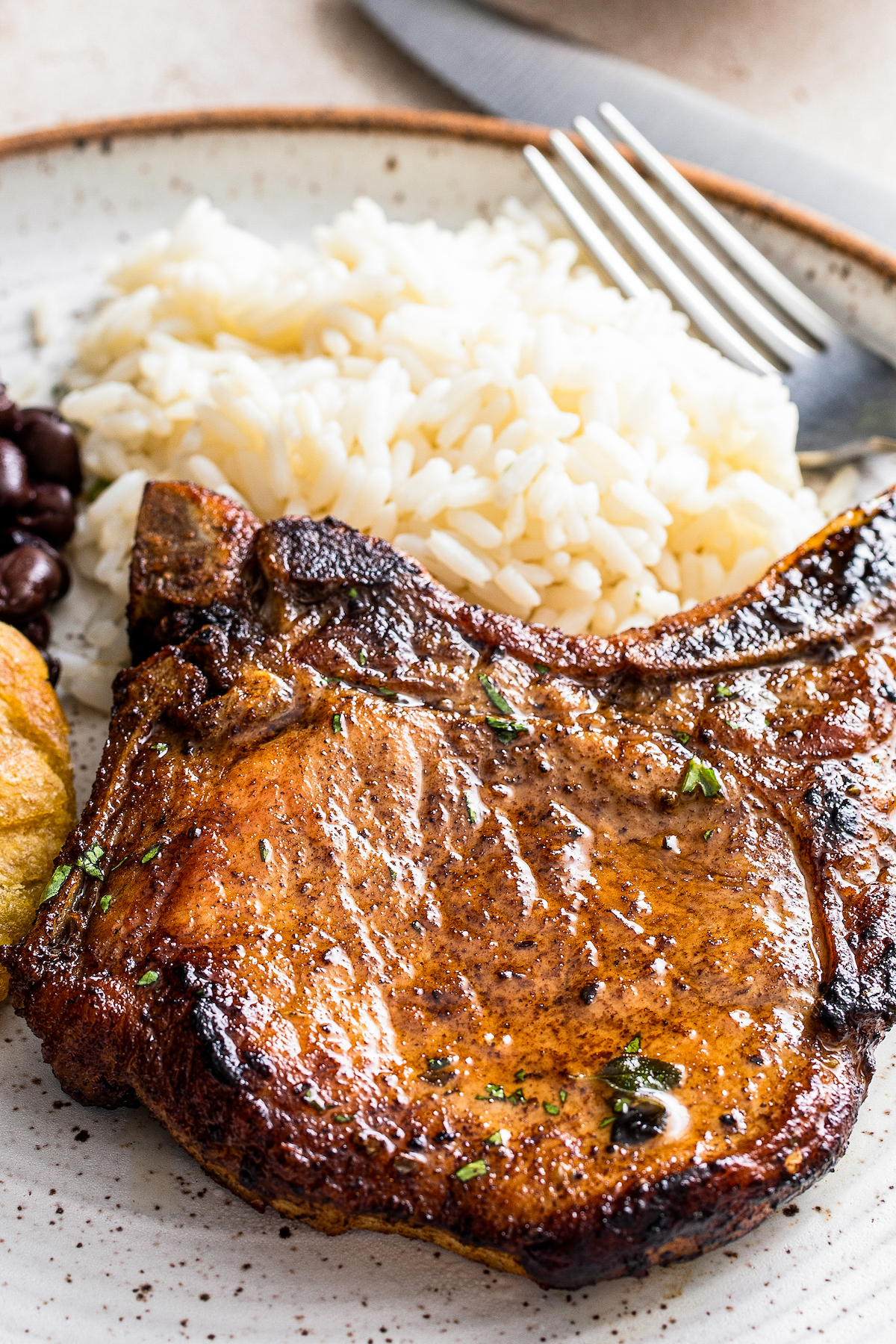 Yummy Variations
You can make this recipe exactly as is, or you can make a few variations. It's up to you! Here are a few possible changes you could make.
Use a dry rub: If you don't have the time to let your pork chops marinate for a few hours, you can use a dry rub instead. To do this, simply mix the adobo seasoning, garlic powder, and oregano together, then sprinkle it on the chops. Let it sit for at least 10 minutes before frying the chuleta frita.
Use the air fryer: If you want a healthier alternative, you can cook the pork in an air fryer instead of frying it in oil. When I cook chuleta frita in the air fryer I set the temperature to 400F and cook them for 15 minutes, flipping them halfway through.
Use sazón: A lot of people like to add sazón to their spice mixture when making chuleta frita. Sazón is a spice mixture that has a lot of cumin in it.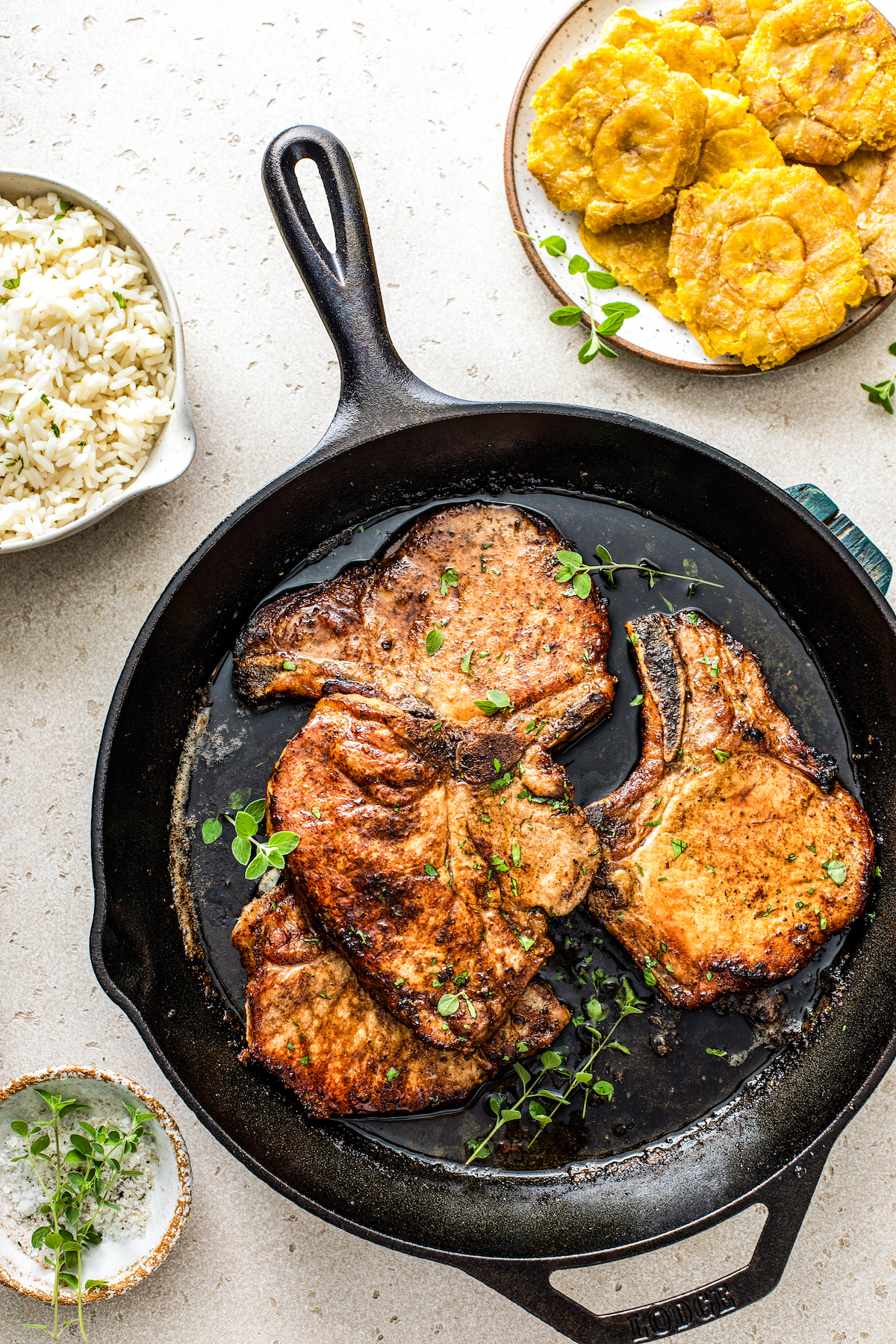 What To Serve With Chuleta Frita
There are so many great dishes you can serve with these epic pork chops! If it's the holidays, make sure you whip up a batch of Puerto Rican Coquito. Here are a few of our favorites: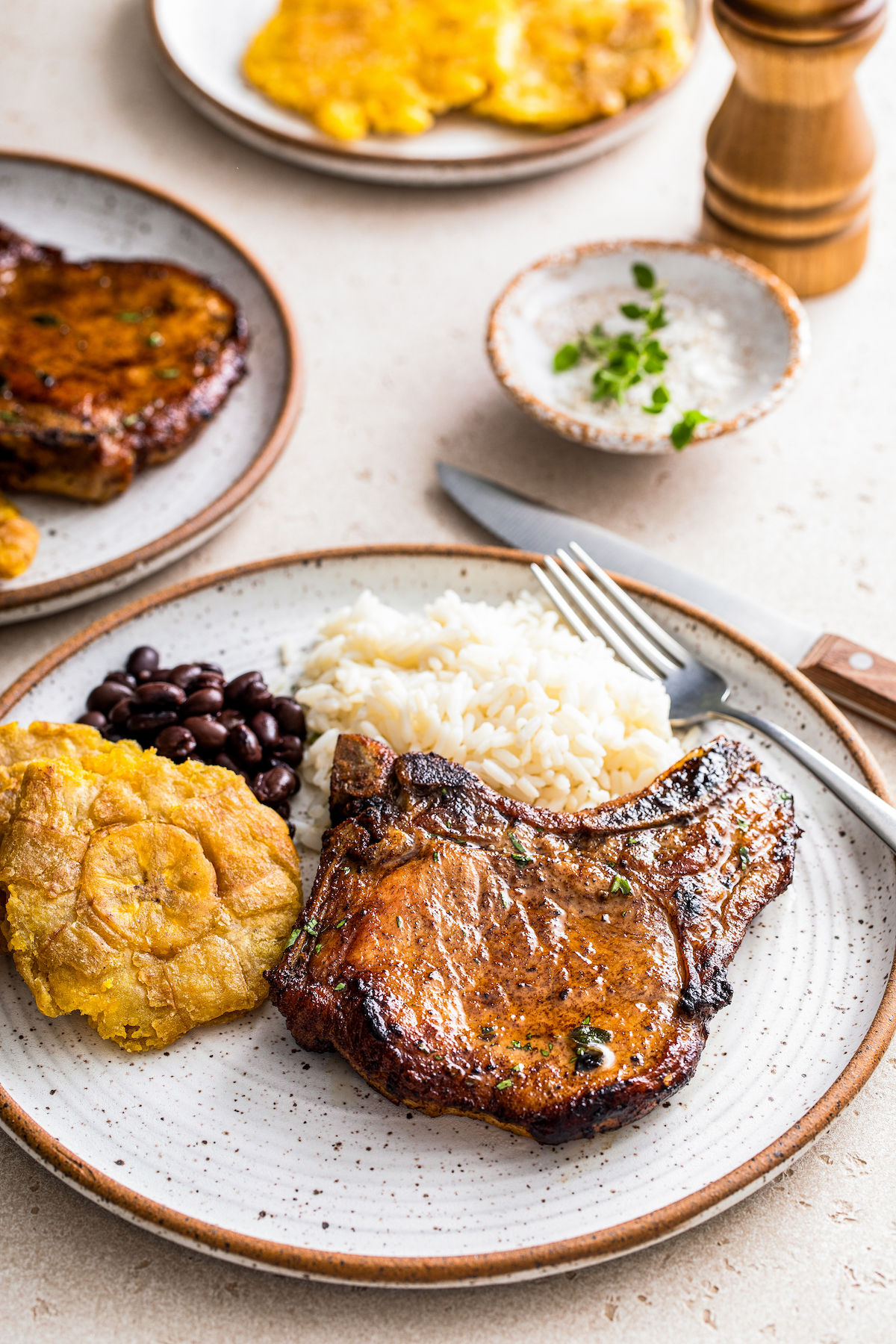 How to Store and Reheat Chuleta Frita
These pork chops can last in the fridge for 3 days as long as they're in an airtight container. You can reheat them in the oven, or in a pan over low heat.
Can You Freeze These Pork Chops?
Yes! You can freeze chuleta frita in an airtight container or bag for 2 months. I recommend wrapping them in plastic wrap before placing them in the container or bag, to limit freezer burn. Thaw the chuleta frita in the fridge, then reheat the pork chops when you're ready to eat them.
Chuleta Frita
Juicy chuleta frita (crispy pan fried Puerto Rican pork chops) are bursting with flavor. This authentic pork dish is marinated and then fried, and is very easy to make.
Ingredients
1

tablespoon

adobo seasoning

1

teaspoon

garlic powder

1

teaspoon

ground oregano

2

tablespoons

olive oil

2

tablespoons

white vinegar

4

pork chops

,

2-inch thick, approximately 2 lbs total

Oil

,

for frying
Instructions
In a small bowl, combine the adobo, garlic powder and oregano. Add the olive oil and vinegar, whisking to combine. 

Rub the pork chops with the marinade and refrigerate for at least 4 hours, or up to 24 hours. (Place marinated pork chops in a ziplock bag or in a bowl with saran wrap on top).

When ready to cook, add oil to the pan, enough to cover the chop's ½ way up the sides of the chop.

In a large frying pan, heat the oil to medium heat and then add the pork chops, searing the pork chops on each side. 

After searing, cook the chops for about 4 minutes on each side, until cooked through. (You want the center of the pork chops to reach an internal temperature of 145°F).

Let pork chops rest for 5 minutes, then serve immediately. 
Nutrition
Serving:
1
,
Calories:
428
kcal
,
Carbohydrates:
1
g
,
Protein:
40
g
,
Fat:
28
g
,
Saturated Fat:
7
g
,
Polyunsaturated Fat:
18
g
,
Cholesterol:
132
mg
,
Sodium:
200
mg
More Delicious Latin Recipes
This post may contain affiliate links. Read my disclosure policy.