Ensalada de Coditos con Jamon recipe is a Puerto Rican classic! This easy and flavorful macaroni salad is made with mayo, mustard, peas, ham, and all kinds of other goodies. A real crowd-pleaser!
An Easy, Classic Puerto Rican Side Dish
Ensalada de coditos con jamon (translation: macaroni salad with ham) is something everyone in Puerto Rico loves. It is a staple during the holidays, at parties, for cookouts, you name it. For a really festive meal, especially around Christmas, ensalada de coditos is served with Pernil – Puerto Rican slow-roasted pork shoulder with crispy skin. Yum.
In addition to the creamy, savory, full-bodied flavor in this dish, ensalada de coditos con jamon is an easy recipe that stores well, which makes it perfect for mixing up in advance. In Puerto Rico, many recipes for this pasta salad call for jamonilla, which is lunchmeat or Spam. Yes, Spam! But if you're not really up for that, diced deli ham or chopped baked ham would work very well, too.
Not a fan of ham? Check out my recipe for Ensalada De Coditos!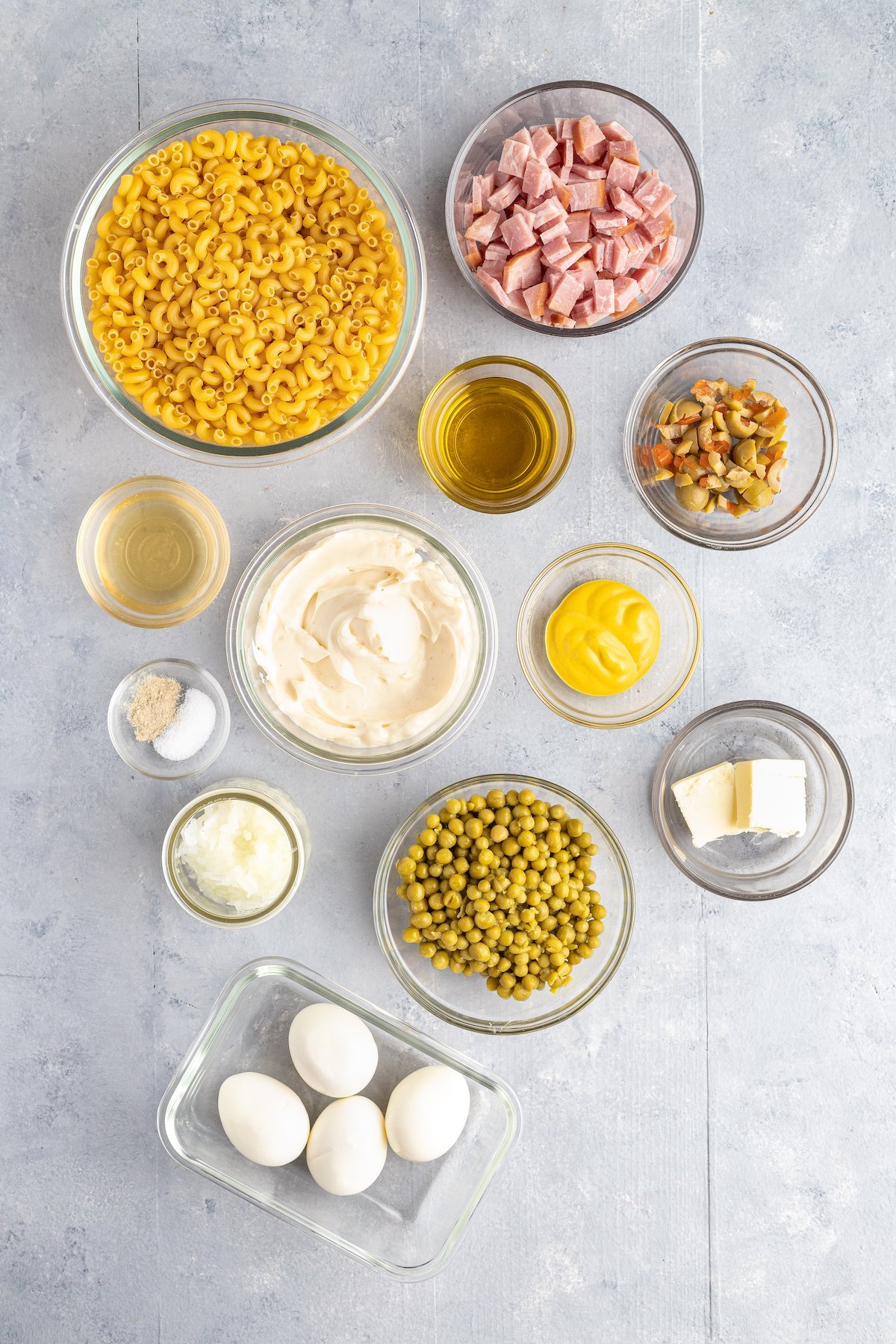 The List of Ingredients
These ingredients are what you will need to make authentic, Puerto-Rican-style pasta salad. Of course, the recipe is flexible, so feel free to make substitutions as needed.
Pasta: Elbow pasta is a favorite for this dish.
Eggs: Hard boiled eggs add protein and great texture.
Mayonnaise: The base of the dressing is mayonnaise – feel free to use your favorite brand.
Yellow Mustard: Just a bit, for tanginess and extra flavor.
Pimientos and Pimiento Juice: Fancy pimientos, also known as pimiento morrón, can be found in the ethnic foods aisle. They are also sometimes stocked near the pickles, olives, etc. Chop up some for the salad, and reserve a couple of tablespoons of the briny juice for the dressing.
Salt and Pepper: White pepper is great, or you can use regular pepper.
Olive Oil and Butter
Onion: For this recipe, I recommend finely grating the onion, rather than chopping or dicing.
Peas: Look for canned peas marked "very young sweet peas" or "petit pois." Drain the peas well before adding them to the salad.
Ham: Diced ham, or Spam. I make this anytime I have any leftover Crockpot Ham too.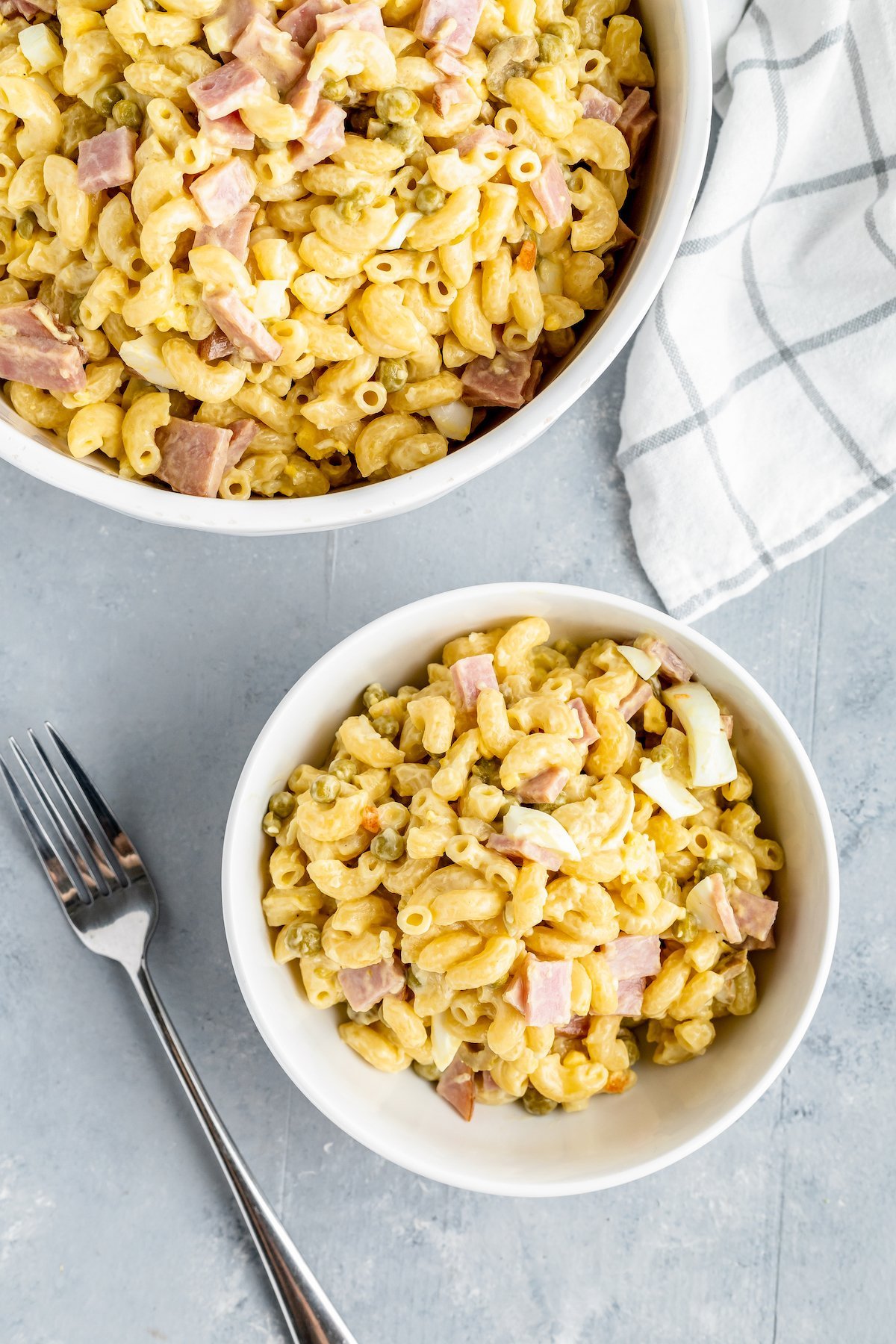 How to Make Ensalada de Coditos con Jamon
One of the secrets to this dish is coating the cooked pasta in a little melted butter before adding the other ingredients. Yum! Plus, the texture is out of this world.
Cook the Pasta and Prepare the Eggs. Bring a big pot of salted water to boil. I like to have the water fairly salty, adding about 2 tablespoons of salt to the water. Cook the pasta according to the package directions, aiming for an al dente texture. While that's cooking, peel and rinse the hard boiled eggs. Drop them into a bowl, and use a fork to break and mash them into small pieces. Set the eggs aside.
Make the Dressing. As the elbow pasta continues to cook, get out another medium-sized bowl, and whisk together the dressing ingredients (mayonnaise, mustard, pimiento juice, salt, and pepper). Set this aside, also.
Grate the Onion and Combine with Olive Oil. Finely grate the onion. You can do this with a food processor, blender, or the small holes of a cheese grater. Place in a small dish, add the olive oil, and stir together with a spoon. Let this sit for a bit.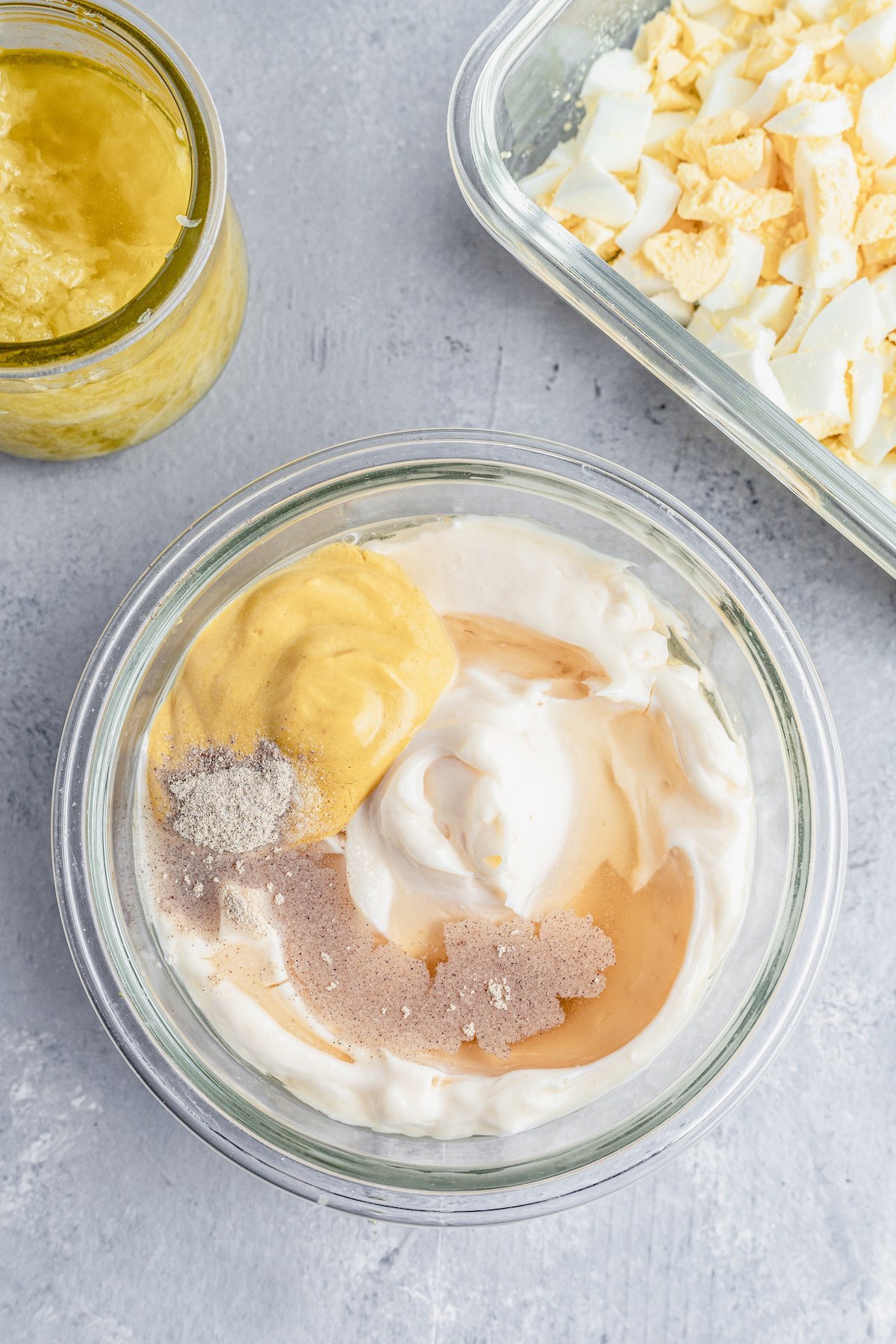 Butter the Pasta. By now, the pasta is probably about done cooking. Once it's al dente, drain it well and place it in a large bowl. Add the butter, and stir to let the butter melt and coat all of the elbows.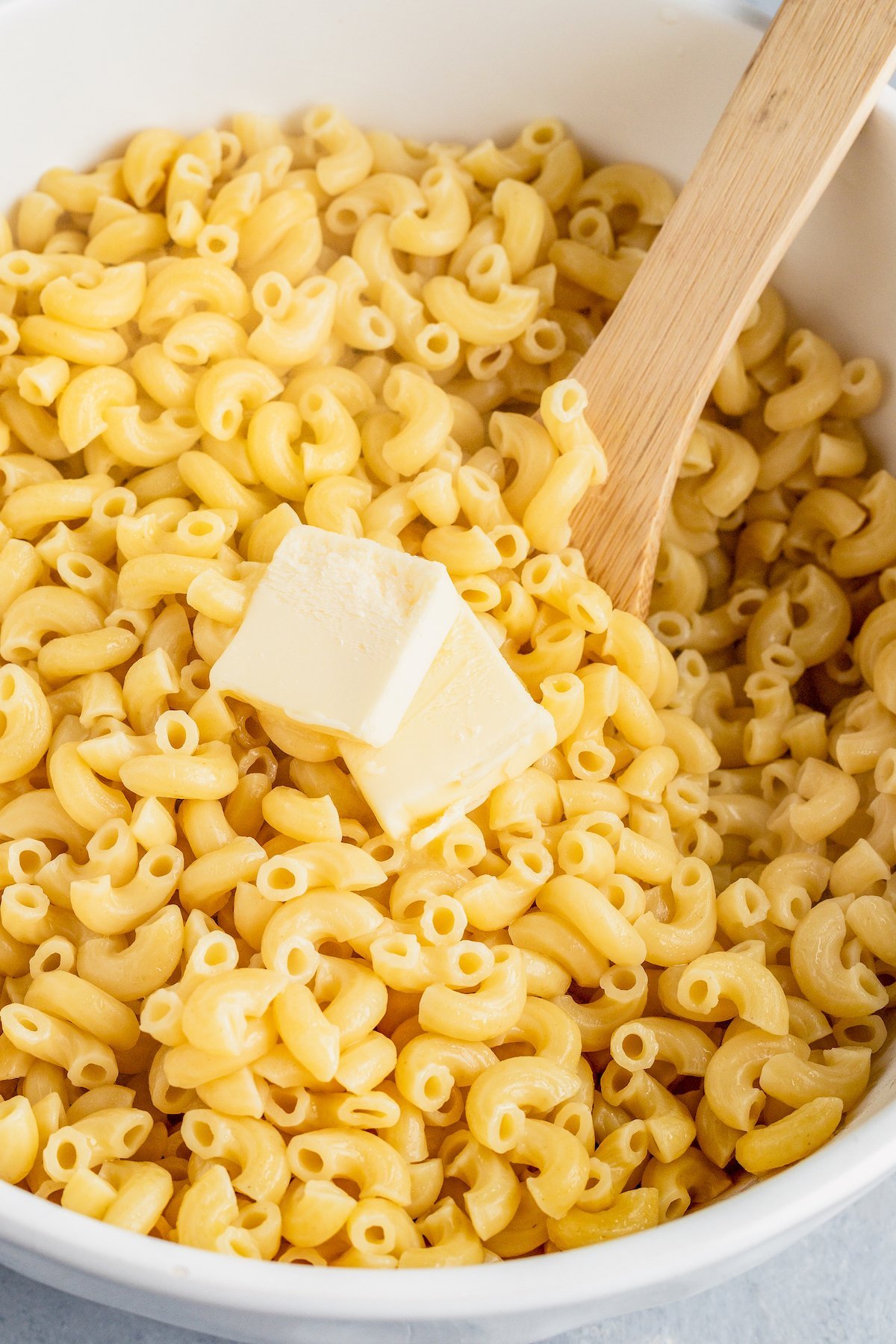 Finish the Pasta Salad. Now we're ready to mix it all together! Scoop the mayonnaise dressing and grated onions with oil into the pasta. Stir gently but thoroughly to combine. Then fold in your mashed hard boiled eggs, chopped pimientos, peas, and ham, being careful not to smush the more delicate ingredients.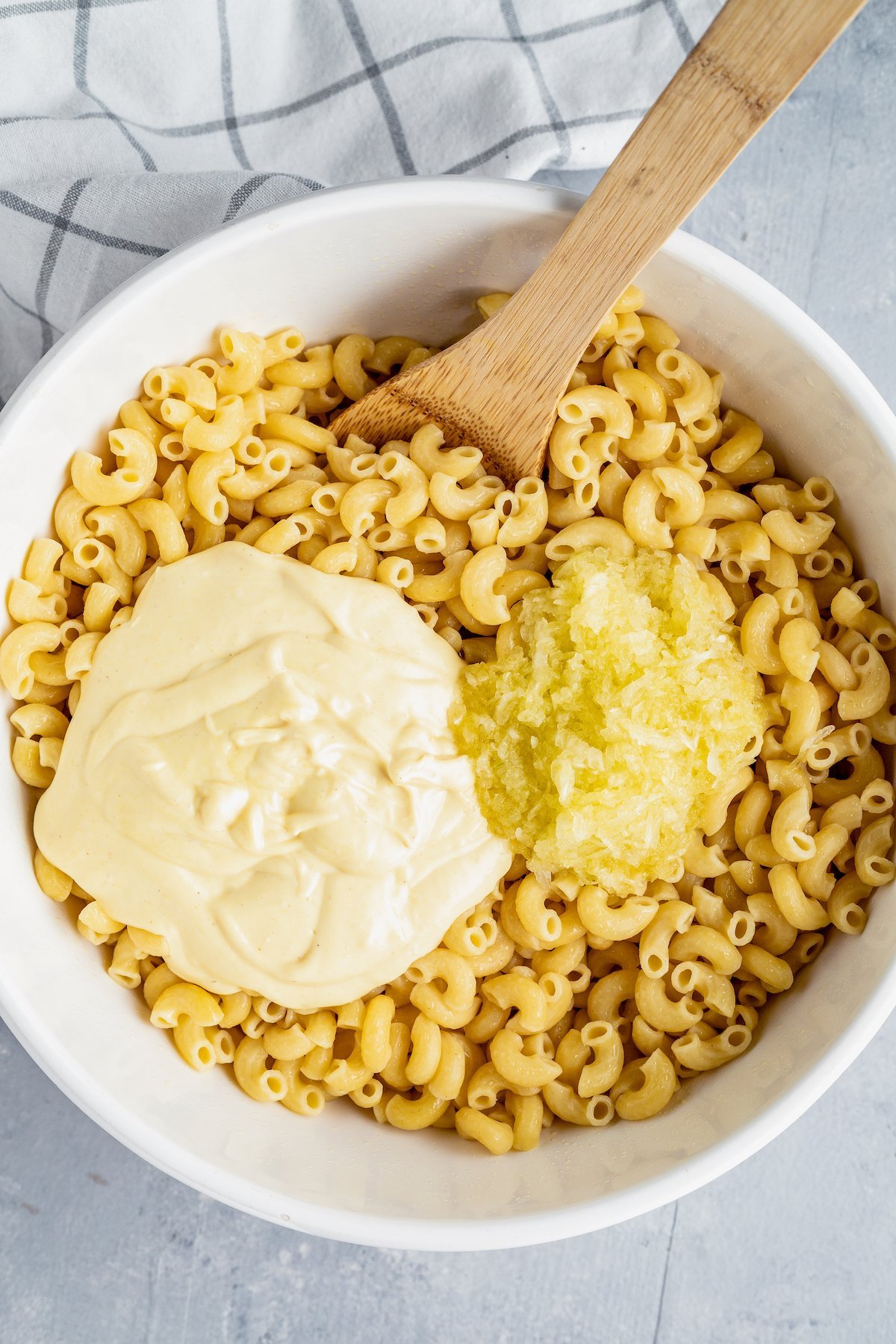 Enjoy! The ensalada de coditos con jamon can be served right away, or you can chill it first. I highly recommend chilling it for at least 4 hours before serving – so refreshing.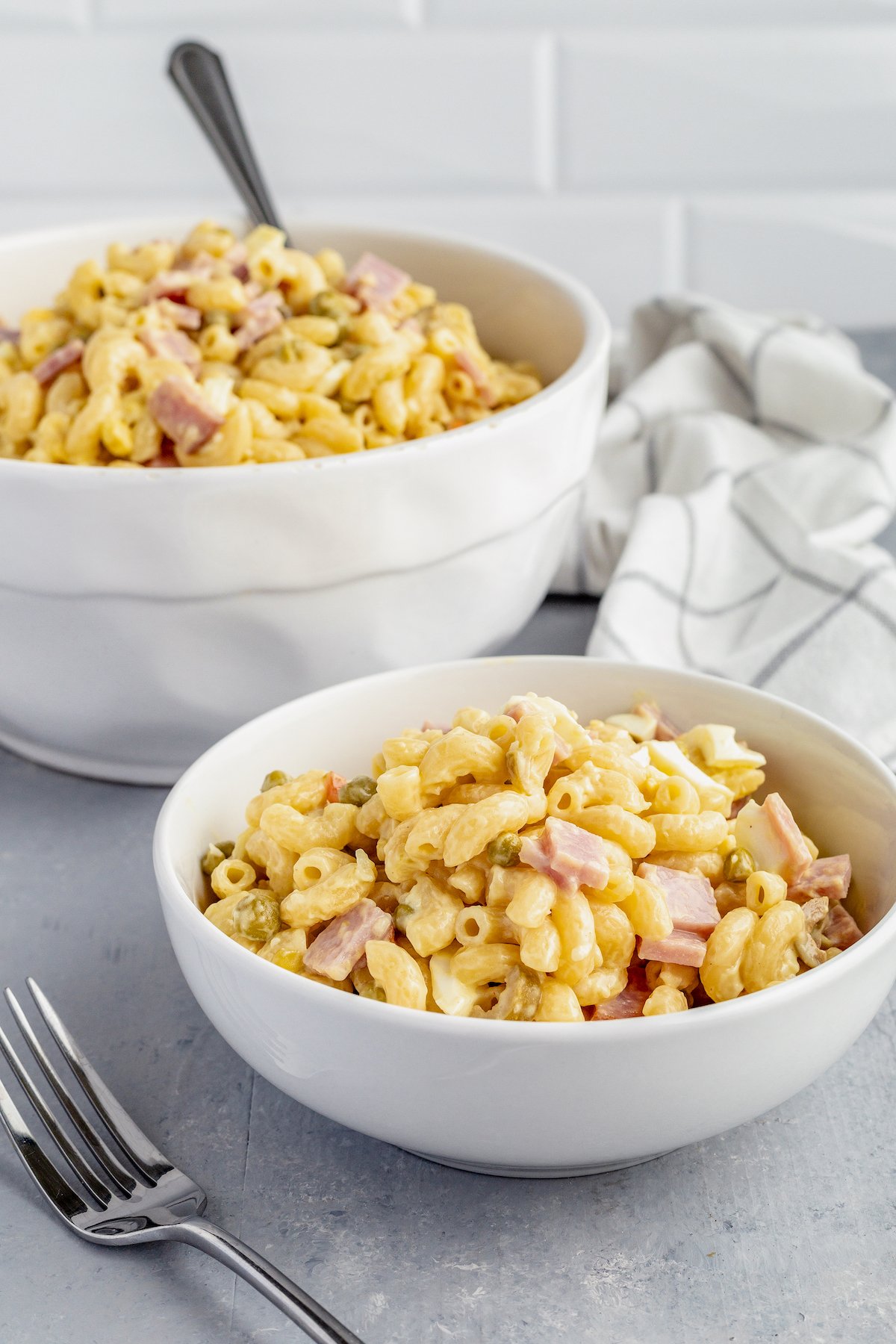 Recipe Notes
As always, it's great to share these helpful hints and cook's notes! Each easy idea is a great way to tweak or bring out the best in this beloved Puerto Rican pasta salad. Here we go:
Olives: If you love the briny, salty taste of olives, feel free to stir some in! This is a really popular variation. Go for about half a cup of sliced manzanilla olives.
Celery: A bit of diced celery (about one cup is perfect) is a great way to add crisp, cool, crunch. (Okay, now I'm really hungry!)
Cheese: Growing up, I remember people adding diced cheddar cheese to their ensalada de coditos con jamon. I personally don't care for the addition of cheese, but a lot of people love it!
Chilled Is Great: The colder this pasta salad is, the better. I store it in the fridge until right before serving.
Make Ahead: As noted below, you can store this in the fridge for up to three days, which is super helpful if you need to make it in advance. If the pasta salad dries out a little too much during storage, no worries – just add a little extra mayo or olive oil, and give it a good stir.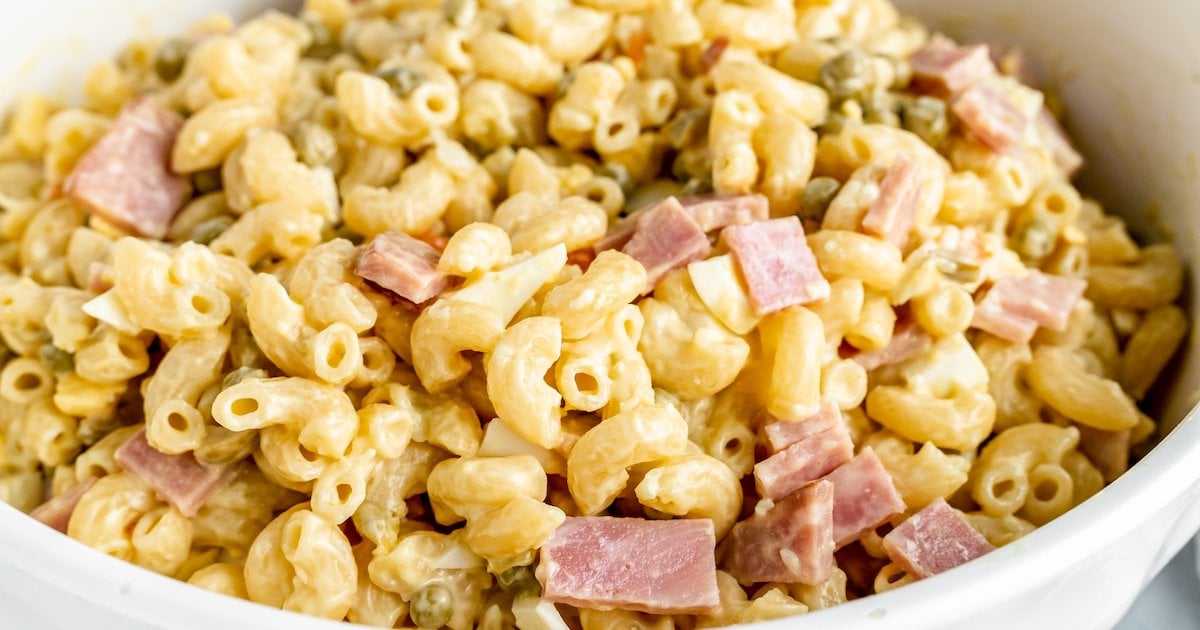 What to Serve with Ensalada de Conditos con Jamon
Since this is a popular recipe to make for holidays and parties, you can always serve it with your favorite party food, from summery barbecue dishes to a lineup of Thanksgiving casseroles. Here are a few of my family's tried-and-true favorites.
Pernil: Pork shoulder (or leg) is marinated for at least 12 hours and then slow-roasted for about five more hours. This traditional recipe makes the best Pernil ever, and is totally perfect for the holidays.
Barbecue: Any kind of barbecue dinner is perfect with ensalada de coditos con jamon. Try this Easy BBQ Oven Pulled Chicken for a family-friendly feast!
Steak: A serving of Juicy Flank Steak, a scoop of this creamy pasta salad, and some maduros would be just about the perfect weeknight dinner, don't you think?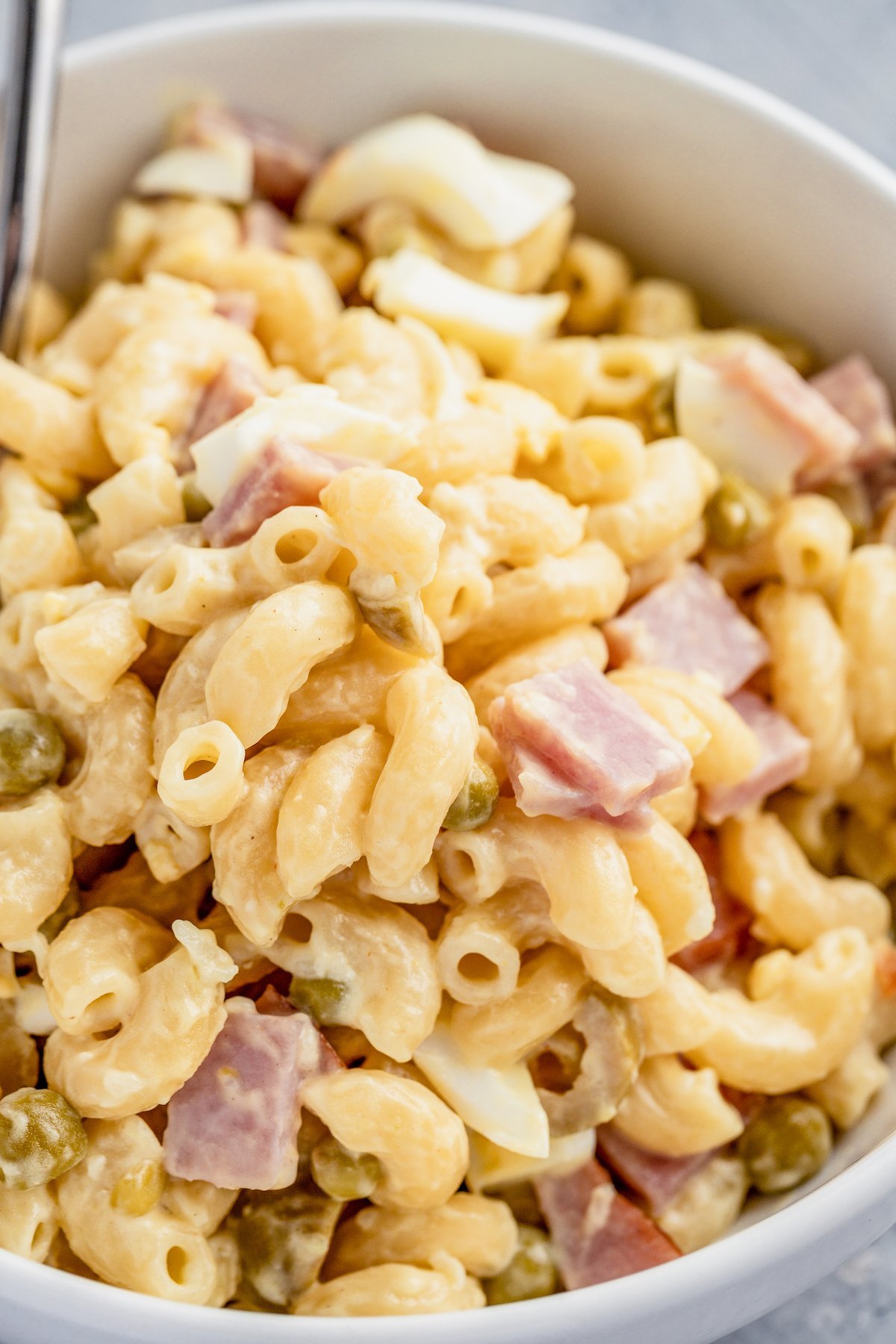 Storing the Leftovers
Leftover ensalada de coditos con jamon stores well in the refrigerator, for about three days. Keep it tightly covered, or transfer it to an airtight container for maximum freshness. You may need to add a little extra mayo if it dries out a little while in the fridge.
Can I Freeze Ensalada de Conditos con Jamon?
Yes, you can freeze this for about three months, but be aware the dressing (mayo specifically) may separate when thawed…it doesn't always happen, but it's a risk you take when freezing a creamy pasta salad.. Just place the cooled ensalada de coditos con jamon in an airtight container, and store in the freezer until you're ready to use it. Thaw in the fridge before serving.
Ensalada de Coditos con Jamon (Puerto Rican Pasta Salad with Ham)
Ensalada de Coditos con Jamon recipe is a Puerto Rican classic! This easy and flavorful macaroni salad is made with mayo, mustard, peas, ham, and all kinds of other goodies. A real crowd-pleaser!
Ingredients
16

oz

elbow pasta

4

hard boiled eggs

1

cup

mayo

2

tablespoons

yellow mustard

2

tablespoons

pimento juice

½

teaspoon

salt

¼

teaspoon

white pepper

½

cup

olive oil

1

small white onion

,

finely grated (about ½ c. grated white onion)

2

tablespoons

butter

¼

cup

fancy pimentos chopped

,

also known as pimiento morrón

1

can

,

8.5 oz very young sweet peas or petit pois, drained

1

cup

diced ham

,

or Spam
Instructions
In a large pot, cook pasta in well-salted water (I usually add about 2 tablespoons of salt to the water) according to package directions, until al-dente. 

While pasta is cooking, place the hard-boiled eggs in a small bowl and "mash" them in a bowl with a fork into small pieces. Set aside. 

In a medium-sized bowl, combine the mayo, mustard, pimento juice, salt and white pepper, whisking until well combined. Set aside. 

In a food processor or blender, finely grate the onion and then add the olive oil. Set aside. (You can also grate the onion by hand with a cheese grater and then stir to combine with the olive oil.)

Once pasta is done cooking, drain the pasta and transfer it to a large mixing bowl and add the butter. (The heat from the pasta will melt the butter.) Stir the pasta until butter is melted and is coating the pasta. 

Add the mayo sauce and onion/olive oil mixture to the buttered pasta and mix until well combined. Then fold in the mashed hard-boiled egg, pimentos, sweet peas and ham. 

You can serve it immediately, but I recommend refrigerating it for at least 4 hours before serving.
Nutrition
Serving:
1
,
Calories:
731
kcal
,
Carbohydrates:
42
g
,
Protein:
17
g
,
Fat:
55
g
,
Saturated Fat:
11
g
,
Polyunsaturated Fat:
42
g
,
Cholesterol:
164
mg
,
Sodium:
783
mg
,
Fiber:
4
g
,
Sugar:
9
g
Categories:
More Latin Recipes
This post may contain affiliate links. Read my disclosure policy.