Coquito is a creamy Puerto Rican holiday cocktail made with cream of coconut, rum, cinnamon, nutmeg and more! This family recipe creates an extra thick and creamy Coquito that is so luscious, we promise you won't want to share!
What Is Coquito?
Wepa! It's finally coquito season again! Coquito is a traditional Puerto Rican cocktail enjoyed during the holidays, usually starting with Thanksgiving in November through Three Kings Day in January. Growing up I always looked forward to my first creamy glass of heaven and not much has changed. We still whip up our first batch for Thanksgiving and serve it right alongside our Thanksgiving Turkey and Pernil with Arroz con Gandules.
People often compare Coquito to American Eggnog, and while similar, there are quite a few differences. However, if you like eggnog and coconut, you will almost be guaranteed to enjoy a sweet glass of Coquito! Coquito is traditionally made with a combination of creamy milks, rum, and warm spices. It's incredibly thick and creamy and is always served chilled.
Coquito is surprisingly very EASY to make, it will only take you about 10 minutes of work! It's no bake, you don't have to heat anything up or do anything on the stove. Just toss everything into a blender and then place it in the fridge to chill. The longer it sits, the better it gets. The flavors all meld together as it chills in the fridge and just becomes more delicious. You can store your coquito for up to two weeks, so it's also great to make and prep ahead.
If you love this recipe, make sure to also check out my Pumpkin Coquito!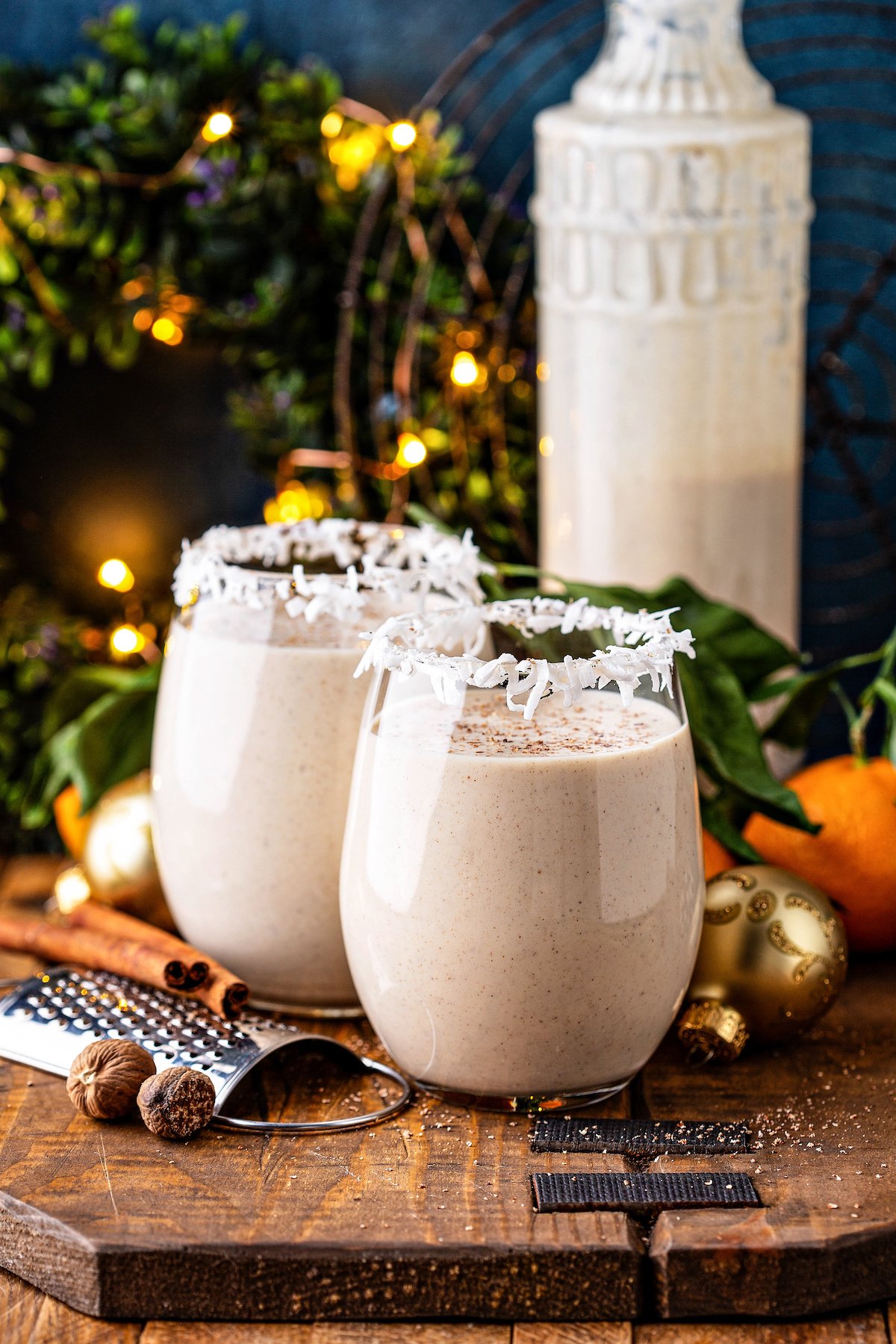 A Family Recipe
This fabulous Coquito recipe is actually a family recipe from my friend Christina. Her father, who passed away a few years ago now, was an amazing cook and had so many secret family recipes. The first time I had their families version of coquito, I completely forgot about the recipe I used to make! Where mine was thin, theirs was thick and luscious. I begged her to share their recipe with me and surprisingly she kindly agreed to also share the recipe with all of you!
She dug out her dad's old recipe cards that he had written and started sending them over to me. Then she said, but wait, we don't make it that way anymore! It has evolved and now we skip the eggs and we love to add rum soaked raisins to ours for a little tasty surprise at the bottom of our glass.
As we Puerto Ricans know, everyone makes their coquito differently and everyone claims their recipe to be the most authentic. I have tried it with a spiced tea bag, with eggs, without eggs… Heck, one of my cousins even makes his with melted vanilla ice cream! There is no right or wrong way, just follow your heart and taste buds. This version has evolved over the years and to us, it really is the BEST.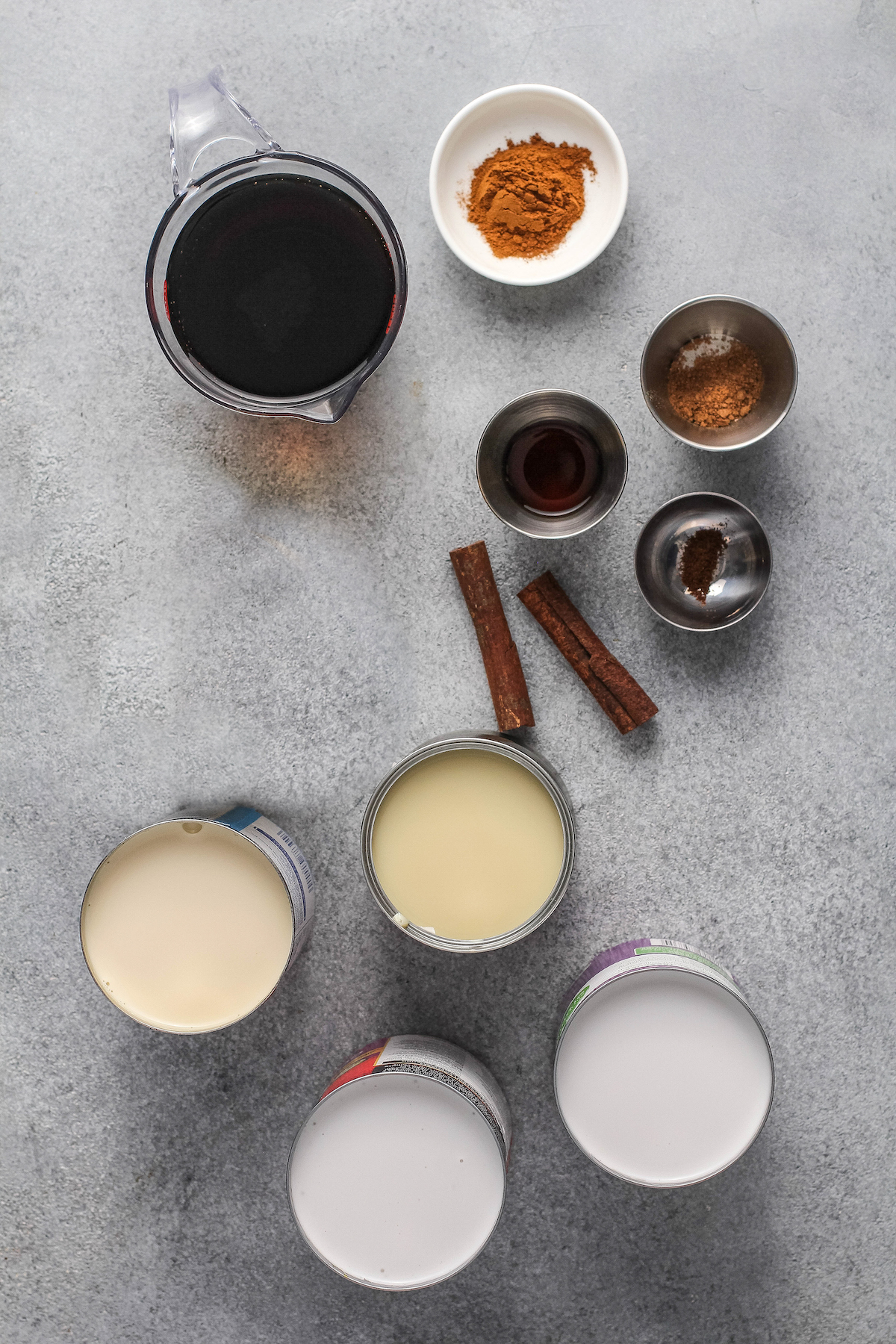 Ingredients Needed
There are a few ingredients in this Coquito recipe that are optional, and a few ingredients you must include. Let's start with the ingredients you can't skip:
Rum: Traditionally many Puerto Ricans like to use a light rum, like Bacardi Superior or Don Q Cristal. However, if you like a dark aged rum, it is also delicious! The dark rum will boost the flavors of vanilla, cinnamon, and nutmeg.
Cinnamon: You will need both cinnamon sticks and ground cinnamon.
Sweetened Condensed Milk: The key to that sweet and creamy flavor.
Cream of Coconut: Cream of coconut can be sold under a few different names. Goya makes one, but personally we prefer Coco Lopez (another brand of cream of coconut). It tends to have more real coconut goodness in it.
Coconut Milk: It is important to get a canned coconut milk with a thick layer of cream on top. I tend to prefer to buy the Badia brand of coconut milk as it almost always has a thick layer of coconut cream. You can also opt to use a can of coconut cream (the unsweetened kind) instead.
Evaporated Milk: You can also use extra coconut milk if you prefer, but we like the final taste we get best when we use evaporated milk as well.
Ground Nutmeg: Freshly grated, if possible, as it will add the most flavor. I just use a little microplane grater to grate my whole nutmeg.
Vanilla Extract: just a splash!
Optional Ingredients
Shredded Coconut: While not traditional, a little added shredded coconut will add more coconut flavor and help with the overall texture. We learned this trick from Christina as well and never make ours without it now! You can use sweetened or unsweetened coconut, whichever you have on hand.
Raisins: Yup, raisins! I know some of you are looking at me like I have two heads, but don't run away, these are optional! When we first heard about soaking the raisins in rum to add to coquito, we weren't sure how we felt about it. But after our first glass, we realized how much we love finding those little rum soaked raisins at the bottom of our glass. They are almost like an after cocktail snack! If you don't like raisins, you won't hurt anyones feelings by leaving them out, but if you do enjoy rum raisins, give it a try!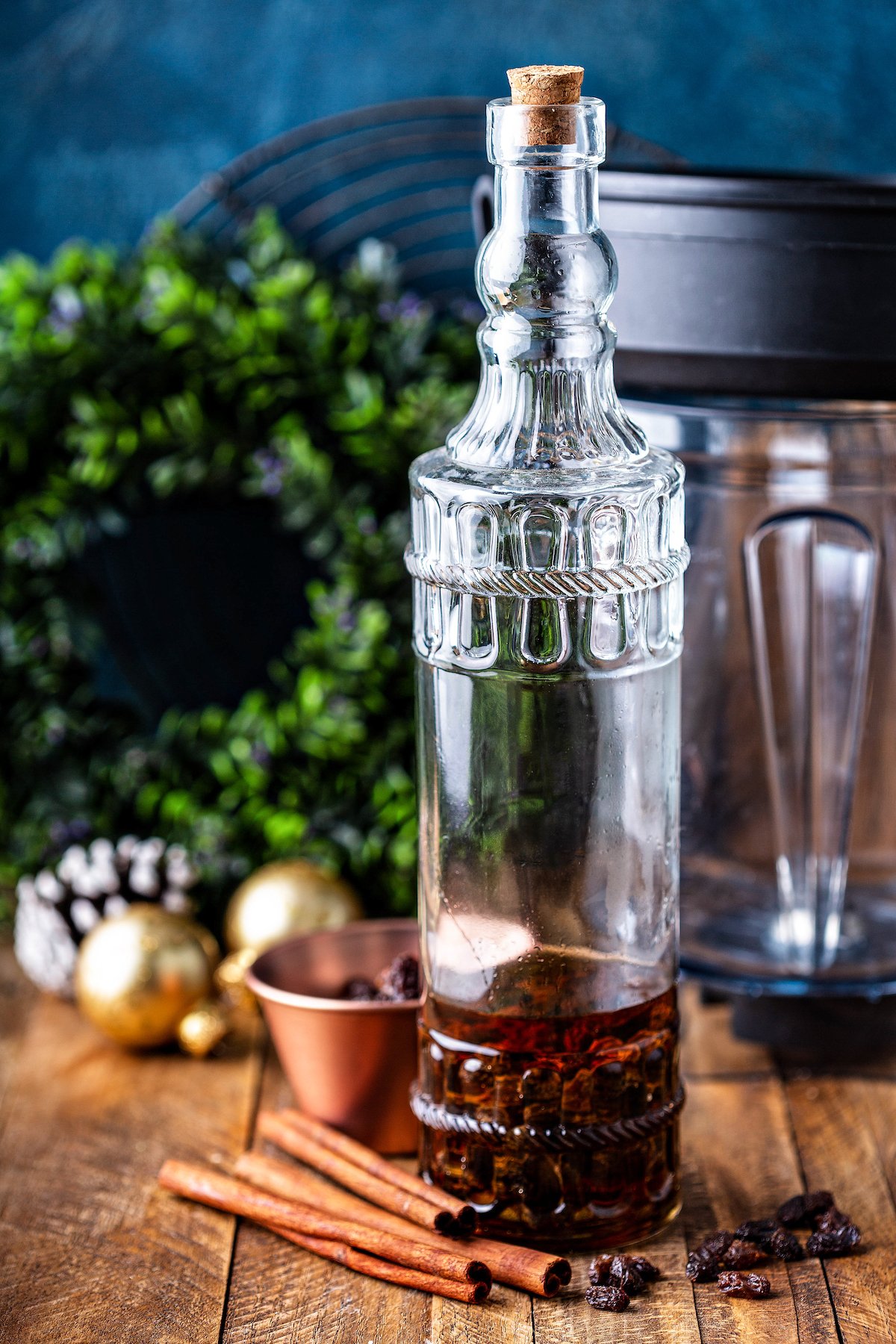 How To Make Coquito
Ok, enough chit chat, let's get down to business and whip up some Coquito!
To start, we like to soak our rum with cinnamon sticks and raisins (if you are using them) for 24 hours (or up to a week). This is optional, but really helps to give your coquito a lot of depth of flavor.
Then we gather all the rest of our ingredients, coconut milk, sweetened condensed milk, evaporated milk, cream of coconut, vanilla extract, shredded coconut (optional), ground cinnamon, and nutmeg, and puree them all together in a blender.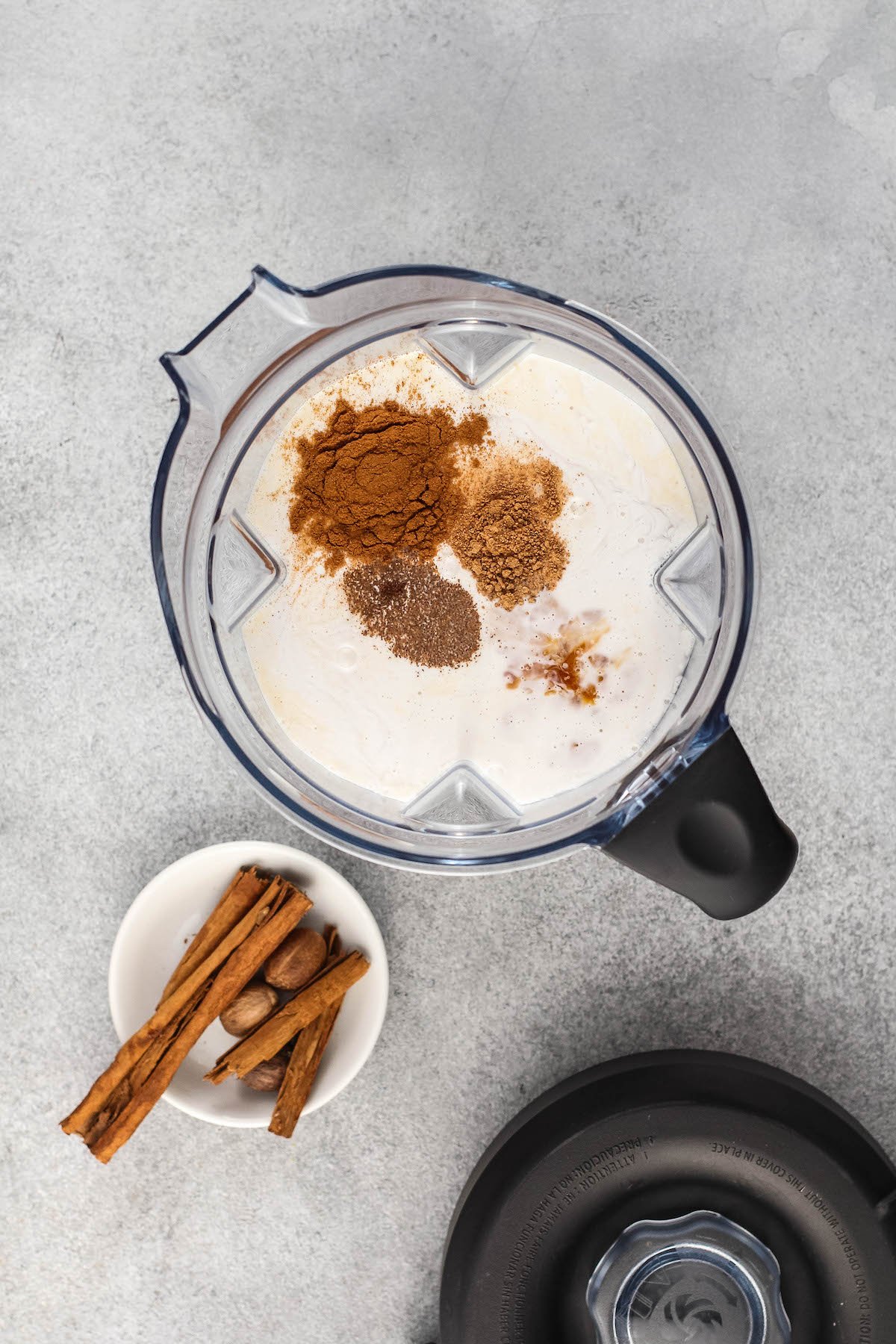 Once everything is pureed, pour the coconut milk mixture into the bottle with the rum (and optional rum raisins) and shake well to combine. (If you aren't using raisins, you can also remove the cinnamon sticks from the rum and add the cinnamon infused rum to the blender instead.)
Chill the coquito for at least 4 hours before serving. This will help to thicken the coquito, but will also help the flavors meld together.
Store coquito in an airtight container, in the refrigerator, for up two weeks…if you can make it last that long! Make sure to shake it well before serving!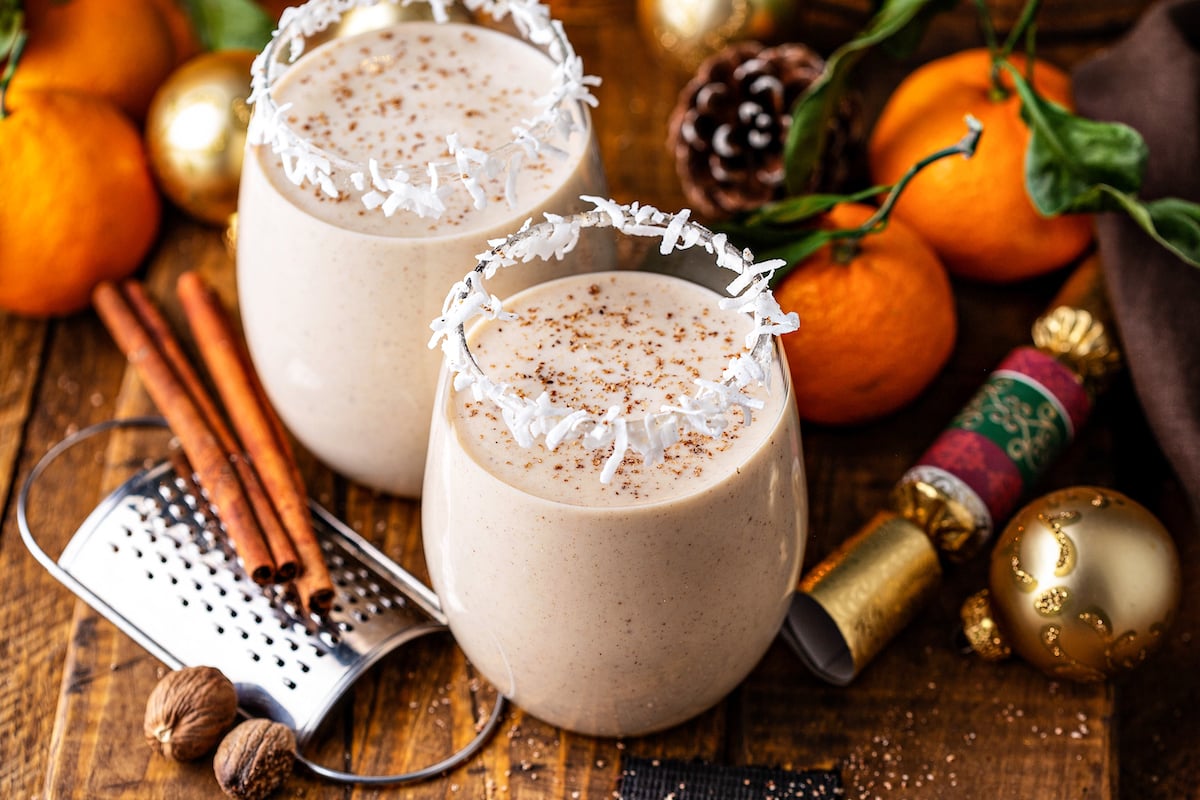 Tips and Variations
Thinner Coquito: If you prefer your coquito to be thinner, I would recommend skipping the optional shredded coconut and adding a little extra evaporated milk. Alternatively, you can not add the thick coconut cream from the top of the coconut milk.
Switch Up Your Rum: Light Puerto Rican rum is traditional, but that doesn't mean it's the only way! Swap it out for a rich, dark aged rum…or go wild with a flavored rum! It's really up to you and what you would prefer.
Different Flavors: If you have visited Puerto Rico in the last decade, you will have noticed a total renaissance of Coquito. There are so many flavors now from Nutella to Pistachio! I have a great recipe for Pumpkin Coquito based off this recipe as well.

Nutella: If you want to add Nutella flavor, start with 1 cup Nutella and add it to the blender. Give it a taste, and add more if desired.
Pistachio: Puree 2 cups of pistachios in a food processor until they form a fine paste. Add the pistachio paste to the blender with the rest of the ingredients. I have also had pistachio coquito made with melted pistachio ice cream. Both were delicious!
What To Serve With Coquito?
What can't you serve with it? Everything goes with a glass of this coco-nutty goodness! Here are a few of our favorite Puerto Rican holiday dishes that always pair perfectly.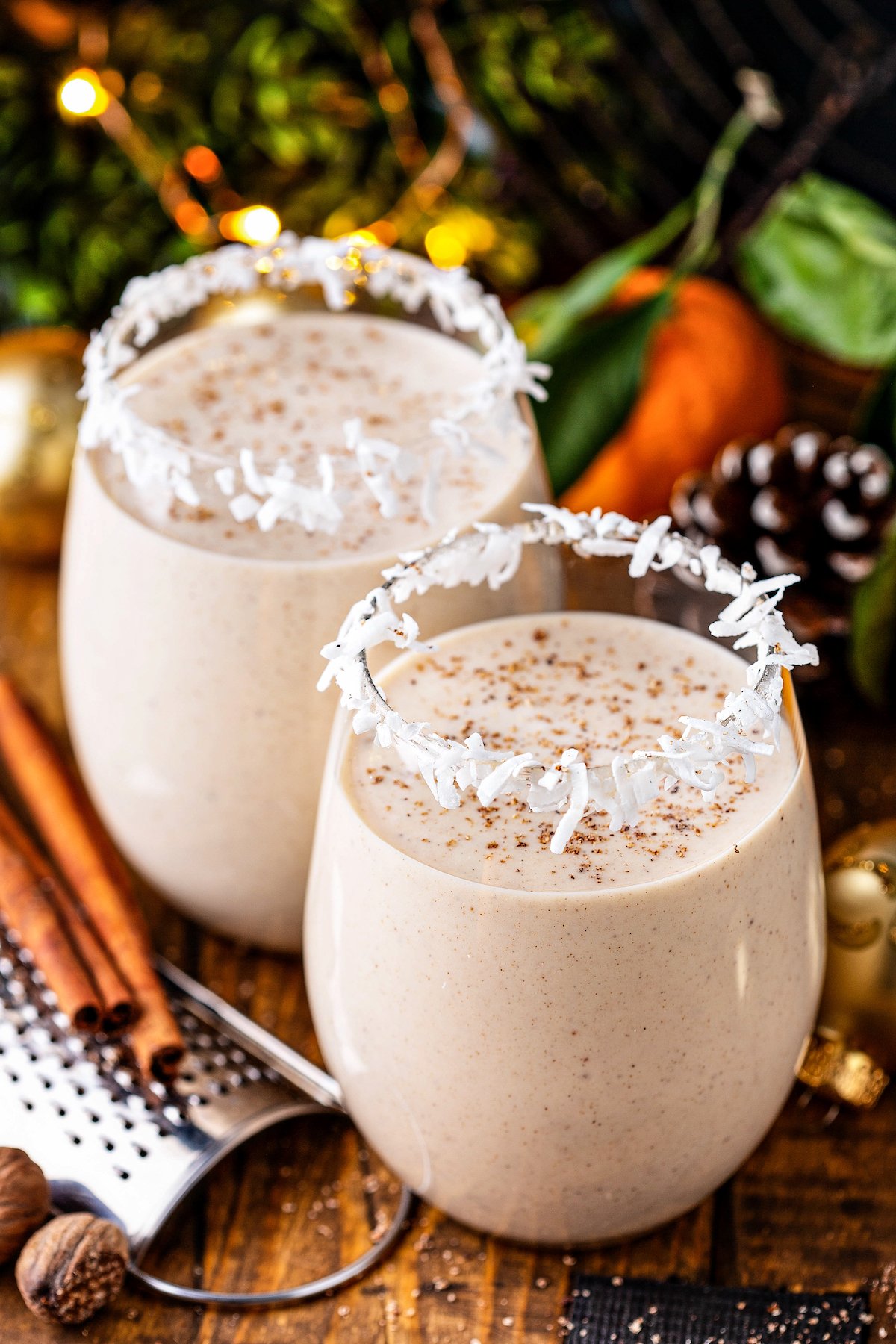 Frequently Asked Questions
Do I have to use the rum? Can I make this non-alcoholic?
Absolutely! You can completely skip the rum and it will still be delicious. We do this every year so our kiddos can also enjoy some with us!
Why don't you use eggs or egg yolks?
Egg yolks are used to thicken. We found that with this recipe is plenty thick and doesn't need the eggs. We did a blind taste test one year and everyone preferred the version without the eggs.
Can I make this ahead?
Absolutely! Coquito is actually best when you give it time to rest and allow the flavors to blend. You can store coquito for up to 2 weeks in the fridge. Just give it a good shake and it's good to go!
Why is my coquito thin?
If you have already let it chill in the fridge and it is still thinner, my guess would be that your coconut milk was one without the thick coconut cream on top (or didn't have much coconut cream). The best way to fix this is buy a can of coconut cream (not coconut milk) and only add the thick cream from the top (not the water below) to a blender. Puree your coquito in the blender with the thick coconut cream and return to the fridge to chill.
What kind of rum should I use?
I talked about this more above in the post, but you can use any rum you like. Traditionally light rum is used, but dark rum is also delicious. (Personally we prefer the richness a dark aged rum gives it.)
Can I freeze Coquito?
Yes, but I don't recommend it. Technically you can freeze coquito, but it will never freeze solid as it has rum in it. When it thaws, the texture and flavor will be slightly altered. So while you can, it's so easy to make, I recommend just making a fresh batch!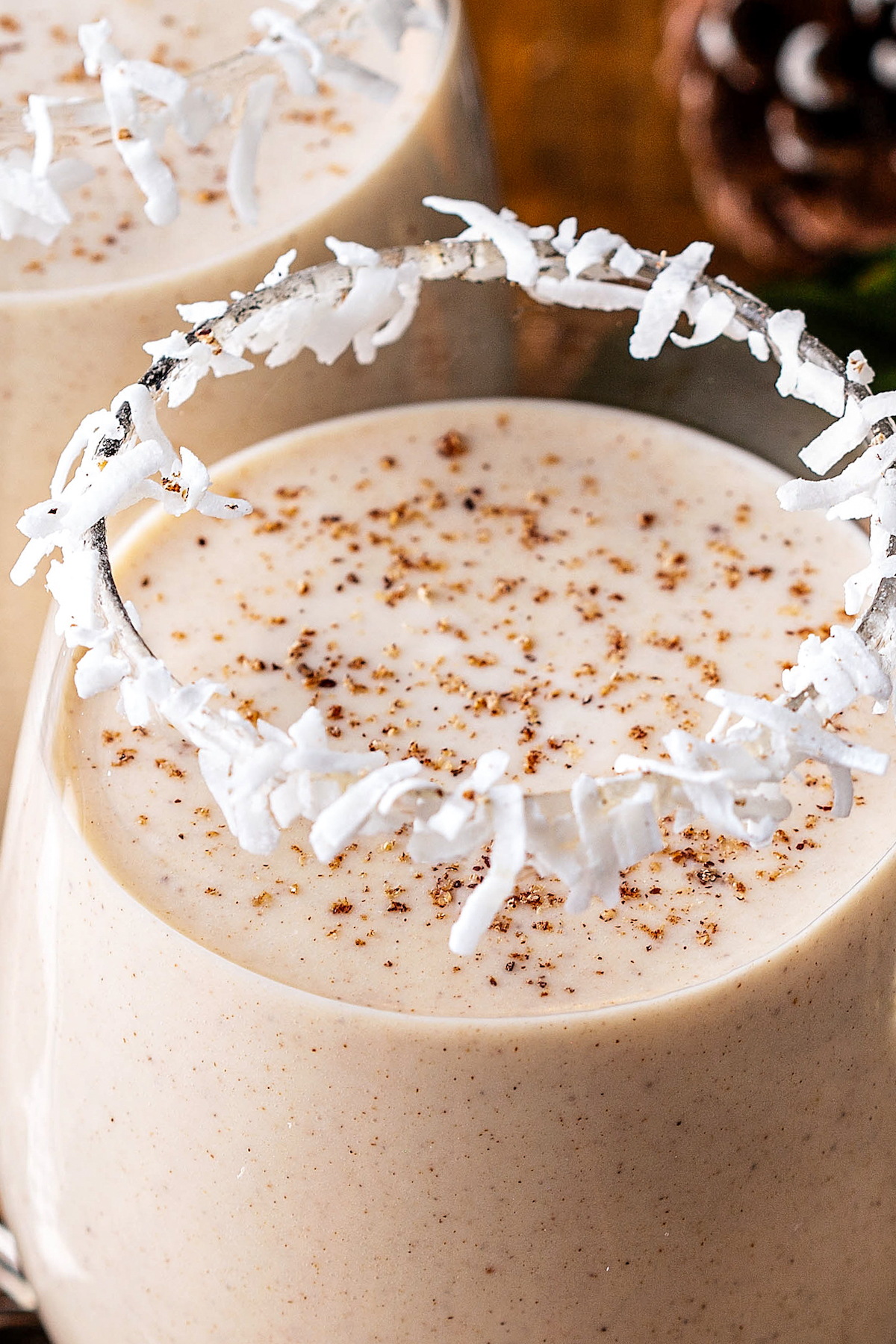 How Long Is Coquito Good For?
Since this recipe is made without eggs, it can safely be stored in an airtight container in the fridge for up to 2 weeks. Make sure to give it a good shake before serving.
To be completely honest, we have had times where we found a long lost jar of coquito at the back of the fridge over a month after making it. We gave it the old sniff test, it smelled just fine, so we drank it and we had no issues. However, after two weeks, drink at your own risk!
Yield: 56 oz
Coquito Recipe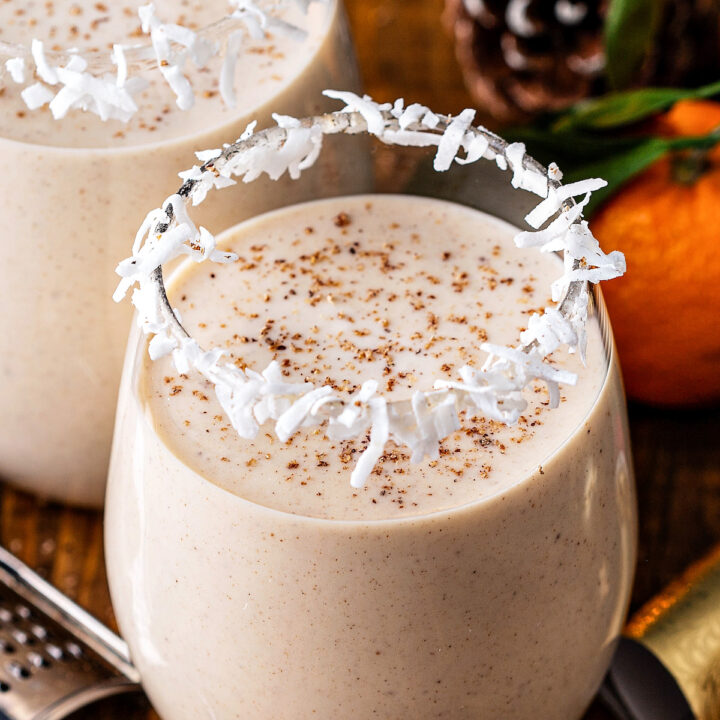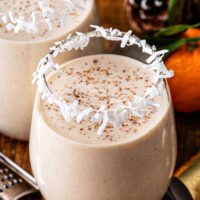 This thick and creamy Coquito recipe is a Puerto Rican tradition that is loaded with coconut, rum and cinnamon for an extra thick and creamy coconut eggnog!
Total Time
9 hours
10 minutes
Ingredients
1 1/2 cups rum
4 oz raisins, optional
1 (14 oz) can sweetened condensed milk
1 (15 oz) can cream of coconut (Coco Lopez)
1 (13.5 oz) can coconut milk (with thick coconut cream on top)
4 oz evaporated milk
1/2 teaspoon freshly ground nutmeg
1/2 teaspoon ground cinnamon
1/2 teaspoon vanilla extract
4 tablespoons shredded coconut, optional
Instructions
OPTIONAL: In a large pitcher with a lid (or two large jars with lids - this will make about 56 oz of liquid) add rum, cinnamon sticks, and optional raisins (if using). Let sit for at least 1 hour, or up to a week. (This will add an extra depth of flavor to your coquito.)
In a blender, puree all the other ingredients. Pour into the bottle and shake well to combine with rum/raisins mixture.
Chill for at least 4 hours before serving to allow flavors to meld and coquito to thicken. (The coconut cream will thicken as it chills.)
Store in airtight container in refrigerator for up 2 weeks. Shake vigorously each time before serving!
Notes
Recipe Notes:
Make sure you use a good quality coconut milk with a thick layer of coconut cream on top. If your canned coconut milk does not have a thick layer of coconut cream, your coquito will not be as thick.
Cream of coconut is commonly made by Goya or Coco Lopez. It is a very thick, sweetened coconut milk with chunks of shredded coconut in it. This is not the same as coconut cream that only has coconut listed on the ingredients.
You can use whatever type of rum you enjoy. Traditionally light rum is used, but dark aged rum or coconut flavored rum can also be delicious.
Nutrition Information:
Yield:
12
Serving Size:
1 serving
Amount Per Serving:
Calories:

218
Total Fat:

12g
Saturated Fat:

10g
Trans Fat:

0g
Unsaturated Fat:

1g
Cholesterol:

7mg
Sodium:

47mg
Carbohydrates:

16g
Fiber:

1g
Sugar:

12g
Protein:

2g
Categories
More Festive Holiday Drinks
This post may contain affiliate links. Read my disclosure policy.